Walmart is Now Offering COVID Vaccines at 1,000 Stores
Over 20 states join the others already busy distributing. Here's when you can sign up!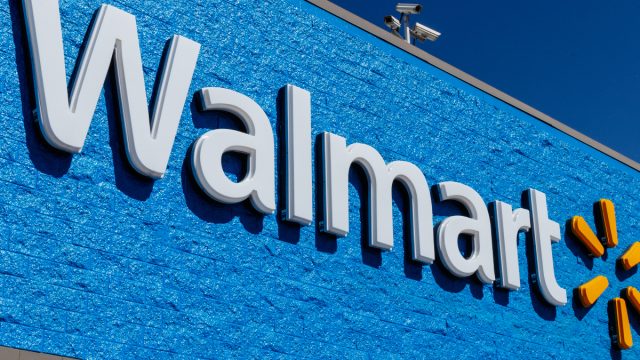 In addition to the areas it is already distributing a COVID-19 vaccine in, starting on Feb. 12 Walmart will offer one in 22 states as part of the U.S. Federal Retail Pharmacy Program.
The grocery store chain partnered with the Centers for Disease Control and Prevention (CDC) and state governments to determine the best locations to include. The over 1,000 Walmart and Sam's Clubs were considered based on "population density, customer demographics, infection rates, and availability of local health care resources," according to a post on Walmart's website. Also considered are Medically Underserved Areas, like Brewton, Ala., where there is no place to administer the vaccine for over 100 miles—except at the local Walmart. (Related: Stay healthy with The One Vitamin Doctors Are Urging Everyone to Take Right Now.)
"Ninety percent of the country lives within 10 miles of a Walmart," says Dr. Cheryl Pegus, the executive vice president of health and wellness. "Vaccinations to achieve widespread immunity are important for re-opening across the country. We're proud to work together with the federal government, states, communities, customers and associates to reach that goal."
Appointments can be made online, and you don't have to be a member to get a vaccine at Sam's Club. Each Walmart location will initially have a limited supply of a COVID-19 vaccine but is prepared for the efforts to expand.
The states that join the 11 already distributing a vaccine are:
Alaska
Alabama
Arkansas
Colorado
Florida
Georgia
Idaho
Indiana
Kansas
Louisiana
Maine
Minnesota
Missouri
Mississippi
Nebraska
Nevada
Oklahoma
South Dakota
Tennessee
Texas
Utah
Wyoming
For a full list of all the Walmart stores offering a COVID-19 vaccine, click here. They all are still complying with state phasing, so check your status before making an appointment.
To get all the latest Walmart and other grocery store news delivered right to your email inbox every day, sign up for our newsletter!
Amanda is a staff writer for
Eat This, Not That!
.
Read more