This State Has the Most Contagious COVID Outbreak of Them All
North Dakota has the worst outbreak when adjusted for population.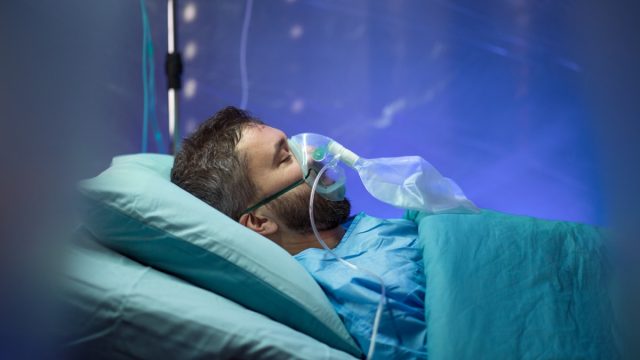 The United States just set a harrowing new record: two million new coronavirus virus cases in two weeks. Hospitals are overflowing. Fatalities are rising, with Dr. Anthony Fauci, the nation's leading infectious disease expert, predicting a "stunning amount of deaths." And one state has it worst of all. "North Dakota continues to have the country's worst outbreak when adjusted for population, a position it has maintained since early September. Almost one in 10 North Dakotans have tested positive for the virus since the outbreak began, a vast majority in the last two months," reports the New York Times. Read on to hear how bad things are there, and to ensure your health and the health of others, don't miss these Sure Signs You've Already Had Coronavirus.
The Governor Said Medical Workers "Need Our Help"
Said the Governor's office earlier this month in a statement:
Gov. Doug Burgum tonight announced several mitigation measures aimed at slowing the accelerating spread of COVID-19 in North Dakota in order to protect the vulnerable, ensure hospital capacity and keep schools and the economy open.
Capacity is strained across the state's health care system, jeopardizing the ability of hospitals to provide the first-rate treatment North Dakotans are accustomed to – not only for COVID-19 patients, but also for those seeking care for heart attacks, cancer, trauma and other urgent needs, Burgum noted.
"Our doctors and nurses heroically working on the front lines need our help, and they need it now. Since the beginning, we've taken a data-driven approach to our pandemic response, focusing on saving lives and livelihoods. Right now, the data demands a higher level of mitigation efforts to reverse these dangerous trends, to slow the spread of this virus and to avoid the need for economic shutdowns," Burgum said in a video message announcing the measures. "Our situation has changed, and we must change with it. Tonight, we're announcing four measures designed to reduce the spread of infections in our communities to protect our most vulnerable and to ensure hospital capacity."
The measures include a State Health Officer order requiring face coverings to be worn in indoor businesses and indoor public settings as well as outdoor public settings where physical distancing isn't possible. The order, signed by interim State Health Officer Dirk Wilke, is effective from Nov. 14 through Dec. 13. It includes exceptions for children under age 5, individuals with a medical or mental health condition or disability that makes it unreasonable to wear a mask, and religious services.
RELATED: COVID Symptoms Usually Appear in This Order, Study Finds
Cases May Be Leveling Off, But Only Slightly
Despite the perilous situation, the Times reports that as well as in other parts of the Upper Midwest and Mountain West that drove the initial fall surge have leveled off slightly, while cases are growing on both coasts and in the South and Southwest. Nearly 2,000 counties across the United States are now recording their worst month in November — nearly five times as many as in October." 
RELATED: 7 Side Effects of Wearing a Face Mask
How to Survive the Pandemic
No matter where you live, follow Dr. Fauci's fundamentals to protect yourself, your loved one and your fellow humans:
Universal wearing of masks.

Maintaining physical distance.

Avoiding congregate settings or crowds.

Doing more outdoors, as opposed to indoors.

Washing hands frequently.

Avoiding travel during this Thanksgiving holiday, as recommended by the CDC, or doing a risk assessment, per Fauci: Ask yourself who am I putting in danger of death and is it worth it? 

And to ensure your health and the health of others, don't miss these

35 Places You're Most Likely to Catch Coronavirus

.
Alek Korab is a Co-Founder and Managing Editor of the ETNT Health channel on
Eat This, Not That!
Read more