The Best & Worst Breakfast Options at Wendy's, According to Nutritionists
We'll let you guess where the Baconator landed.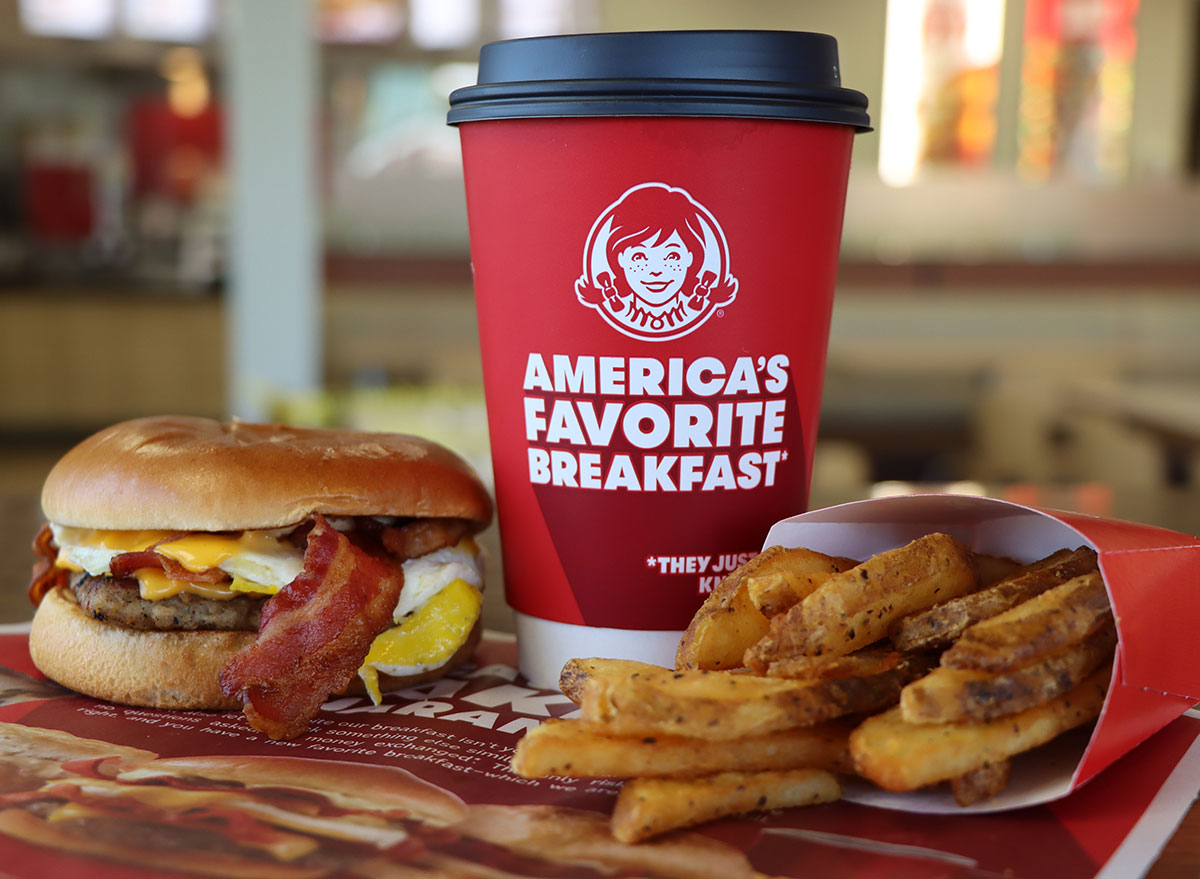 If there were such a thing as the breakfast wars, Wendy's would almost certainly win. The chain only launched its breakfast menu last year, but judging by its sales, it has already become one of America's top morning options in fast food.
And since you're probably a little tired of making breakfast at home, it may be time to give yourself a break and hit up the drive-thru for your first meal of the day. In order to help you pick the healthiest options on Wendy's breakfast menu, as well as those you should stay away from, we've consulted several nutritionists. Here are their recommendations.
Plus, if you're stopping by later in the day and looking for a non-breakfast option, don't miss these Best and Worst Menu Items at Wendy's.
Best: Fresh Baked Oatmeal Bar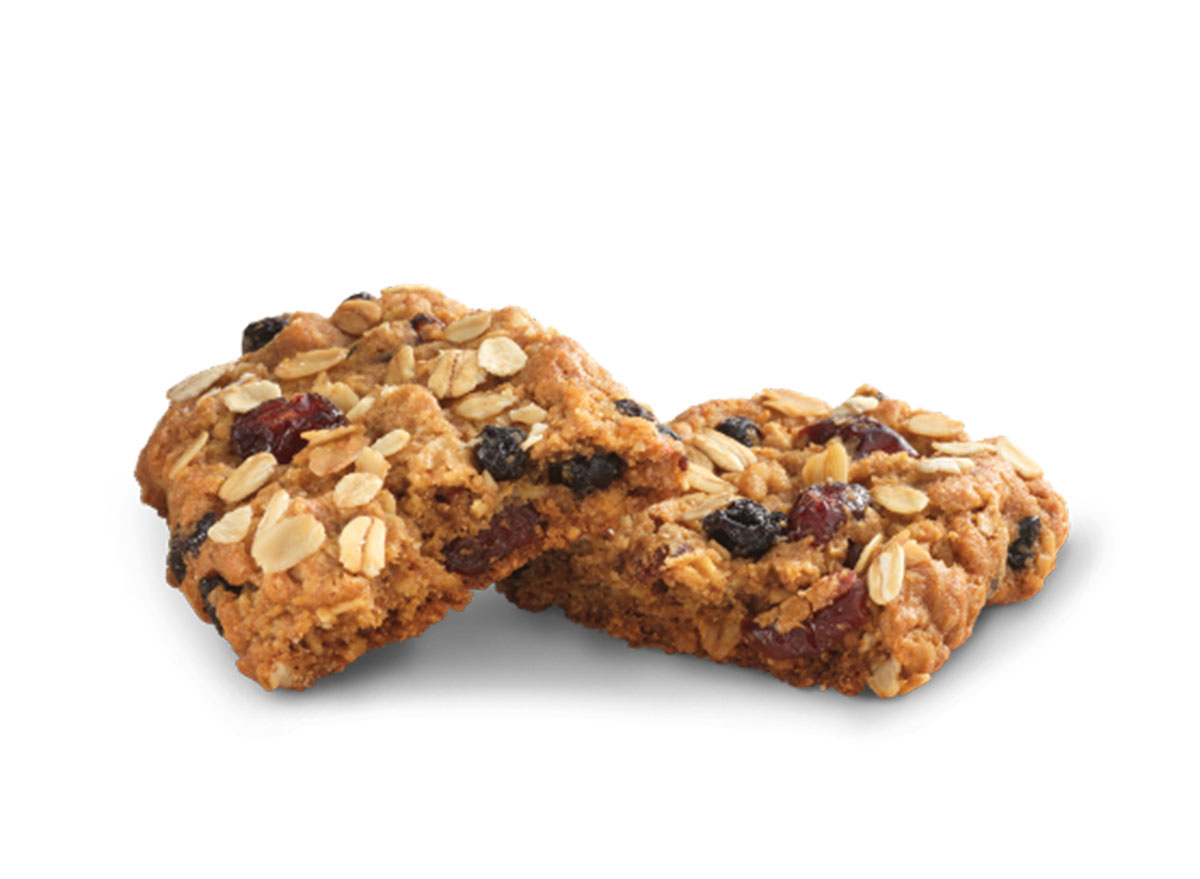 One serving
: 270 calories, 10 g fat (4 g saturated fat), 230 mg sodium, 44 g carbs (4 g fiber, 23 g sugar), 3 g protein
"Made with blueberries and cranberries which are loaded in vitamin C and antioxidants, this bar has only 270 calories and is a good source of fiber," Victoria Goodman, DSC, RDN, LDN, CLT told Eat This, Not That! The antioxidants, she noted, "improve the immune system and may rid the body of waste products." Meanwhile, the fiber in these oatmeal bars "helps to keep you full, control blood sugar and even help to lower total cholesterol levels."
Plus, she pointed out, "it is also low in fat and sodium," so you won't have to worry much about your blood pressure with this breakfast.
Best: Sausage, Egg & Cheese Burrito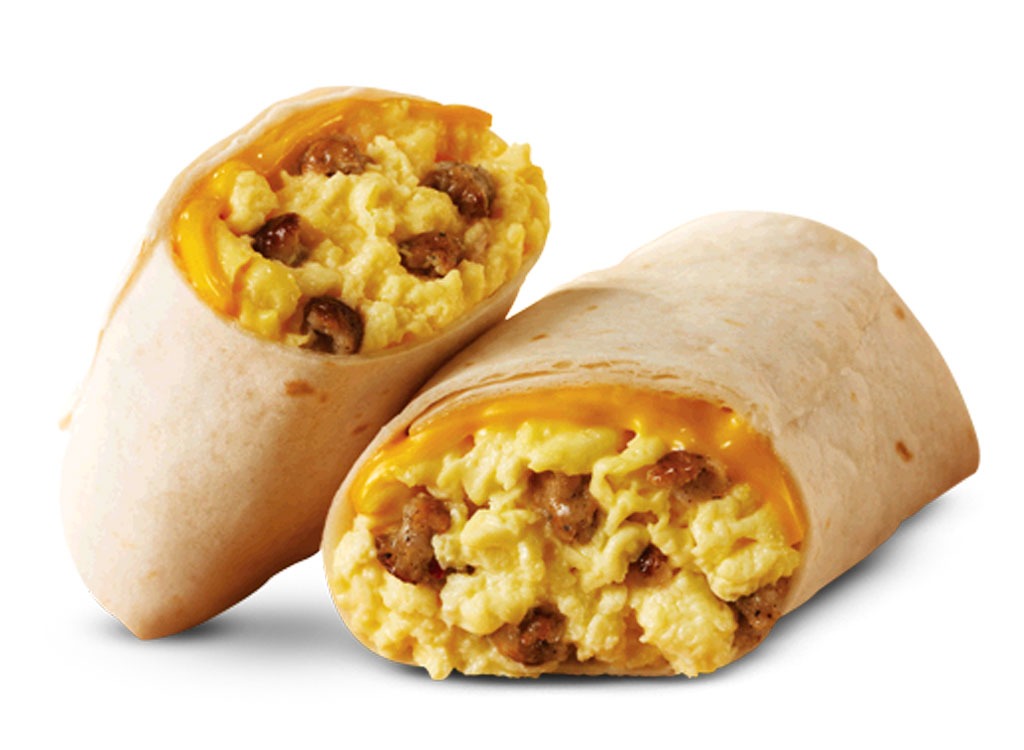 One serving
: 340 calories, 20 g fat (7 g saturated fat), 920 mg sodium, 25 g carbs (1 g fiber, 2 g sugar), 15 g protein
"This is listed as a side on the menu," noted Emily Murray MS, RD, LDN. "I'm not sure why—it's a great breakfast."6254a4d1642c605c54bf1cab17d50f1e
She points out that this burrito contains 15 grams of protein and only 25 grams of carbs, which means that it will give you the energy you need in the morning without the crash you might feel with a more sugary breakfast.
Worst: Sausage, Egg, and Swiss Croissant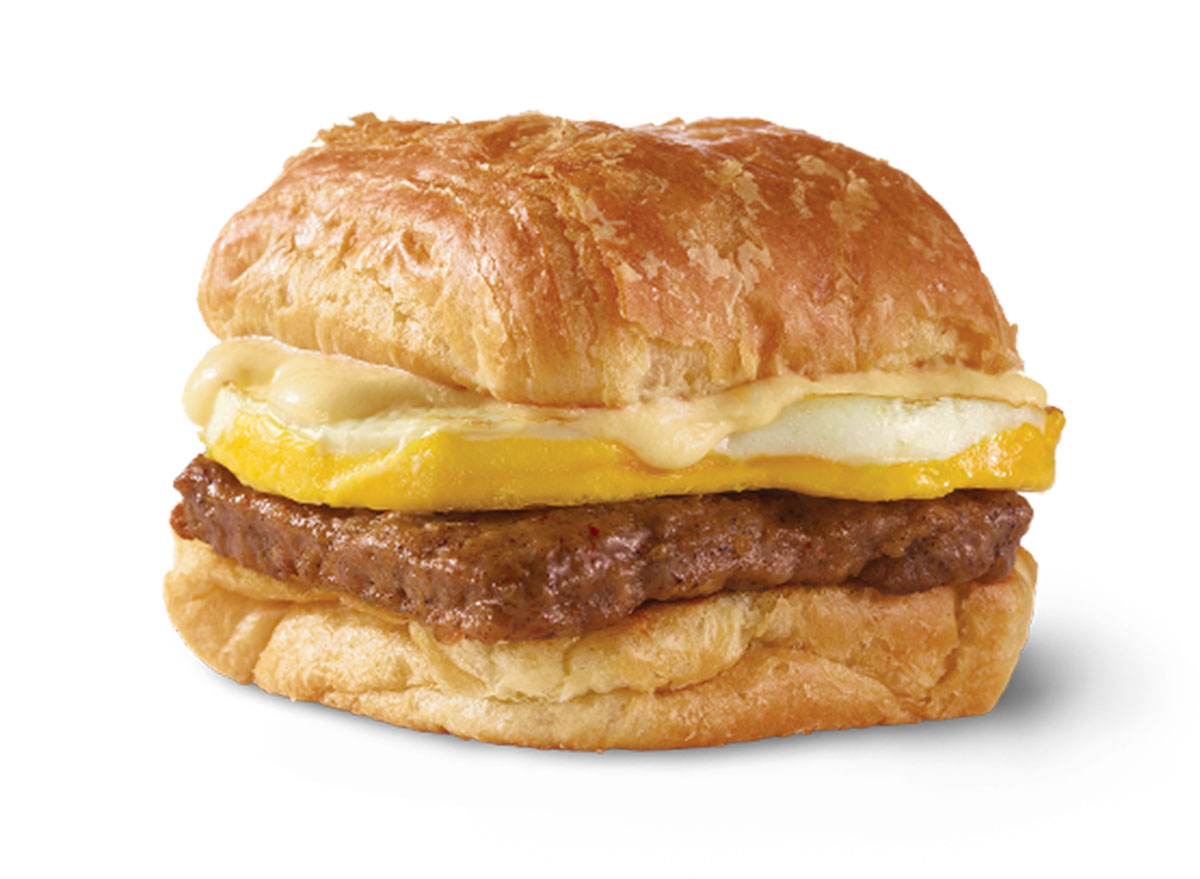 One serving
: 600 calories, 41 g fat (17 g saturated fat), 1030 mg sodium, 34 g carbs (1 g fiber, 7 g sugar), 22 g protein
It's likely no surprise that combining three fat-heavy foods—sausage, cheese, and croissants—does not lead to the most balanced breakfast. While any of these ingredients would be fine on their own and/or in moderation, the combination likely won't leave you feeling your best.
"With 17 grams of saturated fat, 1030 mg of sodium, and 600 calories, this would not be the most appropriate selection for one looking to improve their blood lipids," explained Goodman.
Plus, it's not just the nutrition facts—the sandwich includes some unsavory (no pun intended) processed ingredients that you might be better off avoiding. Goodman noted, "The swiss cheese is actually a cheese sauce composed of various gums and additives, making this a less than ideal option for those looking to reduce their consumption of processed foods."
Worst: Bacon, Egg, and Cheese Biscuit
One serving
: 420 calories, 27 g fat (11 g saturated fat), 1240 mg sodium, 28 g carbs (1 g fiber, 3 g sugar), 16 g protein
"By switching this breakfast sandwich from a bun to a biscuit, it adds [100] more calories and [10 grams of] added fat," said Murray. She added that, if you want a bacon, egg, and cheese breakfast sandwich, you're better off going with the Classic Bacon, Egg, and Cheese Sandwich, which has a significantly lower calorie count of 320 and only 17 grams of fat.
In fact, the classic breakfast roll version even has a little more protein than its biscuit counterpart: 18 grams versus the biscuit version's 16.
Worst: Breakfast Baconator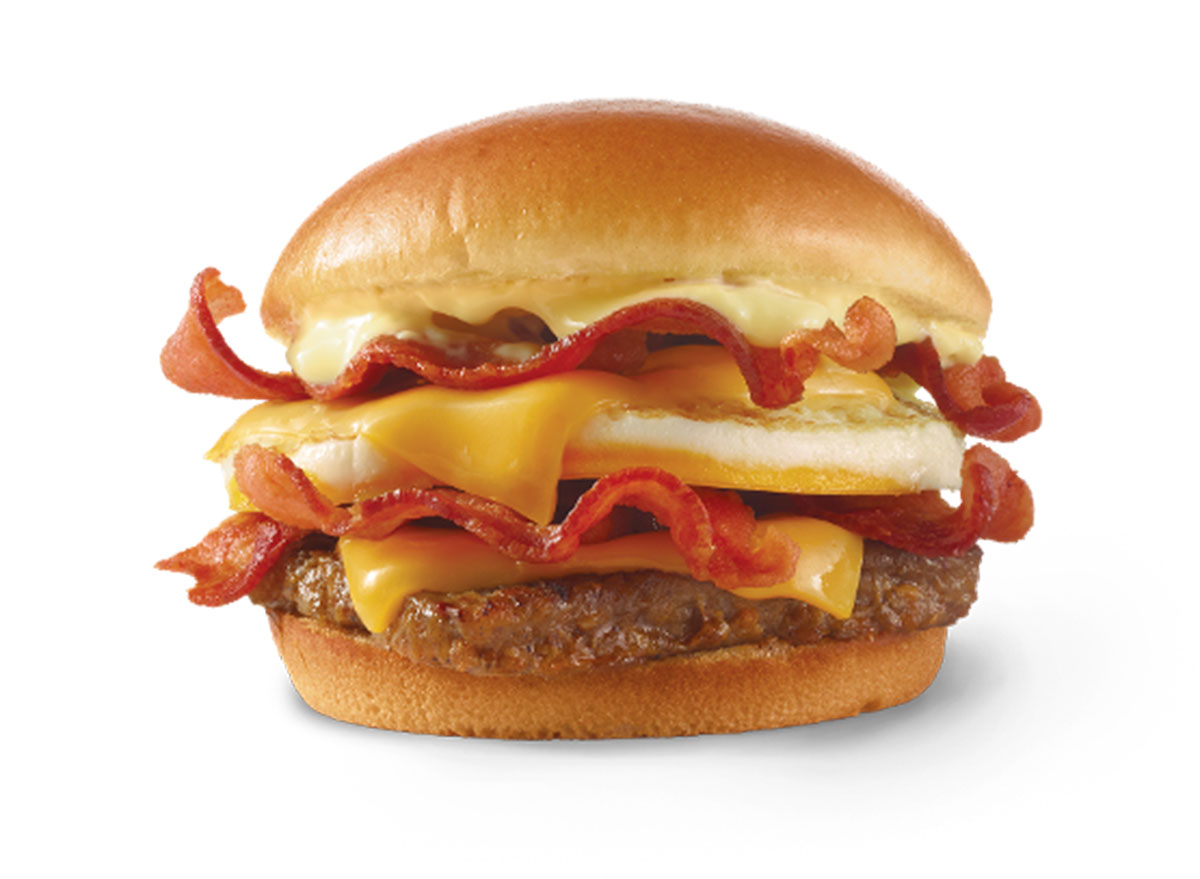 730 calories, 50 g fat (19 g saturated fat), 1750 mg sodium, 37 g carbs (1 g fiber, 7 g sugar), 34 g protein
Both Goodman and Murray selected the Breakfast Baconator as one of the least healthy options on the menu. Of course, this sandwich was destined to make the "worst" list with a name like that. Murray noted that the Baconator has "too much fat, sodium, and calories" to give you the kind of balanced nutrition you need to start your day off right.
"One breakfast sandwich contains 730 calories and is loaded with sodium, containing 1350 mg," agreed Goodman. "The Dietary Guidelines for Americans recommend 2300 mg or less of sodium intake daily, making this choice more than half of one's recommended intake a day."
She added that the sandwich "is also high in fat, making it not the most appropriate choice if someone is looking to improve heart health or weight."
The fact that this sandwich is a little excessive shouldn't surprise anybody, given its tagline: "Don't just break your fast. Destroy it."
For more, check out the 108 Most Popular Sodas Ranked By How Toxic They Are.
Clara Olshansky
Clara Olshansky (they/she) is a Brooklyn-based writer and comic whose web content has appeared in Food & Wine, Harper's Magazine, Men's Health, and Reductress.
Read more about Clara