The #1 Worst Mistake You're Making When Buying Groceries Online
You want a five-pound chicken—not five chickens.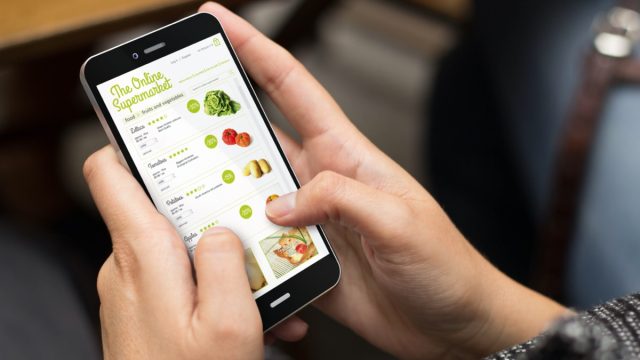 It's no secret that the coronavirus pandemic has led to a massive surge in online grocery shopping for deliveries and curbside pickups. After all, shopping for groceries via an app or online offers greater convenience and far greater safety from potential contagion contraction. But if you're going this route to buy your food supplies, there is at least one major mistake you should avoid, and that's mistakenly buying items in bulk from Fresh Direct, Amazon Fresh, or other shopping outlets.
GrubStreet recently reported the story of a woman named Elizabeth who "accidentally purchased an entire case—that's four gallons—of skim milk during a recent online order in which she meant to buy a more-reasonable half-gallon." The same article cites the example of an online shopper who revealed that she accidentally ordered an entire case of vanilla frosting for a single birthday cake.
"Somehow I thought I was getting a subscription of one, 100-filter pack every month," Caroline Fulford told the food site about an order she'd placed for coffee filters on Amazon. "Instead I got a one-time order of 12 packs of 100 filters, which may actually last us out until summer, so we're all set for the rest of quarantine at least."
The stories are countless. The writer Esther Zuckerman tells the story of trying to purchase a five-pound chicken online. Instead, she received five whole chickens.
https://twitter.com/ezwrites/status/1246202413029130240?ref_src=twsrc%5Etfw%7Ctwcamp%5Etweetembed%7Ctwterm%5E1246202413029130240&ref_url=https%3A%2F%2Fwww.grubstreet.com%2F2020%2F04%2Fonline-grocery-shopping-coronavirus-too-much-food.html
The reason for these mistakes comes down to a lack of attention to detail. Shopping in-store is typically a leisurely and almost mindless experience. You see what you want, you put it in the bag. Online grocery shopping, by comparison, requires you to read the fine-print and make sure you're fully aware of what you're purchasing.
So how do you avoid this trap?
First of all, if you are shopping online, let's state the obvious: You should pay much closer attention. You're not scrolling Instagram. Look at the quantities listed and price per item/pound amount.
Secondly, know that not all products are best suited for online shopping. Dry and canned goods like rice, beans, pasta, and cereal are easy to order and have delivered. Meat, dairy, fruit, and vegetable products? If you have a butcher or produce market nearby, perhaps you continue to shop for those products there instead.
Not only will you select the items you want, but you will also almost certainly not return home with four unwanted whole chickens. And for more great grocery shopping advice, know that This Is Why Grocery Shopping Prices Keep Fluctuating.