Saying These Three Words Can Save You Money at the Grocery Store
Here's a secret tactic that can often result in savings at your favorite supermarket.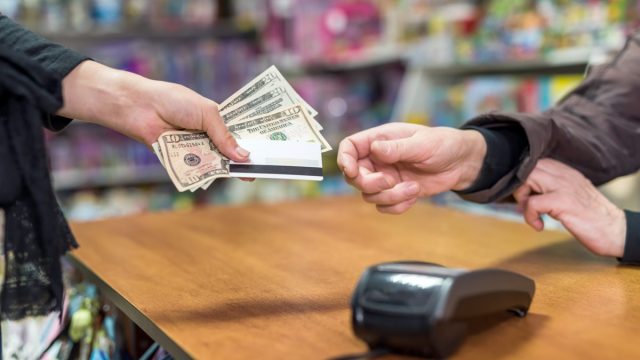 The coronavirus pandemic has resulted in a number of stunning developments when it comes to grocery shopping, not least of which is sky-high prices due to high demand. But a new tactic used by Internet-savvy shoppers is leading to significant savings at grocery stores, and that's telling your local grocer these three words: "It's cheaper online."
The increased demand brought about by stay-at-home guidelines and a dearth of options to dine out, combined with lessened supply from coronavirus outbreaks at food processing plants, have caused record increases in consumer price indices. As a result, households on a budget are seeing 10% price increases on some food staples like beef. Yikes.
But the pandemic has resulted in another trend in the world of many national grocery chains, and that is the preponderance of online grocery shopping apps. National retail giants like Walmart, Target, Costco, and Whole Foods have long provided this digital shopping experience for users, and many other national chains have quickly followed suit as part of a curbside pickup option for costumers who'd rather not enter a grocery store amid COVID-19 concerns.
But, here's the part that most consumers don't know:  Many of these national grocer apps offer significant discounts for first-time users who use their online system. Further, the prices for many products online are often cheaper than the price for the very same item listed in the brick and mortar location.
An unnamed Walmart employee revealed to Business Insider that checking prices online can often lead to real, in-store savings that can add up quickly. "If the item costs less online, then the store will comp," the employee revealed. "The item just has to be sold on Walmart.com."
How does it work? Easy. Before heading out to your local grocery store (or big-box retail chain for that matter), simply spend a few minutes searching for prices of the items you are looking for, then keep it on your phone. When you arrive at Whole Foods, Costco, Walmart, or whatever chain you are shopping, compare prices. There is a very good chance that this can lead to spending less money, and in some cases, significant savings if you say "It's cheaper online," and then show proof.
For more helpful money-saving tips, check out these 5 ways you're wasting money at the grocery store right now.