These Fast-Food Chains Are Using Toxic Food Wrappers, New Report Finds
Toxic chemicals may be present in this fast-food packaging.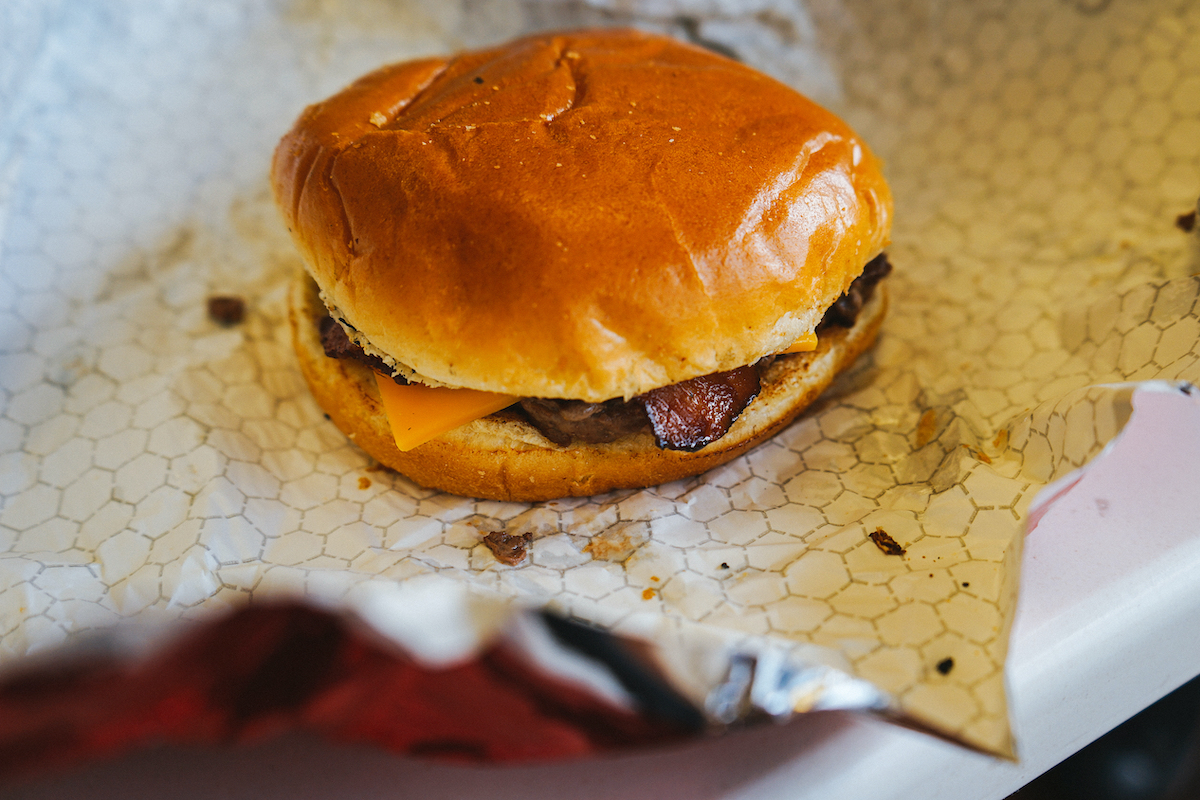 Next time you find yourself craving a Big Mac or Whopper, know that your biggest health concern might not be the calorie count. A new report reveals that both McDonald's and Burger King are serving their signature burgers in packaging that contains high levels of man-made chemicals known as PFAS.
The new study, conducted by environmental advocacy groups Toxic-Free Future and Mind the Store, explains that these toxins are used "to make materials grease- and water-resistant," and are commonly found in products such as apparel, carpeting, upholstery, and food packaging. However, they're notorious in some ecological circles for damaging the environment—and, perhaps, your drinking water.6254a4d1642c605c54bf1cab17d50f1e
Unfortunately, McD's and BK aren't the only chains using food packaging containing these chemicals. The report also found PFAS chemicals present in several restaurant chains' serving containers.
"Nearly half of all food packaging samples tested positive for fluorine above the screening level, including for fast-food favorites such as McDonald's Big Mac, Burger King's Whopper, and Sweetgreen's salads and warm bowls," the report notes. Wendy's paper cookie bags also tested positive for high levels. (Tests were conducted by an independent laboratory in February, the report says.)
PFAS were introduced commercially in the 1940s and are created by joining carbon and fluorine. This is one of the strongest bonds that can be made in organic chemistry, and also what makes PFAS chemicals resistant to moisture and heat. It's the reason why burger grease doesn't stain your Whopper wrapper or Big Mac box, and why your SweetGreen warm grain bowl stays fresh and clean.
PFAS are often referred to as "the forever chemical," because they have long half-lives and stay in our water supply long after they are disposed of. According to a National Geographic report, tests of 44 different water taps in 31 states found that 43 exceeded a safe limit by state standards. "I think it's one of the biggest threats in drinking water that people don't have a complete understanding of, and it's been around for decades," says David Andrews, a senior scientist who conducted the study.
The FDA announced last week that it will begin eliminating the use of these sorts of synthetic chemicals used in food packaging over the next few years. A Burger King representative told Fox News, "We are looking forward to extending our safe ingredients policy to include the removal of the short-term PFAS recently identified by the FDA."
A spokesperson for McDonald's also told Fox News that the fast-food giant has already eliminated "significant subset classes of PFASs" from their global food packaging. "We know there is more progress to be made across the industry and we are exploring opportunities with our supplier partners to go further," McDonald's said.
For more, here are 15 Discontinued McDonald's Menu Items That Deserve a Comeback.