Reddi-wip Just Launched Two Cream-Free Whipped Creams
Your go-to dessert topping just got a trendy makeover, but are these non-dairy picks worth the buy?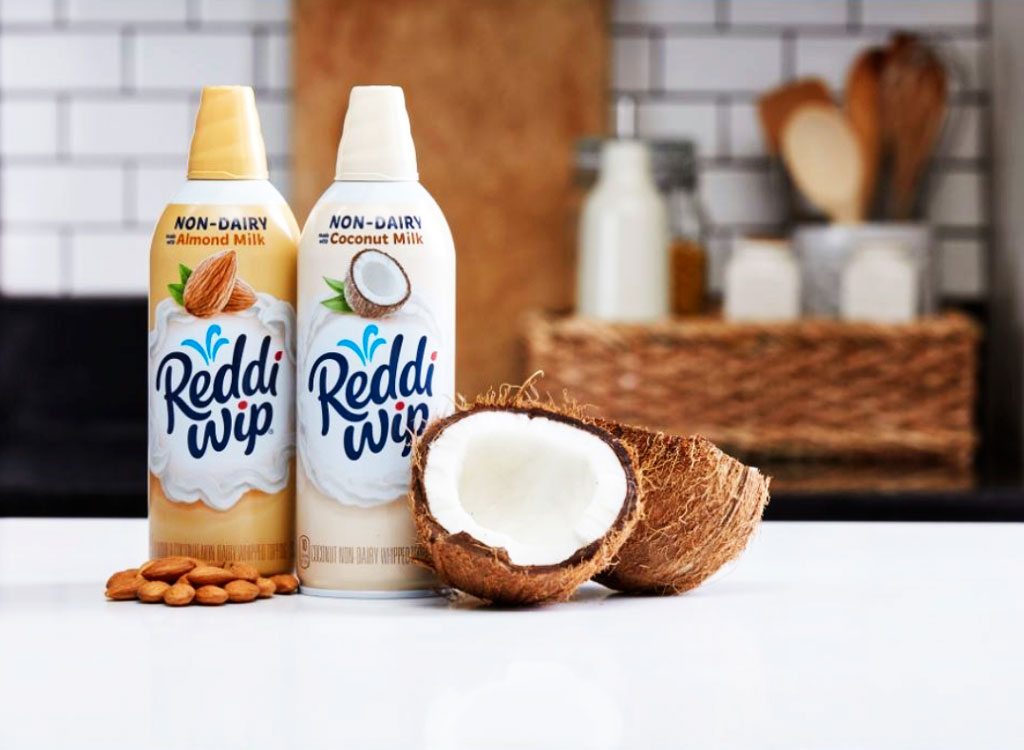 With tons of dairy-free ice creams permeating the freezer aisle, lactose-averse folks are finding it easier than ever to indulge their late-night sweet tooth. And now, arguably the most essential ice cream topping—whipped cream—will be available in two dairy-free versions at your local grocery store in the coming months. Reddi-wip just launched almond milk- and coconut milk-based whipped creams made with zero dairy cream and loads of decadent flavor.
"People are turning to plant-based alternatives for many reasons," NYC-based nutritionist Samantha Cassetty, MS, RD, tells us. "They may be allergic or sensitive to dairy foods, they may be following a specific dietary trend, like Whole30 or the Paleo diet (both of which eliminate dairy foods), or they may just be seeking more plant-based foods in general," she clarifies, adding that many people eat both dairy and non-dairy alternatives, which serve different purposes. Although these new non-dairy toppings aren't Whole30- or Paleo-approved, they seem to offer a solid alternative to the creamy topping we grew up with. But are they worth the buy?
How do the non-dairy whipped creams compare to the Original?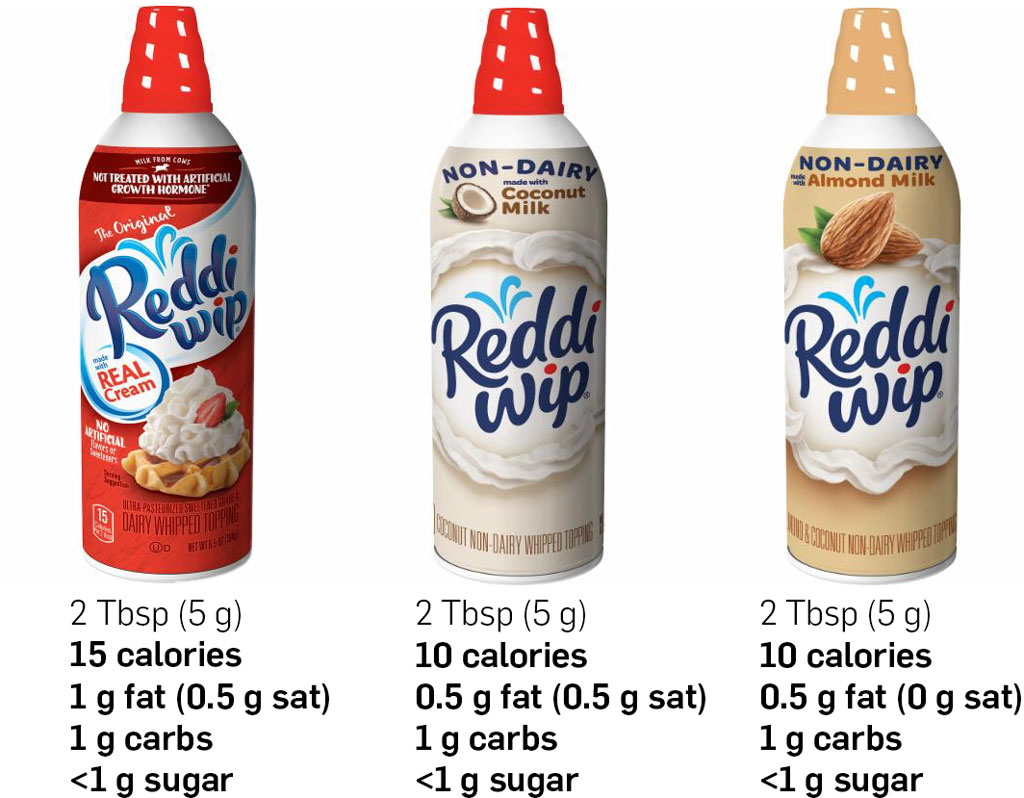 Both of the new plant-based options are made indulgent with the addition of coconut cream yet possess only a half-gram less fat and five fewer calories per serving. However, like the original topping, the almond and coconut creams also contain carrageenan as well as mono- and diglycerides: emulsifiers which may contain trans fatty acids as well as trace levels of toxic elements such as arsenic, lead, mercury and cadmium. As for carrageenan? "Carrageenan is often used as a thickener in foods and is considered safe by the FDA; however, it's a controversial ingredient because lab studies show that it may trigger inflammation," Cassetty says.6254a4d1642c605c54bf1cab17d50f1e
So should you try them?
"Though I understand the appeal of Reddi-wip, there are other, more natural ways to go," Cassetty tells us, suggesting a simple solution. "Chill a can of full-fat coconut milk in the fridge overnight and you'll find that when you open it, the cream has risen to the top. It's a great match for the texture of whipped cream and while you can whip it with a little sugar to sweeten it, I enjoy it plain as a topping for fruit. That gets my vote over Reddi-wip's new almond-based whip or coconut-based whip because it doesn't contain the added corn syrup and fillers, such as the thickener, carrageenan. Instead, this simple substitution has just one ingredient: Coconut milk."
Ready to give up on the canned stuff and make your own whipped cream at home? After you've tried your hand at this no-sugar-added homemade alternative, don't forget to pick up a copy of The 14-Day No Sugar Diet to learn more ways to enjoy your favorite foods without the guilt!
April Benshosan
April is a born-and-raised Brooklynite who has a passion for all things health, wellness, and tastebud-related.
Read more about April
More content from
Groceries