These States are Punishing Restaurants Because of COVID-19 Violations
Several states have introduced new restrictions on restaurants and bars as COVID-19 cases rise.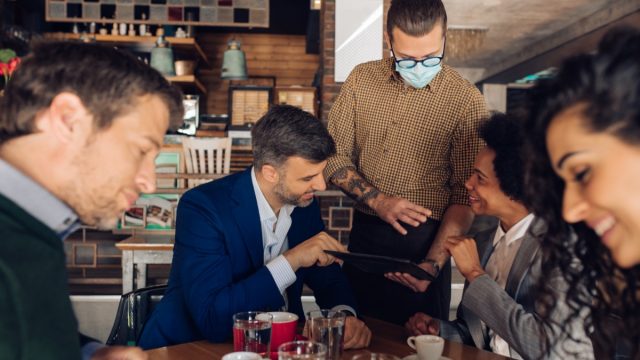 With COVID-19 cases once again on the rise, several U.S. states have introduced new restrictions on restaurants and bars. After nearly a year of operating restrictions, many restaurants are pushing back—and getting punished for it.
The Alibi Drinkery defied the governor of Minnesota's order halting all indoor dining. The Lakeville-based restaurant could have its liquor license suspended for 60 days after hosting "nonstop full tables" in December, according to the Star Tribune. (Related: The Saddest Restaurant Closures In Your State.)
"It puts the state of Minnesota in a spot, where we are seeing 3,000 to 4,000 new infections a day. What did we just have, 92 more deaths?" Keith Ellison, the state's attorney general, said about the acts of defiance. "Before I talk to you about what I am going to do, we should talk about what COVID is going to do. [Defiant bar owners] are spreading a deadly disease to your neighbors."
A northern Kentucky cafe owned by Richard Hayhoe kept its doors open when the state's governor closed indoor dining from Nov. 20 to Dec. 13, according to NBC News affiliate WLWT5. He was subsequently charged for operating a restaurant without a permit in a criminal complaint.
Yergy's State Road BBQ in Indiana was shut down by the Wells County Health Department after the owner allegedly violated the governor's orders on capacity limits and masks, according to NBC News affiliate WANE. Owner Matt Yergler later sued the state, claiming that there was "no rational basis" for employees to wear a face covering on the job.
"If we put on the mask we could open," Yergler told the outlet. "Alright? But at some point, you have to stand on our principles and our convictions, and we got to fight and we got to push back against tyranny."
With so many different restrictions across the country, what measures should you take to protect your own health and safety? Sitting as far away as 15 feet from someone infected with the new coronavirus may not be enough to prevent the spread in certain indoor dining conditions, according to a recent study. Droplet "transmission can occur at a distance greater than 2 [meters] if there is direct air flow from an infected person in an indoor setting," the study said.
To keep yourself, your family, and others safe, here are Restaurants You Shouldn't Go to Even If They're Open.
To get all the latest coronavirus restaurant news delivered straight to your email inbox every day, sign up for our newsletter!
Amanda is a staff writer for
Eat This, Not That!
.
Read more