Dining Out Is Riskier if Your Restaurant Has This in Its Dining Room
Experts say this helps the coronavirus travel farther in the air and affect more people.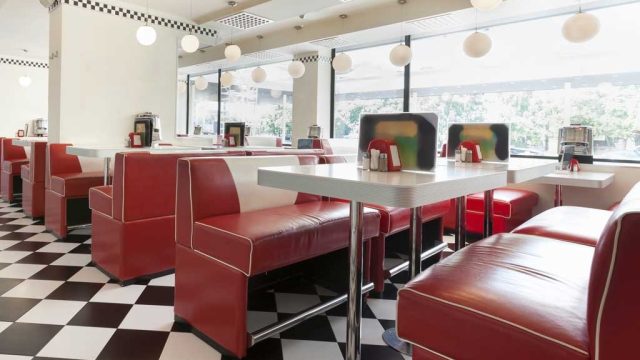 Restrictions are lifting and restaurants are opening up for more than just carryout or delivery. That means dining-in is an option again. Things look different, and there's no timetable for returning to pre-virus eating out. But there's one thing we know for sure — safety is still the priority, and if a restaurant has an air-conditioner or fan in the dining room, you could be more at risk for catching the virus. 
STAY INFORMED: Sign up for our newsletter to get the latest coronavirus foods news delivered straight to your inbox.
The CDC says the virus spreads from person to person through droplets that are released when someone who is infected sneezes or coughs. Masks help prevent the spread of these droplets that can land on surfaces and live there for a few days, says the Cleveland Clinic. Restaurants are also riskier than staying home because you can't wear a mask when you eat. The news of the risks of air conditioning and airflow in an inclosed space comes from a study done in China. Researchers found that families sitting at neighboring tables in a restaurant were exposed to the coronavirus from one person. 
Why is air conditioning risky?
In total, the one person infected nine. That the number was high because the restaurant has an air conditioner located above one of the tables. It created a current of air that picked up droplets and forced them past all three tables. The restaurant also has no windows that could have aided in ventilation. 
Surprisingly, none of the people at tables on the other side of the restaurant became infected. Keep this in mind when choosing a restaurant to eat at post-lockdown. Sitting away from the risky air conditioning or outside is safer. And, of course, washing your hands after touching the menu and before eating are great options, too. Don't be surprised if the salad bar is closed, tables aren't set or your waiter doesn't offer you water from a shared pitcher or a fresh lemon or lime — those could be things of the past. 
READ MORE: Click here for all of our latest coronavirus coverage.
Amanda is a staff writer for
Eat This, Not That!
.
Read more