This Is the Safest Way to Get Groceries
Here's what you need to do to stay safe when buying groceries.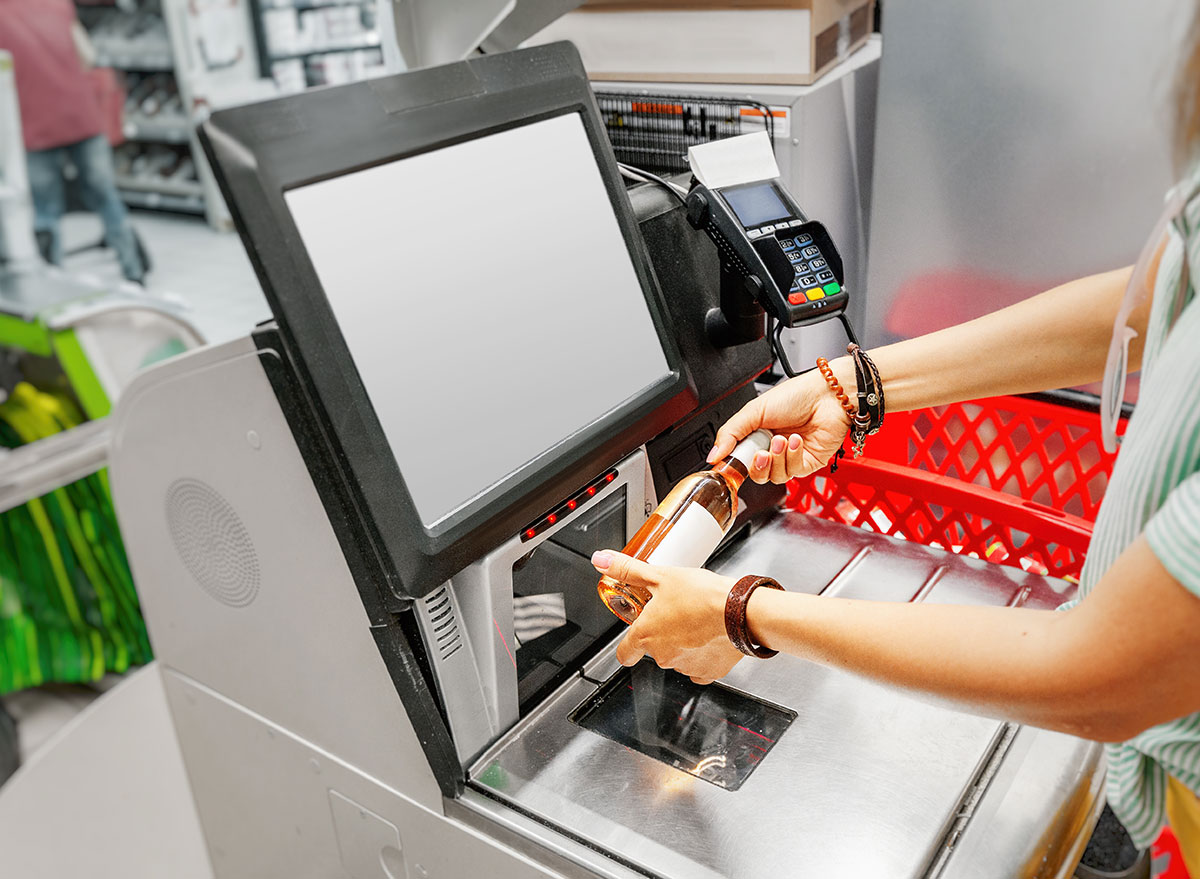 It's probably a tale you're used to by now. You head to the grocery store and make sure to take all of the safety precautions, avoiding every grocery store mistake so you don't increase the spread of coronavirus. Until you reach the checkout and have to ask yourself the question: Is it safer to use self-checkout or regular checkout? While it can seem like a conundrum, the answer for the safest way to get groceries is really simple.
The safest way to buy groceries will actually be self-checkout. Now, this may not seem like the answer you were going for, especially when self-checkout means touching screens and other surfaces that customers have just used themselves. However, the CDC is constantly updating the public on health information around the virus and recently updated the public on what causes the virus to spread. It's more likely for COVID-19 to spread from person-to-person interaction instead of on surfaces.
STAY INFORMED: Sign up for our newsletter to get the latest coronavirus foods news delivered straight to your inbox.6254a4d1642c605c54bf1cab17d50f1e
While touching an infected surface that someone touched before you and then immediately touching your face could spread the virus, it's not as likely to spread compared to person-to-person interaction. The CDC says respiratory droplets that are produced by infected people will cause spread, which is why it's absolutely vital to be wearing a mask at all times in the store right now. Especially when you consider how far a cough can travel.
Along with wearing a mask, it's important to take other proper safety precautions so you don't experience any person-to-person contact. Since symptoms of the virus don't show up for days beforehand, that means people (which yes, includes yourself) may not know they are infected with the virus and could easily be walking around at the store. So it's vital that you keep a six-foot distance and keep your hands clean as much as possible.
So, the safest way to get groceries is to use self-checkout if possible. You can wipe down all the surfaces using an antibacterial wipe if you feel necessary, but if you're already protecting yourself with gloves and hand sanitizer (applied before and after your trip), and washing your hands immediately post-grocery store trip, you should be alright. And if self-checkout isn't possible in your store, make to keep you and your grocery store neighbors safe by keeping a proper six-foot distance and wearing a mask.
More content from
Groceries