Get Your Junk-Food Fix with These New Cookies from Sejoyia
Upgrade your midnight snack with these delectable Paleo cookies that will fulfill all your cravings.
Your typical cookie is going to set you back a fair amount of your recommended daily intake of added sugars. But, let's be honest, that's not really what you're thinking about at the moment you grab a second because it tastes that good. So what if we told you there was a way you don't have to compromise on taste while still keeping your sugar intake to a minimum? We know it's not always easy to kick your sweet tooth's hankerings to the curb, and fortunately, now you can get your junk-food fix with these new macaroons and thin cookies from Sejoyia.
Sejoyia Cocoroons come in a variety of indulgent flavors including Vanilla Maple, Lemon Pie, Cacao Nib, Chocolate Chip, Brownie, and Salted Caramel to fulfill all your cravings for dessert. The best part: They're made with whole foods such as coconut and cashews, and sweetened with just maple syrup and coconut sugar for a decadent bite that's Paleo, gluten-free, vegan, and non-GMO.
Sejoyia Chocolate Chip Cocoroons contain 130 calories, 10 grams of fat (7 grams saturated), 55 milligrams of sodium, 10 grams of carbs (2 grams of fiber, 6 grams of sugar), and 2 grams of protein per 2-cookie serving. The Vanilla Maple contains 300 calories, 23 grams of fat (17 grams saturated), 130 milligrams of sodium, 23 grams of carbs (5 grams of fiber, 16 grams of sugar), and 4 grams of protein per the entire container.
And don't fret the high fat count, as all of the fat comes from brain-boosting MCTs—a medium-chain fatty acid that's present in coconuts that has been shown to improve cognitive performance as well as it can slim down your waistline. What's more, the solid fiber content will help stabilize your blood sugar to prevent any belly-ballooning glucose spikes while the plant protein will help hold you over. Talk about a dessert with benefits!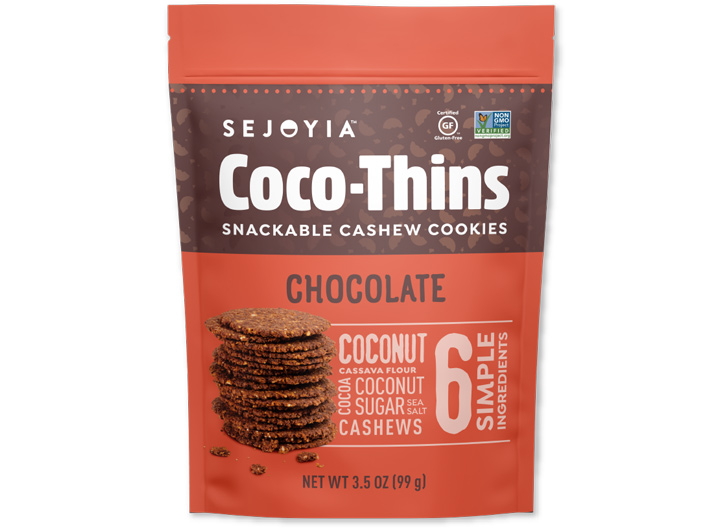 When you're in the mood for something crunchier, Sejoyia also makes Coco-Thins, which are basically healthified versions of your go-to cookie thins. These crispy treats come in Chocolate, Vanilla, Lemon Zest, and Salted Caramel and range between 150 and 170 calories and 6 to 10 grams of sugar per 8 cookies. All grain-free Coco-Thins are baked with just five simple ingredients including cassava flour, a fiber-filled Latin American veggie linked to fending off diabetes and metabolic diseases.
Skip the Chips Ahoy and Famous Amos and dunk a few of Sejoyia's melt-in-your-mouth cookies in milk instead.