Sure Signs You're Contagious With COVID, Says Dr. Fauci
This type of test can help you figure out if you can infect others with the virus.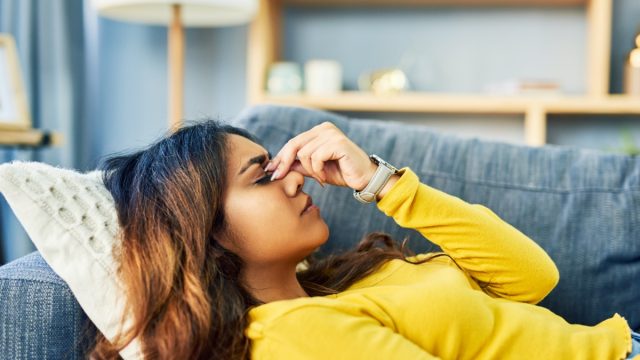 COVID-19 is spreading rampantly around the country, with the number of infections, hospitalizations, and deaths reaching record-breaking highs. As we enter into the holiday season, it is becoming increasingly more important to slow the spread of the virus. Obviously, one of the key ways that people can do this is by quarantining if they are infected — especially if they are contagious. But how do you know if you are capable of spreading the virus to others? During a talk with CNN's Dr. Sanjay Gupta during "COVID-19: Chasing Science to Save Lives," Dr. Anthony Fauci, the nation's leading infectious disease expert explained one way to figure out if you are contagious with COVID — even if you are asymptomatic. Read on, and to ensure your health and the health of others, don't miss these Sure Signs You've Already Had Coronavirus. 
Dr. Fauci Says it All Comes Down to Testing
According to Dr. Fauci, it all comes down to testing, and more specifically, the type of testing you undergo. "I think that our listeners and viewers need to understand that there are tests for different purposes."
The first type, PCR tests are more sensitive and therefore more accurate. 
"If you've been exposed — either symptomatic or not — expensive PCR tests that you can't get in 10 or 15 minutes, it's going to get at best a day and sometimes two and three days," he explained. 
Then, there are the less sensitive, less accurate antigen tests, which are a great way to "get a feel for what the penetrance of infection is in a particular group" — such "as a college, in a factory, in a nursing home" — even when nobody is experiencing symptoms. "If you get tested two or three times a week, the lack of sensitivity of that test will be made up for, by the frequency with which you get it," he explained. 
This second group of tests, the antigen, are also a good determinant of whether or not you are contagious. Basically, if your level of virus is so low that the test doesn't pick it up, you probably aren't going to spread it to anyone else. 
"Even though the sensitivity might be lower in the antigen test that's more of a screening test, if you wind up getting a level of virus that is not picked up by the antigen test, because it's so low, you could be infected, but your virus is so low that you are not infective," he explained. "You're not going to transmit it because it's not picked up by the antigen test."
"I think that's something we're learning more and more about the more information we get, the more confident we'll be as to whether or not these tests can be used on a basis of screening to tell you, at least I'm not infective to someone else," he concluded. 
RELATED: 7 Tips You Must Follow to Avoid COVID, Say Doctors
How to Stay Healthy During the Pandemic
As for yourself, do everything you can to prevent getting—and spreading—COVID-19 in the first place, since the vaccine isn't here yet: Wear a face mask, get tested if you think you have coronavirus, avoid crowds (and bars, and house parties), practice social distancing, only run essential errands, wash your hands regularly, disinfect frequently touched surfaces, and to get through this pandemic at your healthiest, don't miss these 35 Places You're Most Likely to Catch COVID.