A State-by-State Guide of Restaurant Reopenings
Here is a comprehensive list of when eateries opened or are slated to open their doors again.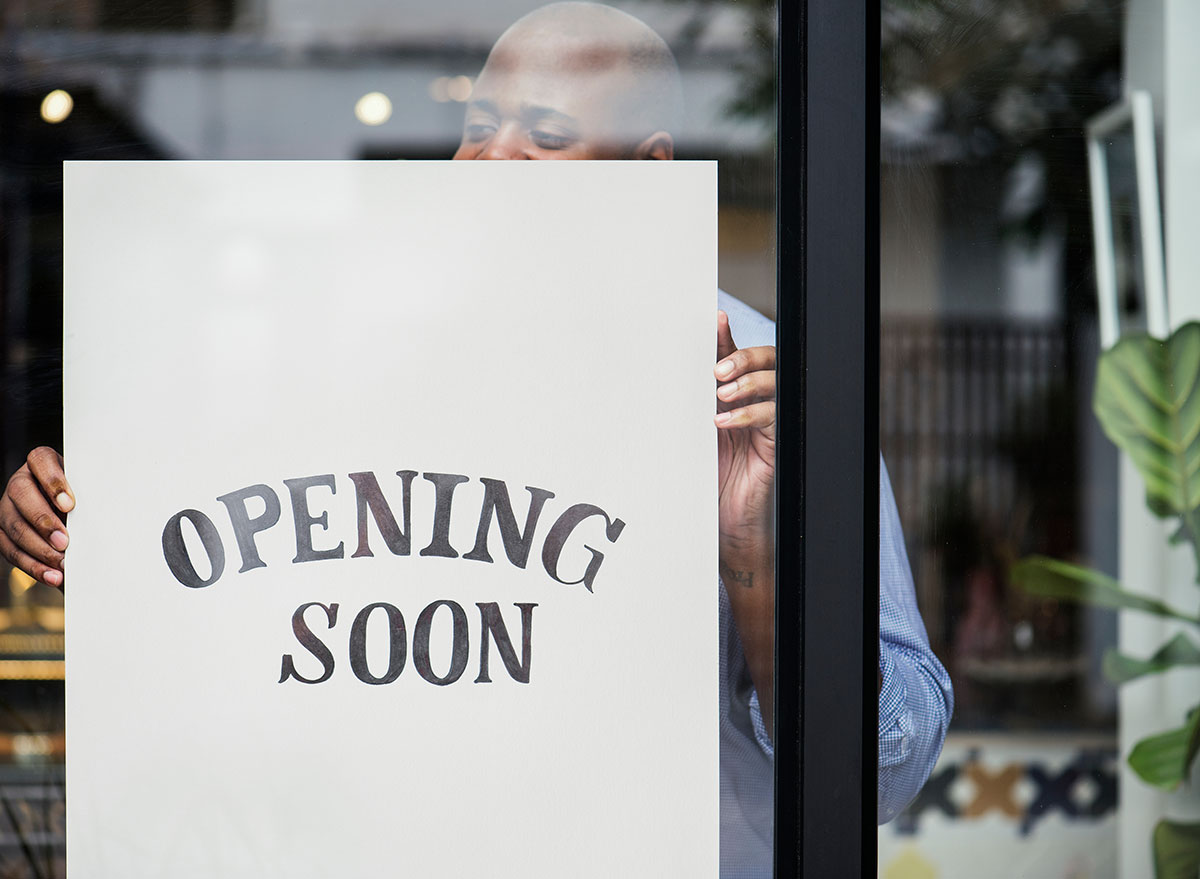 The pandemic may not be over, however, many states have demonstrated a considerable decline in new COVID-19 cases within the past month, and many businesses were given the green light to reopen.
Many restaurants across the United States have been closed for at least two months, so the need to reopen in phases is critical in ensuring states don't experience a spike in new infections. As restrictions have slowly begun to lift in various states and large metropolitan areas, restaurants have been required by the CDC's new restaurant guidelines to only operate at 25 to 50 percent of their normal capacity indoors and outdoors and to have tables that are at least six feet apart from one another.
Several states have already reopened eateries, but there are a few that still have yet to. Below, you'll see a comprehensive guide on when dining establishments reopened in each state. Of course, some major cities (such as NYC and San Francisco) may have elected to reopen at a different date than their respective state. The only states where all restaurants have yet to reopen entirely include Hawaii, Massachusetts, New Jersey, and Pennsylvania.6254a4d1642c605c54bf1cab17d50f1e
Alabama: Reopened 5/11/2020 
Alaska: Reopened 5/22/2020
Arizona: Reopened 5/11/2020
Arkansas: Reopened 5/11/2020
California: Reopened 5/13/2020-5/29/2020

San Francisco reopening for outdoor dining on 6/15/2020

Colorado: Reopened 5/27/2020 
Connecticut: Reopened 5/20/2020
Delaware: Reopened 6/1/2020
Florida: Reopened 5/4/2020
Georgia: Reopened 4/27/2020
Hawaii: Reopening on 06/05/2020
Illinois: Reopened 5/29/2020 
Indiana: Reopened 5/11/2020-5/22/2020
Iowa: Reopened 5/1/2020
Idaho: Reopened 5/15/2020
Kansas: Reopened 5/4/2020
Kentucky: Reopened 5/22/2020
Louisiana: Reopened 5/15/2020-05/16/2020
Maine: Reopened 5/18/2020
Maryland: Reopened 5/29/2020
Massachusetts: Reopens 6/8/2020
Michigan: Reopened 5/22/2020
Minnesota: Reopened 6/1/2020
Mississippi: Reopened 5/4/2020
Missouri: Reopened 5/4/2020
Montana: Reopened 5/4/2020
Nebraska: Reopened 5/4/2020
Nevada: Reopened 5/9/2020
New Hampshire: Reopened 5/18/2020
New Jersey: Slated to reopen 6/05/2020
New Mexico: Slated to reopen in early June
New York: Sit-down dining slated to reopen 07/8/2020 in NYC.

Other parts of NY opened as early as 05/15/2020

North Carolina: Reopened 5/22/2020
North Dakota: Reopened 5/1/2020
Ohio: Reopened 5/15/2020 outdoor dining only

Dine-in service began 5/21/2020

Oklahoma: Reopened 5/1/2020
Oregon: Reopened 5/15/2020
Pennsylvania: Slated to reopen 06/04/2020
Rhode Island: Reopened 5/18/2020
South Carolina: Reopened 5/11/2020
South Dakota: Capacity limits were never enforced.
Tennessee: Reopened 4/27/2020-5/25/2020 (depending on the city)
Texas: Reopened 5/1/2020
Utah: Reopened 5/1/2020
Vermont: Reopened for outdoor dining on 05/22/2020
Virginia: Reopened for outdoor seating on 5/15/2020
Washington: 22 of 39 counties reopened 5/12/2020
West Virginia: Reopened 5/21/2020
Wisconsin: Reopened 5/13/2020
Wyoming: Reopened 5/16/2020
Cheyenne Buckingham
Cheyenne Buckingham is the news editor of
Read more