These 14 States Just Set Coronavirus Records
Nationwide, new cases inch toward a previous peak.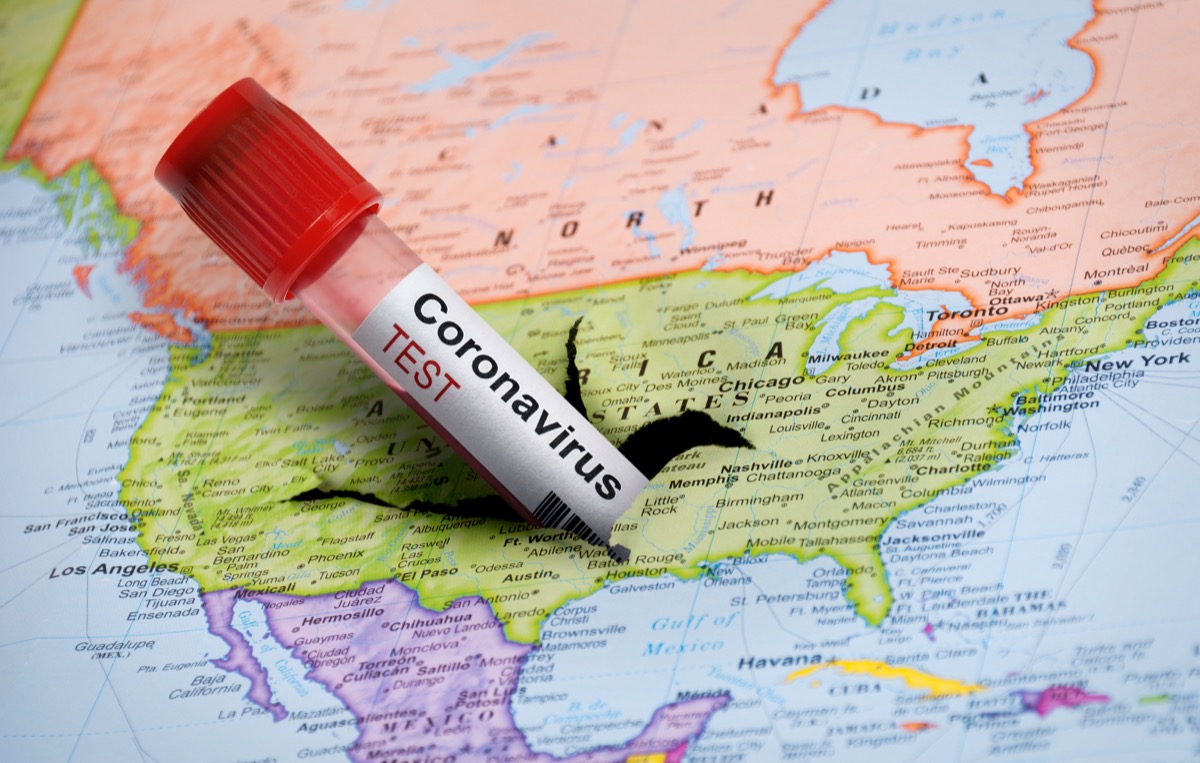 It wasn't a good Monday for America's battle against coronavirus. That day, 14 states set records for coronavirus hospitalizations, CNN reported. Nationwide, new daily COVID cases are at their highest level since this summer.
According to the Covid Tracking Project, the 14 states reporting record COVID-19 hospitalizations are Alaska, Arkansas, Iowa, Kansas, Kentucky, Montana, Missouri, Nebraska, North Dakota, Oklahoma, South Dakota, Utah, West Virginia and Wisconsin.
The country's seven-day average of new daily COVID cases was above 58,300 as of Monday—almost six times higher than the 10,000 daily cases health experts said would be an acceptable maximum heading into flu season—and inching closer to the peak of 67,200 seen on July 22. Average new daily cases have risen 70% since September 12, CNN noted.6254a4d1642c605c54bf1cab17d50f1e
Health officials worry that coronavirus cases will skyrocket this fall and winter, as cooler weather brings people indoors, where the virus is more easily transmitted. Read on, and to ensure your health and the health of others, don't miss these Sure Signs You've Already Had Coronavirus.
Holiday season could drive surge
In contrast to this summer, when large gatherings were primarily driving case surges, health officials say that smaller gatherings are now playing a role.
Not coincidentally, the director of the National Institutes of Health has canceled his family Thanksgiving next month. "It is just not safe to take that kind of chance with people coming from different parts of the country of uncertain status," Dr. Francis Collins said on NPR's "Morning Edition" Tuesday. " The problem with this disease is it is so easy for people to be infected and not know it, and then spread it to the ones next to them without realizing it."
"All of this, I'm afraid, happens because we have not succeeded in this country in introducing really effective public health measures," he added.
Dr. Anthony Fauci, the nation's top infectious-disease expert, had previously said his family would also skip a Thanksgiving gathering this year.
"You may have to bite the bullet and sacrifice that social gathering," he told CBS News last week. "Unless you're pretty certain that the people that you're dealing with are not infected either"—for example, if they've been "very recently tested" for coronavirus or never interact with people outside your family.
How to help: Wear a mask
"Simple things that we all could be doing: Wear your mask, keep that six-foot distance, and don't congregate indoors, whatever you do, and wash your hands. And yet people are tired of it and yet the virus is not tired of us," Collins said.
The coronavirus has killed at least 220,000 Americans since the start of the pandemic in February. More than 8.3 million cases have been reported overall.
One model by the Institute for Health Metrics and Evaluation estimates that the U.S. could see more than 394,000 deaths by Feb. 1. But the agency said that if everyone wears a face mask, 79,000 lives could be saved.
As for yourself, do everything you can to prevent getting—and spreading—COVID-19 in the first place: Mask, get tested if you think you have coronavirus, avoid crowds (and bars, and house parties), practice social distancing, only run essential errands, wash your hands regularly, disinfect frequently touched surfaces, and to get through this pandemic at your healthiest, don't miss these 35 Places You're Most Likely to Catch COVID.