This State Just Closed Restaurant Dining Rooms Again
As of now, the new orders will stay in place for three weeks as COVID-19 cases continue to climb.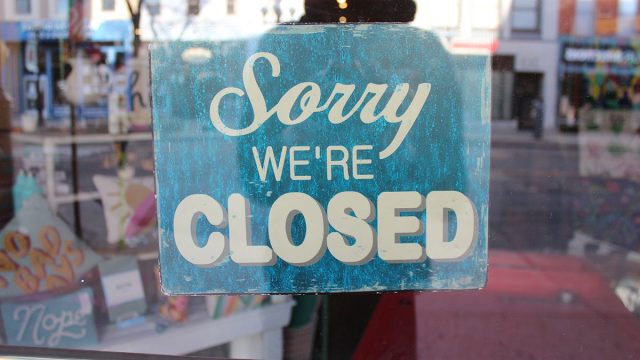 Michigan is now the fifth state to have suspended indoor dining and bar services statewide.
Gov. Gretchen Whitmer announced, on Sunday, Nov. 15, that Michigan will be following suit of Washington, New Mexico, Oregon, and Illinois by temporarily prohibiting indoor dining for three weeks. New Mexico and Oregon, however, took measures one step further by completely banning all on-premise dining services, which includes outdoor patio seating. (Related: 9 Restaurant Chains That Closed Hundreds of Locations This Summer.)
Whitmer made the decision to close down dining rooms again because of a recent "runway increase in COVID-19 casualties" in the state. Since March, Michigan has lost nearly 8,000 residents to coronavirus.
"A leading model shows that if we don't take aggressive action light now, we could see 1,000 deaths per week in Michigan," Whitmer said, as quoted by Restaurant Business Online.
Starting this Wednesday, Nov. 18, restaurants must halt indoor dining, entertainment businesses will close shop, and high schools and colleges in the state will have to cease in-person classes for three weeks.
The governor also announced today that she has the authority to issue a second stay-at-home order if necessary, in an attempt to mitigate the spread of the virus in-state. Michigan isn't the only midwest state to be suffering from another aggressive wave of cases. As the weather cools, more patrons are retreating indoors for dining and other group activities—both of which are breeding grounds for the virus. She has urged the public to "double down" on precautions now to avoid an even greater upset in the spring. However, she's since received some pushback from the Trump administration.
Scott Atlas, a science adviser to Trump, encouraged Michigan residents to rebel against Whitmer's orders, tweeting, "The only way this stops is if people rise up. You get what you accept." Trump also urged supporters to push Whitmer to reopen the state.
"It's just incredibly reckless considering everything that has happened, everything that is going on," Whitmer said in response to Atlas' tweet. "We really all need to be focused on the public health crisis that is ravaging our country and that poses a very real threat to every one of us."
In the past two weeks, Michigan's 7-day average of daily cases more than doubled from 3,113 to 6,684 and is up nearly five-fold from 30 days ago.
For more, be sure to check out 6 States Issuing New Restaurant and Bar Curfews.
Cheyenne Buckingham is the news editor of <Eat This, Not That!, specializing in food and drink coverage, and breaking down the science behind the latest health studies and information.
Read more