Tito's Warns People Against Making Hand Sanitizer at Home Using Their Vodka
FYI: A DIY approach to antibacterial likely won't work, says the brand (and the CDC).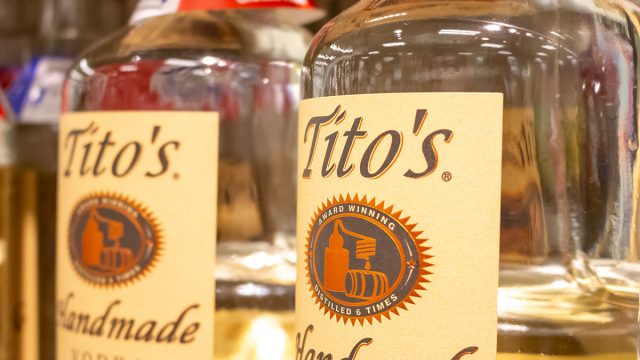 Tito's has a message for you: stop using its vodka to make homemade hand sanitizer.
No, this is not typical commercial messaging from a top-shelf spirit brand. But, with a potential coronavirus pandemic looming, there is a dire shortage of hand sanitizer available at local drugstores.
As a result, homemade recipes for antibacterials have sprung up online, many of which include vodka. Tito's wants you to know, however, that their vodka is much better for drinking than it is for keeping your hands germ-free.
The Austin-based spirits company tweeted out a warning to not make hand sanitizer from their vodka in response to an individual who claimed to have done just that. Tito's fact-checked the homemade hack by writing:
The CDC's hand sanitizer guidelines are right, and many experts even suggest using an alcohol level closer to 70 percent. Sure, some spirits have alcohol levels that high, but it's far safer to use common rubbing alcohol in a homemade concoction (Isopropyl alcohol contains roughly 90% alcohol).
RELATED: 7 Ways to Protect Yourself from Coronavirus while Dining Out
All this said, if you find the anti-bacterial shelves at your local drugstore shockingly barren due to coronavirus concerns, there is a homemade hand sanitizer recipe that is fairly easy and effective: Purchase a bottle of rubbing alcohol and a bottle of aloe vera gel. Combine two parts alcohol with one part aloe vera gel. Mix well (perhaps add a few drops of tree oil) then decant to a small container. Et voila!
Your hands will now be more readily sanitized, and your vodka will be saved for better use on another day. Wash your hands and raise your vodka soda in celebration of staying healthy.