The Skinny on Trader Joe's New Vegan Banana Bread
It might be vegan, but is it healthy?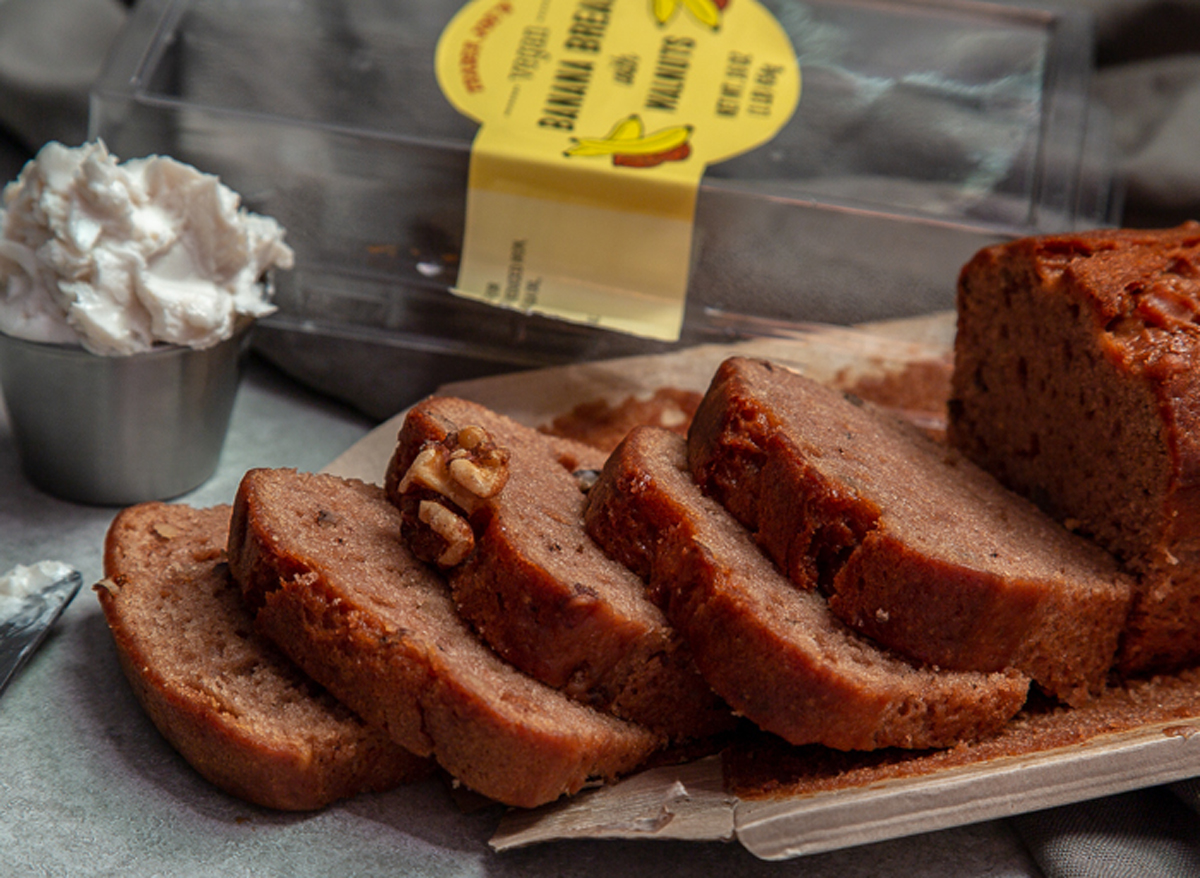 People go pretty crazy for banana bread — B-A-N-A-N-A-S. The sweet, tender loaves are brunch superstars, they shine bright when it comes time for healthy dessert, and if you have a go-to favorite—you're probably eternally committed to it. That all aside, as much as putting bananas in your bread may sound nutrition forward, it's a tough task finding a loaf that won't go against your healthy lifestyle. Trader Joe's, who brings us all sorts of healthy treats, just dropped a vegan banana bread and we're here to break down if its worth the slice.6254a4d1642c605c54bf1cab17d50f1e
A Closer Look at the Nutrition
PER SERVING
: 210 calories, 9 g fat (0.5 g saturated fat), 125 mg sodium, 30 g carbs (1 g fiber, 17 g sugar), 2 g protein
Before taking a bite of TJ's version of the classic loaf, here's what to expect. It has a sweet banana-walnut flavor with dense texture, topped in walnut pieces. And of course, there was no dairy or eggs used in the making. The loaves come with 8 slices — or servings — and each serving will cost you 210 calories and 9 grams of fat.
We asked Samantha Cassetty, MS, RD to deep dive into the new addition's nutritional label. "It's a mistake to think that label claims, like vegan, are a good indicator of a product's healthfulness. A quick peek at the ingredient list shows that this bread is made with enriched wheat flour, which is another way of saying refined white flour. Plus, with 13 grams of added sugar, this is definitely in the dessert category."
This comes as no surprise as many recipes and store-bought banana-nut breads fall into this category of empty calories. If you do choose to add this banana bread or others into your diet occasionally that's okay, too, as long as you know it's not considered a healthy treat.
Live a Little—Guilt-Free
"There's no harm in mindfully enjoying dessert from time to time, but my best advice around dessert is to splurge on something that's totally worth it in your book. Whether that's this banana bread, a cupcake, or something else is your call," Cassetty added. An occasional slice of this bad boy, won't make or break your healthy eating, but opting for a healthier banana bread recipe from home may be your best bet to indulge more guilt-free.
More content from
Groceries