What Trump Just Said About Face Masks Will Shock You
The President went on the record about covering up.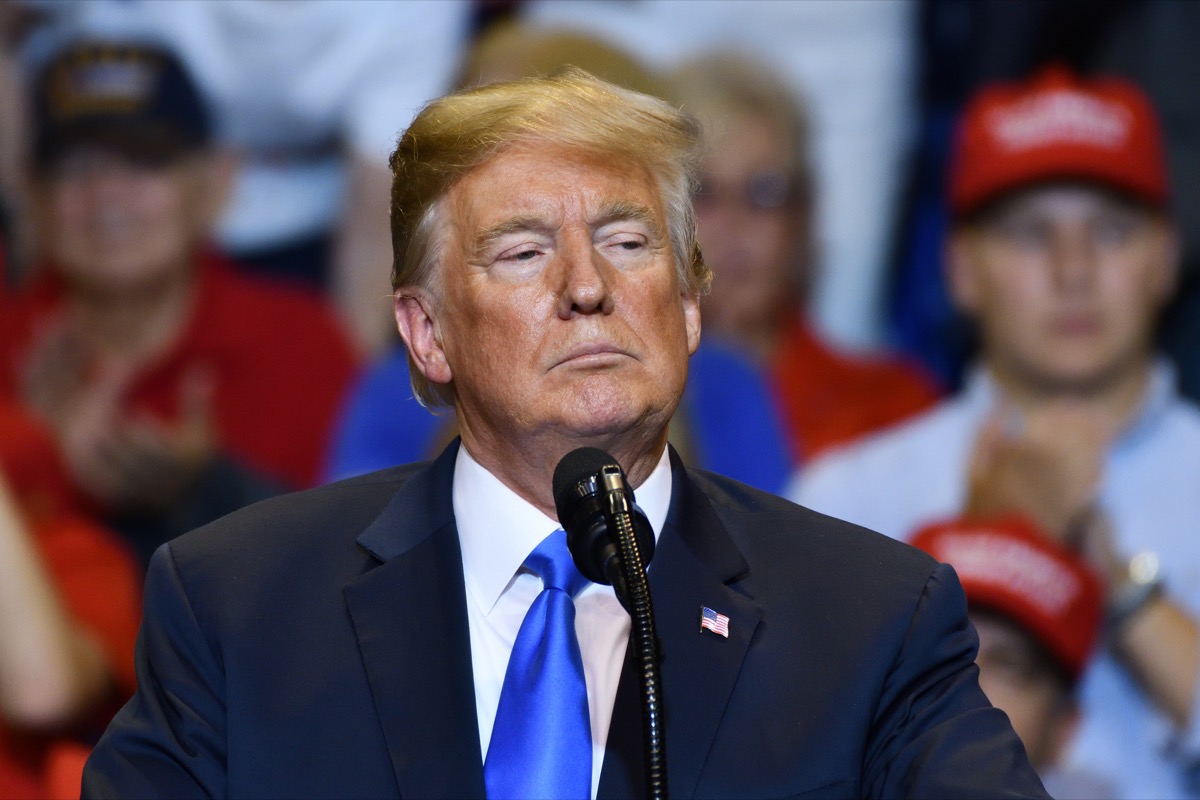 Since the coronavirus pandemic started, the general thinking about President Donald Trump was that he didn't care for face masks. He has rarely been photographed wearing one. He said some people wear a mask to "signal disapproval" of him. He didn't wear one during his recent rally in Tulsa. He has mocked others for wearing them. Even as Vice President Mike Pence has been wearing masks more frequently in public and telling people to wear them (most recently during his visit to COVID-19 hotspot Arizona), the President still didn't follow the advice, at least not on the public stage. 
That's why his recent remarks were so eye-opening.
Trump on Wednesday said that he was "all for masks" and would wear one if he were in "in a tight situation with people." "I mean, I would have no problem. Actually, I had a mask on. I sort of liked the way I looked, OK? I thought it was OK," he said. "It was a dark, black mask, and I thought it looked OK. Looked like the Lone Ranger. But, no, I have no problem with that. I think—and if people feel good about it, they should do it."
"I Would. I Have."
Trump "told FOX Business' Blake Burman on Wednesday he has worn one in the past and the only reason he doesn't wear one more often is because everyone gets tested before meeting with him," according to the network. "I would. Oh, I have. I mean, people have seen me wearing one," Trump said. "If I'm in a group of people where we're not, you know, 10 feet away, and—but, usually, I'm not in that position. And everyone's tested. Because I'm the president, they get tested before they see me."
Burman went on to ask Trump's thoughts about a mask mandate. The President answered that he didn't think that would be necessary. "I don't know if you need mandatory, because you have many places in the country where people stay very long distance," he said. "You talk about social distancing. But I'm all for masks."
Face Masks Now Seen As Essential
On the day Trump made his remarks, the U.S. hit a single-day record number of confirmed cases (nearly 50,000, and 2.74 million total), the fifth record in eight days. Officials are warning people to stay home over the 4th of July weekend. And if you do go out, you're encouraged to wear a face mask—and in some states you must.
On Wednesday, Pennsylvania mandated face masks for anyone in public. "This mask-wearing order is essential to stopping the recent increase in COVID-19 cases we have seen in Pennsylvania," Gov. Tom Wolf said. "Those hot spots can be traced to situations where Pennsylvanians were not wearing masks or practicing social distancing—two practices that must be adhered to if we want to maintain the freedoms we have in place under our reopening."
Meanwhile in Arizona, "Vice President Mike Pence implored people in Arizona to wear masks as he visited our state Wednesday. Pence also says he supports business closures as the state reported record infections, deaths and emergency room visits," according to AZFamily. He has called face masks "a good idea." Senate Majority Leader Mitch McConnell, a Republican, also encouraged people to wear their face masks. "We must have no stigma, none, about wearing masks when we leave our homes and come near other people. Wearing simple face coverings is not about protecting ourselves, it is about protecting everyone we encounter," he said.
Experts say face masks are an essential preventative measure against the spread of coronavirus. "COVID-19 spreads mainly from person to person when an infected person coughs, sneezes, talks, or raises their voice (e.g., while shouting, chanting, or singing)," says the CDC. "These droplets can land in the mouths or noses of people who are nearby or possibly be inhaled into the lungs. To reduce the spread of COVID-19, CDC recommends that people wear cloth face coverings in public settings when around people outside of their household, especially when other social distancing measures are difficult to maintain."
Wearing one when among other people is particularly useful given that you can't tell who has coronavirus and who does not. "Recent studies show that a significant portion of individuals with COVID-19 lack symptoms (are 'asymptomatic') and that even those who eventually develop symptoms (are 'pre-symptomatic') can transmit the virus to others before showing symptoms," says the CDC.
Trump's own feelings about face masks seem to depend on the proximity to those around him. After talking with Fox Business, "later in the day, he mocked presumptive Democratic presidential nominee Joe Biden for covering up at campaign events where the 'the audience is 25, 30, 40 feet away,'" reported the Washington Post. Biden said last week he "would insist that everybody in public be wearing that mask."6254a4d1642c605c54bf1cab17d50f1e
As for yourself: To get through this pandemic at your healthiest, don't miss these Things You Should Never Do During the Coronavirus Pandemic. 
Alek Korab
Alek Korab is a Co-Founder and Managing Editor of the ETNT Health channel on Eat This, Not That!
Read more about Alek