These Two States Just Suspended All Indoor and Outdoor Restaurant Dining
The new orders will stay in place for at least two weeks as COVID-19 cases surge to record highs.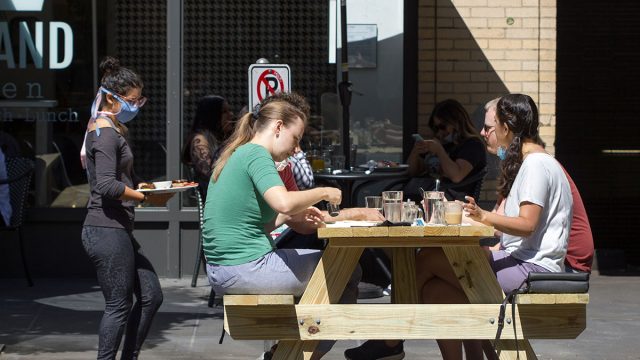 New Mexico and Oregon are both implementing statewide suspensions of on-premise dining this week. In other words, all restaurants in the western states will close their doors for both indoor and outdoor dining amid new government restrictions. However, they will still be able to continue off-premise services, such as takeout and delivery.
The new orders kick into effect on Monday, Nov. 16, in New Mexico and Wednesday, Nov. 18, in Oregon. They will stay in place for at least two weeks as COVID-19 cases surge to record highs across the U.S. (Related: 9 Restaurant Chains That Closed Hundreds of Locations This Summer.)
New Mexico and Oregon are the first states to implement these stricter measures in the third wave of the pandemic. The governor of Illinois ordered all restaurants shut down for indoor table service by Nov. 4, but eateries across the state remain open for outdoor dining. The new mandate could bring about another wave of bankruptcies and permanent shutdowns for restaurants in all three states.
Previously, restaurants in both New Mexico and Oregon could use up to 50% of their dining rooms to serve customers if guests were at least 6 feet apart. Gov. Kate Brown, D-Ore., explained her decision was made "in order to give Oregon a fighting chance to contain COVID-19 across our state." Brown also implemented a statewide "freeze" on all social gatherings of more than six people.
Brown gave restaurants notice last week so they could use up food supplies already on hand. "Our businesses need some time to prepare," Brown said. "The last time we went into shutdown mode, it was on very short notice. I wanted to be sure they had enough time to use up their supplies."
Don't forget to sign up for our newsletter to get the latest restaurant news delivered straight to your inbox.
Mura is a Deputy Editor leading ETNT's coverage of America's favorite fast foods and restaurant chains.
Read more