Tyson Foods Is Discontinuing This New Burger
The alternative meat burger, The Blend, just hit stores this summer, but it's now being phased out.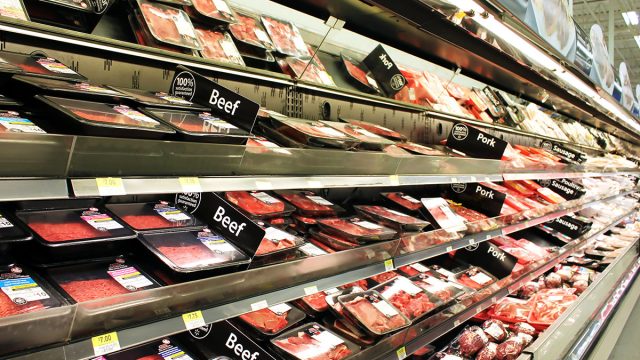 Tyson Foods, which owns such household food brands as Hillshire Farms, Jimmy Dean, and Ball Park, is one of the biggest meat producers in the world. In fact, the volume of pork, beef, and chicken products the company produces annually—which helped it earn $42.4 billion last year, according to Fortune—comes in second only to Brazilian mega processor, JBS S.A. Still, even Tyson wants in on the rapidly expanding plant-based meat market.
To that end, Tyson Foods launched an in-house line of plant-based proteins and meat alternatives called Raised & Rooted in 2019. Tyson's vice president of alternative protein, David Ervin, recently said in an interview with Food Navigator that the new brand—which features nuggets, tenders, and patties—has seen "impressive growth in its first year, with products now available through Amazon Fresh, Walmart, Kroger, Target, Albertsons/Safeway, Costco, and other strong regional partners." (Related: McDonald's Is Making These 8 Major Upgrades.)
Ervin said the company is committed to offering even more plant-based foods in 2021 as customers seek a more diverse range of protein sources.
However, you could say Raised & Rooted is still in the learning process when it comes to understanding exactly what shoppers want in a plant-based product. For instance, the brand launched an alternative burger called The Blend, which contains both Angus beef and isolated pea protein, in summer 2020. The product packs 19 grams of protein in a patty that has 40% fewer calories and 60% less saturated fat than an all-beef burger. But because this hybrid burger patty isn't completely plant-based, Tyson has decided to discontinue it.
"Moving forward. Raised & Rooted products will not contain any animal products," Ervin told Food Navigator.
The brand is also removing egg whites as an ingredient in its Nuggets chicken nugget alternative for the same reason. (The new egg-free Nuggets are expected to hit grocery stores this December.) Ervin added that "consumers can expect to see additional new plant-based offerings from Raised & Rooted and other established Tyson brands coming to store shelves and quick-service locations in 2021."
Considering the huge growth of the plant-based market, that's great news for Tyson and grocery shoppers alike. Here are 33 easy plant-based meals you can make right now.
For more grocery store news, make sure to sign up for our newsletter.
Steven John is a freelancer writer for
Eat This, Not That!
based just outside New York City.
Read more