Tyson Foods Just Changed This Important Food Safety Measure
One of the nation's largest meat producers is replacing some federal food safety inspectors.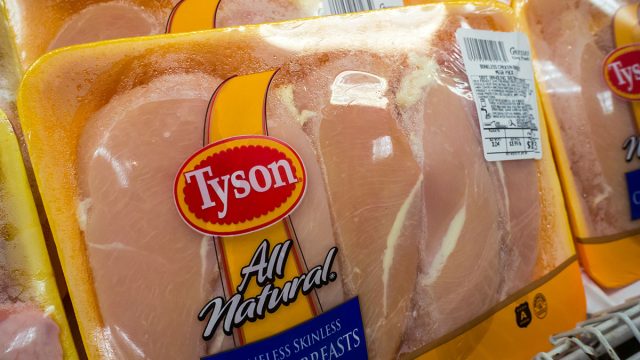 Editor's Note: This article has been updated to include comments from Tyson Foods.
---
Tyson Foods recently announced it would replace more than a dozen federal food safety inspectors with company employees at a beef plant in Holcomb, Kans. Though Tyson obtained a waiver from the federal government to do so, food safety experts have expressed concerns about increased deregulation and transparency.
In September, the Trump administration significantly rolled back safety inspection requirements in place for domestic egg producing plants. The new rule removed full-time government inspectors from food processing plants, shifting responsibility to company employees. Now, one of the nation's largest meat producers has also followed suit. (Related: 8 Grocery Items That May Soon Be in Short Supply.)
The U.S. Department of Agriculture (USDA) issued the waiver in accordance with a rule whose purpose is "to permit experimentation so that new procedures, equipment, and/or processing techniques may be tested to facilitate definite improvements." The waiver will pertain to several of the Holcomb plant's regulatory functions, including microbiological testing, line speed, and inspection staffing. While Tyson intends to employ "vision systems and machine learning in beef carcass inspection," the company's public waiver application allegedly doesn't mention those technologies. (Related: New USDA Ruling Allows for Chicken to Be Produced From Diseased Birds.)
The USDA told Reuters that it would continue to inspect animal carcasses and parts as Tyson undertakes "quality assurance and trimming tasks." While the total number of USDA inspectors at the plant will decrease, the agency added that there would be "more highly trained inspectors who do more complex work like monitoring animal welfare or meat testing." Tyson's waiver application claimed that the changes to the inspection process would not negatively affect food safety.
"Tyson is working in partnership with USDA's Food Safety and Inspection Service to modernize the beef inspection process at Tyson Fresh Meats' Holcomb, Kansas facility. As part of the USDA's ongoing efforts to modernize pre-sortation practices, this project is an opportunity to introduce new technologies (e.g. vision systems, machine learning) that will innovate the current beef harvest system to enhance food safety and inspection presentation," a representative from Tyson Foods told Eat This, Not That! "This approach is designed to maintain USDA's 100% inspection oversight while driving continuous improvement for the industry and delivering safe and wholesome beef products for consumers."
For more news on food safety, be sure to read about The FDA's 6 New Food Safety Tips.
Cheyenne Buckingham is the news editor of <Eat This, Not That!, specializing in food and drink coverage, and breaking down the science behind the latest health studies and information.
Read more