The U.S. Just Broke This Gruesome COVID Record
More people died on Tuesday than any day since May.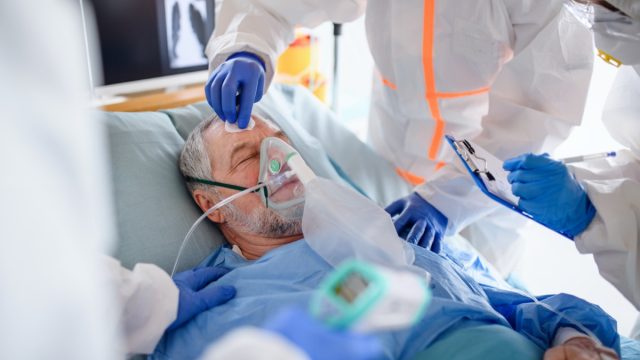 After the initial COVID-19 surge in the spring, health experts hoped that the worst of the pandemic was behind us. However, in the last several weeks, the number of infections has surged, hospitalizations are dramatically increasing and now, the death toll is also catching up to last year's devastating numbers. On Tuesday, the United States passed a grim milestone, reporting their highest daily death from coronavirus toll since May 14. Read on to hear more, and to ensure your health and the health of others, don't miss these Sure Signs You've Already Had Coronavirus. 
A Person Has Died From COVID Every Minute
According to data from Johns Hopkins University, there were at least 1,707 deaths as a result of the virus reported on Tuesday alone — the highest number of fatalities in over six months. 
"At this rate, coronavirus is killing at least one American every minute of the day," says CNN. Dr. Jonathan Reiner, a professor at George Washington University School of Medicine, told CNN that it is only going to get worse
"The horrible death count that we saw yesterday in the United States … reflects the number of people who were being infected three weeks ago — two to three weeks ago, because that's the lag," he said on Wednesday. 
"On average, two to three weeks ago, we were seeing 70,000 to 80,000 (new) cases per day. Yesterday, there were about 155,000 (new) cases. So if you're alarmed at the 1,700 deaths today, two to three weeks from now, we're going to see 3,000 deaths a day." 
To add to the grim outlook, hospitals are not only running out of healthcare workers, but there are currently a record breaking number of hospitalizations — 6,830 on Tuesday, according to the Covid Tracking Project. Additionally, out of 50 states, 47 experienced at least a 10% increase of infections in just a week. 
RELATED: Dr. Fauci Says Most People Did This Before Catching COVID
More and More States Instituting Restrictions
As a result of the surge across the country, local and state governments are cracking down and tightening coronavirus restrictions, ranging from curfews and mask mandates to limiting gatherings and putting a hold on indoor dining and other activities. 
"New Mexico is at the breaking point. We face a life-or-death situation, & we must & will act to preserve the lives of New Mexicans," tweeted Governor Michelle Lujan Grisham. "On Monday New Mexico will hit reset, re-enacting the most heightened level of statewide public health restrictions to slow the spread & save lives." New Mexicans are instructed to stay at home except for only those trips that are essential to health, safety and welfare—such as for food and water, emergency medical care, to obtain a flu shot or to obtain a test for COVID-19.
On Friday, Oregon Gov. Kate Brown issued a partial lockdown for the state, resulting in mass closures and limiting social gatherings weeks before the holiday season kicks off.
For months, Gov. Doug Burgum of North Dakota, a Republican, has resisted a statewide mask mandate and other restrictions. Like many GOP governors, he felt the government shouldn't dictate people's behavior—however, like other GOP governors this month, the rise of COVID-19 coronavirus cases and hospitalizations has forced him to reverse his stance. "Our situation has changed, and we must change with it," Gov. Burgum said late Friday. "Tonight, we're announcing four measures designed to reduce the spread of infections in our communities to protect our most vulnerable and to ensure hospital capacity." 
Since December 2019, more than 1.34 million people have died from COVID-19 around the world. According to the World Health Organization, 290,000 to 650,000 people die from flu complications every year — meaning that at least double the amount of people have lost their lives to coronavirus in just 11 months than influenza kills in 12 months. 
RELATED: This is the #1 Way You'll Get COVID, According to Doctors
How to Survive the Pandemic
As for yourself, do everything you can to prevent getting—and spreading—COVID-19 in the first place: Wear your face mask, get tested if you think you have coronavirus, avoid crowds (and bars, and house parties), practice social distancing, only run essential errands, wash your hands regularly, disinfect frequently touched surfaces, stay outdoors more than indoors. "We have seen what happens when you don't do that by the very unfortunate experiences that have become very public now in the United States. I mean, that's proof positive," says Dr. Anthony Fauci. And to get through this pandemic at your healthiest, don't miss these 35 Places You're Most Likely to Catch COVID.