This Vitamin May Help Treat COVID, Study Finds
Vitamin C can help save the lives of people with severe coronavirus infection.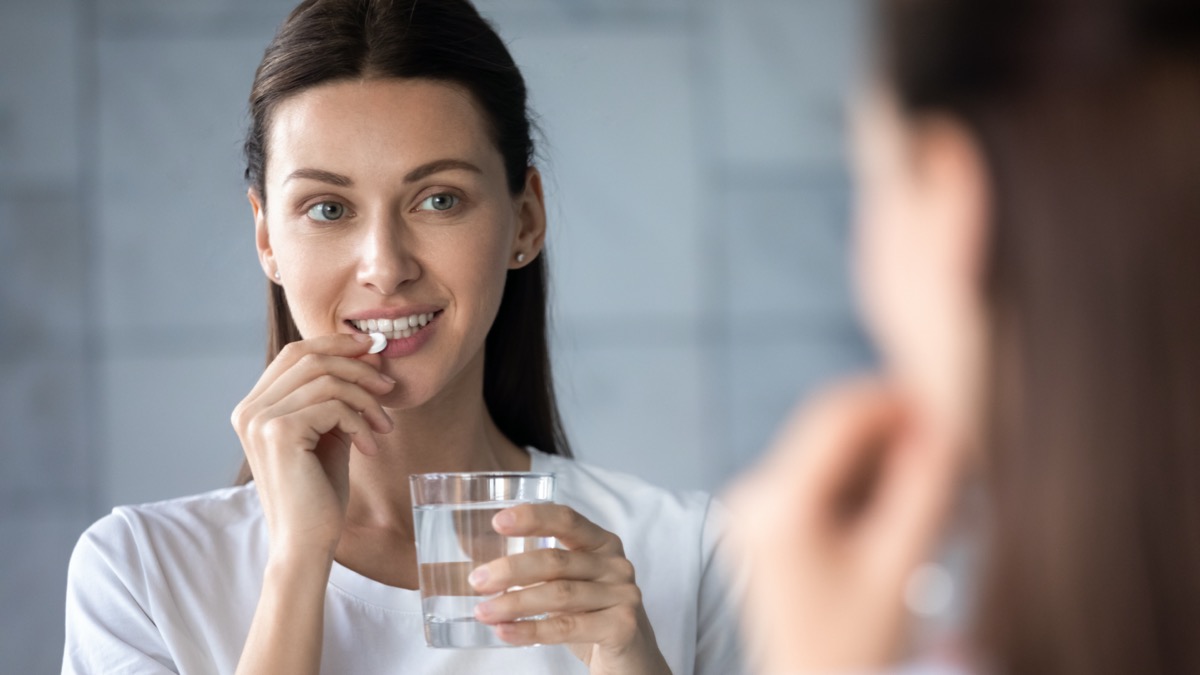 Vitamin C is essential for the health of your body. Getting enough of L-ascorbic acid (its chemically active form) can do everything from help fight cancer and improve your heart health, and of course, help your body battle the common cold. According to researchers in New Zealand, vitamin C may also be a game-changing treatment for those who are battling severe cases of COVID-19. Read on, and to ensure your health and the health of others, don't miss these Sure Signs You've Already Had Coronavirus.
Vitamin C May Help Reduce Deaths
According to a new study published in the scientific journal Nutrients, vitamin C may be effective in aiding people in their recovery from the virus. However, it isn't a method of prevention or a cure for the deadly virus. 
Otago University Associate Professor Anitra Carr, lead researcher of the study, has been analyzing various studies demonstrating that the vitamin — found to prevent and treat pneumonia and sepsis by a 2017 study — could be used as an "adjunctive" treatment, complimenting another treatment. Per the study, a high-dose IV vitamin C treatment paired with thiamine and corticosteroids correlated with a reduced risk of deaths for people with sepsis. 6254a4d1642c605c54bf1cab17d50f1e
An alternative 2019 study found that high doses of vitamin C infusions to people with sepsis and acute respiratory distress syndrome (ARDS) were effective in lowering the death rate of people with severe infections at 28 days. 
While these studies obviously didn't asses the effectiveness of treating COVID-19 with vitamin C, the researchers point out that sepsis and ARDS are the most common health conditions associated with ICU admission, ventilator use, and death for coronavirus patients.
"A recent study that came out of the US showed that patients with coronavirus in ICU with Covid-19 also had very low vitamin C levels," Carr pointed out. "That's because the body chews through a lot more of it when you get an infection – and your requirements increase significantly. 
But the standard doses given in the intensive care unit aren't enough to compensate, given a severe case of the disease comes with a huge inflammatory response and oxidative stress."
Researchers believe that administering high doses of vitamin C via an IV could be a game-changer. "That's critical, as all patients need these high doses quickly, because, at death's door, you need to slow down the disease as much as possible," Carr said. 
As part of their research, the study included preliminary data out of Wuhan, China, showing that those with the most severe COVID-19 infections responded to the vitamin, with those receiving it less likely to die than those who were administered a placebo. 
"This is just the first study, and many more will come out over the next year or so. Each will add more pieces to the puzzle, but I suspect that it will help these patients, based on the previous work with pneumonia and sepsis," Carr explained.
Vitamin C Can Enhance Immunity
While there is no evidence that vitamin C can prevent infection, Carr does point out that it can promote immunity. 
"Some research has shown that, if you're under enhanced stress, your risk for infection increases, so in those people vitamin C may decrease the risk of getting it," she said. "But in the general everyday population, who aren't under extreme physical stress, it may not decrease your chances of catching the disease." So talk to your doctor about adding Vitamin C to your diet. And to get through this pandemic at your healthiest, don't miss these 35 Places You're Most Likely to Catch COVID. 
Leah Groth
Leah Groth has decades of experience covering all things health, wellness and fitness related.
Read more about Leah