Over 5,000 Walmart Stores Will Have a COVID-19 Vaccine, Company Says
90% of Americans live within 10 miles of a Walmart.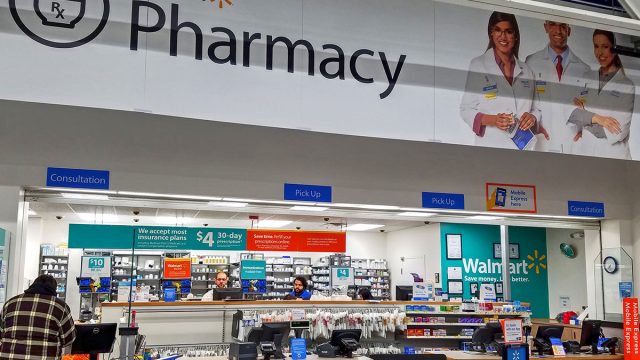 Over 11 grocery stores, pharmacies, and other places have signed an agreement with the U.S. government to offer people a COVID-19 vaccine when it becomes available. Walmart is one of these, and this offers almost 3 million people the chance to get it at their neighborhood location.
The company's Chief Medical Officer says in a new statement that 90% of Americans live within 10 miles of a Walmart and that over 5,000 of the store's pharmacies will carry and administer a vaccine. Currently, in the U.S., there are 4,748 Walmart locations across all 50 states and 599 Sam's Club locations. (Keep yourself safe with The One Vitamin Doctors Are Urging Everyone to Take Right Now.)
The government will allocate the vaccine (or vaccines) to states, who then will decide who can get it and when, Dr. Tom Van Gilder says. Not only are pharmacists at Walmart preparing freezers, dry ice, and other requirements for storing the vaccine, they are also educating other workers about it and what determines them eligible.
"With 90% of the American population living within 10 miles of a Walmart, we will play an important part in making sure those who want a vaccine can get one when they are eligible based on their state's prioritization," Dr. Van Guilder says, "especially those in hard to reach parts of the country that have recently been hit hard by the epidemic."
He stresses the importance of continuing to follow social distancing guidelines, continuing to wear a mask, and avoiding large gatherings. For more on staying safe while shopping at Walmart and other grocery stores, here are the 11 Best Tips for Safe Grocery Shopping Amid Coronavirus Concerns.
To get all the news about the coronavirus pandemic delivered right to your inbox every day, sign up for our newsletter!
Amanda is a staff writer for
Eat This, Not That!
.
Read more