The One Food at Walmart You Should Never Buy
Walmart offers low prices on almost everything, except for this.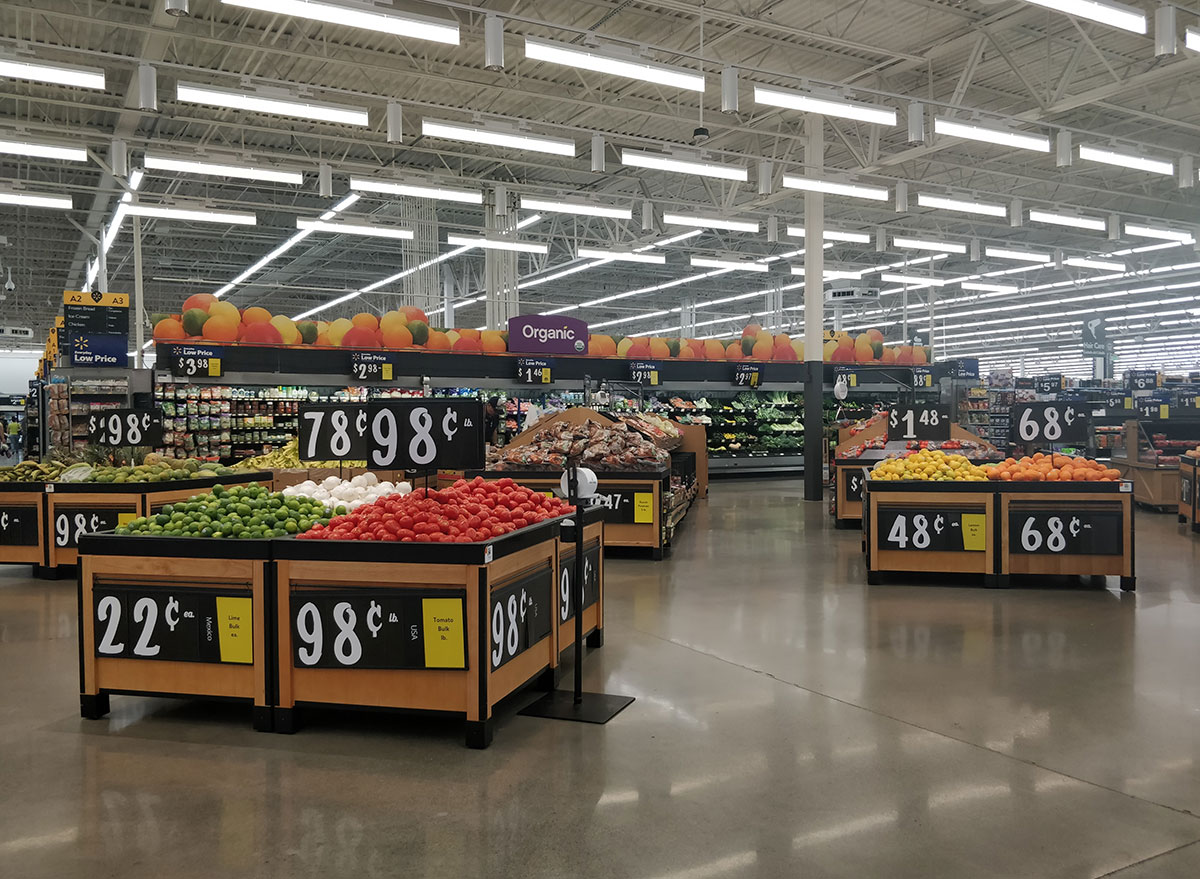 Walmart is applauded for its everyday low prices, however, there is one category of groceries you should avoid buying regularly at the grocery giant—and that's organic food.
It's not that Walmart's organic produce is often recalled or lacks in quality in comparison with other brands—oftentimes it's just more expensive to buy those types of groceries there. It turns out, you can get various organic foods at cheaper price points at Aldi and even Whole Foods, recent findings suggest.
The Simple Dollar provided price comparisons of various organic items between Walmart and Whole Foods. The verdict? Walmart charged more for some organic groceries than Whole Foods did for comparable items. For example, a 16-ounce jar of MaraNatha organic peanut butter is close to $5 at Walmart, whereas the same size jar of 365 Everyday Value sells Organic Creamy Peanut Butter at Whole Foods would be closer to just $4. (Related: 15 Best Foods That Pair Well With Peanut Butter).
Whole Foods is often referred to as "Whole Paycheck" as its prices tend to skew higher than those at other leading competitors. The chain also sells more luxury items such as aged cheeses, craft beers, and grass-fed beef. However, in some instances (and depending on where you live), the chain may have a lower price tag on organic produce and packaged goods than Walmart.
Another example is seeded bread. At Whole Foods, a 22-ounce bag of Organic Sprouted Multigrain bread may cost just $3.99, a 20.5-ounce loaf of Dave's Organic Killer Bread with whole grains and seeds costs $4.56. Five years ago, Kiplinger found that both Trader Joe's and Aldi's were found to have lower prices for organic fruits and vegetables as well as a few other items than Walmart. More recently, CNBC Make It found that out of four grocers—Aldi, Trader Joe's, Whole Foods, and Walmart—Aldi had the best organic produce in terms of quality and price.6254a4d1642c605c54bf1cab17d50f1e
"The best place you can buy organics, and they're continuing to roll out even more, is probably Aldi," Phil Lempert, food industry analyst and editor of SupermarketGuru, told CNBC Make It.
So, before you stock up on organic groceries at Walmart, check and see what other grocery stores are offering on the similar, if not the same, products. For more, check out 13 Rookie Walmart Shopping Mistakes You Shouldn't Make.