These are Walmart's Most Popular Holiday Items
Here's what everyone wants in their home this year.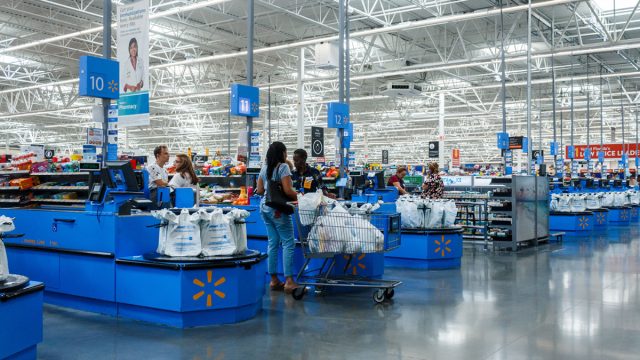 Walmart is known for having just about everything you need, from grocery items to electronics, furniture, and even pharmacy goods. Their holiday offerings this year, though, have been extremely popular as safety precautions ramp up because of a spike in COVID-19 cases.
More people are buying decorations to play up the home for the holidays theme, Walmart says in a statement on its website. More specifically, customers want "cozy cabin" and "Christmas in the Mountains" decor. Vintage-looking, modern-farmhouse items like old-timey red pickup trucks, flannel print, candles, ribbons, and wood furniture are flying off shelves this season. "Customers are spending more time at home," says Shelia Wiles, Walmart's merchandise director. "They are making holiday decorating a family event." And if that event includes a warm cup of hot chocolate, Walmart has a huge selection of that, too.
Related: The One Vitamin Doctors Are Urging Everyone to Take Right Now
People aren't just sprucing up inside, though. Things like string lights and inflatable characters for the years have been extremely popular this year. Two characters from iconic holiday movies are who customers want most in their yeard–the Grinch and Jack Skellington. Both are classics (that came out in 1966 and 1993) and fit in with the nostalgic theme, Walmart says.
If you don't want to head to your local Walmart location, the store is now offering to deliver live holiday plants, including 3- to 5-foot tall fresh-cut or potted Christmas trees! Through the website you not only can pick out all your decor and your tree, but you can also order professionals to come put up the lights on the outside of your house (and plugin your inflatable friend, too). Currently, for Walmart+ members, there is no minimum for free delivery.
Stay up-to-date on all Walmart news by signing up for our daily newsletter!
Amanda is a staff writer for
Eat This, Not That!
.
Read more