This Popular Oreo Set Is Finally Back at Walmart
It comes complete with handy cookie tongs!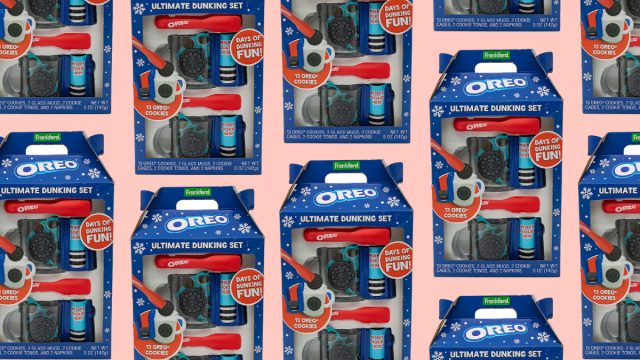 If you're a fan of dunking chocolate cookies in milk, be prepared to drop everything for a very important grocery shopping spree. Walmart just brought back the ultra popular Oreo Ultimate Dunking Set, and it usually sells out within a matter of days each year.
The beloved set disappeared in the blink of an eye after its viral debut on the discount retailer's store shelves in 2018. Since then, the Frankford Company-designed product has become one of the most delightful reasons to hit up Walmart every holiday season. (Related: 8 Grocery Items That May Soon Be in Short Supply.)
And it's easy to see why the box set is so popular—it has everything you need to enjoy milk-dunked Oreos more efficiently than ever. Inside, you'll find two glass milk mugs, which are the perfect size for dunking; two cookie cages, which you can attach to the mugs; two cookie tongs, which are the ultimate solution to lost cookies and messy fingers; and two napkins for cleanup.
The box retails for $17.98, which is a steal considering it makes the perfect stocking stuffer or treat for Santa (who won't have to worry about getting his beard messy). The box set does come with a small pack of Oreos to get you started, but you may want to pick up extra cookies (and some milk, too!) because you definitely want to keep that cookie cage full.
Don't forget to sign up for our newsletter to get the latest grocery news delivered straight to your inbox.
Mura is a Deputy Editor leading ETNT's coverage of America's favorite fast foods and restaurant chains.
Read more