Dr. Fauci Says When COVID-19 Will End
Normality will come "as we head into 2021—in the second, third and fourth quarter of 2021," says Fauci.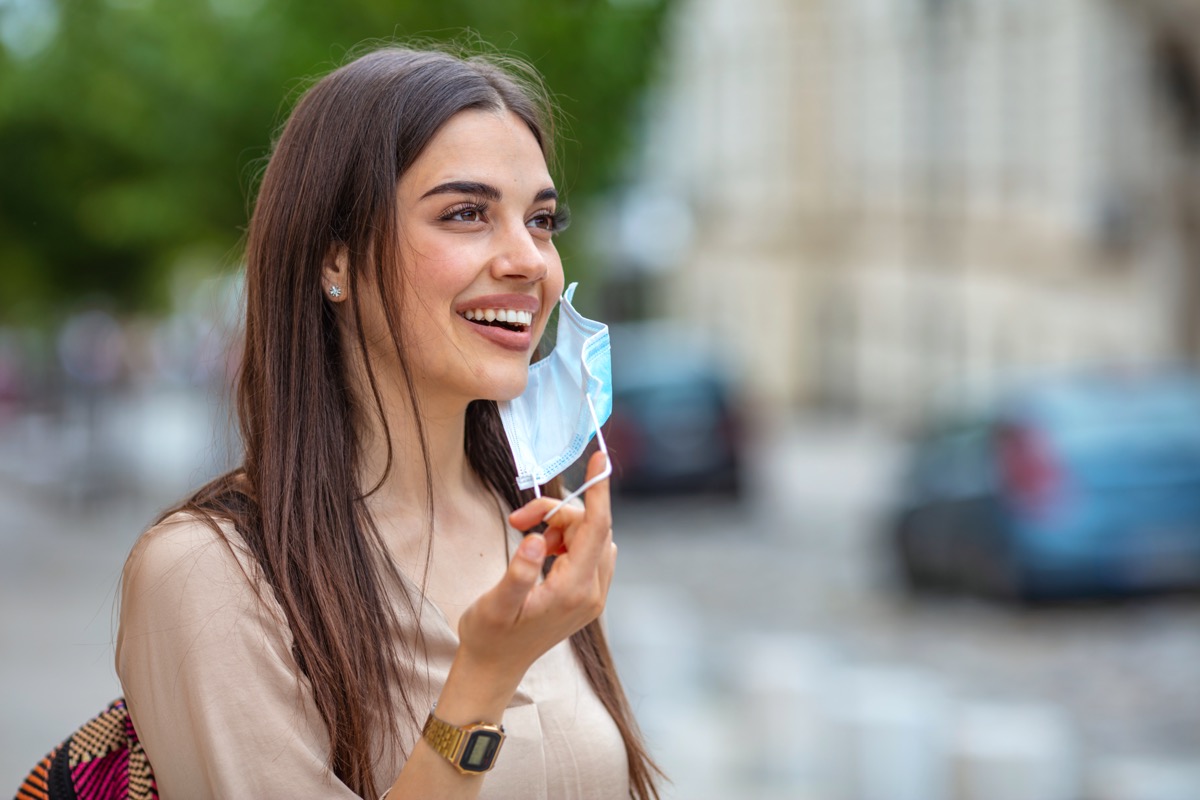 Everyone is pretty tired of face masks, social distancing, one-way grocery store aisles, and the constant smell of hand sanitizer. So, when will COVID-19 end already? It's become clear that the only way out of this pandemic is with a vaccine. Our return to regular reality, with parties of more than 10 and crowded bars, relies on scientists to develop, test, and administer a vaccine that's effective enough to eradicate the virus. While it may seem like it will take forever for a vaccine to finally be approved, Dr. Ruth Karron, MD from Johns-Hopkins Bloomberg School of Public Health remains optimistic. Pfizer, for example, announced their vaccine trial was 90% effective. Read on to hear what she and Dr. Fauci say about the future of the vaccine, and to ensure your health and the health of others, don't miss these Sure Signs You've Already Had Coronavirus.
So When Will COVID-19 End?
Before the Pfizer news, we knew "that these vaccines are promising, but we don't yet know if they are going to work," Dr. Karron states, "That's what the purpose of an efficacy trial is—as well as to provide a broader assessment of safety of the vaccine in a large number of people."
If a vaccine does make it through these trials and is found to be safe and effective, it won't necessarily stop the virus in its tracks right away. Distribution to the entire world is an ambitious undertaking and it won't be instant, according to the Centers for Disease Control and Prevention (CDC). 
"Once FDA authorizes or approves use of COVID-19 vaccine(s), limited quantities will become available very quickly because of advance planning by the U.S. government and other entities. Limited COVID-19 vaccine doses may be available this year, but supply will increase substantially in 2021," notes the CDC. 
Once a vaccine is perfected and considered safe, production will start immediately but there may be a delay in the delivery of COVID-19 vaccines. The first doses will go to recommended groups who are at high risk for severe illness before the general public is provided with vaccines, according to the CDC.
Dr. Fauci Laid Out the Timeline for the Vaccine
Dr. Anthony Fauci, the nation's leading infectious disease expert, discussed each hurdle that needs to be cleared before the vaccine is ready to shoot into your arm: 
"First of all, the process—so that the American public knows—is that an independent body, a data and safety monitoring board, looked at the data when they reached a certain, a number of events, namely a certain number of infections and examined the data and looked at it and said that the efficacy of this was really quite impressive. It was over 90%. They made that known to the company."

"What the company does now is that they look at the data themselves. They analyze it because now that's the first time that they themselves have seen the data. Then they presented to the FDA and the independent career scientists at the FDA will again, look at the data and then consult with an advisory board that they have—an advisory committee. And they will then advise them as to what to do."

"Very likely they'll put in for what's called an emergency use authorization, which ultimately will be an application for full approval of this particular vaccine—then likely will take place over the next week to a week and a half. And then what will happen is that we end of November, the beginning of December, if that goes through—and again, I don't want to get ahead of the FDA, if they're going to dot all the I's and cross all the T's—but I believe with the impressive nature of the data that that should go through smoothly, that by the time we get into December, we'll be able to have doses available for people who are judged to be at the highest priority to get."

As for logistics, "about getting the supply chain intact with the cold requirements"—the vaccine needs to be shipped at a certain low temperature—"that's all been anticipated and part of Operation Warp Speed, particularly on the general, Gus Perna, the general from the army who has been responsible for making sure this goes smoothly. We anticipate, although they're all logistic challenges that it will be done successfully."
By April, he predicts, you'll be able to get yours.6254a4d1642c605c54bf1cab17d50f1e
COVID-19 Will Never Go Away Completely, But We Can Approach "Normality"
Dr. Fauci says coronavirus will never be eradicated fully. But we can stamp it down. "I think we're going to be going in the right direction towards approaching some degree of normality as we head into 2021—in the second, third and fourth quarter of 2021," said Fauci. "So that's good news." Until the vaccine is available, practice Fauci's fundamentals: wear a face mask, social distance, stay outdoors more than indoors, avoid crowds and to get through this pandemic at your healthiest, don't miss these 35 Places You're Most Likely to Catch COVID. 
Alek Korab
Alek Korab is a Co-Founder and Managing Editor of the ETNT Health channel on Eat This, Not That!
Read more
More content from
ETNT Health