Here's Exactly How You Can Win a Year's Worth of Free Spaghetti
If you have an Instagram account, you're halfway there.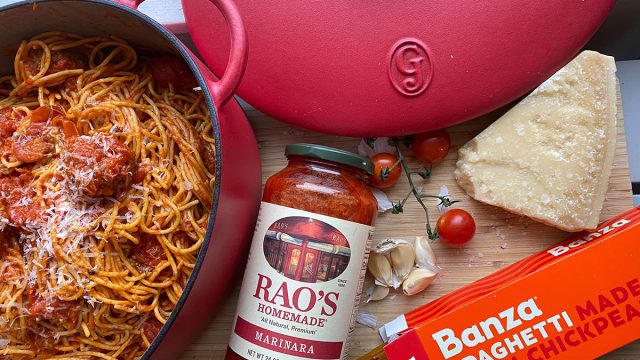 If you constantly dream of twirling your fork in a plate full of pasta, this giveaway is almost too good to be true. We're talking about spaghetti for days, more specifically 365 days. Here's the deal: Banza, the noodles that are made from chickpeas, wants to treat one lucky person to a year's worth of gluten-free pasta—for absolutely no cost at all.
Starting today, Feb. 14, you can enter for the chance to win a year's supply of protein-packed noodles, savory sauce, Parmesan cheese, and—to really seal the deal—Great Jones' best-selling cast-iron Dutch oven, The Dutchess. But before we disclose just how you can have the opportunity to win a year of delicious dinners, here's a little more information on the brands that are participating in this epic giveaway.
Banza has garnered a cult following among the nation's gluten-free eaters, however, those who do eat gluten can enjoy this product all the same. Not to mention, because it's made from chickpeas, it enables you to incorporate some plant-based protein into your diet through its 19 different kinds of Italian noodles, rice packets, and even its variety of boxed mac and cheeses.
Of course, while these noodles are delicious, you can't fully enjoy them just on their own. Should you win this contest, you'll be able to spice up that gluten-free pasta with Rao's Homemade pasta sauce. This isn't your typical Ragu or Prego pasta sauce, either. Rao's pasta sauce is made in small batches with tomatoes that are hand-picked from southern Italy. To say this pasta sauce is made with care is an understatement.
RELATED: Whole Foods Wants to Treat You to an Italian Feast This Month.
And no pasta dish is complete without some delicious Parmesan cheese. Lucky for you, this giveaway includes Parmesan from Murray's Cheese, a beloved shop that's been selling cheese in New York City's Greenwich Village ever since 1940. Murray's Parmigiano Reggiano makes Kraft's Parmesan cheese look like child's play with its distinctive buttery aroma and salted caramel finish. It's perfect for grating over a big bowl of spaghetti.
And, the true icing on the cake is Great Jones' enameled cast-iron Dutch oven. Inspired by the company's love of red sauce, Great Jones launched the Mariana Dutchess, a brand new color in its signature Dutch oven line.
Now, the moment you've been waiting for: Step-by-step instructions on how you can win this contest. It really couldn't be any simpler to enter—all you need is an Instagram account and the Mario to your Luigi (aka your best friend).
After you've completed your entry, check back on Tuesday, Feb. 18 to see if you won the ultimate gluten-free pasta prize.
Buon appetito!
Meg Rotter is a Brooklyn-based writer and content producer, with bylines at Cosmopolitan, Hearst, and BRAVA Magazine.
Read more