Yelp Is Providing $25 Million in Relief to Local Restaurants and Bars Right Now
The bigger the COVID-19 pandemic, the more help small businesses will need to stay alive.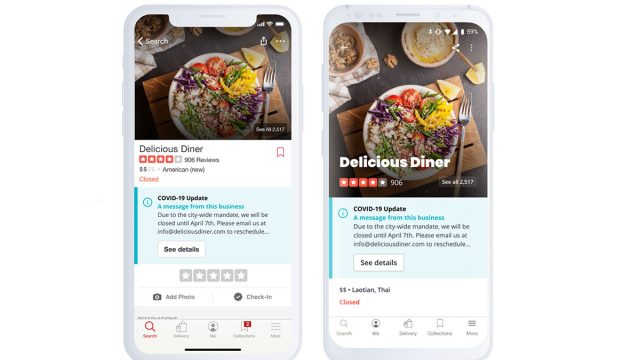 As of last night, there were more than 16,000 confirmed cases of COVID-19 in the United States. As the virus continues to spread across the country, more states begin to mandate that restaurants and bars close in an attempt to mitigate the disease.
While it's necessary to temporarily shutter places that invite large groups of people to gather in small spaces, local restaurants are taking a massive hit economically as a result, and Yelp wants to support these small businesses.
Today, Yelp announced it would offer $25 million in relief by waiving advertising fees and offering free advertising, products, and services to local businesses during this time. For instance, Yelp will provide $100 in free search advertising for local restaurant clients offering delivery. (So, be sure to hop on Yelp and look out for advertisements from your favorite local restaurants and their carry-out options.)
Another element of Yelp's new program entails relief for independent local advertisers in other categories outside of restaurant and nightlife clients that are struggling to pay their bills. To see if your business is eligible for aid, head to Yelp's informational page on the program to see how the company can help you right now.
RELATED: Restaurant Industry Expects the Loss of 5 to 7 Million Jobs Due to Coronavirus.
This move comes in response to a massive drop in consumer interest in restaurants and nightlife businesses, which have both fallen by 54 percent and 69 percent, respectively, since late February.
On the contrary, pizzerias, fast food restaurants, and grocery stores have surged by 44 percent, 64 percent, and 160 percent, respectively in the past week alone. All of this data was collected for Yelp's Local Economy Coronavirus Impact Report.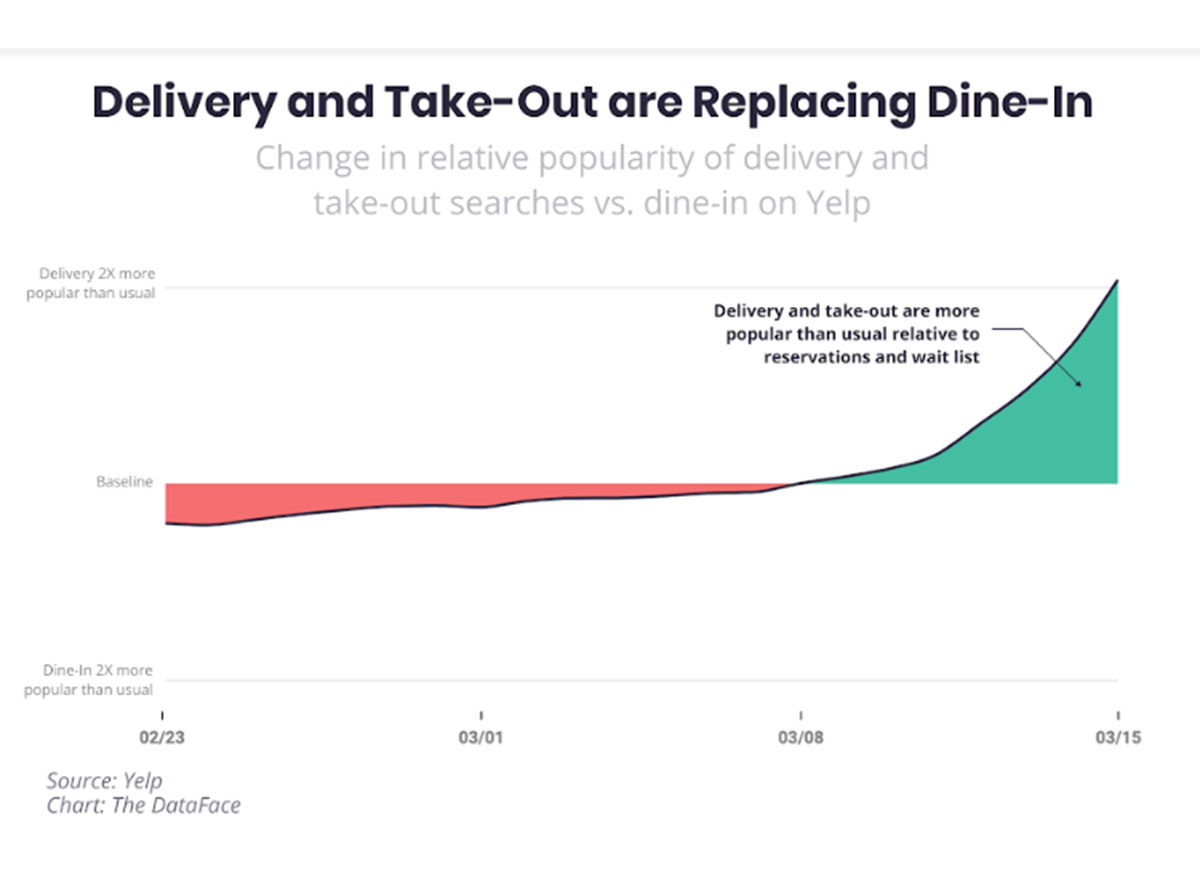 In addition to supporting local businesses, Yelp wants to make sure consumers are also taking precaution during this time by launching new product features in the upcoming weeks. This includes the following:
Contact-free delivery option: this feature will be available to add on to your to-go order at checkout.
Banner Alerts: designed to notify customers if a business is closed temporarily or has adjusted its hours.
Virtual Service Offerings: this will allow consumers to know if a business merged to an online service model for consultations, classes, shows, and performances (think small gyms, boutique fitness studios, and theaters).
Implementing new content guidelines: a way to further protect businesses from having aggressive comments and negative reviews posted on their Yelp page due to mandated closures.
Cheyenne Buckingham is the news editor of <Eat This, Not That!, specializing in food and drink coverage, and breaking down the science behind the latest health studies and information.
Read more