Za'atar: How To Use the Middle Eastern Spice Blend
This herb mix brings flavor and texture to dips, roasts, and vegetables.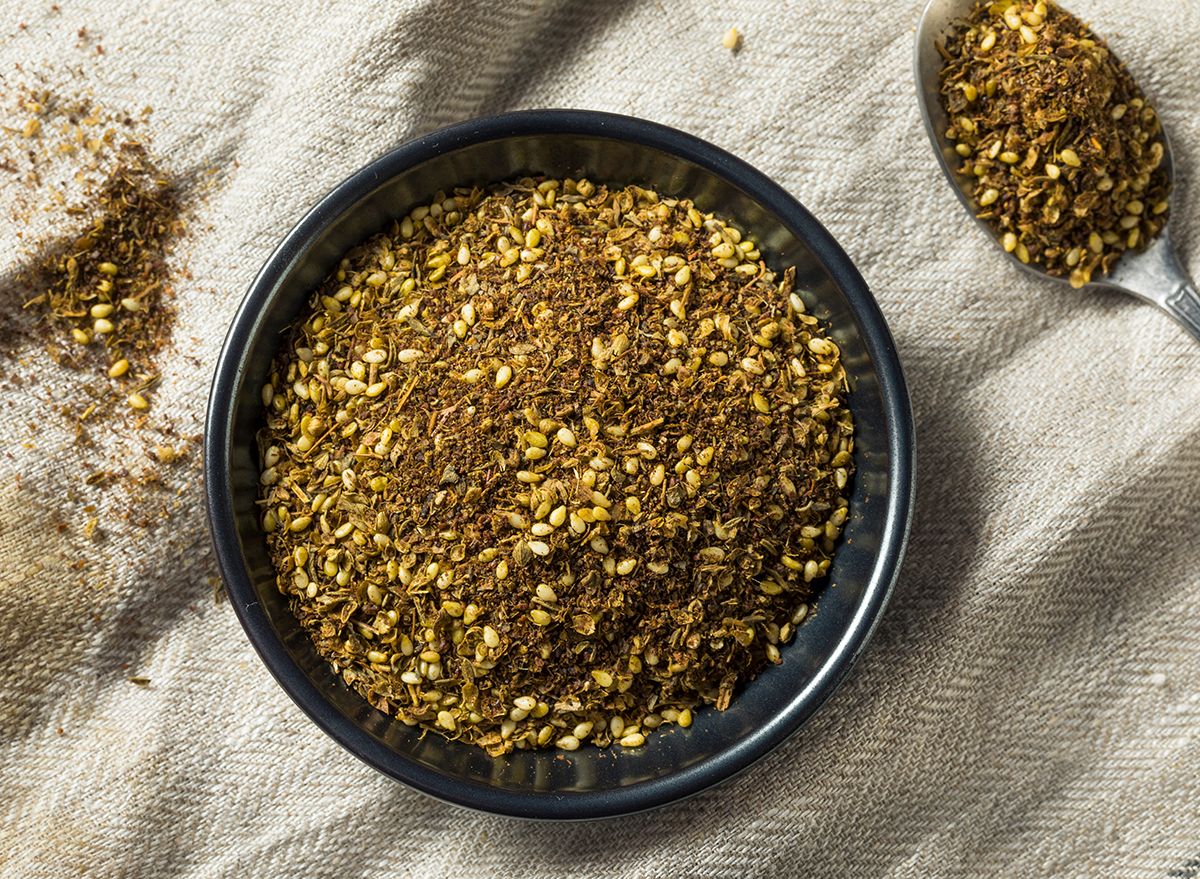 Za'atar refers to a spice blend of dried marjoram, oregano, thyme, sumac, toasted sesame seeds, and salt. It is also the name of an herb that grows wild in Lebanon, a hybrid of marjoram, oregano, and thyme called Origanum syriacum. Pronounced 'zah-tar', the spice mix has a score of different uses in the kitchen. Commercially prepared za'atar is also referred to as 'hyssop' or 'holy hyssop' as the plant is said to be used in rites of purification in the Bible.
Leetal Arazi, co-founder of lauded artisanal Middle Eastern spice store New York Shuk, names the herb itself as a key ingredient in a za'atar spice blend. "A crucial part of the za'atar blend is the herb itself and it is characterized by its small white flowers and very fragrant cottony leaves. Like many herbs, its flavor is very much determined by its oil content and place of cultivation."
Is za'atar healthy?
Many of the ingredients in za'atar have proven health benefits. Oregano extract has been shown to elevate serotonin and enhance mood. Sumac is extremely high in antioxidants, regulating blood sugar, improving cardiovascular health and reducing the effects of aging. Thyme has a long history of medicinal use for respiratory problems. A natural cough suppressant with antiviral and antibiotic properties, thyme has been found to be effective in treating colds. It can boost the immune system and decrease inflammation in the body. Marjoram aids digestion, helping break down food and stimulate the appetite.
How do you use za'atar?
Za'atar spice blend goes with everything from popcorn to chicken. Za'atar can be added before cooking on meatballs, kabobs, and roasted vegetables. It suits roasted vegetables and compliments pizza. One of its most traditional uses is sprinkled over labneh, a Lebanese strained yogurt, creating a robust dip for pita bread. You can also mix it into hummus with olive oil for a dip for naan. It's so versatile, Leetal tells us, "Za'atar should be used for breakfast, lunch, and dinner."
Her favorite way to eat za'atar is easy, "The classic way with za'atar is mixed with olive oil and eaten with fresh bread. I love sprinkling za'atar in my salads, roasted vegetables, and I'm also currently making crispy za'atar potatoes on repeat."6254a4d1642c605c54bf1cab17d50f1e
How to buy za'atar?
New York Shuk has just collaborated with Hayden Flour Mills to make a za'atar snacking cracker. Ziyad makes a premium quality za'atar that's available on Amazon. Zesty Z makes a popular Za'atar condiment that they recommend to drizzle on salmon or spread on a sandwich. The Spice House also makes a blend using sumac, sesame, hyssop and oregano.