Here's Exactly What Temperature Every Cut of Meat Should Be Cooked To
Yes, you're going to need a meat thermometer.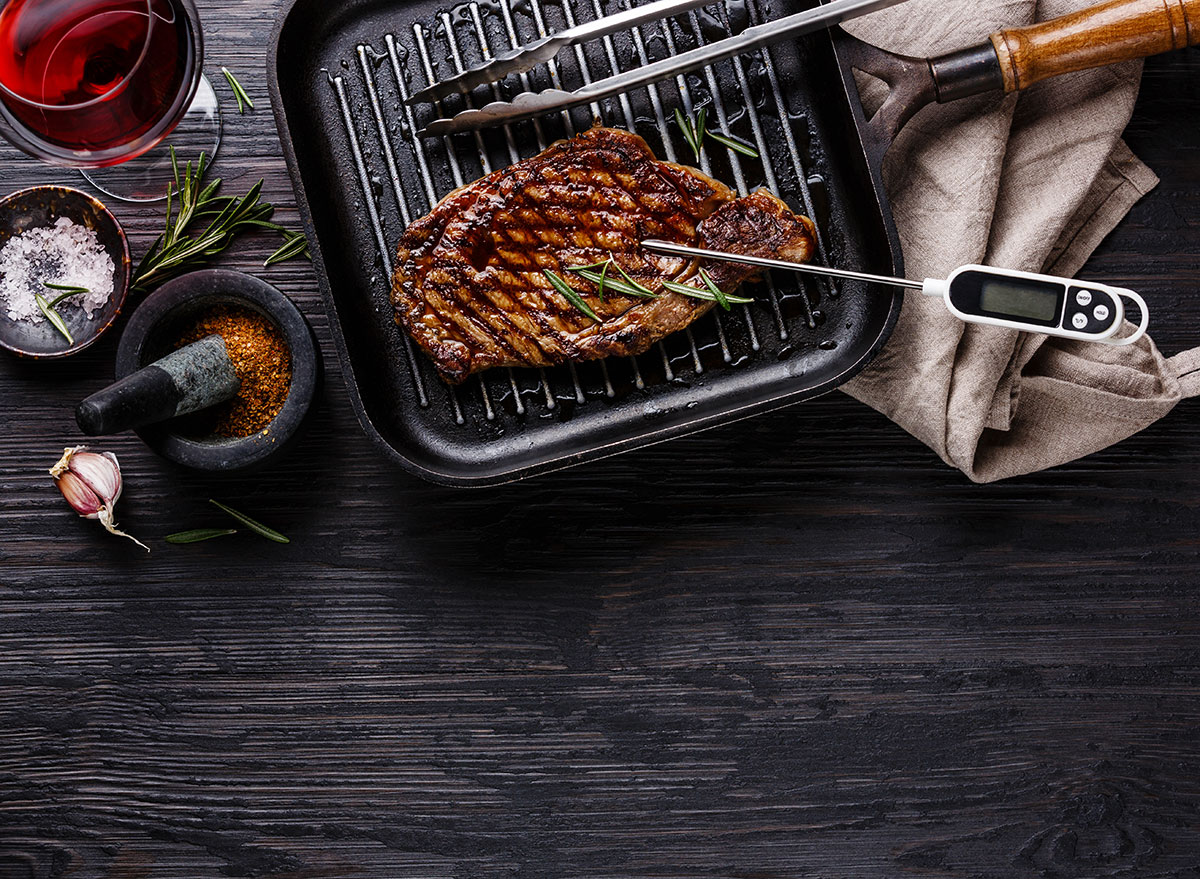 Cooking meat can be intimidating to anyone new to a kitchen, or even to a more experienced cook. Getting the family to say "ooh" when you bring out the main course cooked to juicy, crispy perfection is always the goal.
And while perfection isn't always attainable, we spoke with Matthew Gaudet, chef de cuisine of Rochambeau in Boston and formerly of Eleven Madison Park, for his tips and tricks for getting applause-worthy meat on the table every time. Here's what internal temperature each of these seven popular cuts of meat should reach—be sure to use a meat thermometer to make sure they're cooked all the way through. And for more cooking tips, sign up for our newsletter to get daily recipes and food news in your inbox!
Chicken Breasts: 165 degrees Fahrenheit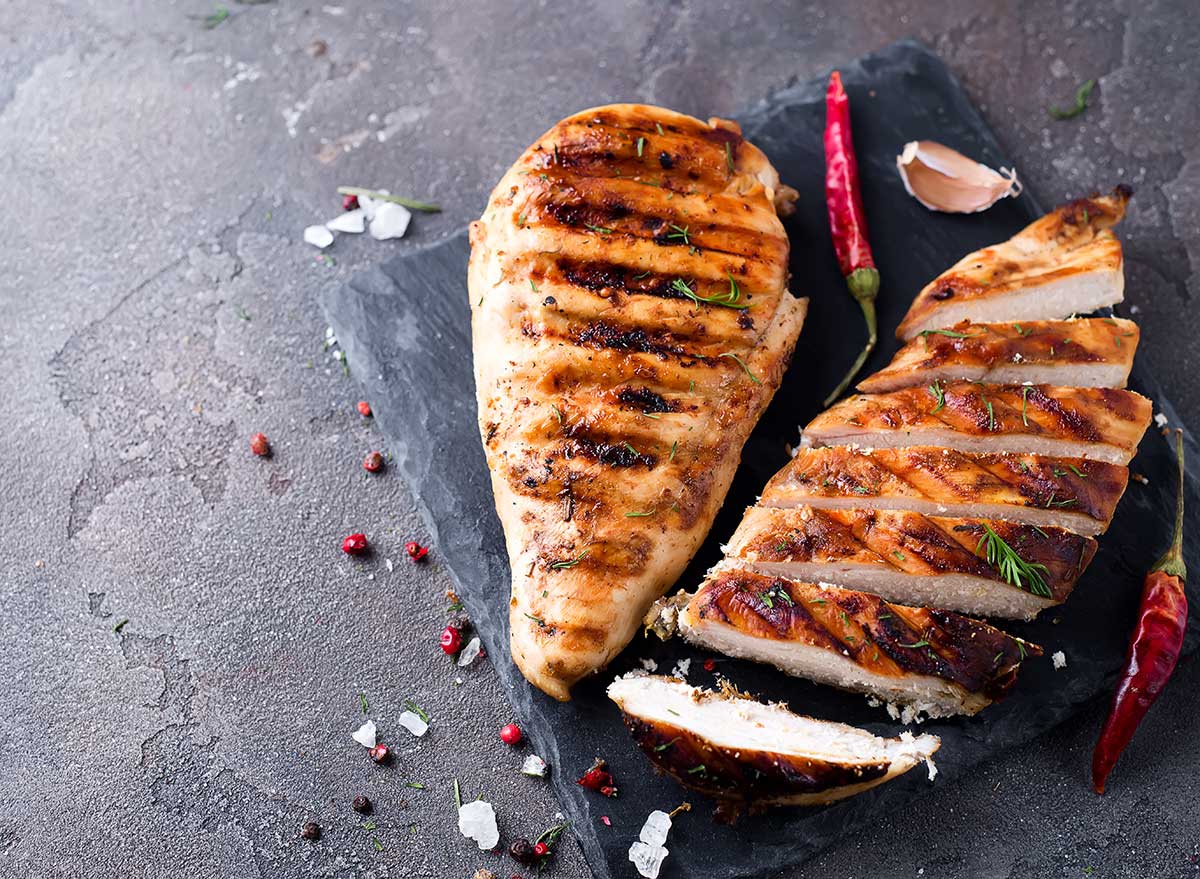 "I always like to take them off when they're almost done," Gaudet says of cooking chicken breasts. "You want it to be a little pink in the middle when you stop cooking it and let it hang out for five minutes, it'll carry [cook] through." You can always put the meat back on the grill or pan, but if it's overcooked, there's no way to save it. The meat will keep cooking as you let it rest, so keep that in mind.
Chicken Thighs: 165 degrees Fahrenheit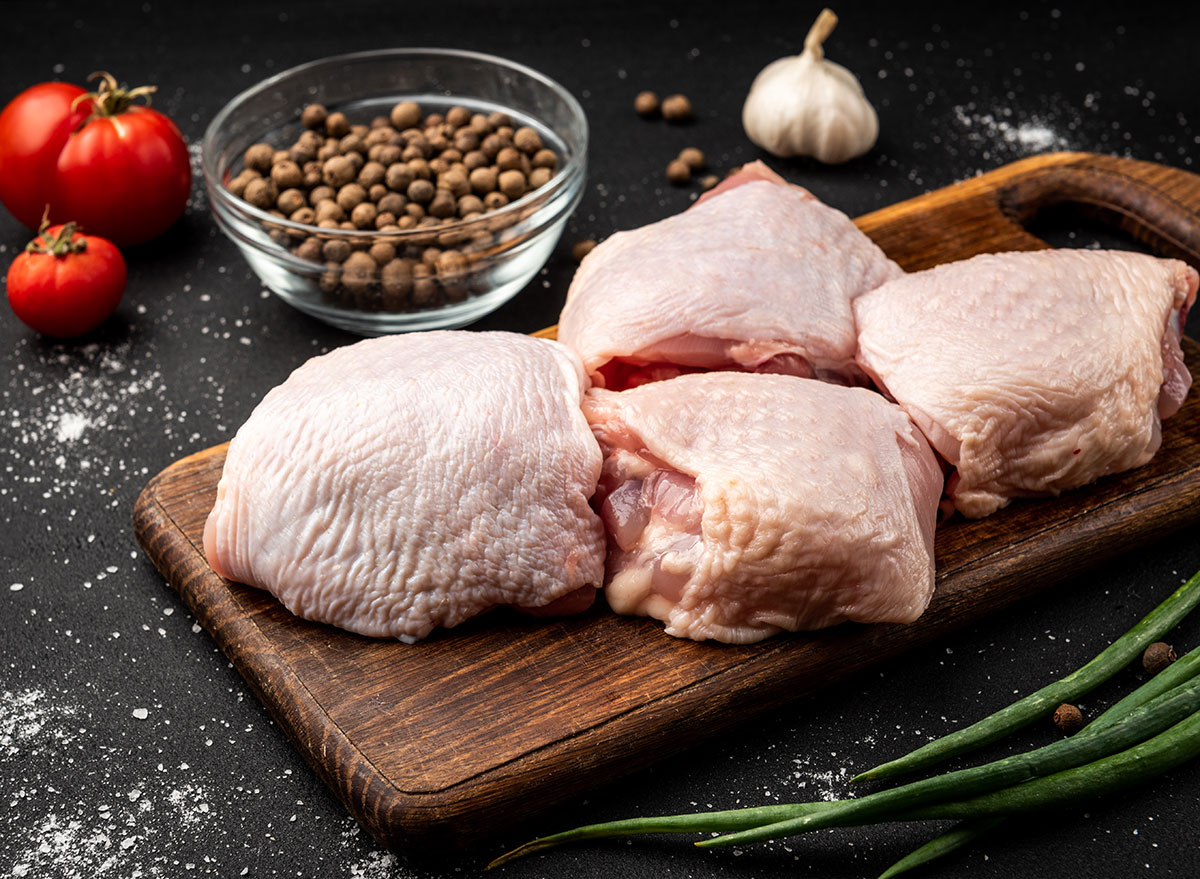 Unlike chicken breasts, you can cook these at high heat. "Chicken thighs can take all kinds of heat because they're riddled with fat," Gaudet says. "They're also the most delicious."
Try those chicken thighs in one of these 17 Healthy Chicken Thigh Recipes.
Whole Turkey: 165 degrees Fahrenheit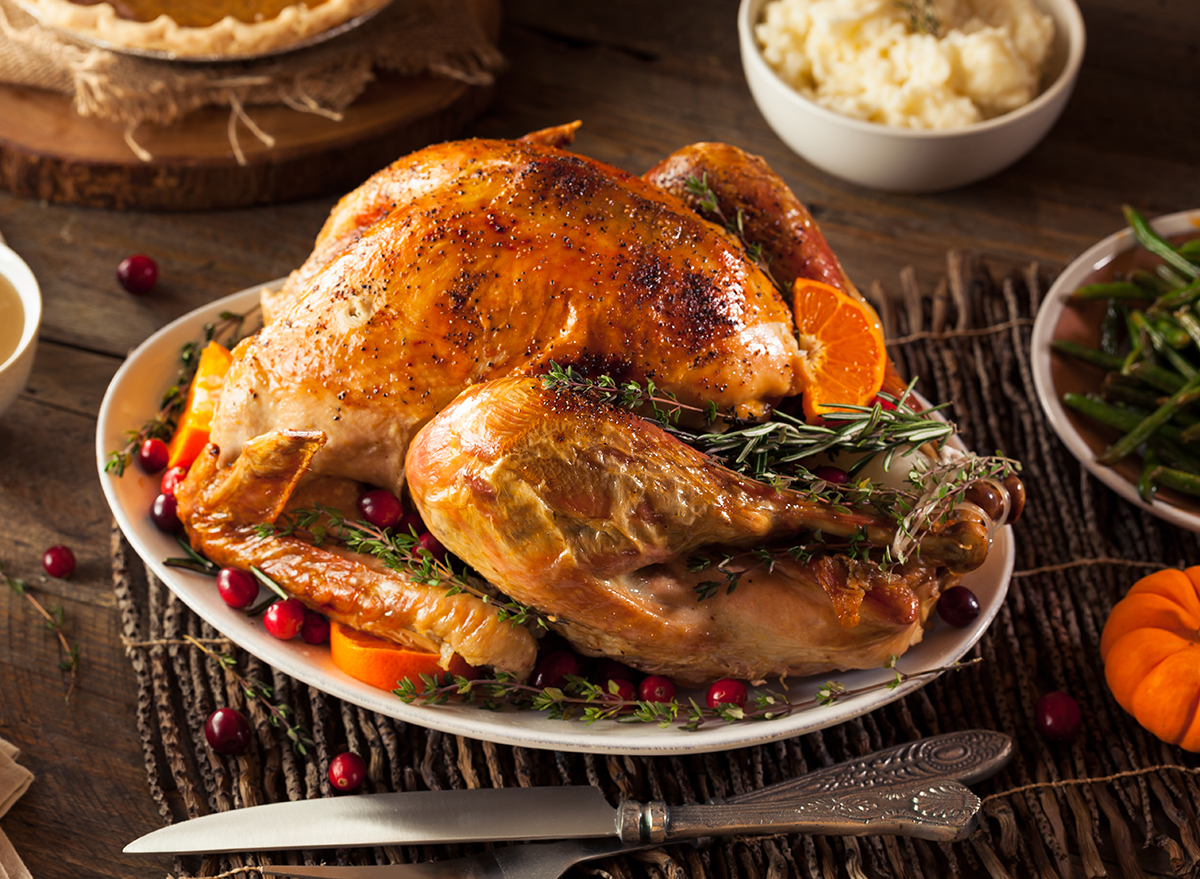 Gaudet has a simple suggestion for cooking the bird: "Brine, brine, and brine." And no, you don't have to wait until Thanksgiving to cook a whole turkey! The bird is delicious year-round—just be sure to avoid these 18 Ways You're Cooking Your Turkey Wrong.
Pork Chops: 150 to 155 degrees Fahrenheit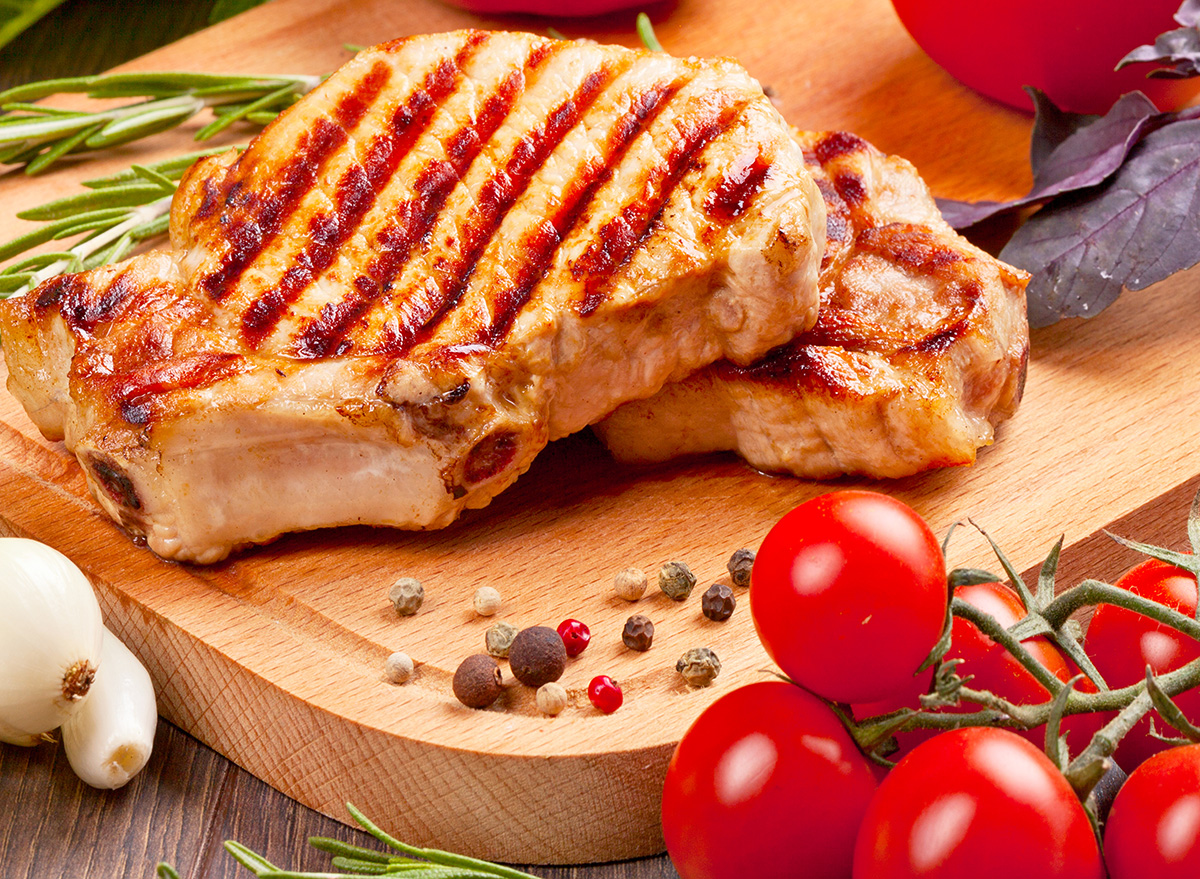 A pork chop with an internal temperature between 150 and 155 degrees Fahrenheit will be cooked to medium. Gaudet says, "Brine them and also, it benefits from a slow cook. Pork chops—people complain about them being bouncy, chewy, gross. Cook it slow. Brine it, cook it slower." If you want a juicy pork chop, patience is the key here.6254a4d1642c605c54bf1cab17d50f1e
Try the low and slow method with one of these 20 Delicious Pork Chop Recipes.
Pork Tenderloin: 150 to 155 degrees Fahrenheit
Again, cooking to an internal temperature between 150 and 155 degrees Fahrenheit will take this meat to medium. "I tend to find that it does well on the edge of a grill," says Gaudet. "So, off the direct heat, maybe a couple of turns on the flame, and then move it over and just kind of let it hang out. Also, a good marinade and a good wash on those are good too, sort of lacquery kind of deliciousness, could use the flavor."
You can't go wrong with this Grilled Pork Tenderloin With Pineapple Salsa Recipe.
Ribeye: 130 degrees Fahrenheit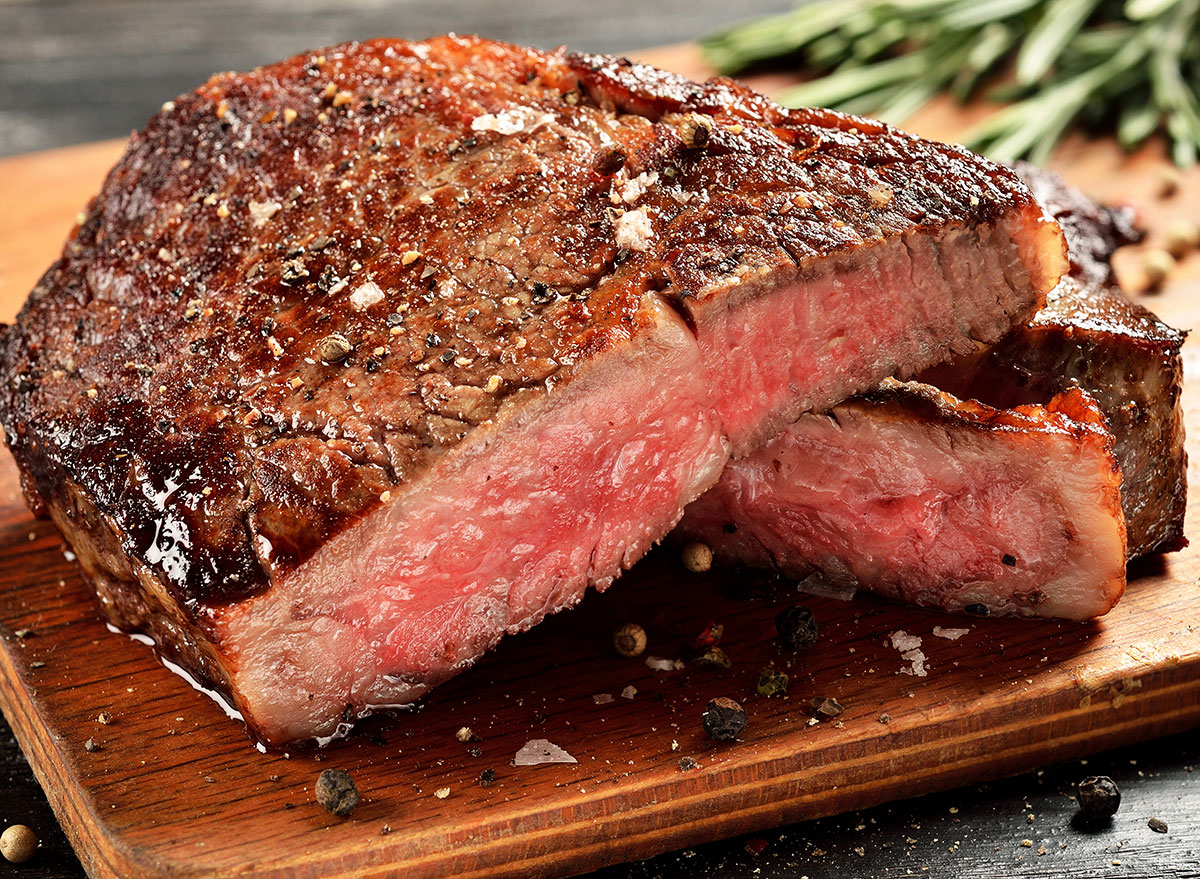 Ribeye should hit an internal temperature of 130 degrees Fahrenheit for a medium-rare steak, and 140 degrees Fahrenheit for a medium one. Gaudet suggests trying to "cook it whole, get a three, four-pound chunk of rib eye, slow roast that in the oven at 200 degrees for a couple of hours and then take it out, sear the outside with a garlicky black pepper rub or something like that and then slice it about 10 minutes after that, let it rest for another 10 minutes."
New York Strip: 100 to 125 degrees Fahrenheit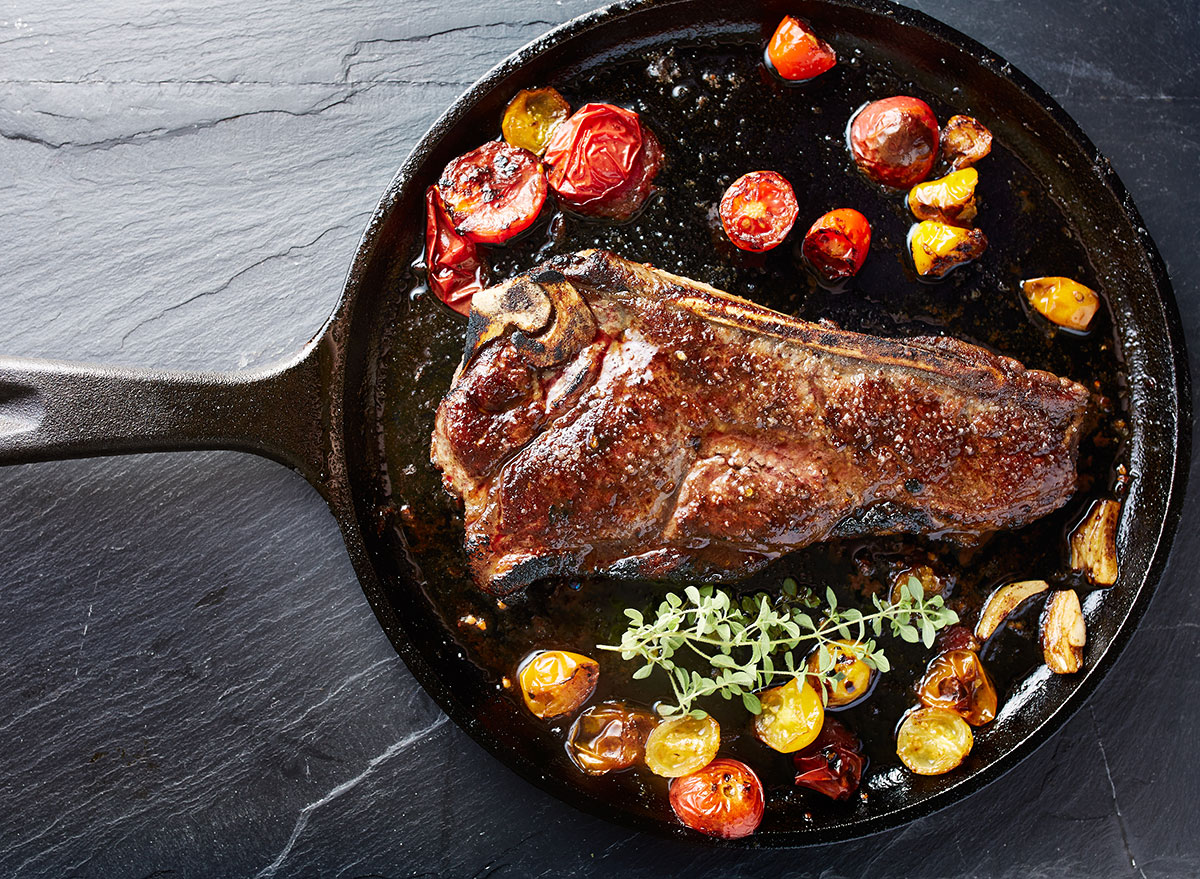 New York strip steak should hit an internal temperature of 100 to 110 degrees Fahrenheit for a medium-rare sear, and 115 to 125 degrees Fahrenheit for a medium steak.
"I'm not a big fan of the gristly edges, so I tend to cut that off and cook it pretty rare and then slice it on the grain, toss it in my veggie dish or salad or something like that, and I try to get grass-fed whenever possible," Gaudet says.
Now that you know how to cook every type of meat, you'll be ready for all of the grilling that summer has in store.
Tanya Edwards
Tanya Edwards is a seasoned food and health journalist, who has held roles at Yahoo Health as Managing Editor and at Food Network as Programming Director.
Read more about Tanya