The Best & Worst Menu Items at Seasons 52
Not sure what to order when you're dining at this fresh grill and wine bar? A registered dietitian gives insight into the best and worst menu options here.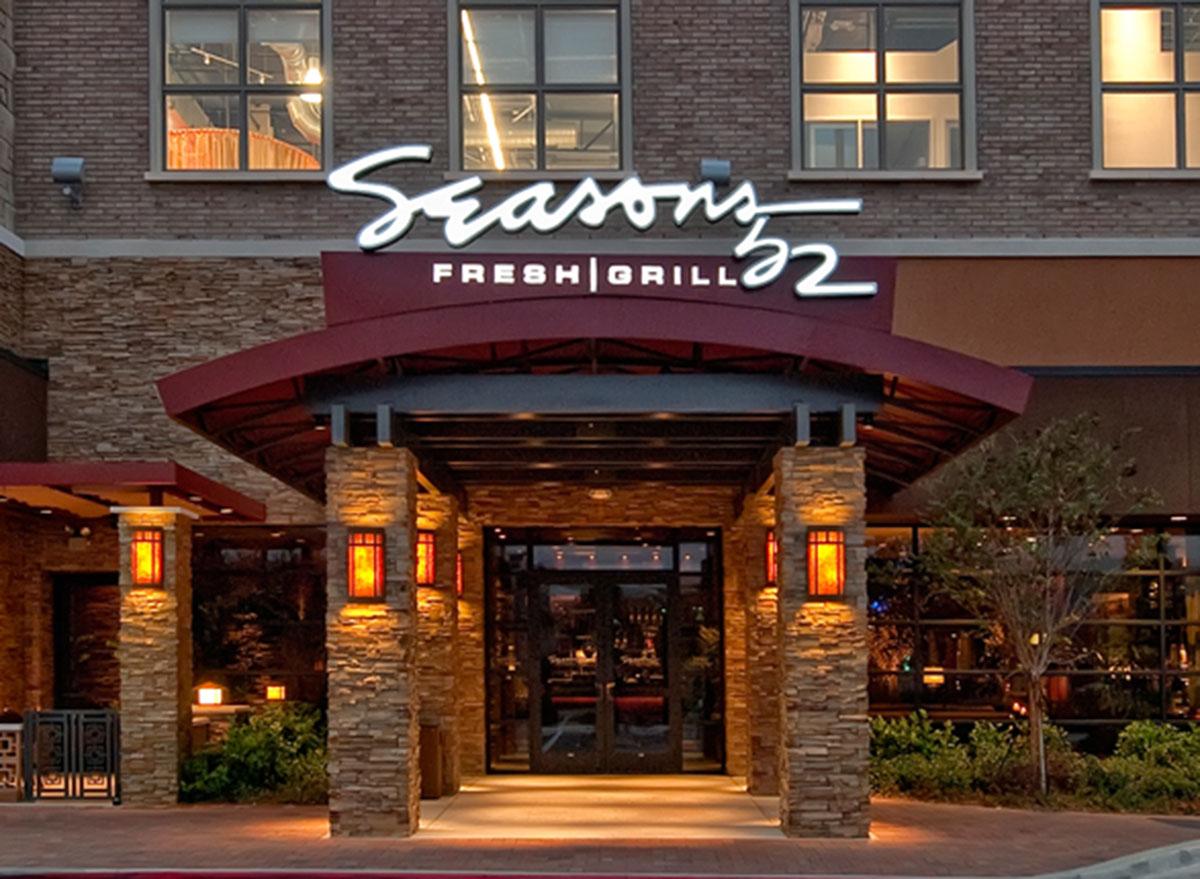 Seasons 52 is a grill and wine bar that prides itself on using fresh produce, grilled meats, and roasted veggies to create dishes that are flavorful and better for you. Seasons 52 even recommends that guests browse the nutritional information to choose the foods that are the best for them—how many restaurants do you know who would do that?
To help take some of the guesswork out of ordering during your next visit to Seasons 52, we spoke with Monica Auslander Moreno, MS, RDN of Essence Nutrition, to highlight the better-for-you options and which dishes and desserts you should save for special occasions. That way, you can make more nutritionally sound choices and still indulge when you want. Now, here are the best and worst items on the Seasons 52 Menu.
Starters
Best: Grilled Shrimp and Avocado Cocktail
220 calories, 12 g fat (3 g saturated fat, 0 g trans fat), 720 mg sodium, 7 g carbs (4 g fiber, 2 g sugar), 22 g protein
As you sit down and order something to nibble while you wait on the main meal, it's important to be mindful of what you choose here, especially if you are going for a more indulgent entree and dessert. You don't want to fill up on the appetizer! With the grilled shrimp and avocado cocktail, Moreno says that you can "get some protein in, so you don't overdo it at your meal—and we could all use more seafood (omega-3s) in our lives."
Worst: Spinach and Artichoke Dip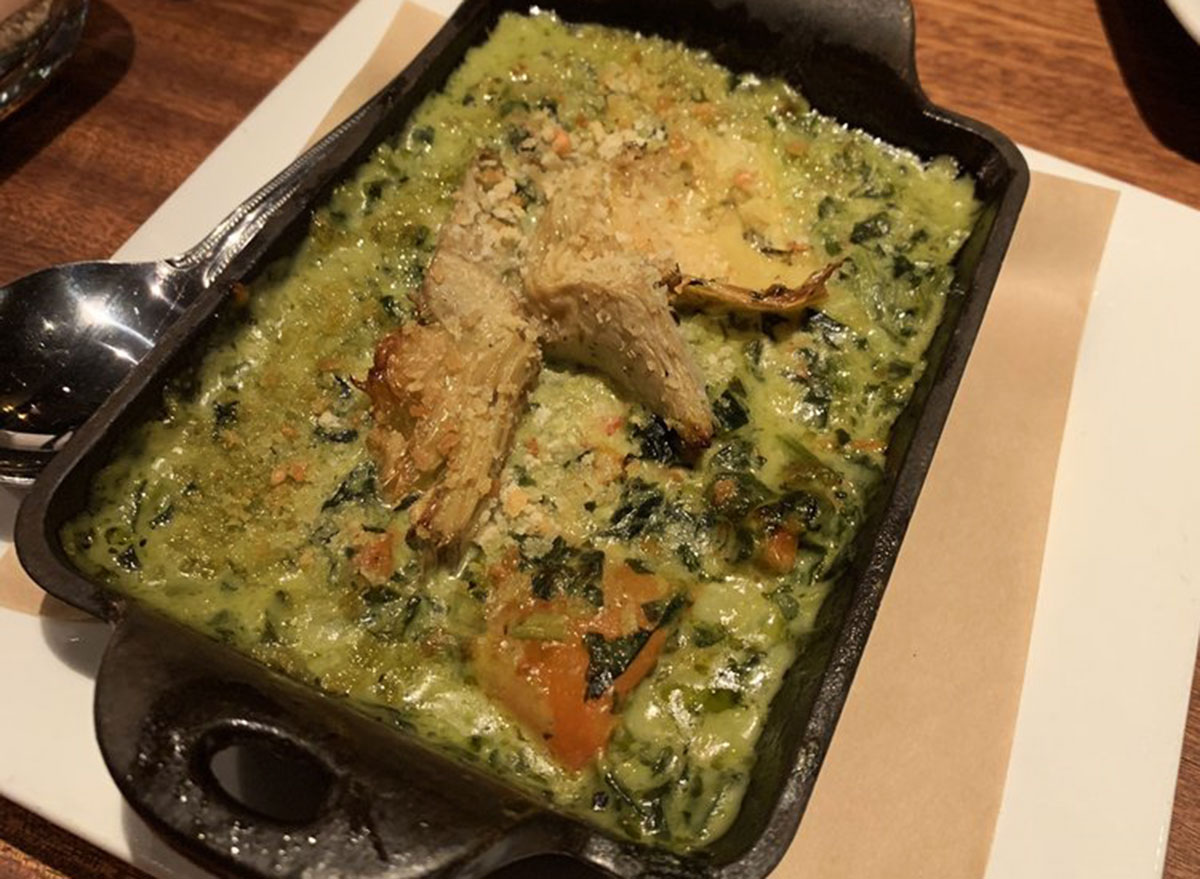 530 calories, 25 g fat (11 g saturated fat, 0 g trans fat), 1,360 mg sodium, 57 g carbs (7 g fiber, 10 g sugar), 20 g protein
If you do decide on the spinach and artichoke dip, definitely share it with everyone at the table and watch your portions, as this appetizer is filled with sodium.
"It's really easy to plow into something like this with a bottomless pit of chips (starch) and overtake fullness even before your main entree has been served," Moreno says. "Most people find it difficult to just portion out a few tablespoons of dip and a few chips. Foods like these encourage mindless eating. It's more the portion, rather than the actual food, that is the issue here."
Flatbreads
Best: Roasted Tomato Flatbread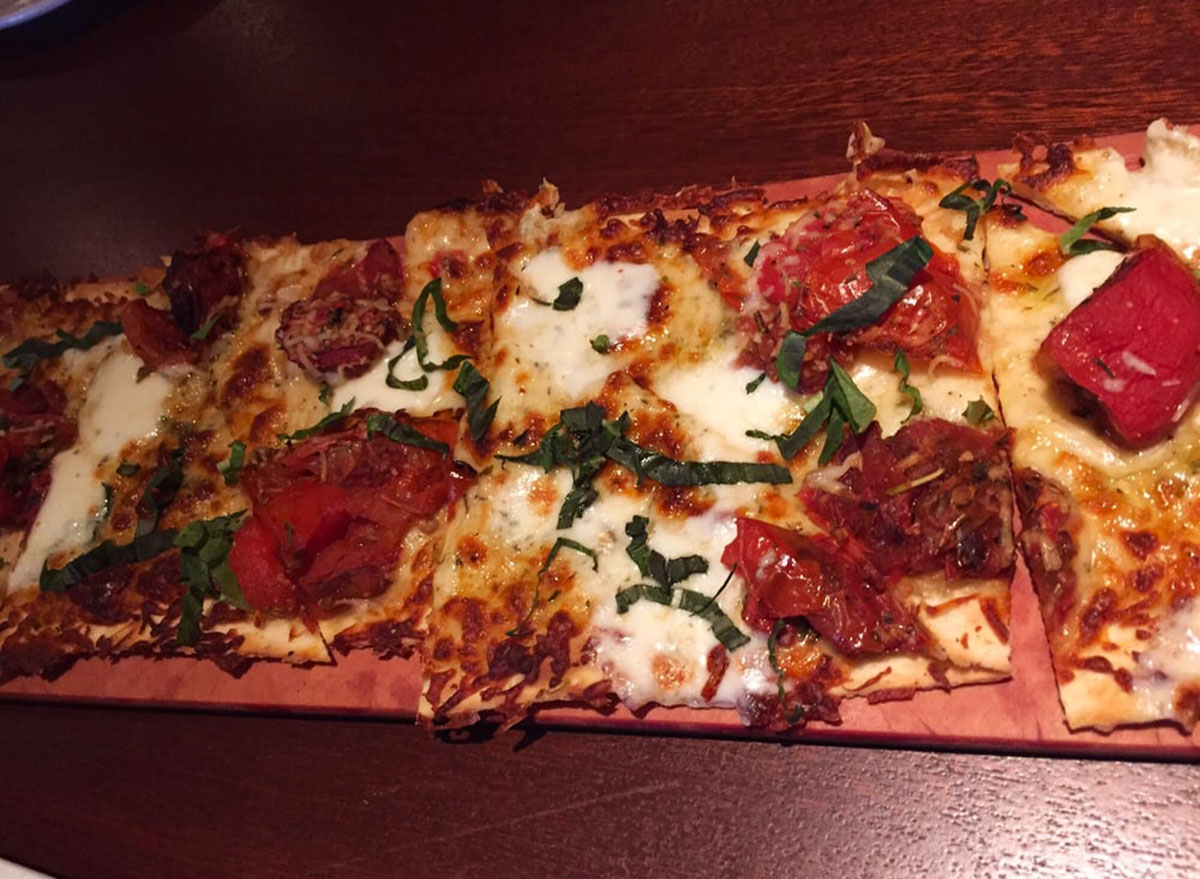 420 calories, 16 g fat (7 g saturated fat, 0 g trans fat), 720 mg sodium, 48 g carbs (6 g fiber, 9 g sugar), 19 g protein
The flatbreads at Seasons 52 are some of the most popular menu items at the restaurant. If you want to get a taste of what the hype is all about, go for the roasted tomato flatbread, which is lower in calories and sodium compared to many of the other options in this category. Plus, it still offers some protein and the benefits of lycopene and vitamin C in the tomatoes.
Worst: Broccoli, Bacon, and Aged Cheddar Flatbread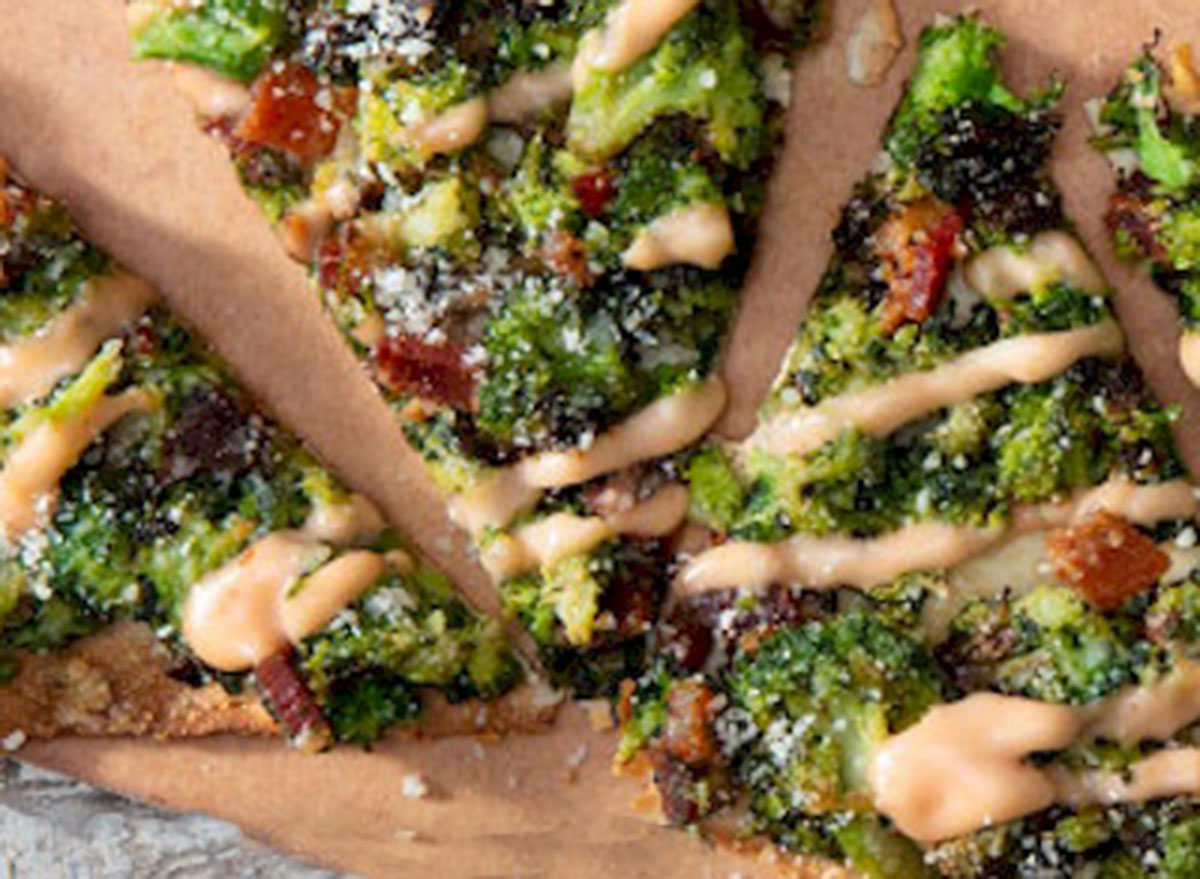 580 calories, 32 g fat (11 g saturated fat, 0 g trans fat), 1,510 mg sodium, 48 g carbs (2 g fiber, 6 g sugar), 28 g protein
The broccoli, bacon, and aged cheddar flatbread is a fan-favorite, but it is packed with sodium and saturated fat. This one is best reserved to eat on occasion rather than crowned as your "regular" go-to choice.6254a4d1642c605c54bf1cab17d50f1e
Soups & Salads
Best: Tomato Cheddar Soup
1 cup
: 270 calories, 21 g fat (7 g saturated fat, 0 g trans fat), 1150 mg sodium, 14 g carbs (3 g fiber, 5 g sugar), 9 g protein
Especially during the colder days, soup is a great side or main dish to warm up with. If you're looking for a soup to accompany your entree, choose a cup of the tomato cheddar at Seasons 52.
"Soups are such a nice way to pack in an extra serving of vegetables and legumes and can be super satiating as a side or appetizer," Moreno says. "We like what we see with the tomato—heated tomatoes are a nice source of the antioxidant lycopene."
Moreno also recommends asking about the rotating daily soups if the tomato one isn't your jam; opt for a veggie- or legume-based soup so that you get more veggies and fiber into your day.
Worst: Spinach & Caramelized Pear Salad
300 calories, 22 g fat (5 g saturated fat, 0 g trans fat), 650 mg sodium, 23 g carbs (6 g fiber, 13 g sugar), 7 g protein
When people are trying to make healthier meal choices, they often flock to the salad section of the menu. Unfortunately, salads aren't always the best choice when it comes to nutrition, because toppings and dressings can quickly add an explosion of fat, sodium, and sugar.
"Though it's painful to flog a salad, the spinach and caramelized pear likely has more added sugar (caramelization, the vinaigrette, and the candied pecans) than we would like to see in a salad. Save your sweets for dessert, not a salad," Moreno says.
Entrees
Best: Wood-Grilled Handline Tuna
550 calories, 28 g fat (4.5 g saturated fat, 0 g trans fat), 1,090 mg sodium, 20 g carbs (4 g fiber, 2 g sugar), 3 g protein
As Moreno mentioned for the starters, it's never a bad idea to choose seafood.
"Tuna, though higher in mercury, is still a good source of omega-3 fatty acids," she says. Plus, the sides for this dish include vegetables and legumes, while Moreno points out that many of the other entree dishes come with refined starches, like white potatoes.
Worst: Southern-Style Shrimp and Grits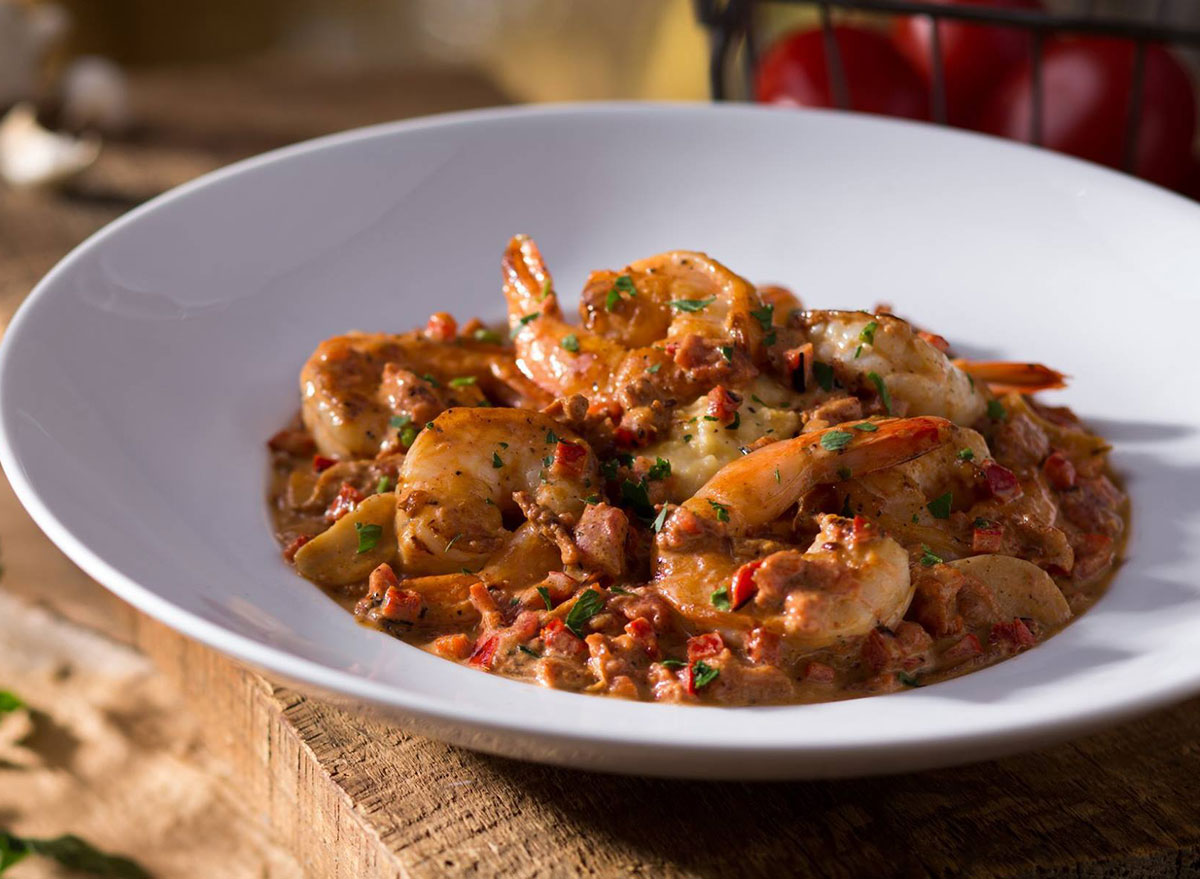 570 calories, 35 g fat (17 g saturated fat, 1 g trans fat), 1,910 mg sodium, 19 g carbs (3 g fiber, 5 g sugar), 47 g protein
This entree, filled with processed meats, fatty cheese, and refined grains, just misses the mark when it comes to being a nutritionally dense meal.
"There's no vegetable here—but there are processed meats (chorizo and bacon), which are not great choices. There would be enough protein with the shrimp, and then there's also the cheddar cheese. Grits are a refined grain; we can do better here with a complex starch instead," Moreno says.
Entree Salads
Best: Sesame Grilled Salmon Salad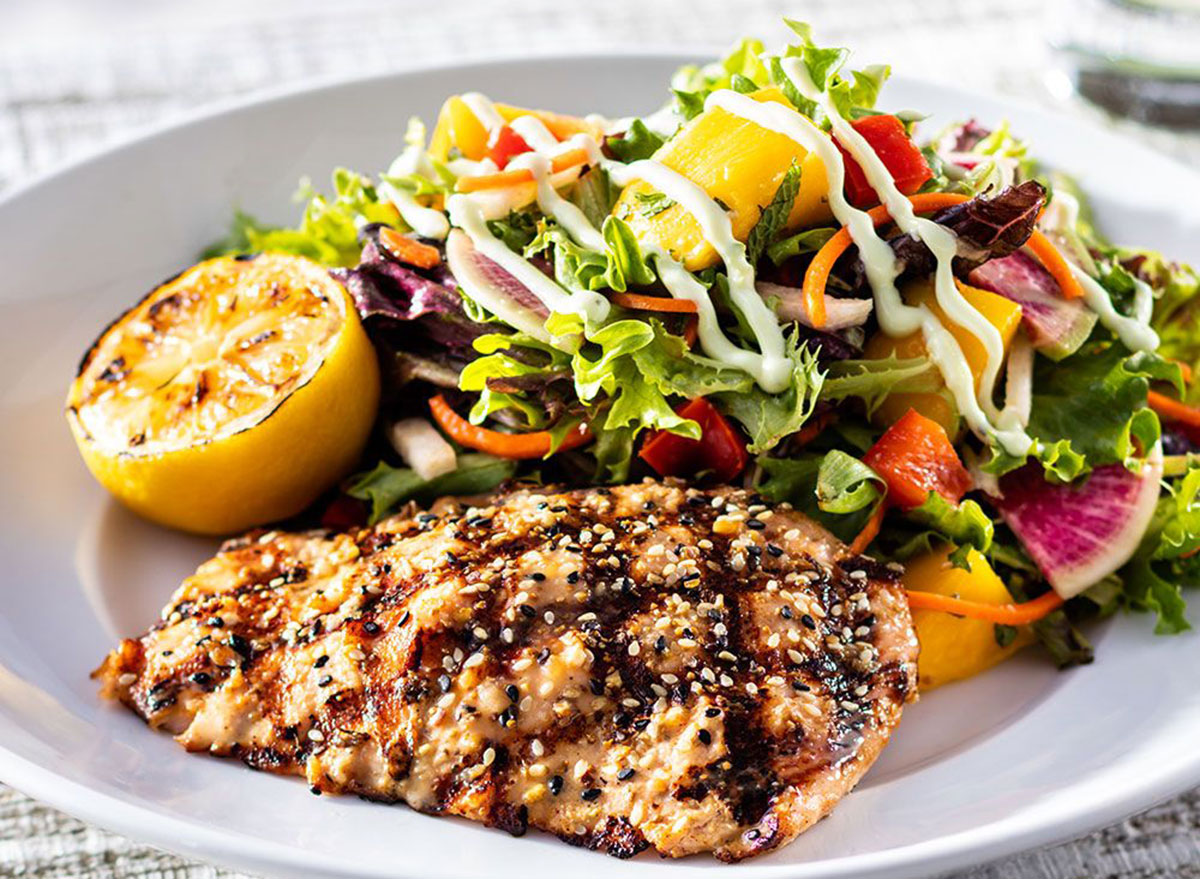 470 calories, 19 g fat (4.5 g saturated fat, 0 g trans fat), 1,290 mg sodium, 33 g carbs (7 g fiber, 23 g sugar), 44 g protein
A salad with grilled fish? We have a winner! This large salad offers plenty of leafy greens, as well as the benefits of omega-3 fatty acids in the grilled salmon.
"We do whatever we can to encourage more small fatty fish for omega-3 consumption and vitamin D," Moreno says. "We might skip the mango dressing (added sugars), since there's already a lemongrass sauce here to provide flavor. Or we'd ask for more vinegar to coat the greens so they're not dry."
580 calories, 41 g fat (12 g saturated fat, 0 g trans fat), 1010 mg sodium, 15 g carbs (6 g fiber, 6 g sugar), 39 g protein
At first glance, this salad seems like a great choice. Steak, almonds, greens, and onions sounds delicious and nutritious, right? These items are each OK on their own, but when paired together, the calories, fat, and protein become excessive.
Moreno explains: "It's not the individual ingredients here—it's the combo. You're getting enough protein and fat from the steak, so the cheddar (more fat and protein), almonds (more fat and protein), dressing (more fat), and grilled onions (more fat) can be a bit of an entree overkill."
Sides
Best: Roasted Cauliflower Florets
200 calories, 15 g fat (2 g saturated fat, 0 g trans fat), 720 mg sodium, 17 g carbs (7 g fiber, 5 g sugar), 6 g protein
If you want a tasty and nutritious side dish, the roasted cauliflower is your best bet. This vegetable is chock-full of fiber, vitamin C, folate, and potassium. Plus, roasting it really brings out the flavor.
Worst: Macaroni and Cheese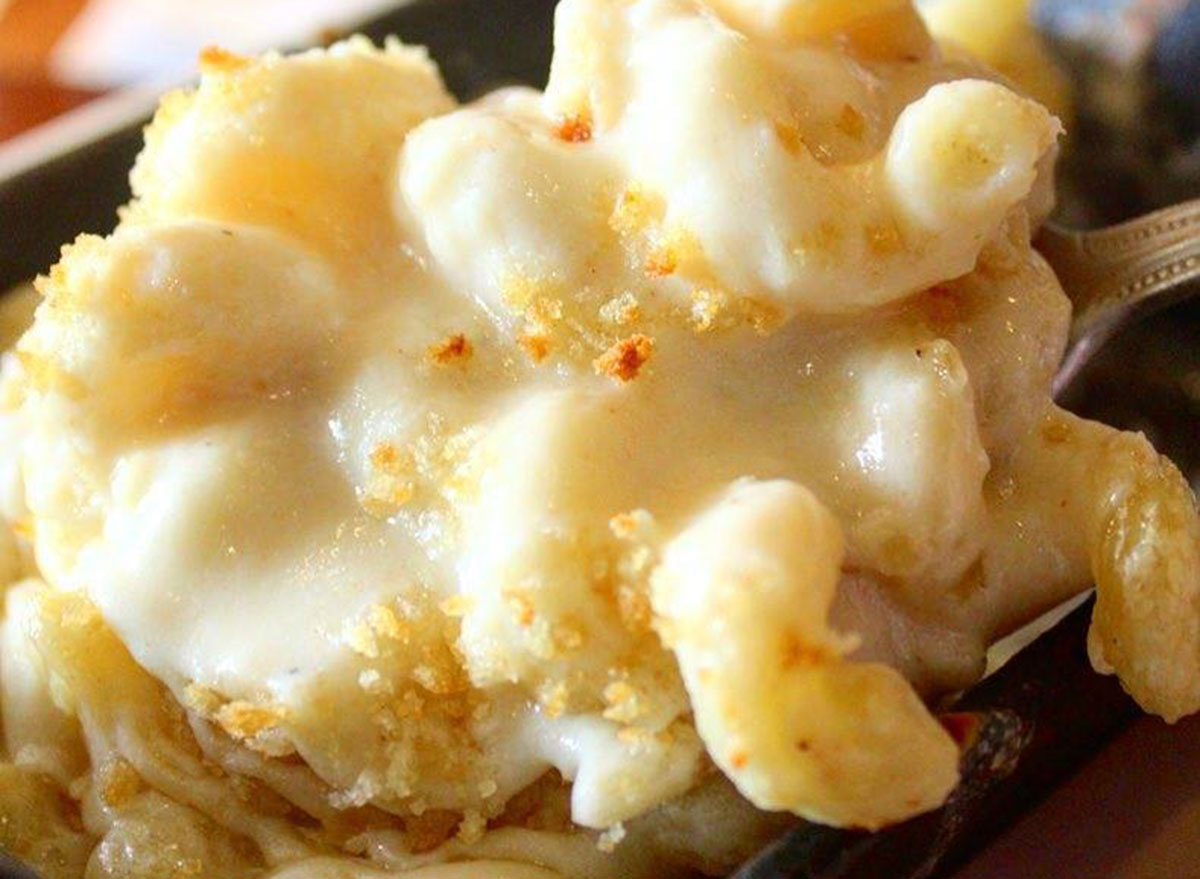 570 calories, 26 g fat (13 g saturated fat, 0.5 g trans fat), 860 mg sodium, 60 g carbs (3 g fiber, 9 g sugar), 23 g protein
It's no secret that a white pasta coated in layers of cheese and topped off with breadcrumbs is far from the epitome of healthy eating. If you are trying to order a healthier dinner, there are better options at this restaurant to round out your meal.
Desserts
Best: Espresso Panna Cotta
190 calories, 10 g fat (7 g saturated fat, 0 g trans fat), 60 mg sodium, 21 g carbs (1 g fiber, 19 g sugar), 3 g protein
Seasons 52 sells its desserts in small portions, making for the perfect light, after-dinner treat. If you want the healthiest dessert option, the espresso panna cotta is the right move.
"It's the second-lowest in sugar, and saves you from having to order an extra side of espresso," Moreno says.
Worst: Caramel Pineapple Upside Down Cake
240 calories, 11 g fat (6 g saturated fat, 0 g trans fat), 0 mg sodium, 31 g carbs (2 g fiber, 37 g sugar), 2 g protein
If you had a rather indulgent dinner or don't want to overdo it on dessert, steer clear of the caramel pineapple upside-down cake. It has nearly double the sugar of the healthiest option (the espresso panna cotta), and it has the most sugar out of all the sweet treat options on the menu. "If you like pineapple, have the fresh fruit option and add it to your espresso panna cotta," Moreno says.
But if you are out to dinner and your body really craves this pineapple dessert, don't deny yourself!
"Dessert really isn't the time to itemize—desserts are about savoring and enjoying. Plus, all Seasons 52's desserts are portioned out in little shot glasses, which takes out any portion distortion issues," Moreno says. Looks like you can have your (shot glass of) cake, and eat it, too.
Paige Bennett
Paige is a Los Angeles-based editor and freelance writer. In addition to writing for Eat This, Not That!, she works as the content editor for Inhabitat.
Read more about Paige