15 Things You Don't Know About Waffle House
You know the popular breakfast chain serves up delicious waffles and cheap coffee, but did you know you could get it catered? Or order a food truck for events?
The Waffle House is a beloved Southern chain that's been a roadside staple for decades. Whether you head there for greasy food after a late night out or first thing in the morning for coffee and eggs, there's something on the menu for everyone.
Aside from the tasty menu and late-night people watching, Waffle House has some little-known fun facts of its own that we dug up. From catering big events to responding to natural disasters, Waffle House is full of surprises. Here are some of our favorite fun facts about this 24/7 diner. And if you're someone who dines out frequently, check out The #1 Worst Menu Option at 40 Popular Restaurants.
The First Waffle House Opened in 1955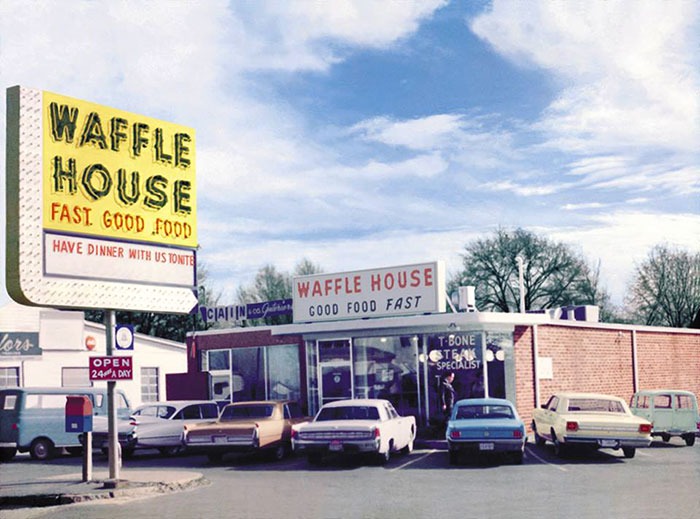 Courtesy of Facebook, @WaffleHouse
Two neighbors, Joe Rogers and Tom Forkner, decided to open a restaurant together that would focus on people and serve quality food at a great value. On Labor Day 1955, the first Waffle House opened its doors in Avondale Estates, a suburb of Atlanta. Did you know Applebee's also started as a mom and pop shop? It's one of the 15 Things You Don't Know About Applebee's!
It's Named After the Most Profitable Item on the Menu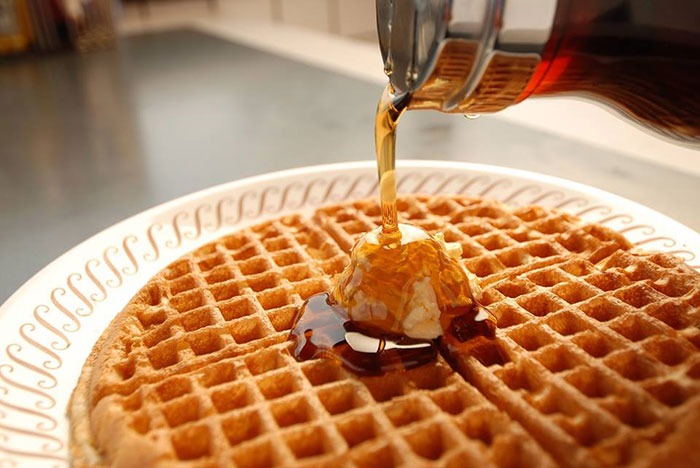 Courtesy of Facebook, @WaffleHouse
Waffle House is known for much more than its waffles; in fact, people order bacon and hashbrowns more than anything else. But the name comes from Forkner because of how profitable waffles are for restaurants. "It was the highest profit item you could do, so I said, 'Call it Waffle House and encourage people to eat waffles,'" he told the Associated Press in a 2005 interview.
Each Location is Open 24/7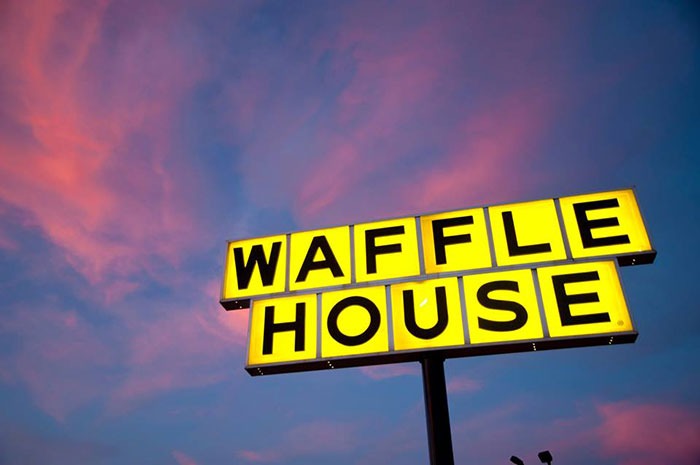 Courtesy of Facebook, @WaffleHouse
There's a reason Waffle House is a popular food destination after a late night out; every restaurant location is open 24 hours a day, seven days a week. It's also open 365 days a year, even on holidays including Christmas and Thanksgiving. So if you don't have any holiday plans, share a meal with the friendly Waffle House employees!
But There Are Still Locks on the Doors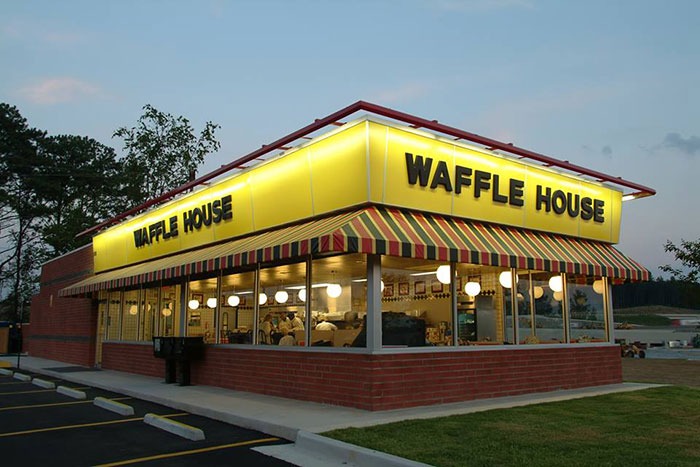 Courtesy of Facebook, @WaffleHouse
Since Waffle House is known for being open 24/7, there's an urban legend that the restaurants don't even have locks on their doors because why would they need them? Turns out, Waffle House restaurants do have locks on the doors, according to the official website. There's another rumor that each new location buries its keys in cement on the sidewalk in front — also not true.
Waffle House Offers Catering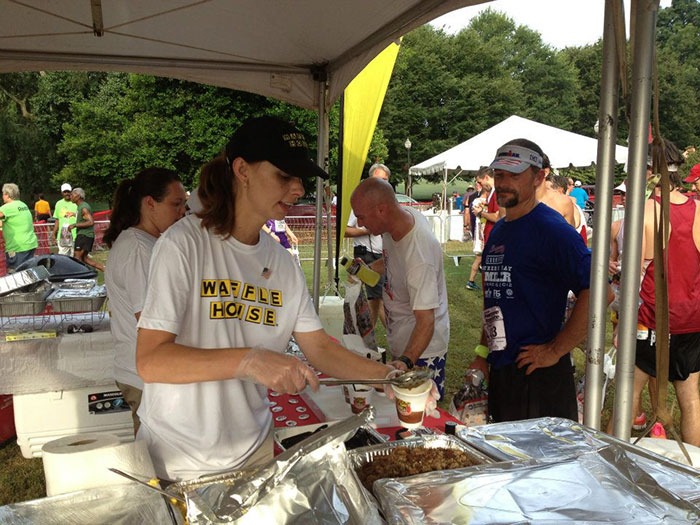 Courtesy of Facebook, @WaffleHouse
Big fan of Waffle House's menu? Have them cater your next event! The Waffle House website advertises on-location service for groups of 20 or more with a cost totaling more than $200. Waffle House Catering also delivers, which is perfect for business meetings or tailgates. Unfortunately, Waffle House Catering is only available in the Atlanta area.
There's Even a Waffle House Food Truck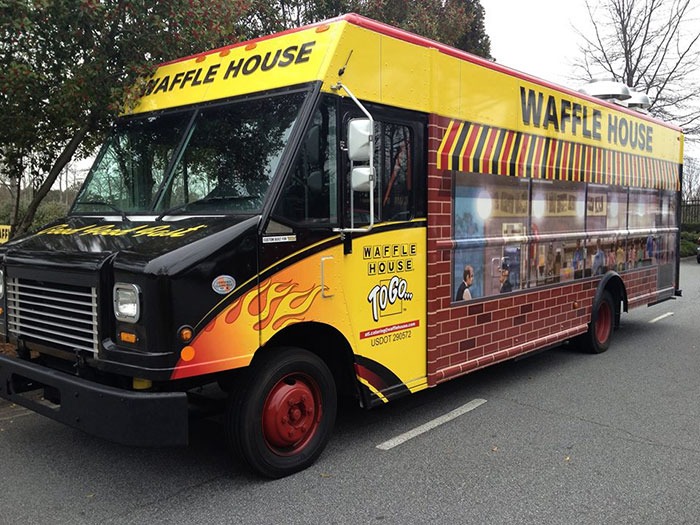 Courtesy of Facebook, @WaffleHouse
Take your catering one step further with the Waffle House food truck that can travel on location! Perfect for weddings, birthday parties, bar and bat mitzvahs, or any other big event that would appreciate an on-site Waffle House. Although the food truck mostly serves the Atlanta area, long distance travel is available outside of Georgia (you just have to be willing to pay a lodging fee for its employees).
Atlanta Has More Waffle Houses Than Any Other City
Since Waffle House was born in an Atlanta suburb, it makes sense that ATL is home to more Waffle House restaurants than any other city. There are 1,700 locations in 25 throughout the United States, and 132 of those are in Atlanta.
Waffle House Serves 145 Waffles Per Minute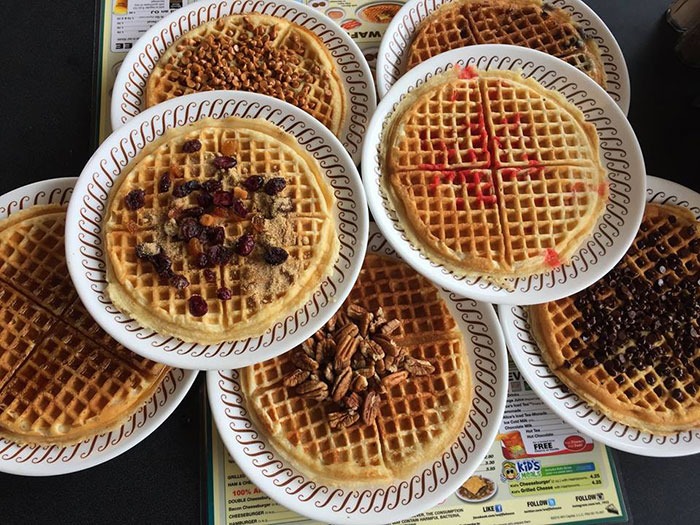 Courtesy of Facebook, @WaffleHouse
Even if waffles aren't the most popular item on the menu, Waffle House still slings them like hotcakes (literally); 145 waffles are served per minute, and it has served 877,388,027 waffles since 1955.
And 341 Strips of Bacon Per Minute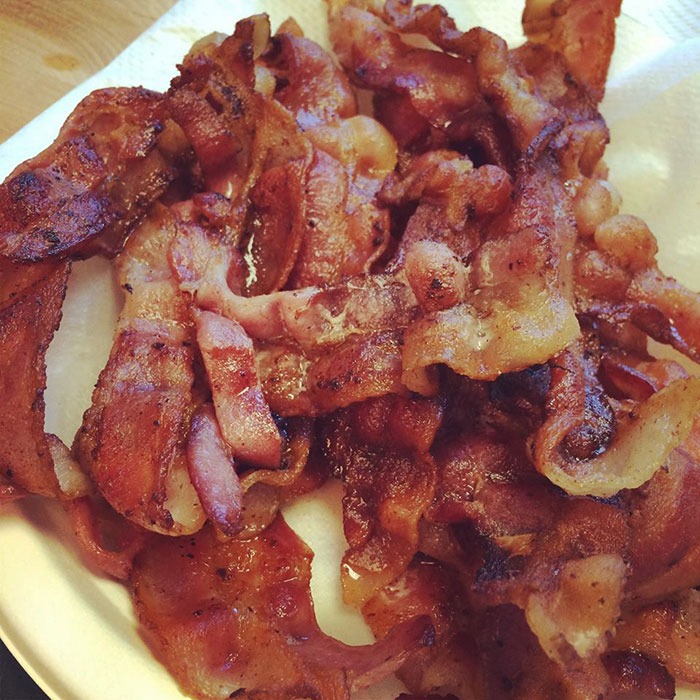 Courtesy of Facebook, @WaffleHouse
As many waffles as it has served up, Waffle House cooks up more than twice as many strips of bacon. The restaurant serves 341 strips of bacon each minute, and has served 1,684,212,442 strips since it opened in 1955 — that's a lot of bacon!
Waffle House Has Its Own Record Label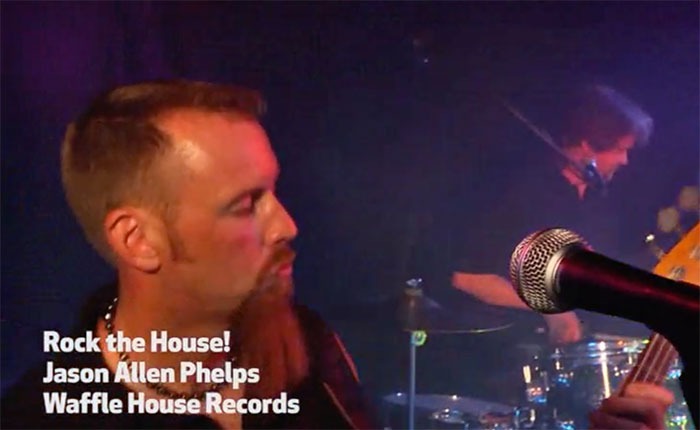 Courtesy of Vimeo, Waffle House
Waffle House delivers much more than just tasty breakfast and a 24-hour menu. Waffle House has its own record label called Waffle Records, and has been releasing original music since the mid-1980s. The label has about 40 songs total, all about the popular Southern chain.
"So, it's not 'Waffle House, Waffle House, Waffle House' over and over again," Shelby White, the head of Waffle Records told NPR in 2016. "It's about our food. It's about our people. It's about the things that happen if you just sit in a Waffle House and listen to the conversations around you. We try to represent all that to some degree in the songs."
Waffle House Produces Original Music Videos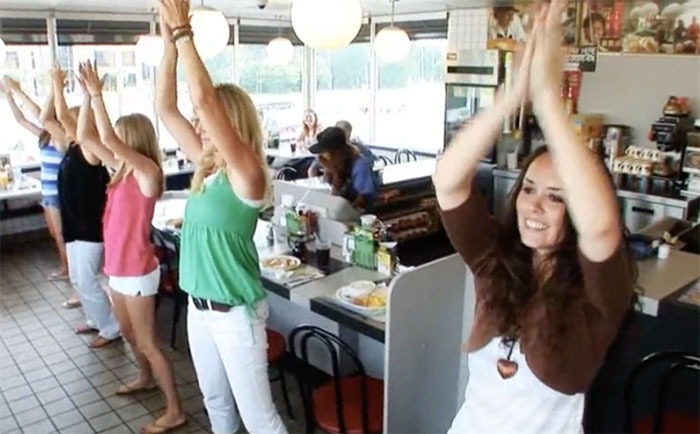 Courtesy of Vimeo, Waffle House6254a4d1642c605c54bf1cab17d50f1e
Waffle Records doesn't stop at original tracks; it also creates original music videos to match its recorded music. You can check out some of the original (and wonderfully cheesy) music videos on its Vimeo page. With tracks such as "Summertime & Lemonade," and "Southern Classic," these catchy songs will be in your head all day.
You Can Have a Romantic Dinner There for Valentine's Day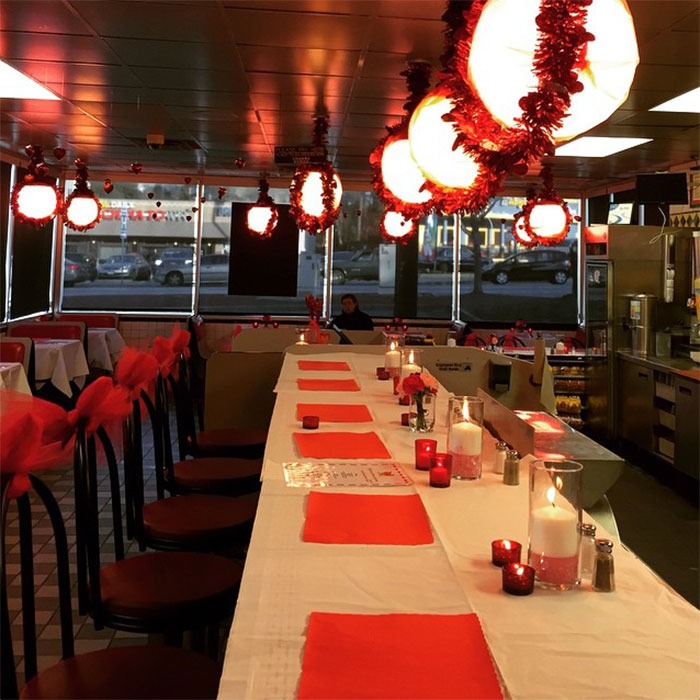 Courtesy of Instagram, @WaffleHouseOfficial
Waffle House pulls out all the stops on Valentine's Day, offering up candlelit dinners and romantic decor for couples who are interested. Although only select locations participate in the Valentine's Day-themed dinners, it's the perfect treat for the Waffle House lover in your life.
FEMA Has a 'Waffle House Index' for Natural Disasters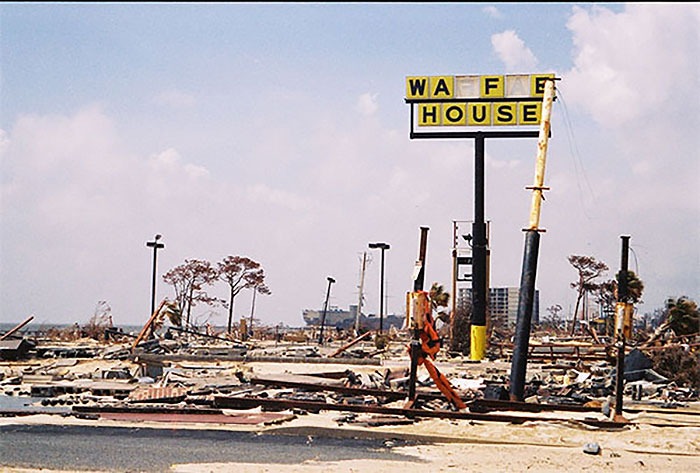 Courtesy of Huey's Gunsight
Waffle House stays open 24 hours a day, seven days a week — even through natural disasters. The restaurants are prepared to operate even without power, so FEMA uses a "Waffle House Index" to gauge how bad a natural disaster really is based on if the local Waffle House is still open. If the Waffle House is closed, FEMA knows the town needs help immediately. On the index, green means Waffle House is up and running, yellow means it's open but has a limited menu, and red means the restaurant is closed so the conditions are incredibly serious.
There's a Waffle House Museum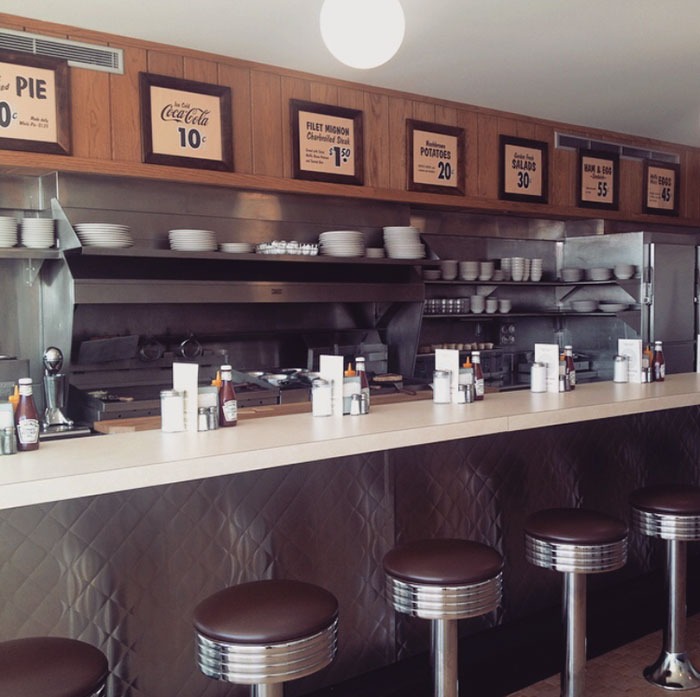 Courtesy of Facebook, @WaffleHouse
If you're planning a road trip through Decatur, Georgia, then you have to stop by the Waffle House museum. It's located at the original Waffle House restaurant, which was first opened in 1955, and has been restored to feel like an authentic restaurant from that era. It also features memorabilia from the last 60 years, and you get to make your own waffle at the end of the tour!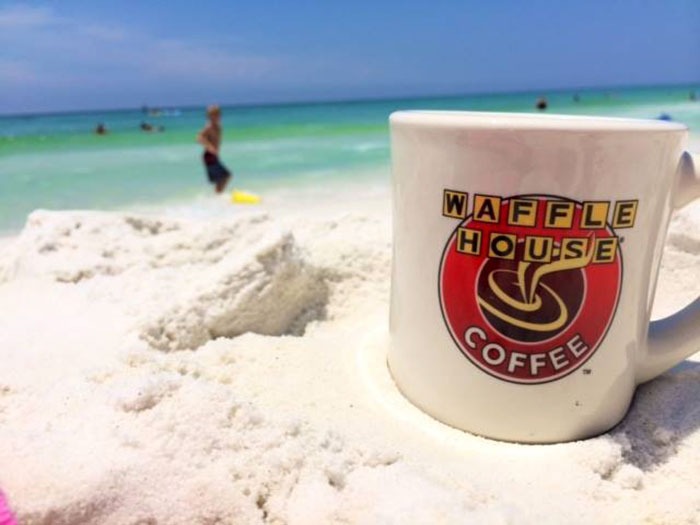 Courtesy of Facebook, @WaffleHouse
Want to enjoy a taste of Waffle House at home? Order one of its coffee mugs or T-shirts from its online store. You can buy a selection of men and women's clothing, coffee mugs and coolies, and even furniture like Waffle House-emblazoned bar stools and tables. Deck out your home, or take some merch with you on vacation! While you're sipping from your Waffle House mug, be sure to avoid The Worst Breakfast Foods for Weight Loss.