Healthy Tips from the Most Baller Moms in America
"#WatchMeWork," the WNBA says. But what if your day job is on the court and your full-time job is that of Mom? Yeah, we just got goosebumps.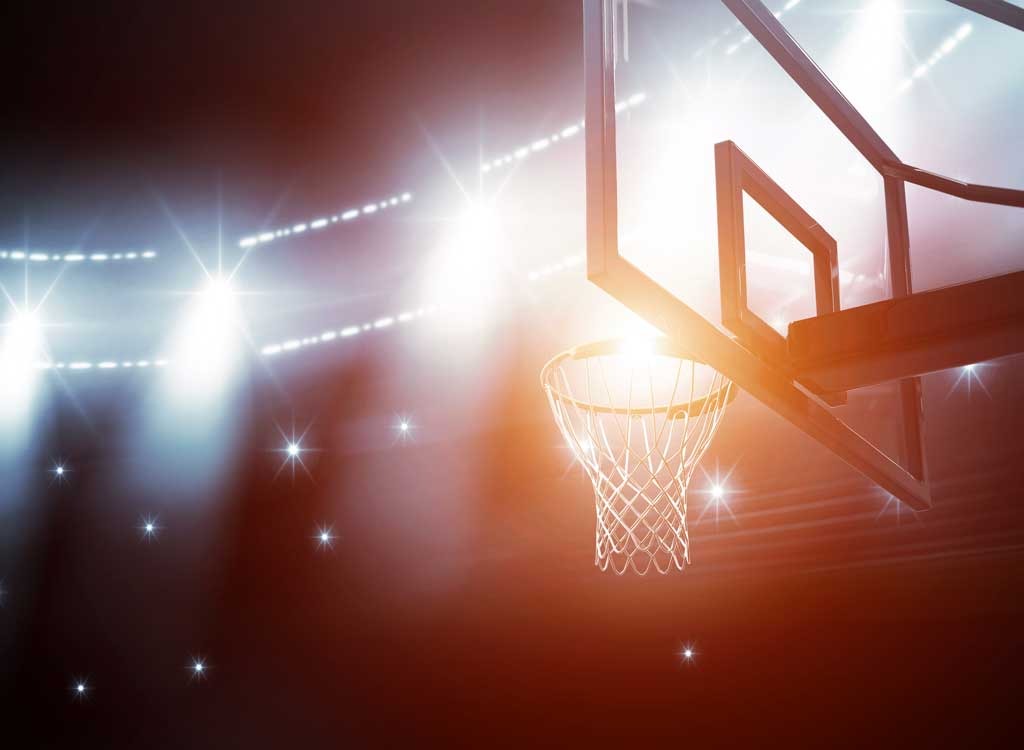 They say that if you want something done, ask a busy person. But if you want something done with buzzer-beating, flexy-bicep finesse, how about asking a mom who's also a professional basketball player? That's right—there's a handful of WNBA players who are balancing both their incredible careers while raising young children.
And like many health-conscious moms out there, these ballers make nutritious bites and efficient workouts part of their top priorities. With an assist from the WNBA—which tips off its historic 20th season on May 14th at 7:30 p.m. EST (Phoenix Mercury at Minnesota Lynx)—these mom-athletes have shared their tips exclusively with Eat This, Not That! just in time for Mother's Day. Score their expert insights below and then keep the inspo going with these 14 Kick-Butt Momtrepreneurs!
Glory Johnson of the Dallas Wings
Mother of twins Ava Simone and Solei Diem, 7-months-old
Food She's Most Likely to Be Eating
"The healthiest thing I eat almost every other day is grilled chicken. If I could keep it in my gym bag, I would!"
Tool She Can't Live Without
"My favorite tool would be my Blender Bottle. Being able to make smoothies or shakes before or after practice is essential when you want a quick meal replacement. And the best part is that the base of your water bottle has blender blades for preparation and converts into a lid for consumption."
After-Hours Advice
"My advice for working out is to be the hardest worker out there. But as seriously as you take your workouts, getting your rest and sleep is just as important!"
How She's Influencing Her Family's Health
"I'm trying to pass along the importance of drinking water to my family. Specifically, less pop and more water at every meal so they can feel as clean and healthy as I felt when I gave up caffeine while I was pregnant. My health changed drastically after pregnancy and when I was only drinking ice water. My body is cleaner, lighter, and even dental hygiene became easier. I was able to quickly drop the pregnancy weight and get back to playing much faster, too."
ETNT! Tip: Dr. Jennifer Ashton, America's leading OB-GYN and author of the upcoming book Eat This, Not That! When You're Expecting, often says that all women should eat and drink as if they're pregnant.
Tianna Hawkins of the Washington Mystics
Mother of Emanuel, 11-months-old
Favorite Workout Advice
"My favorite workout advice is to do everything with a purpose. Give it your all and leave nothing in the 'tank.'"
What She's Most Likely Eating
"I love to eat bananas, strawberries, blueberries, pineapples and kiwi; I love my fruits!"
Gadget She Constantly Uses
"My favorite health tool is the NutriBullet. I love to experiment with different protein shake recipes to help jump start my day and recover from practice. After a workout, I usually go with a vanilla shake with my favorite fruits."
Healthy Eating Approach
"Healthy eating is a lifestyle. My best advice is to be open to trying new things to see what you may like and how it makes you feel. I've become more aware of what I'm feeding my body and my conditioning has improved dramatically. I always feel bad, physically and mentally, when I do get off track with my healthy eating habits. "
Health Habits She Hopes to Pass on to Her Family
"I want to encourage eating some type of protein and vegetable with every meal and minimize the artificial sugars and sweeteners."
ETNT! Tip: We know how daunting all the mixed messages about sweeteners can be—which is why you won't want to miss our exclusive report on Every Popular Added Sweetener—Ranked!
Abby Bishop of the Seattle Storm
6254a4d1642c605c54bf1cab17d50f1e
Mother of Zala Kate, 2-years-old
Favorite Workout Advice
"My favorite workout advice would be to have fun and pick something that you enjoy doing—whether it's running on a treadmill or lifting weights. Another thing is to have good music to listen to because it helps to get you motivated and pumped."
What She's Learned About Health
"When I was younger, I kind of took it for granted that I felt good and my body didn't hurt. As I've gotten older, I've had to stretch more, eat better, and look out for myself in general."
Pre-Workout Must-Have
"I eat a lot of fruit, and a banana is the one thing I have before every practice."
ETNT! Tip: There are 21 Amazing Things That Happen to Your Body When You Eat a Banana, from deflating a bloated tummy to providing you with instant energy.
Happy-Family Health Mantra
"Staying active keeps you happy and helps you make friends."
Jia Perkins of the Minnesota Lynx
Mother of Aalirah, 11-years-old
Healthy Food She's Always Restocking
"I like dried gluten-free turkey sausages—I'll eat them at any time of day!"
Must-Have Post-Workout Fuel
"I always have a smoothie after working out."
What She Tells Her Family
"What you put into your body is what you get out of it. If you make the right choice earlier in the day, you have a better chance of making good decisions throughout the rest of the day."
ETNT! Tip: Cross-check your grocery list with these 30 Healthiest Foods for Women to see which items you should swap in!
Tayler Hill of the Washington Mystics
Mother of Maurice Lighty, 1-years-old
Must-Have Snacks
"I love to eat fruit—I always have some in my fridge. And post-workout, I have a recovery shake or drink chocolate milk."
How to Make the Most Out of Your Workouts
"Workout at game speed. Workouts don't have to be extremely long if you're working and shooting at game speed."
ETNT Tip! Recent research suggested that a one-minute, high-intensity workout could be as effective as one that's as long as forty moderate minutes. Go hard, and get it done!
Where She Gets Healthy Living Ideas
"I don't have a favorite but I have at least three food apps on my phone that I look at daily. Betty Crocker, Yummly, Food.com…"
About Her Family's Health
"We're an athletic family and always have been, so we know it's important to be in shape and eat healthy."