7 Best Frozen Dumplings You Can Buy, and 3 to Stay Away From
Our RD weighs in on best and worst options among potstickers, gyozas, pierogis, and other dumplings.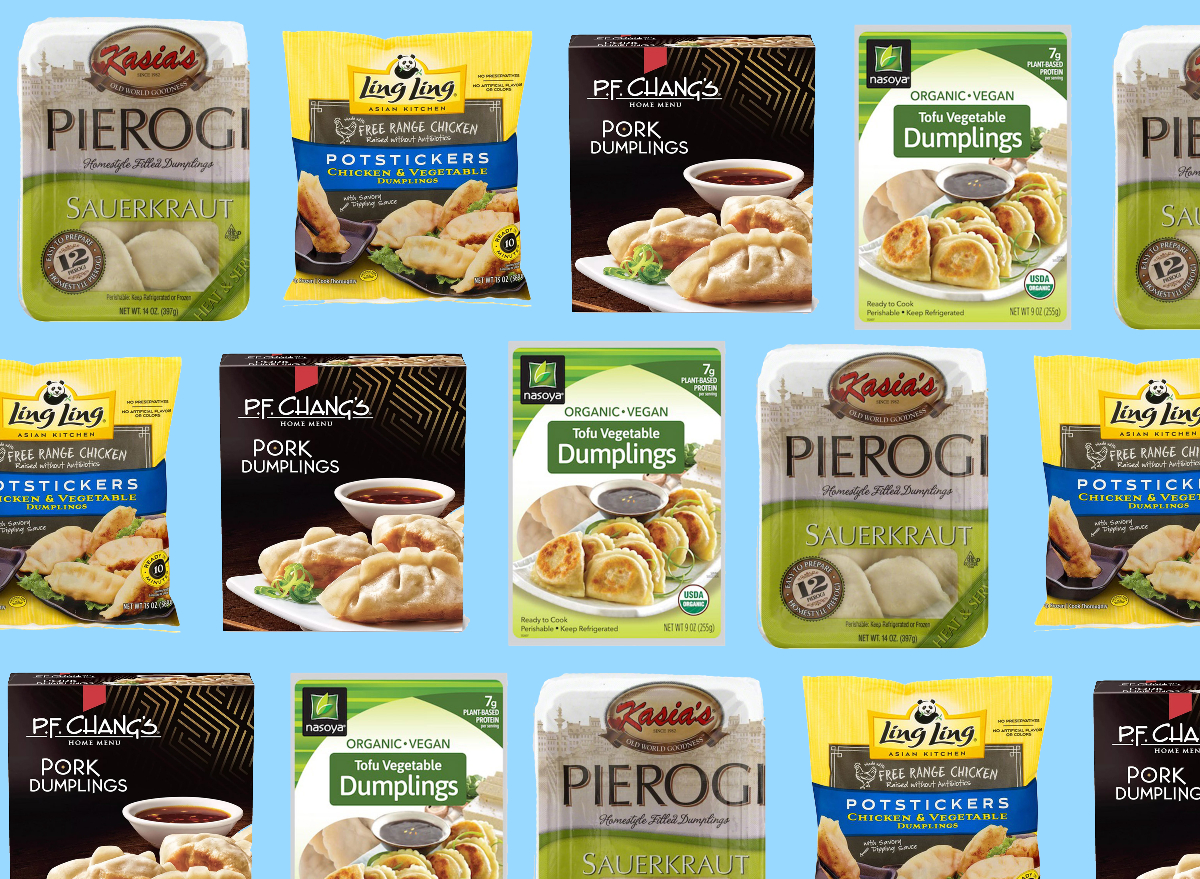 This post contains affiliate links. If you use these links to buy something, we may earn a commission.
What a category. Where to begin!? Dumplings appear in nearly every world cuisine, although they can look drastically different from place to place. The basic premise: a bite-sized piece of a meat or veggie mixture, enveloped in dough. Usually, there's a dipping sauce involved. They can also come boiled, fried, or steamed—talk about variety!
From Chinese potstickers that are often filled with pork and chives, to Japanese gyoza that can be filled with meat and cabbage, to Polish pierogis and Ukrainian varenyky, opportunity abounds for delicious  options to keep on hand in your freezer. But the wide range brings with it a lot of variation in quality, too. Some brands can be just as good as your restaurant favorites, while others teeter dangerously close to a rubbery mess that falls apart with the touch of a fork.
How to choose the healthiest frozen dumplings
Look at the serving size. Some serving sizes allow for three dumplings, some include seven, so make sure you're comparing them properly.
Look for low amounts of sodium. Avoid brands where one serving size exceeds 20 percent of the recommended daily sodium intake.
Avoid the sauces. Whichever frozen option ends up in your freezer, remember that opting for a quality dumpling only gets you halfway to healthy. Sauces often cause already high levels of sodium to reach amounts close to 50 percent of daily intake (soy sauce). And the sugar? Not so great either.
Don't fry them. It will add unnecessary calories and fat to your serving of dumplings. We know that sometimes you need that crispy texture on the dumpling wrapper, but boiling or steaming are usually healthier preparation methods.
The seven healthiest dumplings you can buy
1. Whole Foods Market Vegetable Potstickers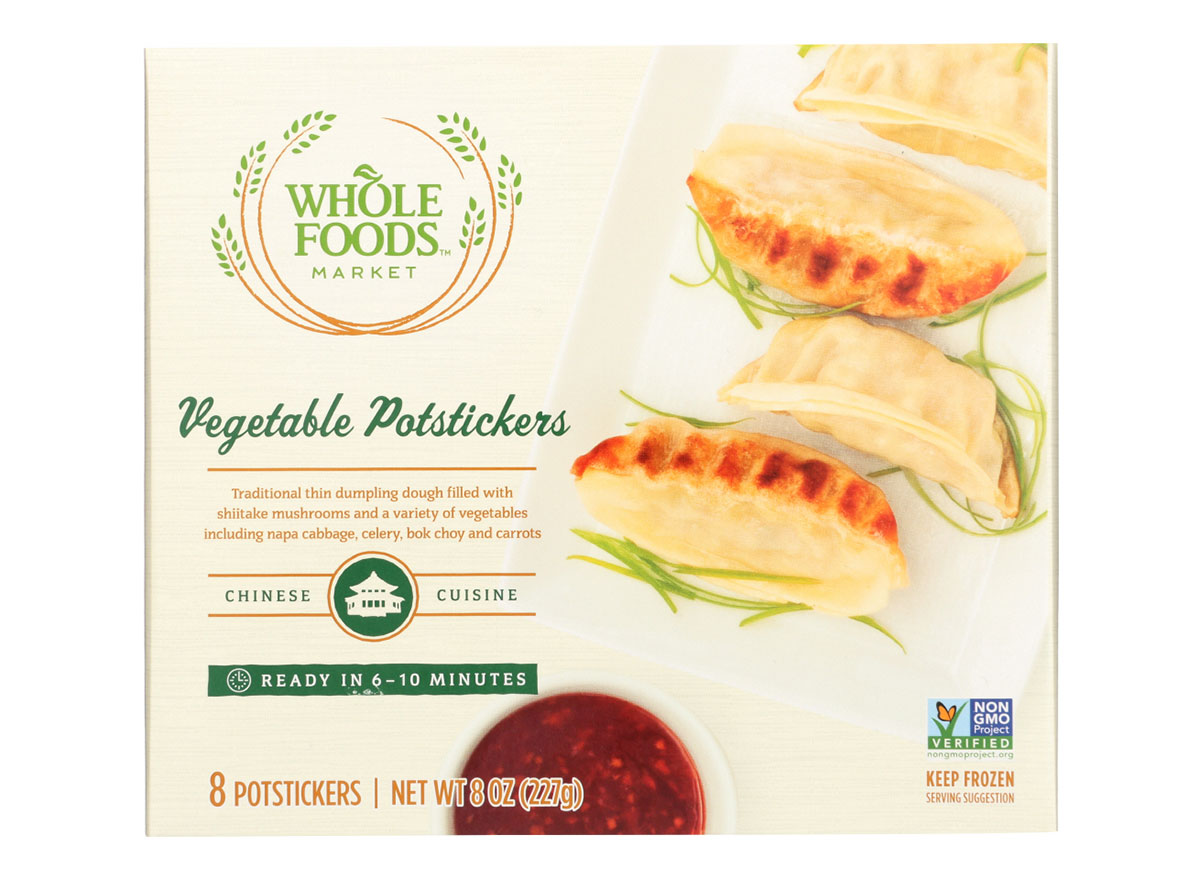 One serving
: 4 pieces (113 g), 200 calories, 3 g fat, 1 g saturated fat, 330 mg sodium, 38 g carbs, 3 g fiber, 4 g sugar, 6 g protein
Whole Foods–branded veggie potstickers have a good amount of fiber per serving and a low amount of sodium. The filling is made from a variety of nutrient-dense ingredients like cabbage, celery, bok choy, carrots, shiitake mushrooms, and oats. There are no sketchy ingredients hiding in here!
2. Nasoya Organic Vegan Tofu Vegetable Dumplings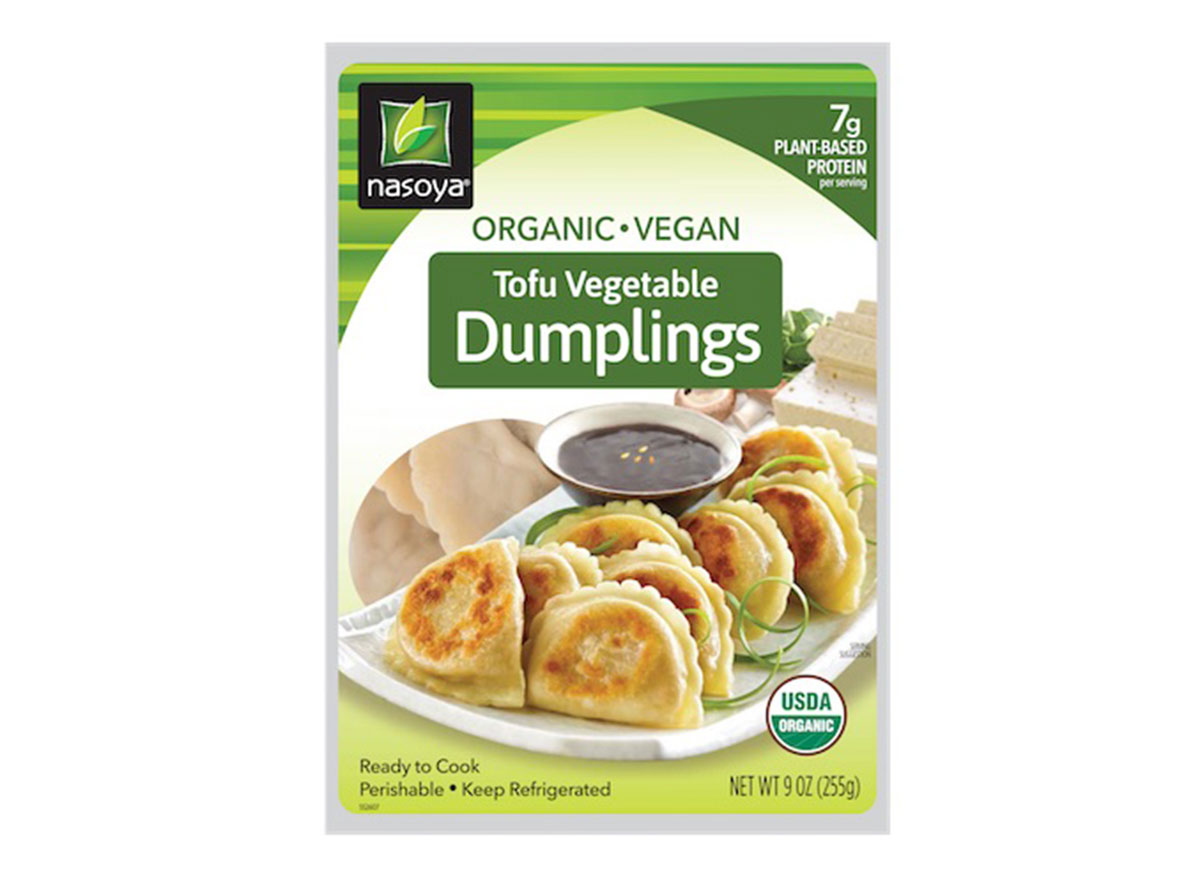 One serving
: 5 pieces (85 g), 170 calories, 3 g fat, 0 g saturated fat, 600 mg sodium, 29 g carbs, 1 g fiber, 1 g sugar, 7 g protein
Nasoya's vegan dumplings are filled with super firm tofu, mushrooms, carrots, onions, and delicious flavorings like ginger, garlic, and chili flakes. And you know that when an ingredient list reads like a grocery list, we're all for it (with the except of palm oil mixed into the breadcrumbs here). However, with 600 mg of sodium per serving these dumplings rank on the higher end of the sodium spectrum, so proceed with caution. On the other hand, if organic, high-quality ingredients are most important to you, this option will outrank similar dumplings on our list.
3. PF Chang's Pork Dumplings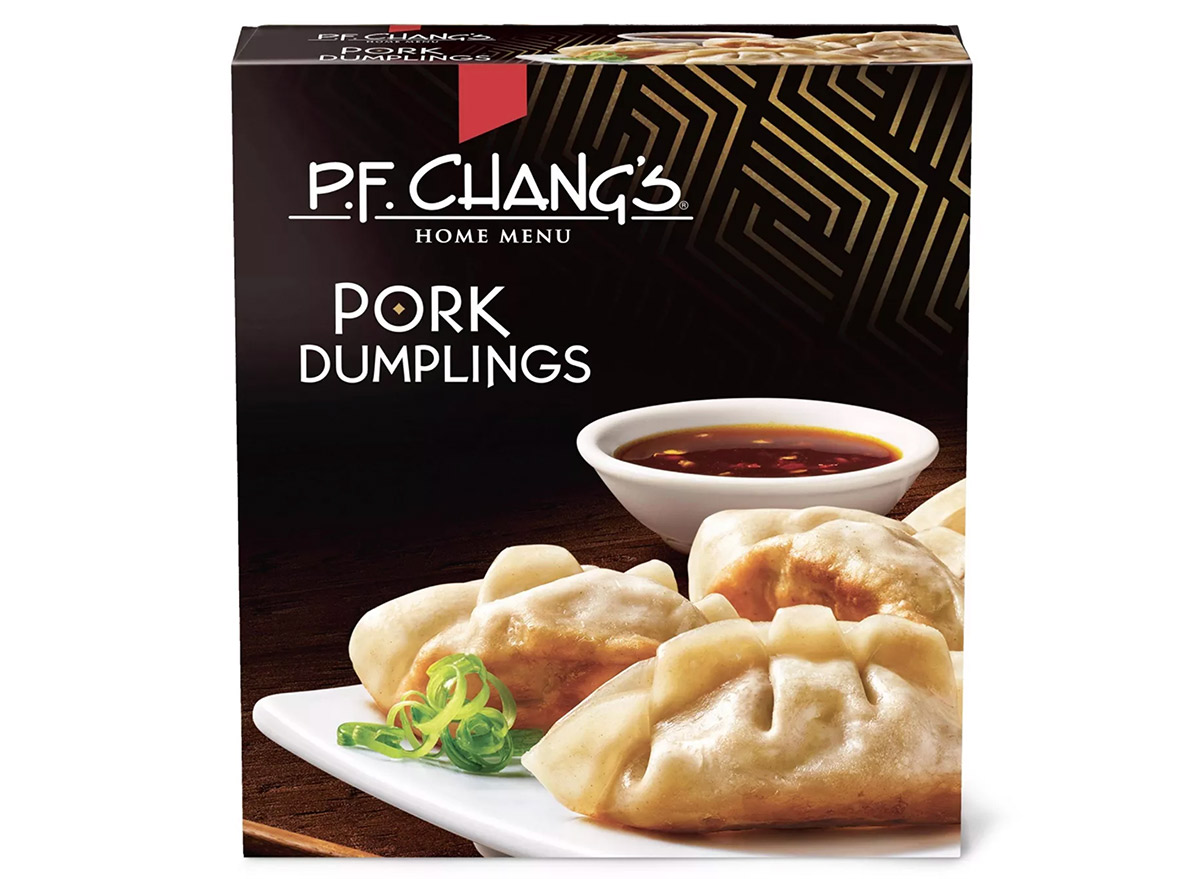 One serving
: 3 pieces and 2 teaspoons sauce (88 g), 170 calories, 7 g fat, 2 g saturated fat, 590 mg sodium, 20 g carbs, 1 g fiber, 3 g sugar, 7 g protein
P.F. Chang's signature pork dumplings nutrition panel accounts for 2 teaspoons of sauce per serving. And while the sauce is usually a tricky component that adds unnecessary calories, sodium, and sugar to your serving of dumplings, this sauce seems to be much healthier because it doesn't put you through the roof for any nutrient (although keep in mind the serving size is much smaller than that of other dumplings if you use a gram for gram comparison). With 3 dumplings that include ground pork and shredded cabbage plus sauce, you're consuming 170 calories, 59 milligrams of sodium, and 3 grams of sugar. Compared to other dumplings with sauce that top the charts at 1220 mg of sodium, this is a reasonable option.
4. Kasia's Sauerkraut Pierogi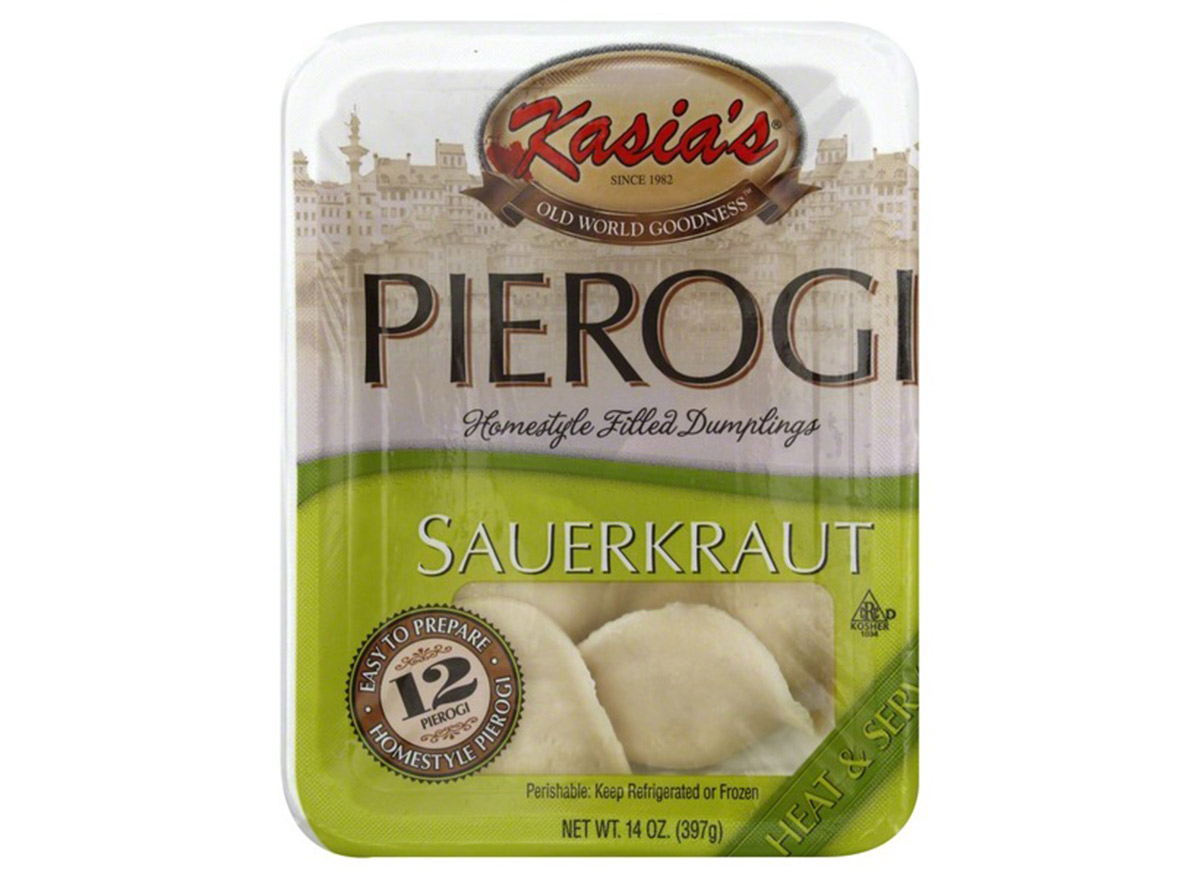 One serving
: 3 pieces per serving (99 g), 180 calories, 2 g fat, 0 g saturated fat, 600 mg sodium, 34 g carbs, 2 g fiber, 1 g sugar, 5 g protein
Perogis are technically dumplings too, and this product deserves to be included on our list. Kasia's makes their pierogis with fresh potatoes instead of potato flakes, and thinner dough that makes a less chewy, less carby product. And this Kosher-certified option is stuffed with a lot of sauerkraut, which means more juicy, zesty flavor without the aid of a dipping sauce. While this option is of course lower in protein than some of the chicken- or pork-filled dumplings on the list, the calorie count and sodium level are completely in check.
5. Feel Good Foods Pork Potstickers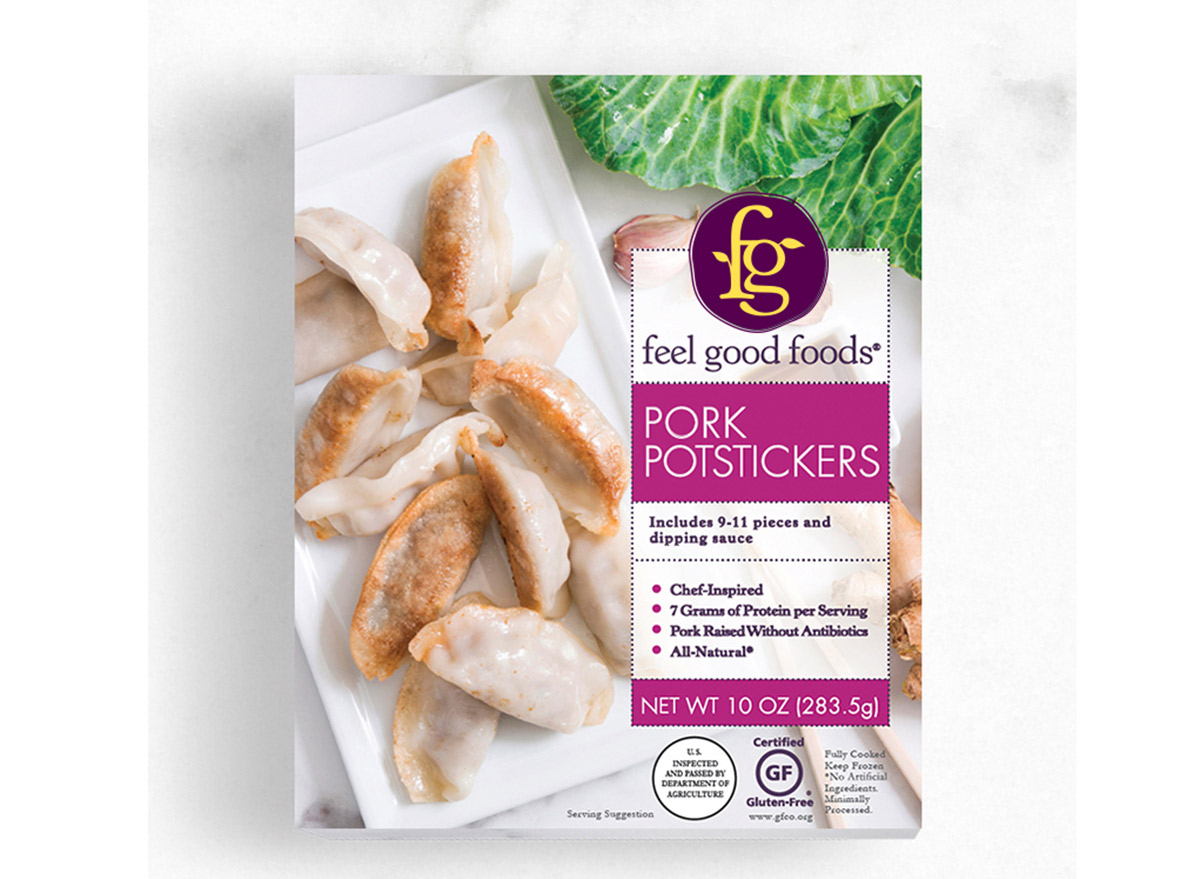 6254a4d1642c605c54bf1cab17d50f1e
One serving
: 6 pieces with 1/2 packet of sauce (138 g), 259 calories, 10 g fat, 2 g saturated fat, 800 mg sodium, 38 g carbs, 1 g fiber, 7 g sugar, 7 g protein
These gluten-free potstickers stand out in a sea of gluten-heavy dumplings. The wrappers on these dumplings are made from rice, tapioca, and konjac flour. Feel Good Foods generally places a lot of importance on the quality of their ingredients. The pork used in these potstickers, for example, is raised without antibiotics. Although the filling contains some sugar, the majority of sugar and sodium come from the half packet of sauce, which is factored into one serving. So if you want to make these even healthier, put the sauce down.
6. Trader Joe's Chicken Gyoza Potstickers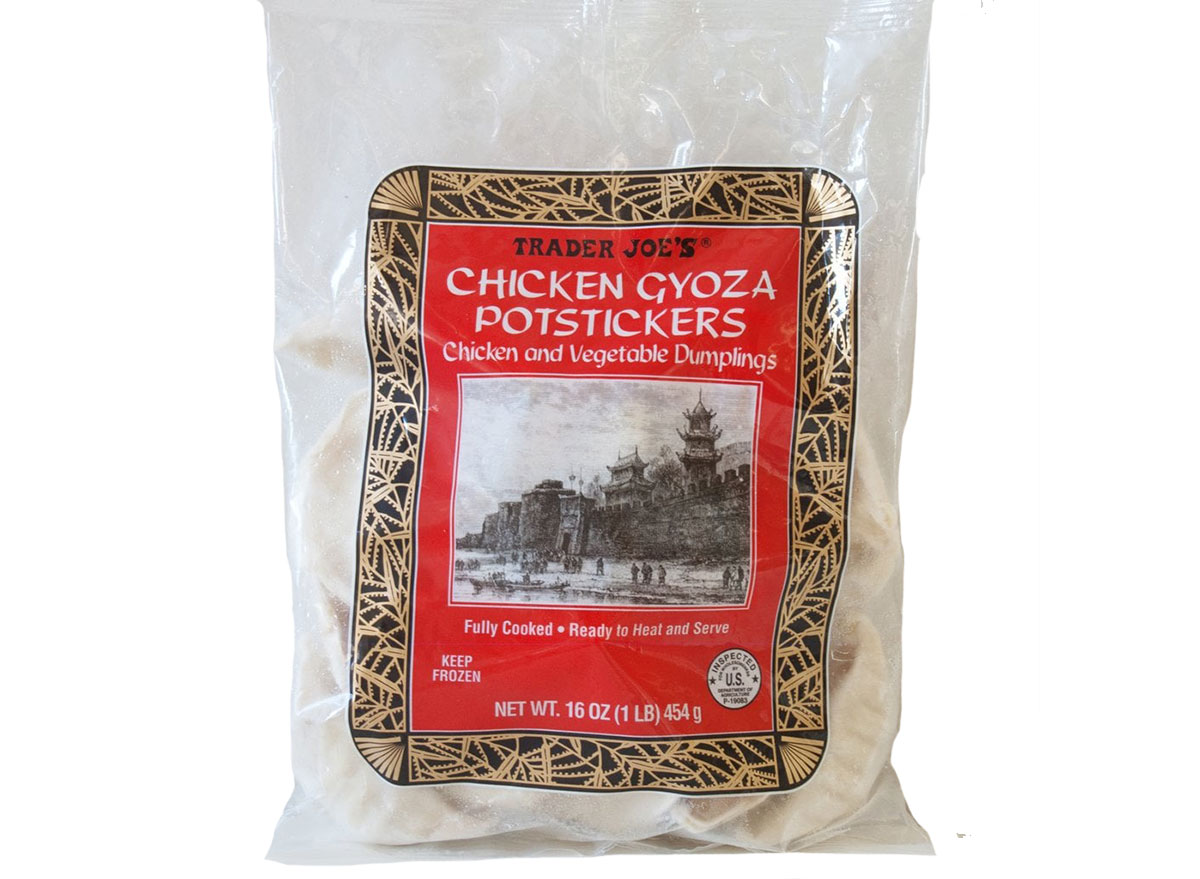 One serving
: 7 pieces (140 g), 200 calories, 4 g fat, 1 g saturated fat, 550 mg sodium, 30 g carbs, 4 g fiber, 0 g sugar, 10 g protein
There's nothing standout about this ingredient list compared to others, but what you might like is the generous 7-piece serving size compared to smaller serving sizes of other brands for pretty much the same amount of calories. If you value the quantity of dumplings over the filling ratio, this might be your top pick. These TJ's potstickers also contain zero grams of sugar, which sets them apart from a few of the other brands.
7. Ling Ling Asian Kitchen Potstickers, Chicken and Vegetable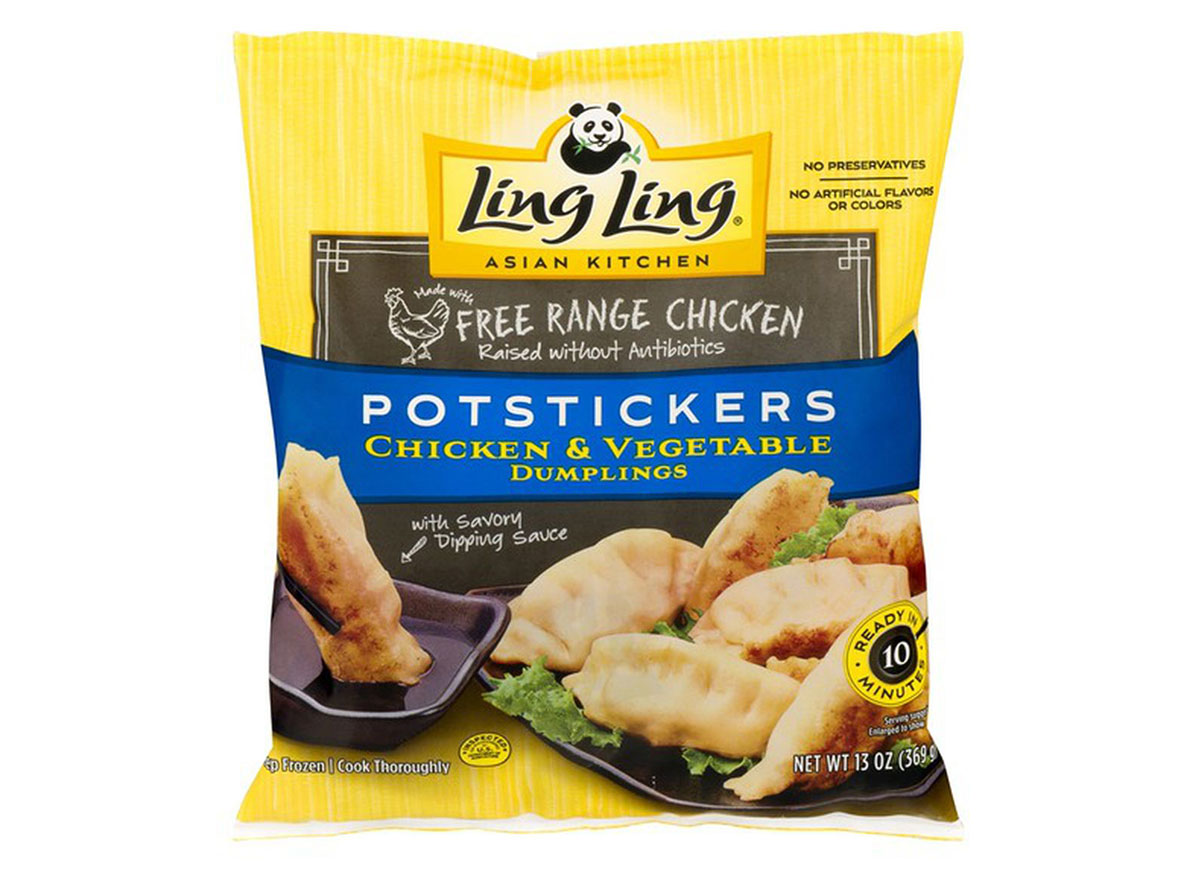 One serving
: 5 pieces (145 g), 260 calories, 7 g fat, 1.5 g saturated fat, 600 mg sodium, 39 g carbs, 2 g fiber, 4 g sugar, 12 g protein
Ling Ling's chicken and vegetable potstickers top this list when it comes to the number of calories, fat amount, and sodium amount per serving—which clearly isn't ideal. But what they do have going for them is a good amount of protein per serving, and a fairly simple ingredient list. For those reasons, this is a clear middle-of-the-pack option.
Worst frozen dumplings you can buy
1. Bibigo Korean Style Steamed Dumplings, Pork and Vegetables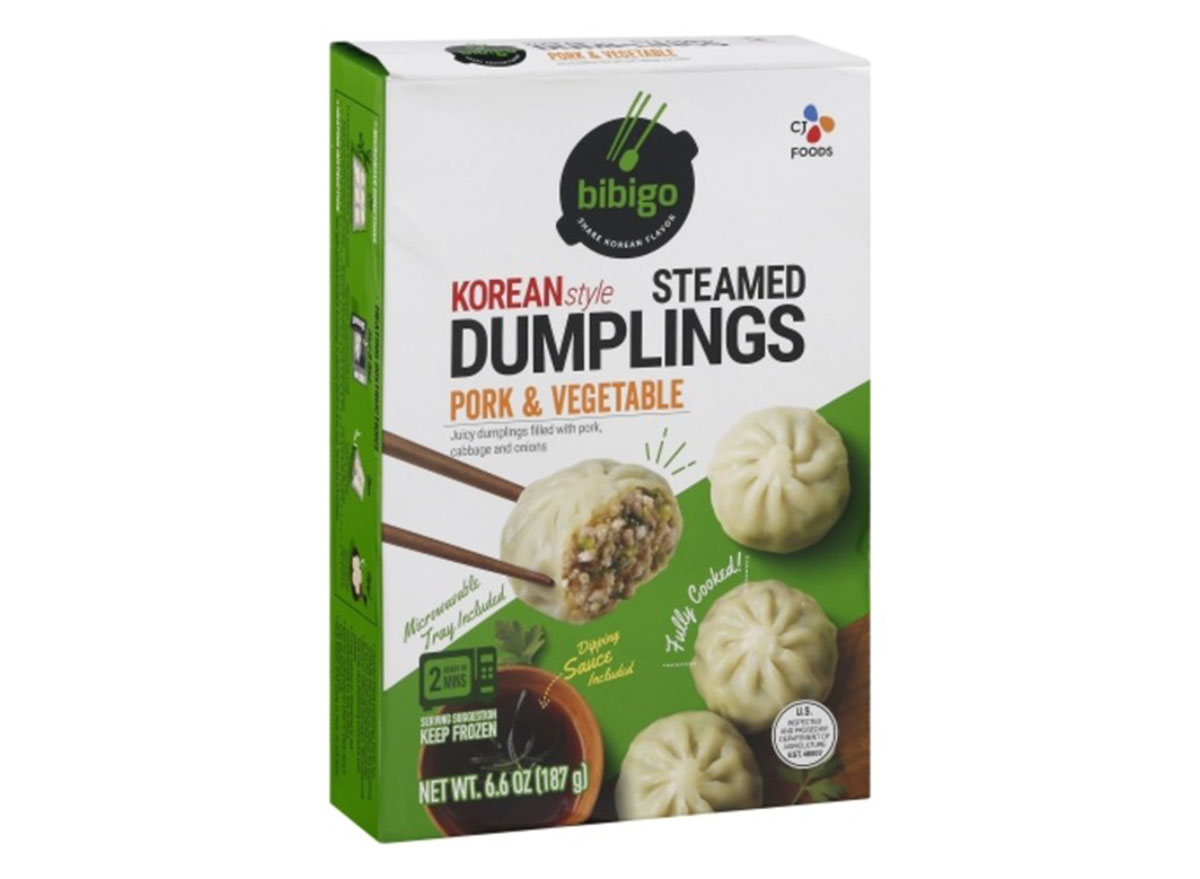 One serving
: 6 pieces (170 g), 370 calories, 19 g fat, 6 g saturated fat, 620 mg sodium, 35 g carbs, 2 g fiber, 3 g sugar, 14 g protein
The Bibigo dumplings, filled with cabbage, onion, tofu, and pork, look nice enough, but take a peek at the nutrition panel and you'll see a higher calorie count than most other dumpling options around. Adding insult to injury, they contain a high amount of of sodium, and a whopping 19 grams of fat and 6 grams of saturated fat. The fat content is almost surprising as other available options usually cap off at about 10 grams. Yikes!
2. Tai Pei Shicken Potstickers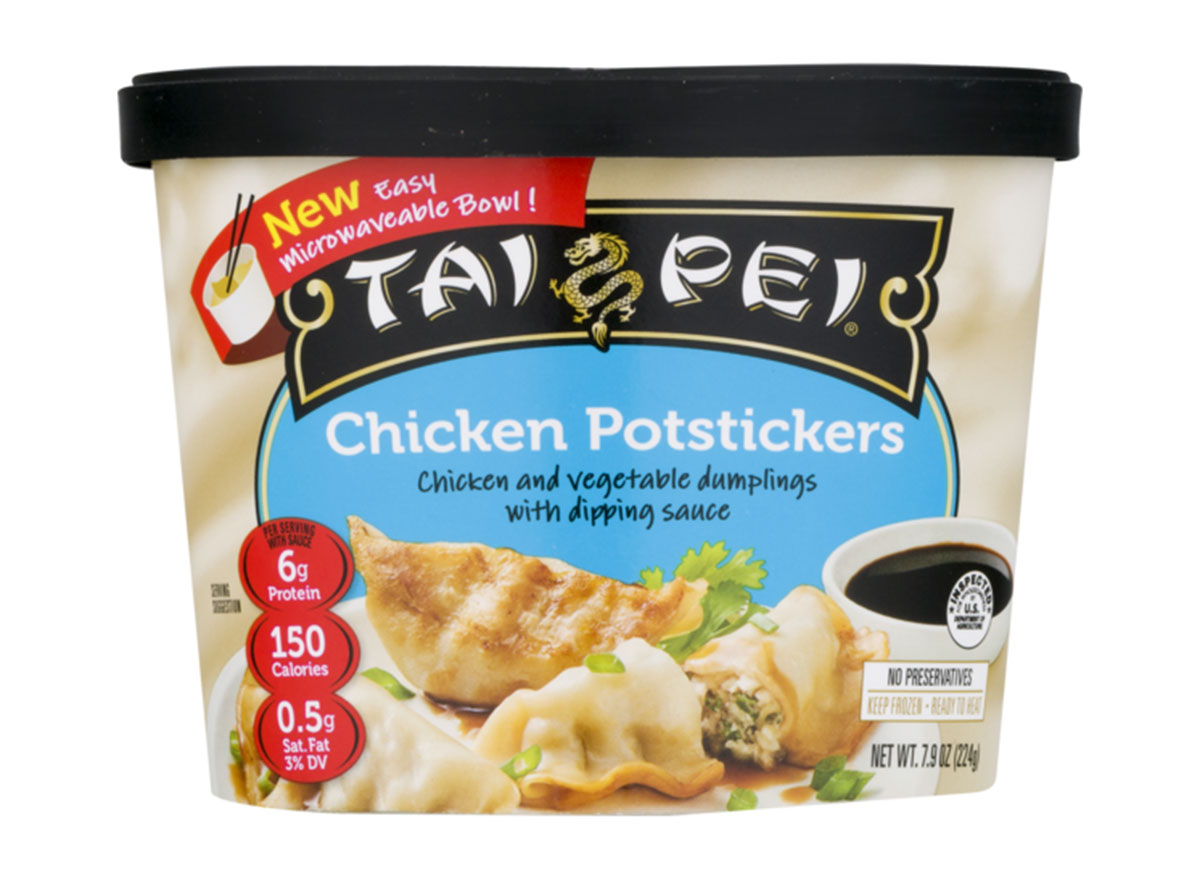 One serving
: 5 pieces with sauce (162 g), 280 calories, 6 g fat, 1 g saturated fat, 1220 mg sodium, 44 gram carbs, 2 g fiber, 10 g sugar, 13 g protein
Take a look at the nutrition panel on these dumplings, and the mere sight of the sodium levels will raise your blood pressure. A whopping 1220 mg of sodium gets you almost to the daily limit, so if you're having these dumplings, don't plan on eating anything else that contains sodium for the entire day. The 10 grams of sugar per serving are also pretty bad, and you can see that the sauce, made of soy sauce and sugar, is really where it all goes downhill for these dumplings. If you opt for these dumplings, try foregoing the sauce that comes with them and making your own at home, using fresh ginger, chili flakes, and low sodium soy sauce.
3. Archer Farms Chicken & Vegetable Potstickers
One serving
: about 5 pieces (170 g), 220 calories, 3.5 g fat, 0.5 g saturated fat, 700 mg sodium, 34 g carbs, 2 fiber, 3 sugar, 11 g protein
Target's Archer Farms potstickers are made with dark chicken meat mixed with cabbage and green onions. While it does also include a sesame dipping sauce, the nutrition facts label doesn't seem to include data on the sauce. Sketchy! That means that each 5-piece serving has 3 grams of sugar and 700 mg sodium without the sauce. Knowing how high in sugar and sodium these dumpling sauces usually are, you do the math.