Score A First Look At Breyers' New Low-Cal, High-Protein Ice Cream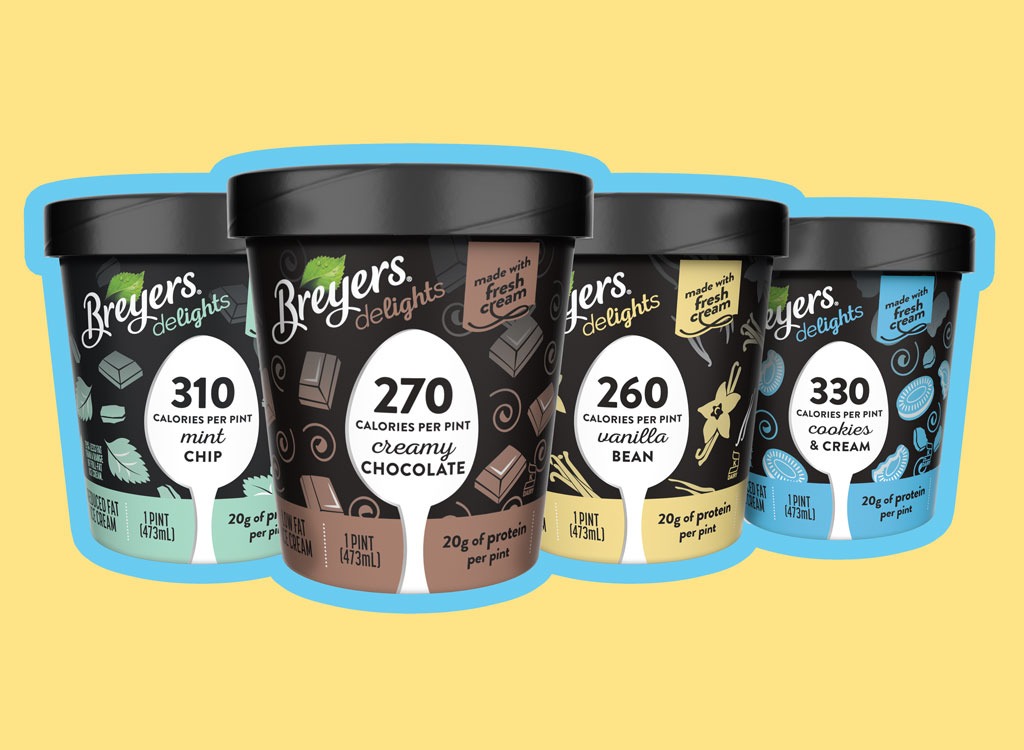 With all these frozen treat brands debuting high-protein, low-calorie options, you're likely to think the universe has finally granted the ultimate foodie wish: being able to eat an entire pint of ice cream without getting fat.
You've probably heard of newcomers to the frozen treat aisle like Halo Top, Enlightened, and Arctic Zero, but a familiar face is now getting into the diet ice cream game: Breyers. This traditional ice cream brand you've likely cherished as a kid has hopped on the healthy bandwagon by debuting its newest line of pints dubbed Breyers Delights.
Launch party for #breyersdelights it's so great to see a product you worked on make it to the store shelves. Chocolate is my favorite.
These 16-ounce containers come in four different flavors — Creamy Chocolate, Mint Chip, Cookies & Cream, and Vanilla Bean — and boast only 260-330 calories each! (And yes, by each we mean the entire pint.) But don't pick your jaw off the floor yet, because it gets even better. If you happen to finish off the whole pint, you'll end up consuming a cream that's packed with an impressive 20 grams of muscle-maintaining protein!
To put things into perspective, let's take a look at the nutritional profile of Breyer's regular ice cream.
Breyers Natural Vs. Breyers Delights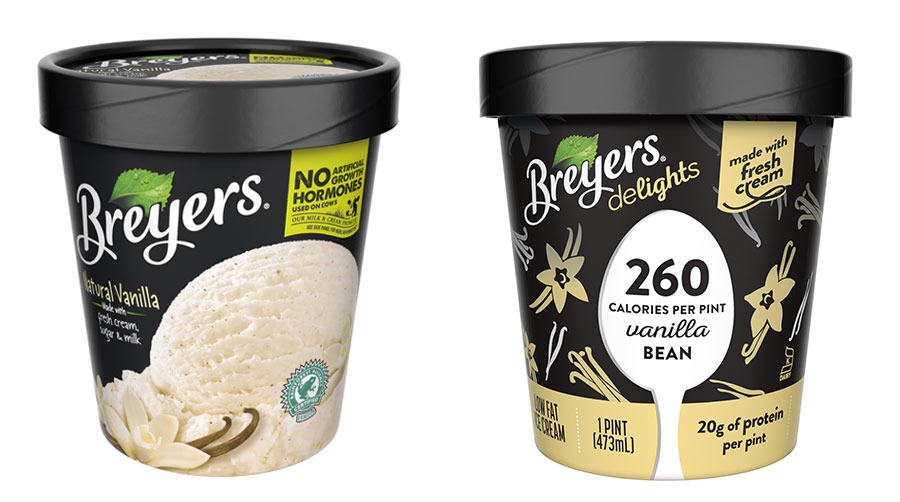 Breyers Natural Vanilla
Per ⅔ cup: 175 calories, 9 g fat (5 g saturated fat), 45 mg sodium, 19 g carbs (0 g fiber, 19 g sugar), 3 g protein
Breyers Delights Vanilla Bean
Per ⅔ cup: 90 calories, 2.5 g fat (1.5 g saturated fat), 55 mg sodium, 21 g carbs (0 g fiber, 7 g sugar, 6 g sugar alcohol), 7 g protein
As you can see by comparing the nutritional profiles, Breyers new Delights line is significantly lower for nearly every nutrient save sodium and carbs. You can attribute the lower calorie and fat count of the Delights because while the Natural Vanilla is made with milk and cream, the Delights line is made with skim milk and only a touch of cream. A significant chunk of calories will also come from sweeteners. Natural Vanilla is only sweetened with sugar, while the Delights is sweetened with a mix of sugar alcohol erythritol and low-calorie, natural sweetener Reb A (stevia).
Halo Top Vs. Breyers Delights
6254a4d1642c605c54bf1cab17d50f1e
Halo Top Vanilla Bean
Per pint: 240 calories, 8 g fat (4 g saturated fat), 440 mg sodium, 52 g carbs (12 g fiber, 20 g sugar, 20 g sugar alcohol), 20 g protein
Breyers Delights Vanilla Bean
Per pint: 260 calories, 7 g fat (4 g saturated fat), 160 mg sodium, 63 g carbs (0 g fiber, 21 g sugar, 19 g sugar alcohol), 20 g protein
Halo Top is a bit higher in fat than Breyers' newcomer because they use more milk and cream as well as eggs. The golden-lidded pint is also significantly higher in fiber thanks to the addition of prebiotic fiber, which will help to feed your good gut bugs. Besides fiber, another glaring difference between the pints is sodium: Halo Top is nearly three times as sodium-filled as Breyers. Otherwise, the two are similar in that they're both sweetened with erythritol and stevia.
From what we know so far, Breyers looks like they've put out a solid competitior in the diet ice cream scene. We can't wait to try these pints out, and if you can't either, you'll just have to wait until they hit store shelves in August. In the meantime, crush your summer ice cream cravings with one of these 14 Best Brand Name Ice Creams for Weight Loss.
Lead image courtesy of Breyers.
April Benshosan
April is a born-and-raised Brooklynite who has a passion for all things health, wellness, and tastebud-related.
Read more about April