The Best & Worst Menu Items at Charleys Philly Steaks
Charleys Philly Steaks is always grilling fresh, as its motto says, but what does that mean for your health? We unpack the best and worst dishes on the CPS menu.
Home of the #1 cheesesteak in the world is Charleys Philly Steaks, an American restaurant chain that's "always grilling fresh." Established back in 1986 in Columbus, Ohio, CPS has been serving people Philly steaks for decades. While they may be known for their delicious sandwiches, you may be wondering just how healthy the menu is.
We consulted nutrition experts to weigh in on the best and worst dishes on the Charleys menu. Keep reading to find out what you should and shouldn't order off the Charleys Philly Steaks menu.
Philly Steaks
Best: Philly Cheesesteak, Small
390 calories, 15 g fat (7 g saturated fat, 0.5 g trans fat), 1,030 mg sodium, 39 g carbs (2 g fiber, 5 g sugar), 27 g protein
"While it is small, this sandwich will curb your Philly cheesesteak craving without the excess calories and fat of the larger version," says Lisa Richards, nutritionist, author, and creator of The Candida Diet.
Don't let the fact that it's a "small" turn you off entirely. If you order this item at Charleys Philly Steaks, you'll get a healthy helping of steak, grilled onions, green peppers, mushrooms, and white American cheese—all of which work together to keep you full longer.
"At under 400 calories, and 27 grams of protein, this seems like a good option for someone needing to grab something filling on the go," says Anabelle Harari Clebaner MS, RDN of WellSpring Nutrition. "While the sodium is high, there's only 7 grams of saturated fat in this cheesesteak, making it a decent option, especially for a cheesesteak."
Worst: Pepperoni Cheesesteak, Large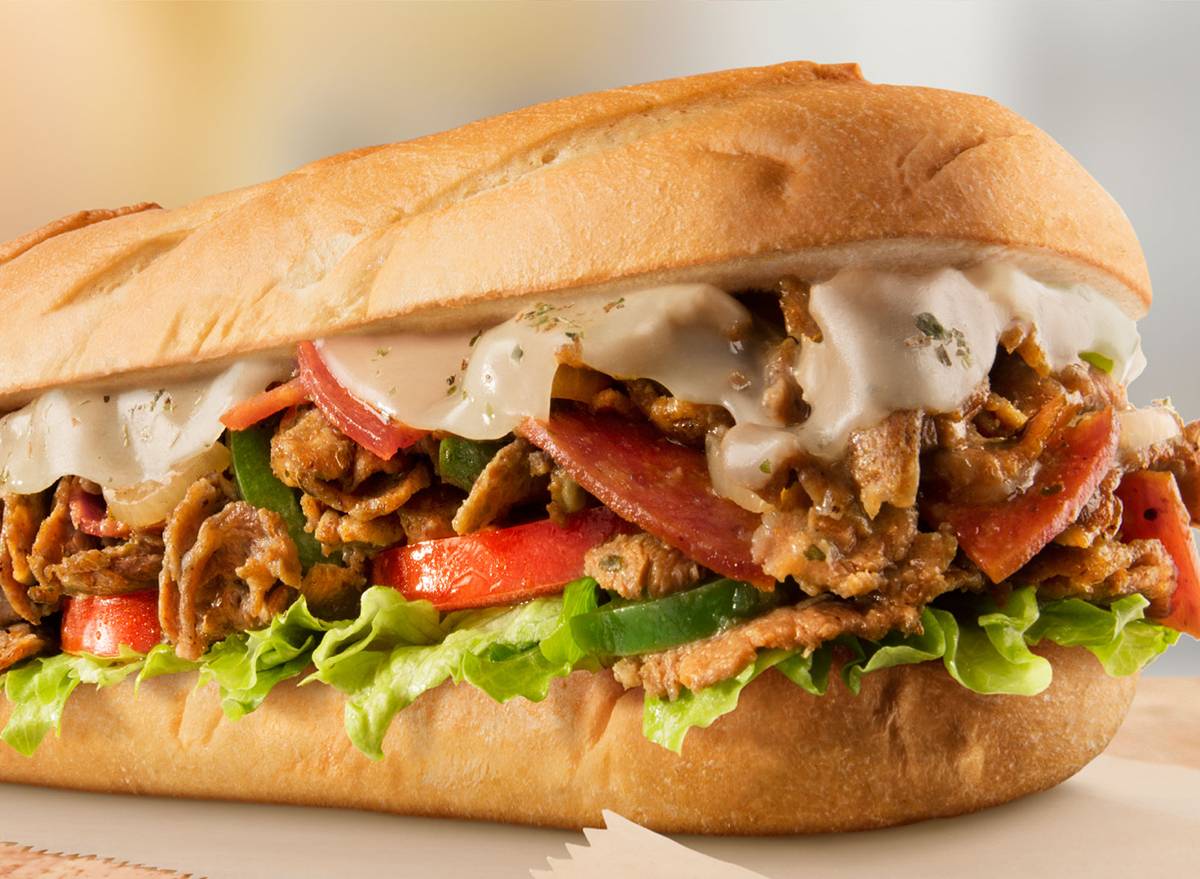 1,080 calories, 50 g fat (22 g saturated fat, 1.5 g trans fat), 2,690 sodium, 76 g carbs (4 g fiber, 8 g sugar), 81 g protein
The Pepperoni Cheesesteak may have most of the same ingredients as the Philly Cheesesteak—but while the Philly lands on the "best" list, the added combo of steak and pepperoni lands the Pepperoni Cheesesteak right on the "worst."
"This [is a] twist on a traditional fat-loaded sandwich, but still packs a decent fat punch at 50 grams per sandwich. The concerning part is the amount of fat that comes from saturated and trans fat," says Richards. "The calorie content is significantly high, and for most healthy adults, it is half the recommended calorie intake for the whole day! If the calorie content doesn't stop you from indulging in this sandwich, the sodium may raise a red flag, as it is more than the reference daily intake (RDI)."
Chicken Phillys
Best: Chicken Philly, Small
370 calories, 11 g fat (6 g saturated fat, 0 g trans fat), 910 mg sodium, 37 g carbs (2 g fiber, 3 g sugar), 32 g protein
"This is an even better option than the cheesesteak with more protein and less carbs," says Clebaner. "Again, the sodium is a bit high here, but if you got rid of the provolone cheese you would cut back on some of the additional salt. Overall, this sandwich looks like a great option."
Keep in mind, just a few swaps in ingredients—chicken instead of steak and pepperoni—and the Chicken Philly is a way healthier option than some of the other menu items.
"Replacing the traditional beef for a leaner meat resulted in much less fat in this Philly sandwich with zero trans fat," says Richards.
Worst: Chicken California, Large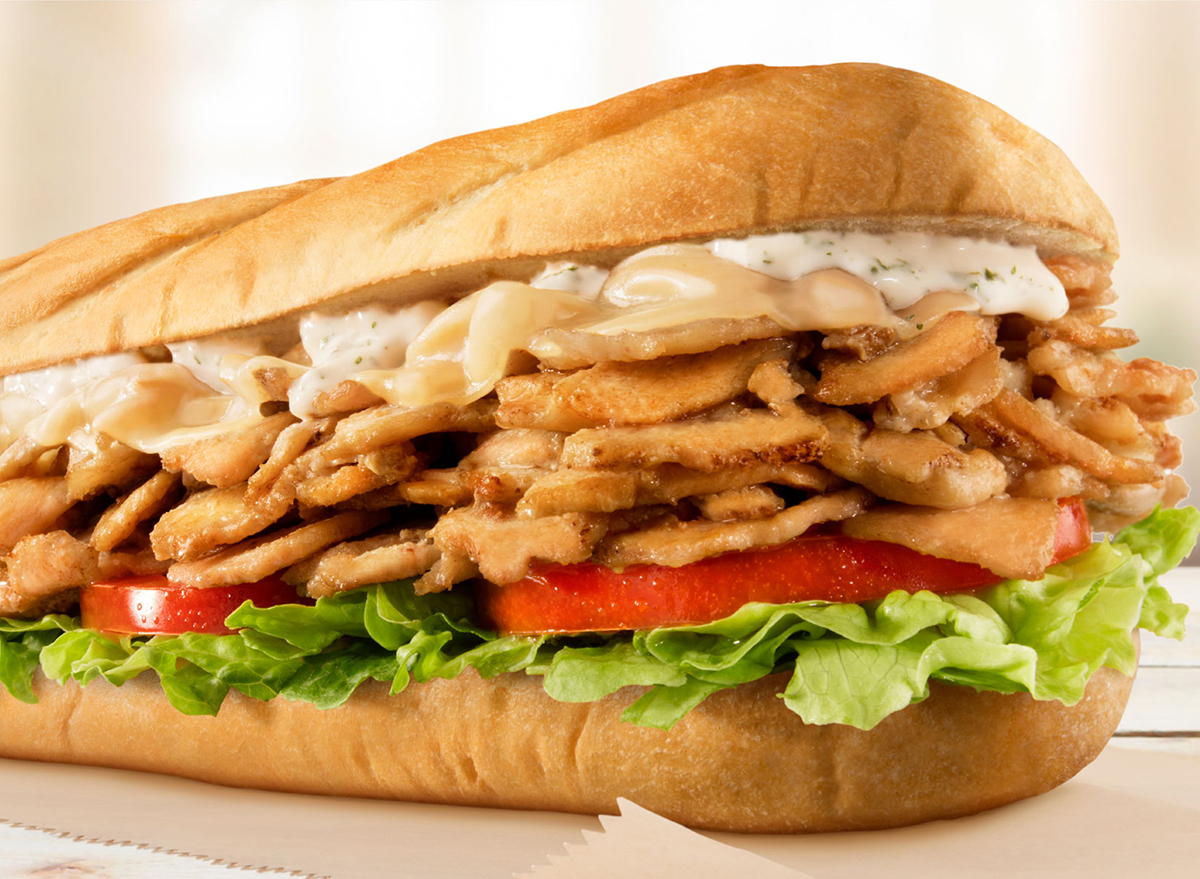 950 calories, 38 g fat (14 g saturated fat, 1 g trans fat), 2,350 mg sodium, 72 g carbs (5 g fiber, 6 g sugar), 81 g protein
"As much as I love ranch, this sandwich is just not worth it," says Clebaner.
That being said, the three main ingredients in the Chicken California at Charleys Philly Steaks are chicken, provolone, and ranch. Delicious—but not so great for the body.
"We normally think of chicken as a healthier meat, but this large chicken California certainly offers an alternative perspective," says Claire Martin, RD of Being Healthfull. "It has five times the fat and is just over the total sodium recommended for the average person following a 2,000 calories per day diet. The protein is also a little higher than preferable, unless you are looking to build muscle and choosing to eat a higher protein-to-carbohydrate ratio."
Grilled Deli Phillys
Best: Veggie Delight, Small
410 calories
While Charleys Philly Steaks does not offer a full look at the nutritional value of its Veggie Delight sandwich, at 410 calories, and packed to the brim with vegetables, it's safe to say the Veggie Delight is one of—if not the best—Grilled Deli Philly options.6254a4d1642c605c54bf1cab17d50f1e
"[This is] a great sandwich option for vegetarians or someone just trying to cut back on their meat intake. I like that this is an option on the menu, as I'm always a fan of eating more vegetables throughout the day," says Clebaner.
Full of grilled mushrooms, onions, green peppers, provolone, Swiss and white American cheese, the Veggie Delight is a better option than some of the other more meat-heavy sandwiches.
[It's] an excellent alternative to the original Philly," says Richards. "It's packed with nutrients from veggies you just don't get with the traditional sandwich! At just over 400 calories, this sandwich will satisfy your Philly craving without leaving you feeling bloated."
Worst: Italian Deluxe, Large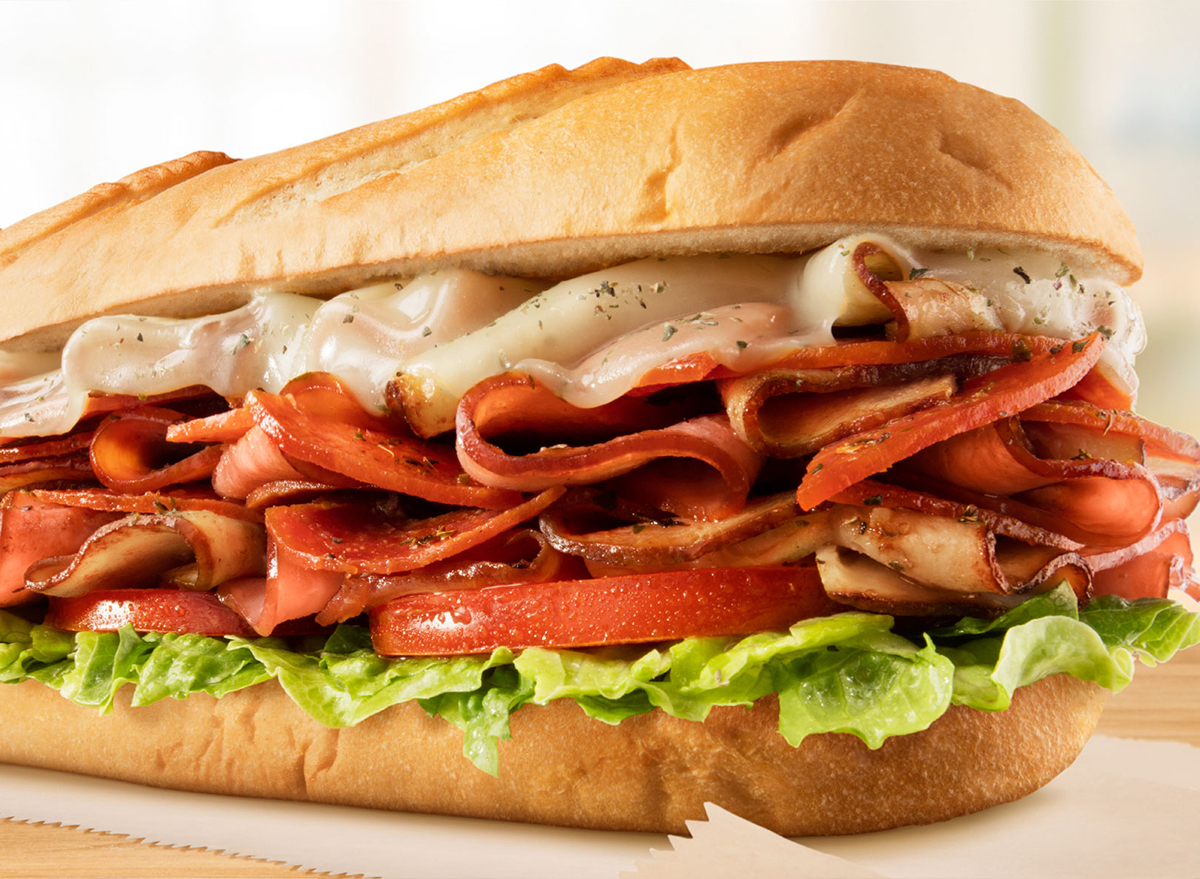 1,060 calories
"High in fat, cholesterol, sodium, and protein, this is one of those meals that is hard to justify, especially when there are several other options to choose from that don't do nearly as much damage," says Martin. "If you're trying to eat healthy, stay away."
Again, the Italian Deluxe, Large sandwich might be a new sandwich, because full nutritional value information for this menu item is not yet available online. That being said, we do know that the Italian Deluxe clocks in at 1,060 calories.
"It is a common assumption that an Italian version of a sandwich is healthier because it isn't made with fat-loaded beef or fried chicken. Unfortunately, this isn't always the case," says Richards. "Like this Charleys sandwich—they're loaded with high-fat Italian meats and often dressing and cheese that adds to the fat and calories."
Fries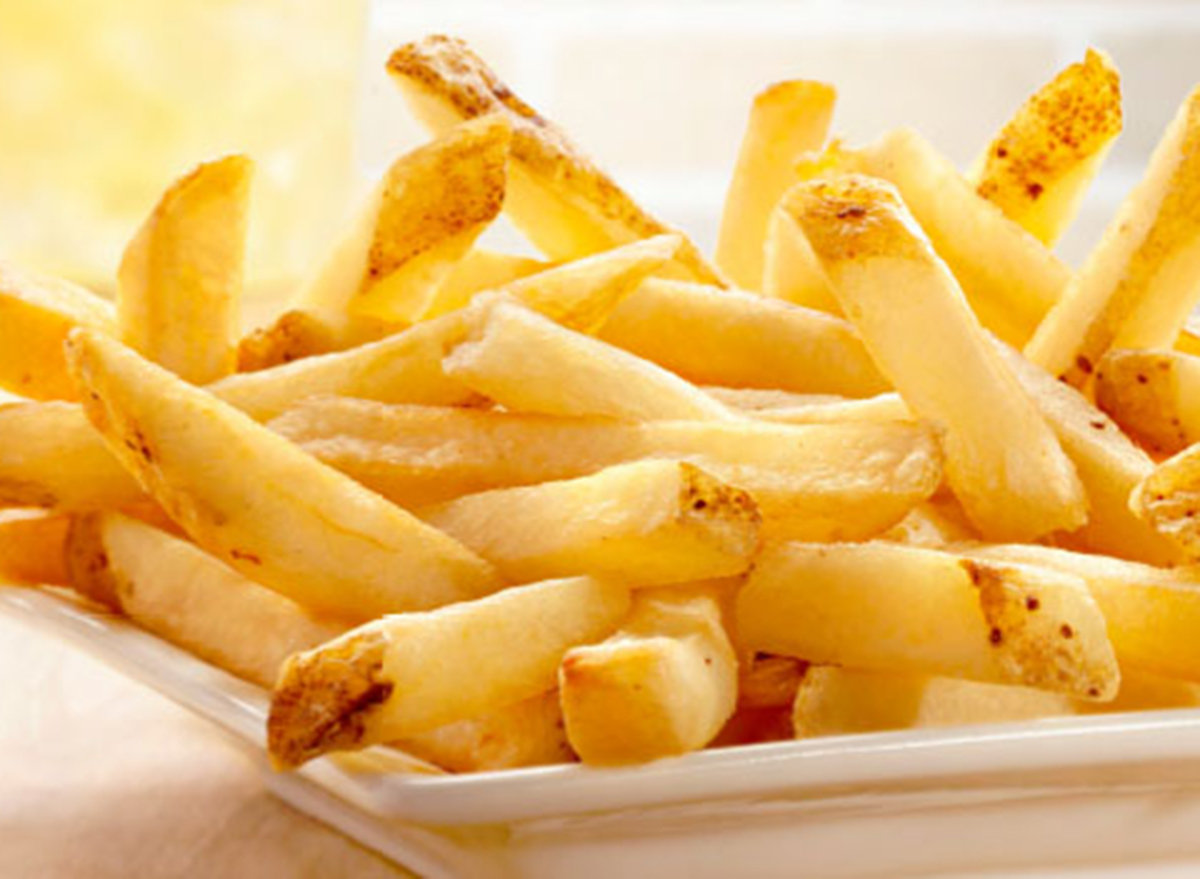 400 calories, 22 g fat (7 g saturated fat, 0 g trans fat), 510 g sodium, 46 g carbs (8 g fiber, 0 g sugar), 5 g protein
When we're dealing with fries, there really is no healthy option, right? But if you're absolutely hankering for some French fries, the original is the best way to go.
"We're basically having to choose the lesser of two evils when it comes to the fry options. Charleys original fries are relatively low in calories and sodium for fries," says Richards. "You'll want to avoid adding condiments, which will only add more calories and sugar to this menu item."
Worst: Nacho Deluxe Fries
860 calories 57 g fat (19 g saturated fat, 0 g trans fat), 2,300 g sodium, 66 g carbs (11 g fiber, 5 g sugar), 20 g protein
"Fries are normally considered a side and not a full meal, but the Nacho Deluxe Fries definitely give your caloric bomb of a meal," says Martin. "Don't try to eat one of these as a side as that's a sure-fire way of exceeded nearly every daily value recommendation of carbohydrates, protein, fat, sodium, and cholesterol."
At 860 calories—just for fries—you might want to skip this side the next time you find yourself at Charleys.
"If you're craving some nacho fries, it's best to split this item with friends," says Clebaner. "Lots of friends!"
Signature Lemonades
Best: Original Lemonade, Regular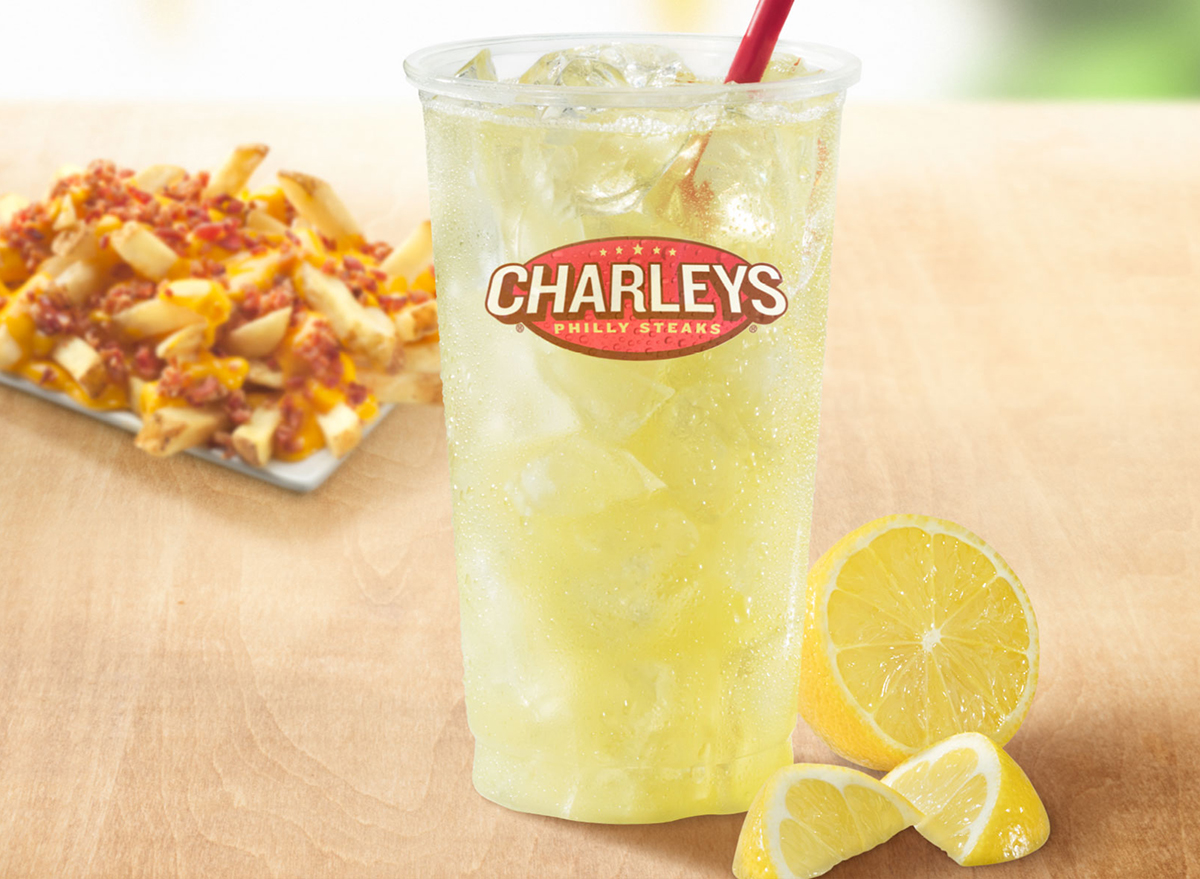 220 calories, 0 g total fat, 0 g saturated fat, 0 g trans fat), 0 mg sodium, 58 g carbs (0 g fiber, 56 g sugar), 2 g protein
Lemonade is another one of those categories that's really just picking the lesser of two evils. After all, a major ingredient in lemonade is, you guessed it, sugar.
"It's not ideal to drink your calories, but if you must curb your lemonade craving, this is the best option on the Charleys menu," says Richards. "A regular is fairly typical as calories go and is substantially less sugar, though still high, than the other options."
In short, even as the "best" item in the Lemonade section, it's still not great and should really be treated as a special treat.
Worst: Strawberry Lemonade, Large
390 calories, 0 g total fat (0 g saturated fat, 0g  trans fat), 0 mg sodium, 102 g carbs (<1 g fiber, 98 g sugar), 2 protein
Sure, the large Strawberry Lemonade has 0 calories from fat, total fat, saturated fat, trans fat, cholesterol, and sodium, but 98 grams of sugar doesn't make up for any of that.
"This lemonade has the same caloric value as a small cheesesteak," says Clebaner. "I would skip this item, especially with 98 grams of sugar. As reference, the American Heart Association recommends less than 25 grams of sugar per day—this is almost 4 times the recommendation. Opt for a seltzer with a squeeze of lemon and throw in some strawberries for a lightly sweetened and healthier beverage."