7 Fast-Food Chains That Serve the Best Grilled Chicken
And a look at the surprising number of chains that don't offer it at all.
The early spring of 2023 was a sad time for many fast-food fans, as it was in those days that Wendy's unceremoniously removed its beloved Grilled Chicken Sandwich from the menu, per Today. In so doing, Wendy's joined its biggest rivals, McDonald's and Burger King, in the dubious distinction of a lack of a grilled chicken sandwich option.
You also won't find a grilled chicken sandwich at Sonic Drive-In, Checkers, KFC, A&W, White Castle, or many other fast-food chains, either. Why is the grilled chicken sandwich a relative rarity on fast-food menus? There are two basic reasons, the first being that, per food writer Jennifer Quail, these healthier sandwiches just don't sell as well as menu stalwarts like cheeseburgers, fries, or nuggets.
Second, the prep and handling of a grilled chicken sandwich are just not conducive to the fast-moving, high-volume kitchen of a fast-food chain, according to Mental Floss. Not only does grilled chicken takes longer to cook than a deep-fried piece of meat, but it also has a much shorter shelf life, necessarily discarded after about an hour of warm storage. Both of those factors cut into profit margins for the restaurant, thus we often see grilled chicken sandwiches cut from or never added to the menu.
Not to worry, though, for there are a number of fast-food chains out there offering some excellent grilled chicken sandwiches.
Chick-fil-A
No surprise, the entirely chicken-centric chain Chick-fil-A serves a couple of fine grilled chicken sandwiches. They are appropriately named Grilled Chicken Sandwich, and the slightly more exciting, Chick-fil-A Grilled Chicken Club Sandwich. The former features a lemon-herb marinated boneless breast of chicken and is served with lettuce and tomato, while the latter adds Colby Jack cheese and applewood smoked bacon.
Chick-fil-A takes its grilled chicken seriously too, inventing the technology that would make it taste like it came off a backyard grill. Chick-fil-A's engineering team invented a high-tech grill with a hydraulic system that cooks the chicken quickly on both sides leaving real grill marks.
Whataburger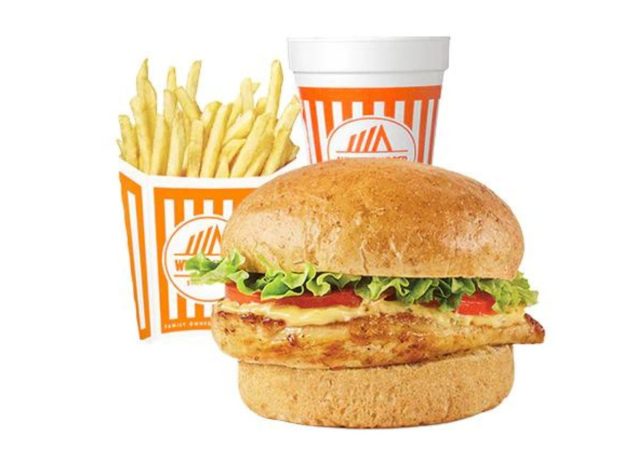 You go to Whataburger primarily for the oversized burgers and generous offerings of Texas toast, but you'd not be doing it wrong to try the chain's Grilled Chicken Sandwich on some visit in the future. Served on a brioche bun, the sandwich consists of a grilled chicken filet, sliced tomato, lettuce, and a slather of WhataSauce. You can add several toppings at no charge, these being pickles, onions, and grilled onions, while premium add-ons like bacon, cheese, or avocado cost a bit extra.
Smashburger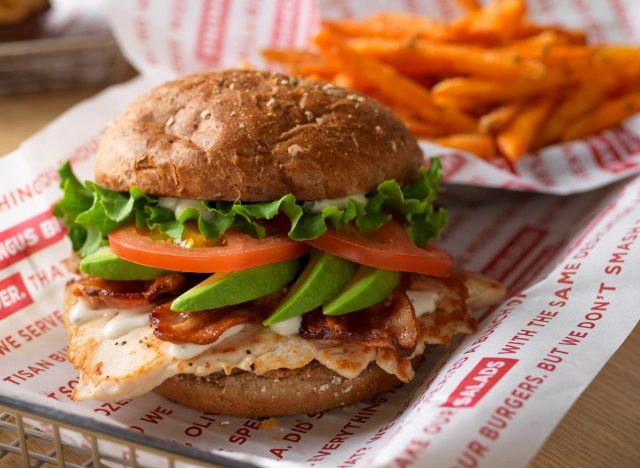 If you crave choice and variety when it comes to the grilled chicken sandwich, then Smashburger comes in clutch. At the time of this writing, the chain offers an impressive six different grilled chicken sandwiches, these being the Classic Grilled Chicken Sandwich, a Colorado Grilled Chicken Sandwich, a Bacon Smash Grilled Chicken Sandwich, an Avocado Bacon Club Grilled Chicken Sandwich, a BBQ Bacon Cheddar Grilled Chicken Sandwich, and a Truffle Mushroom Swiss Grilled Chicken Sandwich. These are all made to order.
Carl's Jr.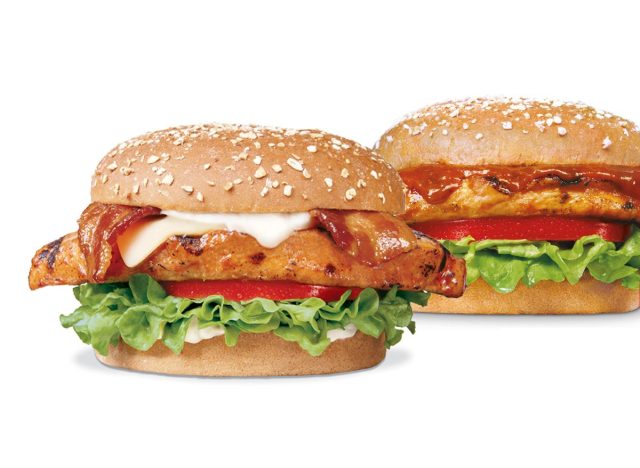 Alright, so Carl's Jr. uses the term "charbroiled" for several of its chicken sandwiches, not the word grilled. The fact is, the differences between the cooking methods aside, the resulting foods are quite comparable, per Master Class. So spare yourself the semantics and try the chain's Charbroiled Chicken Club Sandwich, Charbroiled Santa Fe Chicken Sandwich, or its Charbroiled BBQ Chicken Sandwich. These sandwiches get plenty of praise among internet fast-foodies, with one Redditor saying: "Carl's Jr. The Santa Fe is my favorite but they're all good. Juicy, seasoned in an interesting way the bun is slightly sweet whole wheat. It's not a afterthought on the menu but a star in its own right."6254a4d1642c605c54bf1cab17d50f1e
Jack in the Box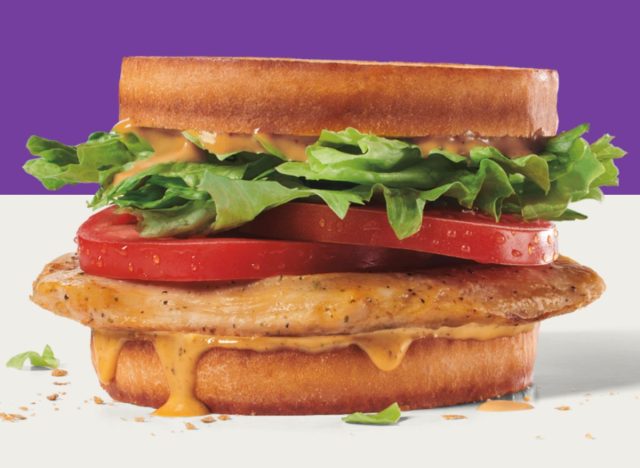 The best thing about the Grilled Chicken Sandwich from Jack in the Box may not be the grilled chicken filet itself, but the fact that the bun used consists of thick slabs of toasted sourdough. Between said slabs is the meat along with lettuce, tomato, Good Good Sauce, and the "secret" ingredient that makes this sandwich a winner: butter. You can also add extras including cheese, onions, jalapeños, bacon, and more.
The Habit Burger Grill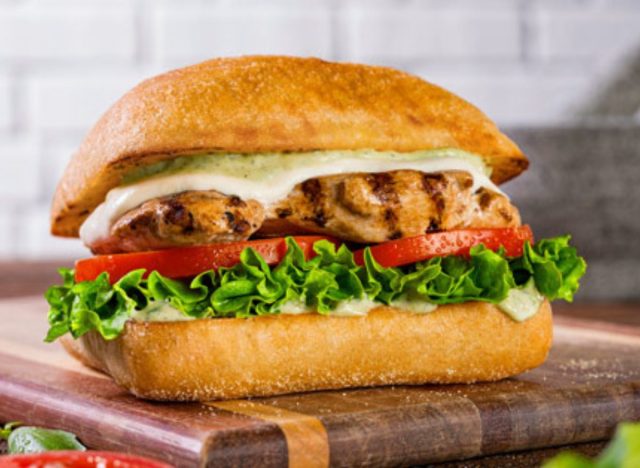 Sure, The Habit may call itself a "burger grill," but that's really selling itself short given its many other menu items like the Ahi Tuna Filet Sandwich, the Tenderloin Steak Sandwich, and the Chicken Club and Grilled Chicken Sandwiches. That last one is a superlative take on the classic Grilled Chicken sandwich, featuring a hand-fileted and marinated chicken breast, cheese, lettuce, tomatoes, mayo, and a sauce of the customer's choosing.
Panera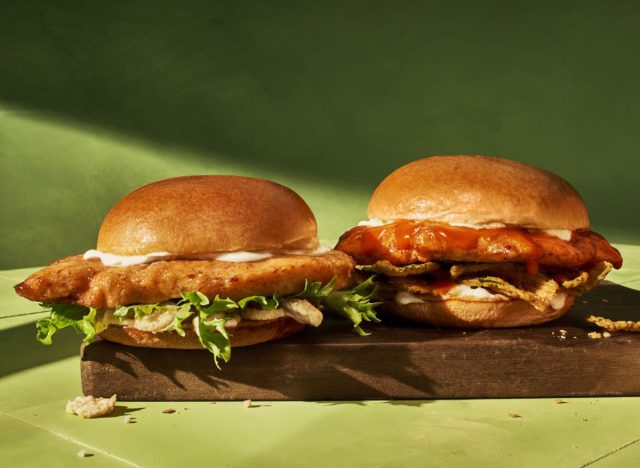 Panera's The Signature Take Chicken Sandwich features a seared chicken breast, parmesan crisps, garlic aioli sauce, and emerald greens served on a thick brioche roll. It is flavor-packed if a bit outside the normal flavor profile for a chicken sandwich. If you want a more familiar foodstuff, try The Spicy Take Chicken Sandwich, which has the same seared chicken breast, garlic aioli, and brioche roll, but swaps parmesan crisps for pickle chips, loses the greens, and adds a spicy buffalo sauce.
Steven John
Steven John is a freelancer writer for
Eat This, Not That!
based just outside New York City.
Read more about Steven