7 Things You Need to Know About Habit Burger
It's the hottest restaurant you've never heard of…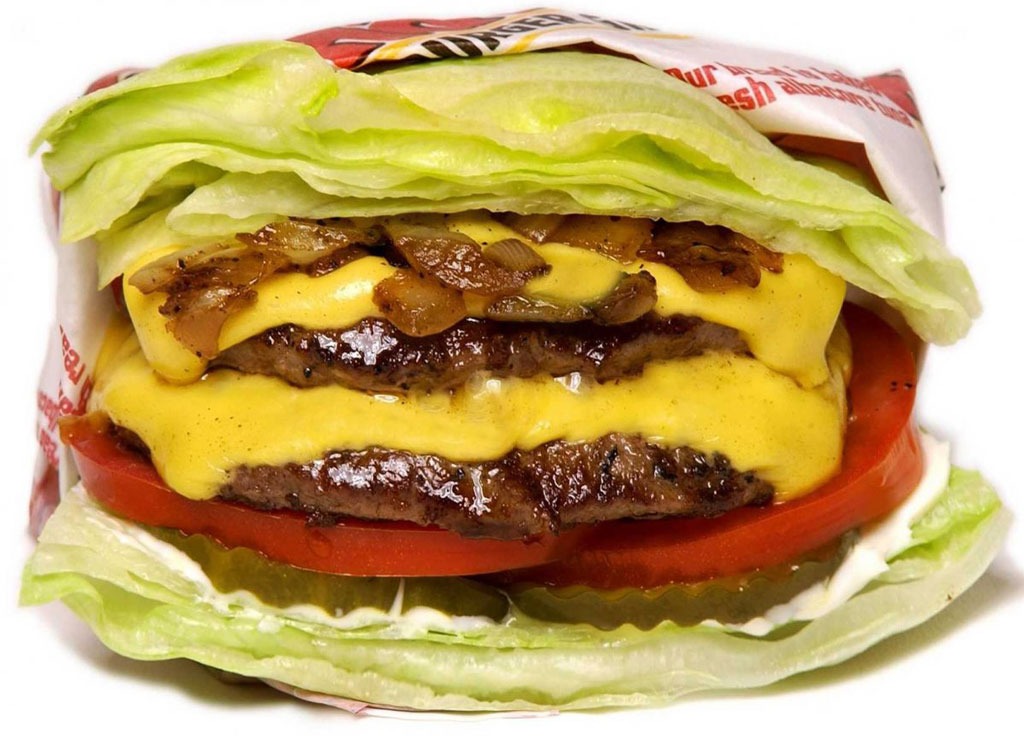 Even those of us who weren't alive in 1969 know it was an important year. Because, well, it was just that important. Richard Nixon was sworn in as the president and the Apollo 11 astronauts became the first men to walk on the Moon. It was also when Habit Burger Grill made its restaurant world debut, serving up charbroiled burgers and grilled albacore tuna sandwiches.
And although the menu mix was a bit eclectic, the concept worked. Since then, "The Habit" (as insiders and super fans like to call it) has quietly been fine-tuning its menu and improving its burgers, making them the tastiest in all of the land—seriously, though! In a recent Consumer Reports burger chain survey, the Cali-based chain bested Five Guys, Steak 'n Shake, and In-N-Out in the flavor department. Considering how strong of a cult following those chains have, that's saying a lot.
So, why haven't you heard of the chain before? Currently, the chain only has eateries in 10 states, with the majority of them concentrated in California. But that's going to change—and soon. This year alone, the chain opened more than 35 locations across the nation, which is a lot in the restaurant biz. Not to mention, a recent industry report dubbed the chain as one of the top-growing brands of the year, so it's safe to say that Habit Burger's under-the-radar status will soon be a thing of the past.
Since you're bound to see a shiny new Habit restaurant making a debut in a strip mall near you, we think you should be armed with the necessary menu intel to ensure your meal doesn't derail your healthy eating or weight loss plan—which is why we put together this nifty guide. (This fast food survival guide can help if you find yourself at one of Burger Habit's rivals!) Read on to find out how to order smart at the rising star restaurant.
Their Burgers Are Better Than The Rest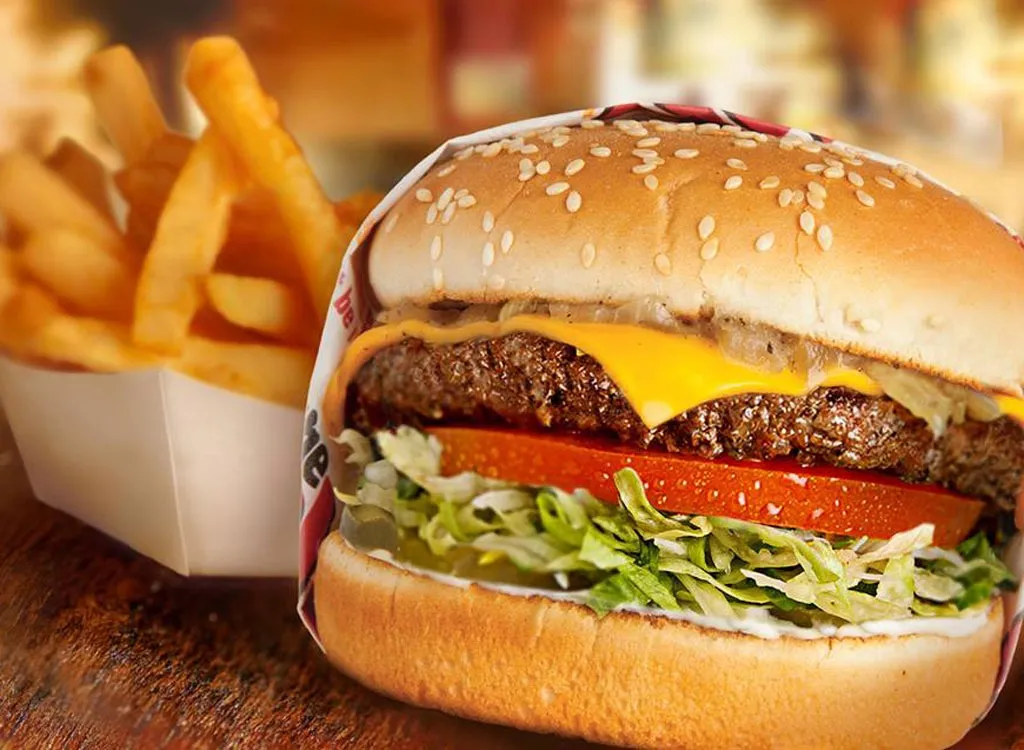 The one thing that really helps Habit Burger stand out from other quick-service joints is its cooking method. They flame-grill their burgers, whereas many other chains cook theirs on griddles and doctor up fake
grill marks with dyes in factories and add smoke-and-char flavors. Habit Burger doesn't do any of that, which contributes to its tastiness—and, of course, helps to create a higher quality patty, too.
In terms of nutrition, their classic Charburger is your best bet. Unless you ask for a customized patty, it will come with mayonnaise, pickles, tomato, lettuce, caramelized onions, and a toasted bun—and can set you back 470 calories and 22 grams of fat. To erase 100 calories and 12 grams of fat from your tray, ask them to hold the mayo—you won't even miss it. Looking for even more ways to save yourself from too many calories? Check out these 25 Ways to Cut 250 Calories.
The Shakes & Ice Cream Are Belly Bombs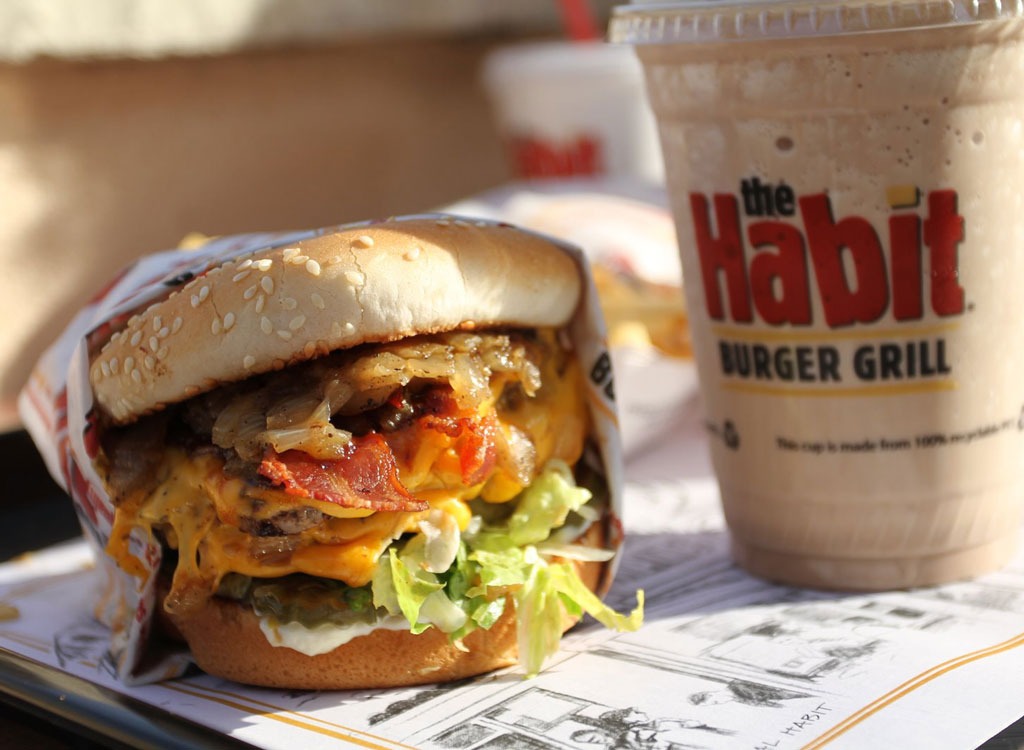 You're going there for the burgers, right? Stay focused and don't let the sundaes and shakes tempt you. The safest of the options, the vanilla cone, still packs 330 calories and a staggering 37 grams of sugar. The stats of the other frozen treats only get more treacherous from there. With 860 calories and more than two days worth of sugar, the worst of the lot is the chocolate malted shake. Everything else on the dessert menu falls somewhere in between. No sweet treat is worth the consequences (which range from a simple stomach ache to weight gain and diabetes) of putting that much junk into your gut.
They Have Superfoods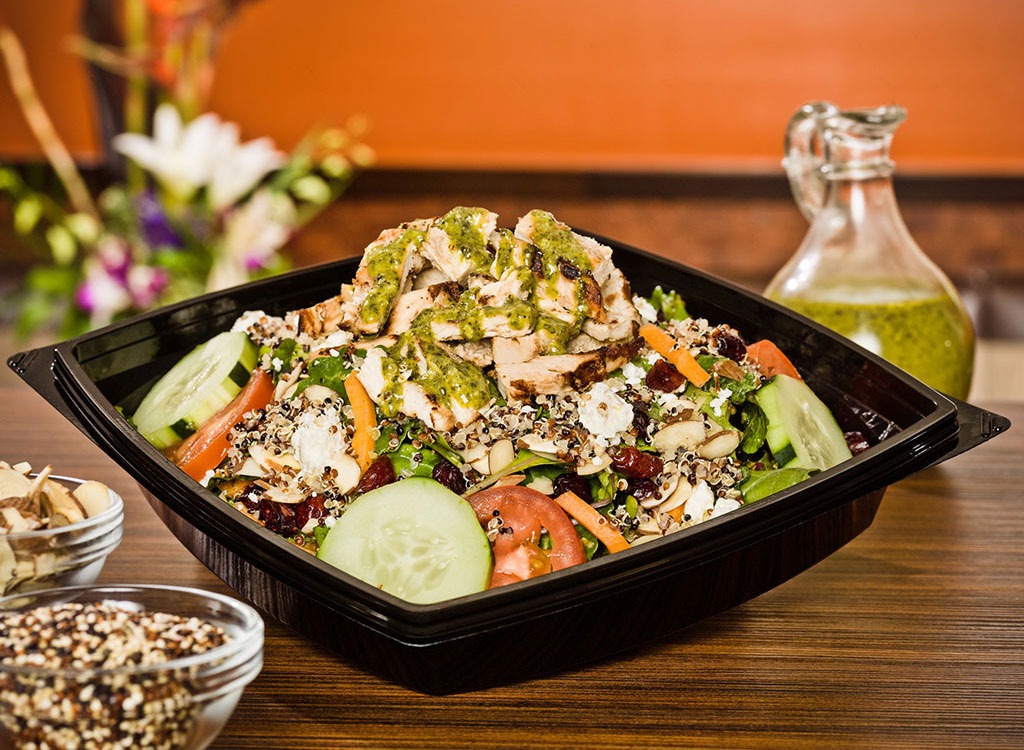 Burger joints' clientele often skew toward more men, but according to foodservice industry experts, Habit Burger's even gender mix is all thanks to its diverse and healthy menu offerings. They recently offered a seasonal superfood salad, sprinkled with trendy ingredients like quinoa and homemade kale pesto. Around the year, they also offer wheat buns (240 calories, 2 g fiber, 8 g protein), tempura green beans (which are better for you than the fries and onion rings), and burger add-ons like fresh avocado (one of these 25 Best Foods for a Toned Body) and pineapple—all options that most other fast food joints don't offer.
They Have a Pepper Bar
The other thing that sets Habit Burger apart from its competition? It's pepper bar! Yes, that's right, they have an entire self-service area that's stocked with a variety of hot sauces, as well as fresh peppers like jalapeños, pepperoncini, and pickled banana peppers. Not only can these tasty toppers amp up the flavor profile of your meal, they can help you trim down, too! Peppers contain a chemical called capsaicin that's been shown time after time to speed up metabolism and fight off inflammation. While topping off the chain's 930 calorie Santa Barbara style burger with some hot sauce may not have a major effect on your figure, adding some spice to their grilled chicken salad or their fresh albacore sandwich will help you reap the slimming effects.
Their Sandwiches Range from Good to Bad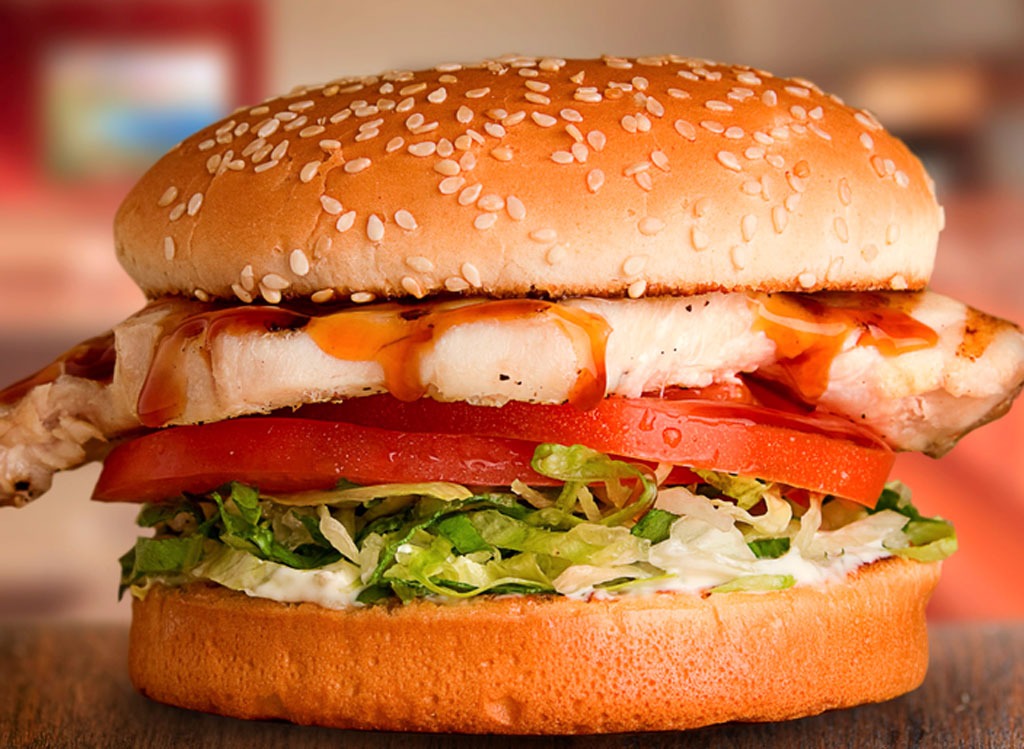 While ordering a sandwich instead of a burger may seem like a smart move, that's not always the case. The sammies at Burger Habit are truly a mixed bag with options ranging from a reasonable 390 calories to a shocking 900 calories (beware of the pastrami sandwich)! Your best bets are the veggie burger on a wheat bun (which, for some reason, the chain considers a sandwich and not a burger) and the albacore tuna sandwich on a seeded bun. It's made with a sushi-grade tuna steak and is flavored with a teriyaki glaze and homemade tartar sauce. As one of the chain's original menu items, it's not to be missed!
They Have Low-Carb Options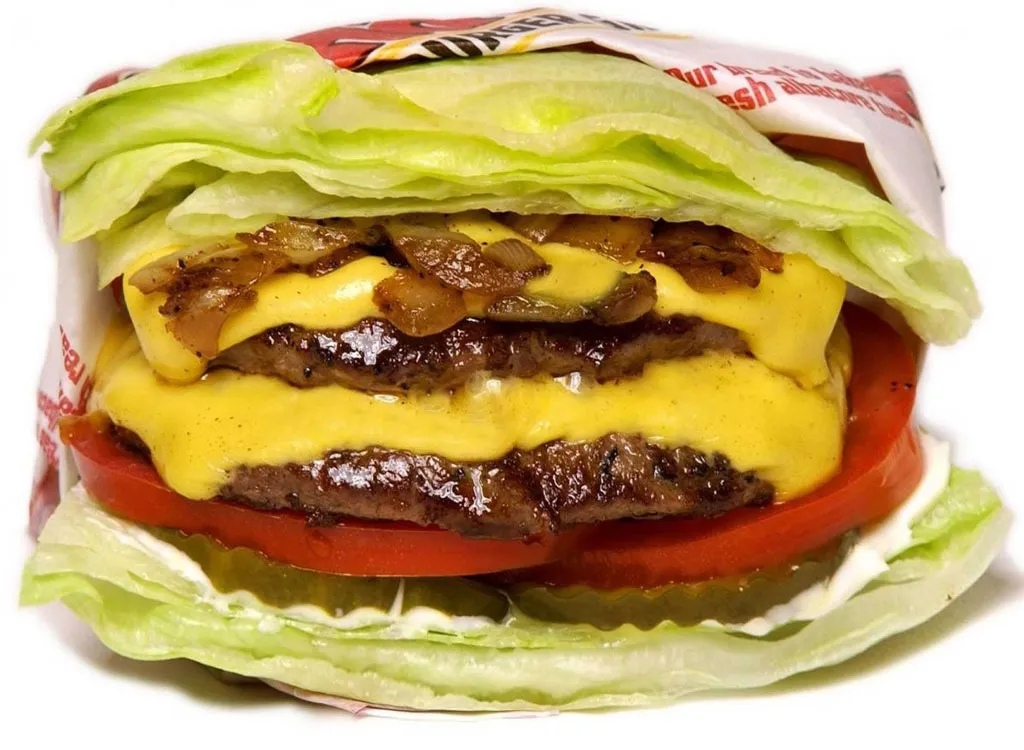 If you love burgers and sammies—but hate the excess carbs that come along with the bread—The Habit Burger Grill is about to be your new favorite spot. Any of their burgers can be made with a lettuce wrap upon request; and although their menu doesn't specifically mention it, we suspect sandwiches can be customized the same way, too. While the original Charburger clocks in at 470 calories and carries 1,140 milligrams of sodium and 43 grams of carbs, the lettuce wrapped Charburger has just 290 calories, 840 milligrams of sodium, and 10 grams of carbs! Quite an impressive makeover, don't you think!? Prefer to eat your lunch with a fork? The grilled chicken salad with fat-free Italian dressing (232 calories, 11 g carbs) is another tasty low-carb option. Beware of the Santa Barbara Cobb, though. While it only has 15 grams of carbs, it's far too high in calories. No one needs to eat 840 calories in one sitting—especially someone who's watching what they eat or looking to lose 10 pounds.
You Can Ask for Applesauce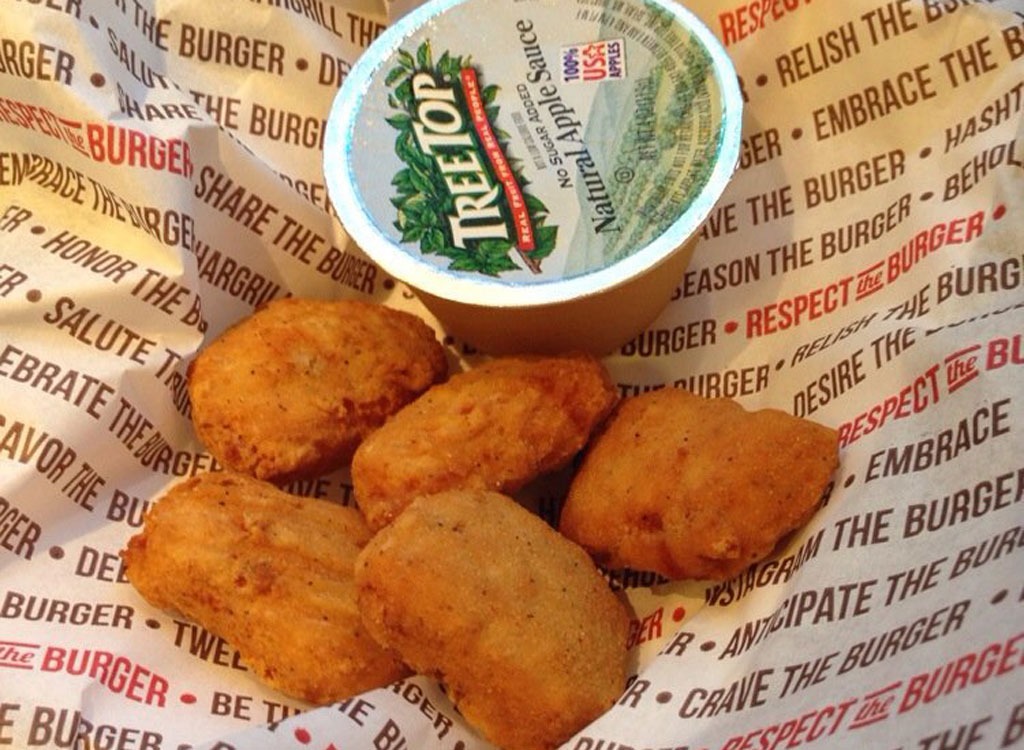 Like many chains, Habit Burger offers healthier options for your mini-me, too. You have the option to pair your kiddo's nuggets or burger with applesauce instead of fries—a substitution that will keep 130 calories, 12 grams of fat, and 375 milligrams of sodium off his or her tray.6254a4d1642c605c54bf1cab17d50f1e