12 Hidden Sources of Sugar at Your Barbecue (And How to Avoid Them)
It's not just in your ice cream sundae; the sweet stuff is lurking in your spice rubs and coleslaw.
Summer is officially here, and we foresee many al fresco meals and cookouts between now, Fourth of July and Labor Day. While there are many healthy dishes you can enjoy at a barbecue, most condiments and sides are often littered with hidden sources of sugar.
As you already know, consuming too much sugar is one of the worst things you can do for your health. Studies have shown that overdoing it on the sweetness can put you at risk for heart disease, type 2 diabetes, metabolic syndrome, and, most noticeably, can lead to fat accumulation. To help you avoid summer weight gain, we identified the top high-sugar foods at your barbecue and shared nutritionist-approved tips for finding healthier swaps. To keep added sugars off your plate — and lose up to a pound a day — try our new proven plan: The 14-Day No-Sugar Diet. It's available now wherever books are sold! It's filled with smart swaps and healthy summer cookout recipes that don't force you to sacrifice flavor for the good of your waistline.
Barbecue Sauce
We love the sweet and smoky taste of barbecue sauce, but this cookout condiment is notorious for its well-hidden sugar content. Kraft's Spicy Honey Barbecue, for example, has 13 grams of sugar per two-tablespoon serving, and Sweet Baby Ray's Original Barbecue Sauce packs a staggering 16 grams of the refined stuff. (For reference, that's more than the amount of sugar in five Glazed Munchkins from Dunkin' Donuts.)
"Sugar is added to condiments, such as barbecue sauce, to help give it that sweet taste we all enjoy, but it also acts a preservative," Erin Palinski-Wade, RD, CDE, author of Belly Fat Diet for Dummies and Hass Avocado Goodness expert. When buying pre-made condiments, Palinski-Wade recommends varieties where added sugar isn't in the first three ingredients. One option that meets this criterion is Annie's Organic Original BBQ Sauce.
Ketchup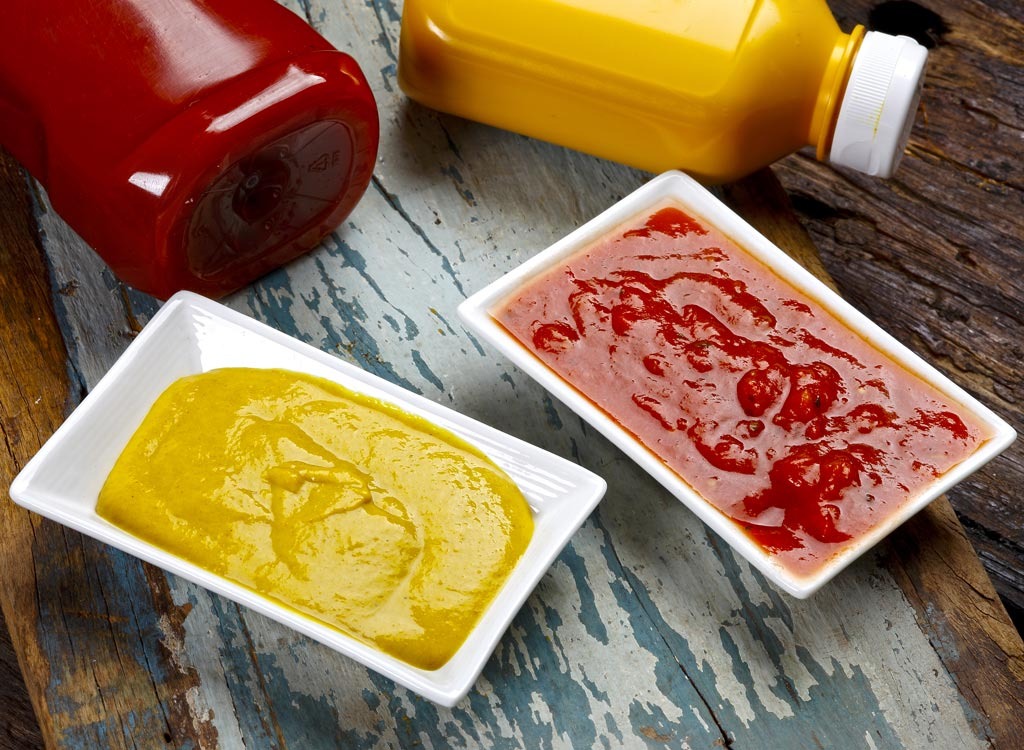 One or two pumps of ketchup on your burger or hot dog might seem harmless, but the sugar and calories quickly add up. Unfortunately, many store-bought varieties of ketchup are laced with high-fructose corn syrup, which has been associated with higher risks of type 2 diabetes. Since most bottled ketchup will have some sugar, Palinski-Wade says to serve it on the side instead.
"I recommend [ketchup] for dipping instead of pouring them on food to enjoy the flavor with less overall sugar," Palinski-Wade says. You can also make a tomato paste at home. Blogger Wellness Mama swaps in magnesium- and iron-rich molasses and Stevia for corn syrup in her 5-minute recipe.
Macaroni Salad
Cornichons or sweet relish are a key ingredient in many pre-made macaroni salads. The basic brine recipe for many deli versions often includes granulated sugar and high-fructose corn syrup. And because most macaroni salads use white pasta, you digest it more quickly and end up eating more of it to satisfy your hunger. Talk about a vicious cycle.
"I like to use mashed avocado as a creamy replacement. The rich texture provides a thick sauce for pasta salads with a neutral flavor. Avocado also increases the nutrient content and fiber and provides a good source of plant-based unsaturated fat," Palinski-Wade says. Another option is to swap mayo for unsweetened Greek yogurt, which has no added sugars, is higher in calcium and has less saturated fat.
Coleslaw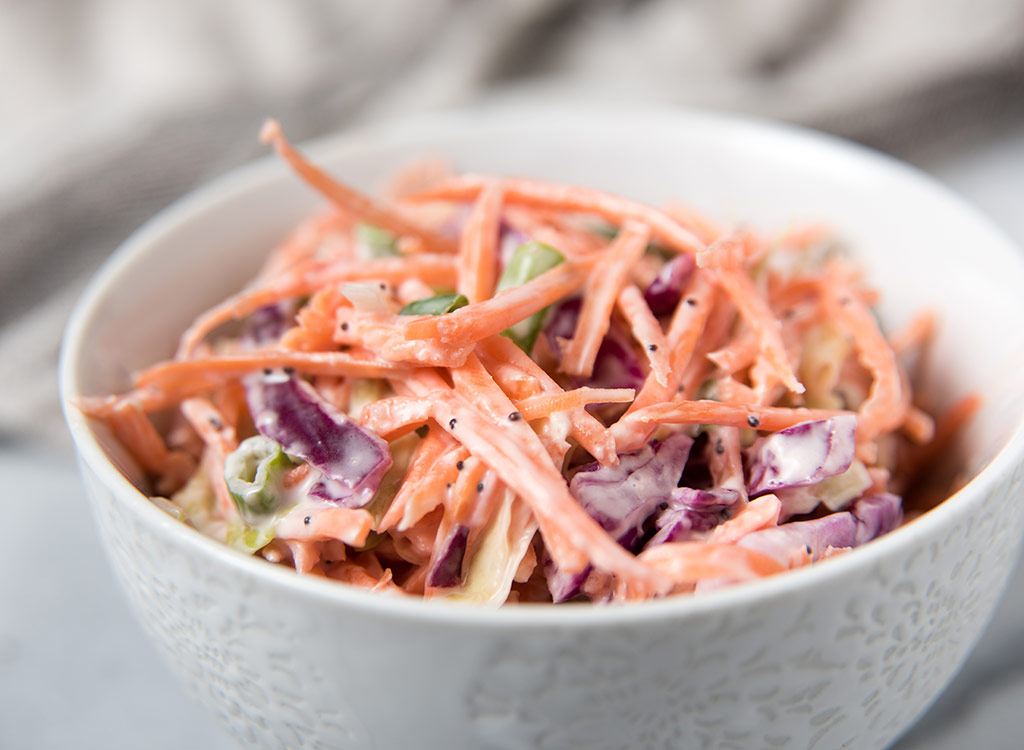 Don't let the carrots and cabbage in slaw convince you that you're eating a healthy side. The high-calorie mayo sauce has at least a quarter-cup of sugar. That's nearly the amount of sugar in a 20-ounce bottle of Dr. Pepper! So if you want to make your own slaw, use a touch of Stevia, monk fruit, or another natural sweetener instead.
Potato Salad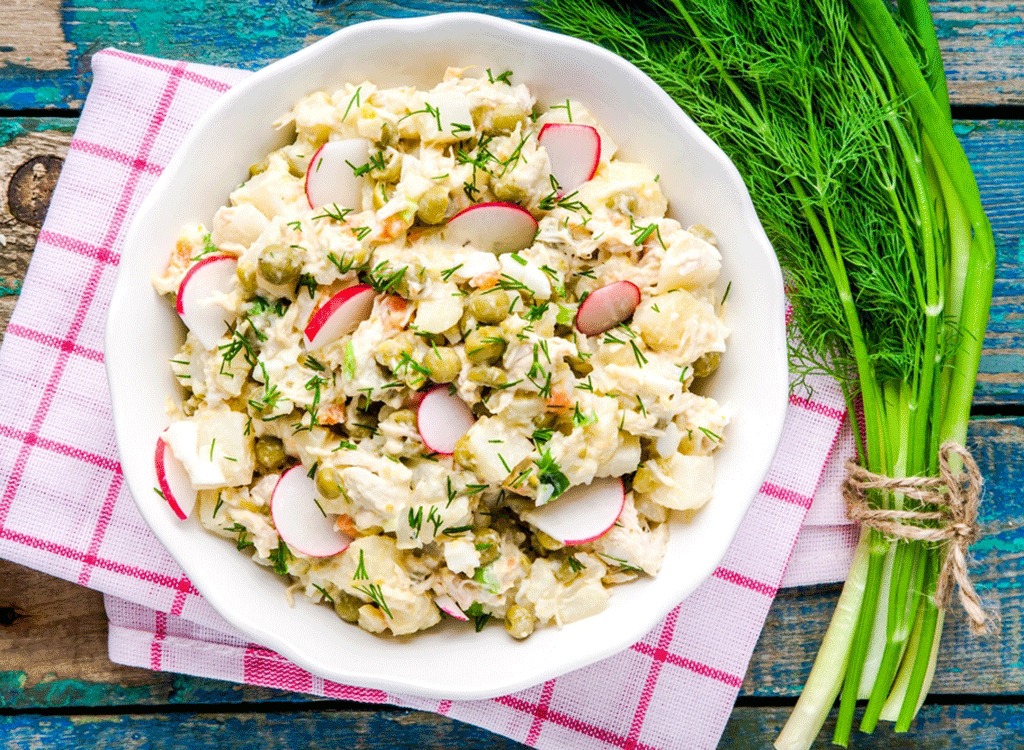 Sugar is probably the last ingredient you'd expect in a potato salad, but it's actually one of the key elements in the mayo mix. White potatoes are also starchy vegetables and have a high glycemic index, so they can raise your blood sugar levels fast. Instead, consider using Primal Kitchen's Avocado Oil Mayo, which features flavorful herbs and spices. It's sugar- and dairy-free, plus Whole 30-approved. There are Chipotle Lime and Garlic Aioli flavors, too, if you want to kick things up a notch.
Jerk Chicken Spice Rub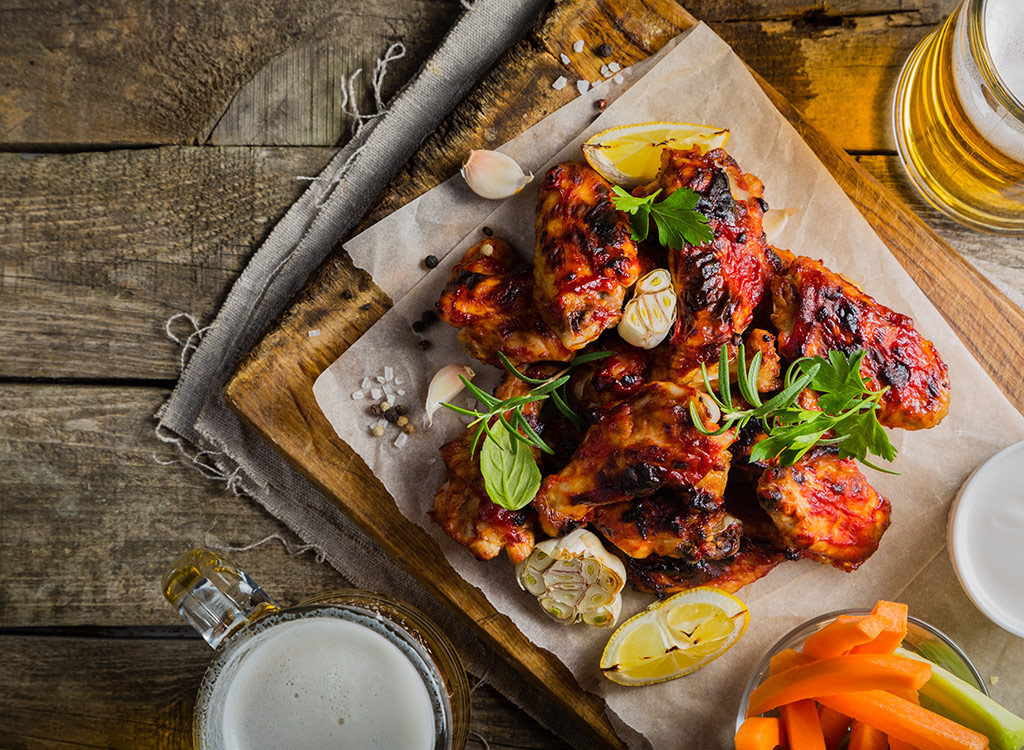 Smoked paprika, cayenne, and chipotle powder are the major spices you'll find in a jerk chicken rub, but brown sugar is often included to tame the heat and balance the flavors. While one tablespoon of brown sugar might not seem like a lot, it actually equates to a whopping 12.5 grams of the sweet stuff. That's almost the same amount of sugar in three Oreos. As a healthier alternative, Palinski-Wade likes McCormick Perfect Pinch Caribbean Jerk Seasoning. "It does contain a small amount of added sugar, but you will still have less than three grams of sugar per serving in the finalized jerk chicken recipe," she says.
Honey Mustard
6254a4d1642c605c54bf1cab17d50f1e
Just two tablespoons of Kraft's Honey Mustard Sauce (one tablespoon with your salad and another with your burger or chicken kebab) is seven grams of sugar. In addition to the honey, other food additives and artificial flavors in many honey mustard products contribute to elevated blood sugar levels. As a healthier alternative, go for Bolthouse Farms' Honey Mustard Dressing. Made with honey, yogurt, and apple cider vinegar, it's a preservative-free upgrade from the other bottled stuff.
Iced Tea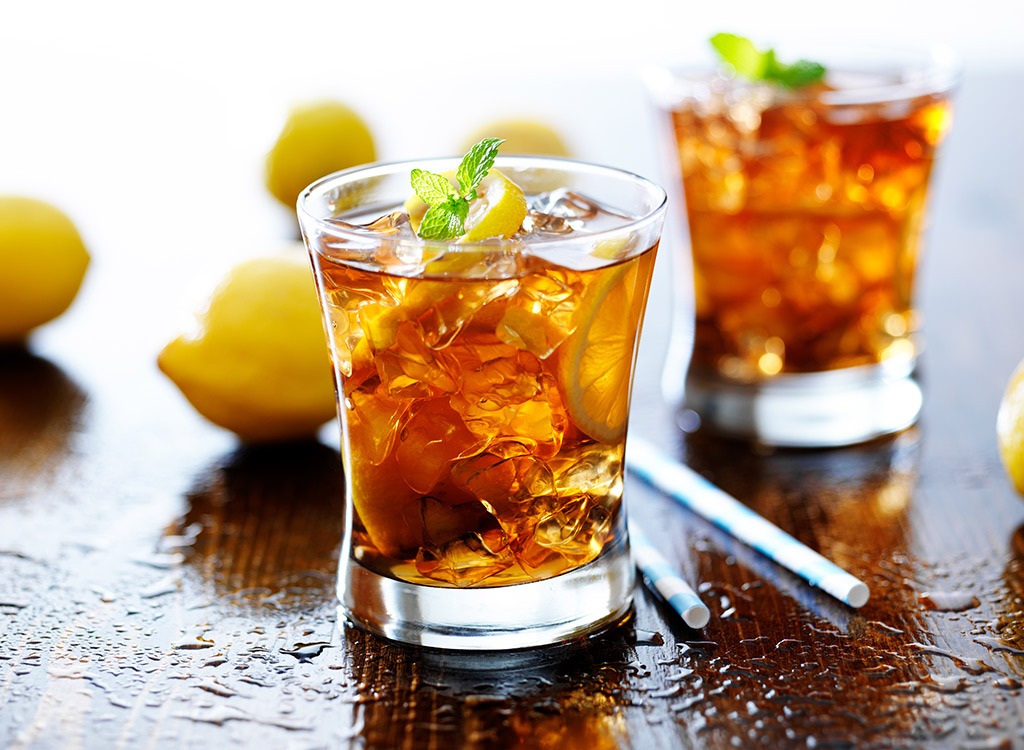 Tea's powerful polyphenols provide many health benefits, but many iced tea mixes and ready-made drinks are packin' the sweet stuff. Take Arizona Iced Tea's Green Tea, for example. One eight-ounce cup of iced tea has 17 grams of sugar. That's basically more than half of what's in a can of Coke. We'll pass. Instead, prepare your own refreshing drinks at home and add some chopped fruits to infuse a hint of natural sweetness.
Sangria
There's no alcoholic drink that screams summer like a tall glass of sangria. The bad news is that most pre-made sangria mixes have added cane sugar and artificial flavors and colors. They're not low in calories either. Monin's Red Sangria Mix, for example, is 90 calories and has 23 grams of sugar per serving. Instead, Palinski-Wade advises preparing a low-sugar homemade version instead. Her recipe: Mix together eight ounces of red wine with eight ounces of sparkling water, a quarter cup of Sunsweet Plum Smart Light Juice Cocktail, and a half cup of fresh sliced fruit. "It makes two servings of a refreshing cocktail with no added sugars," she says.
Hoisin Sauce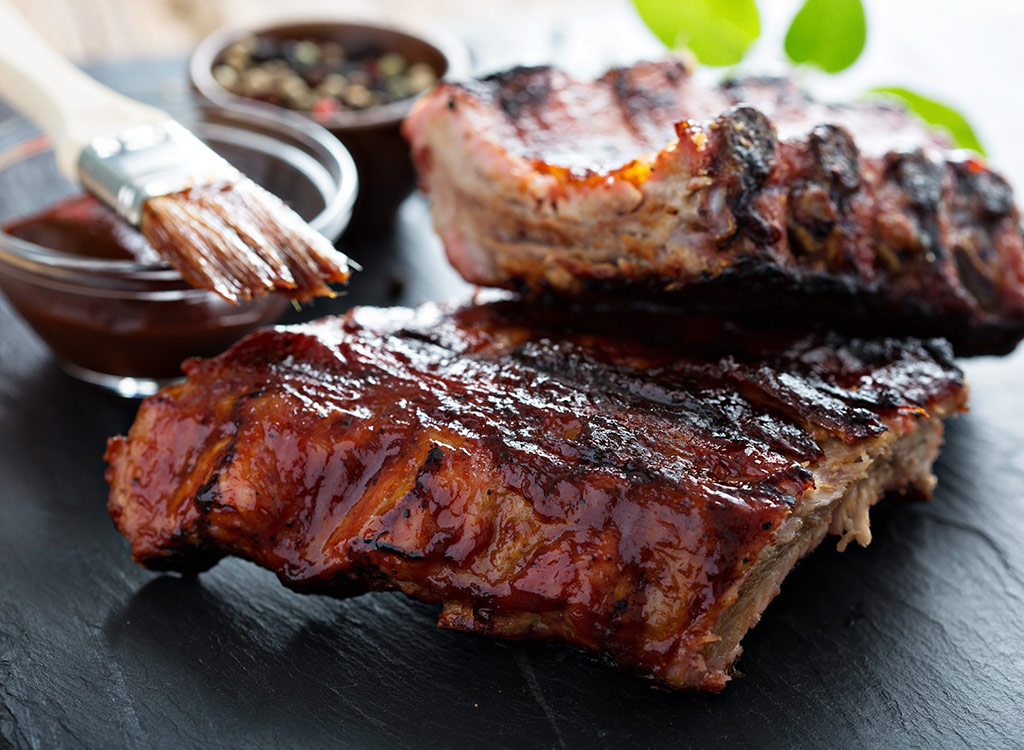 Firing up the smoker with some baby back ribs? Many barbecue ribs recipes call for hoisin, a thick Chinese sauce that's used to glaze meat. Hoisin sauce recipes usually call for molasses, honey, or brown sugar, which can elevate blood sugar. To curb your sugar cravings, simply omit it from the recipe or blend the sauce ingredients with dates for a touch of sweetness.
Cornbread Mixes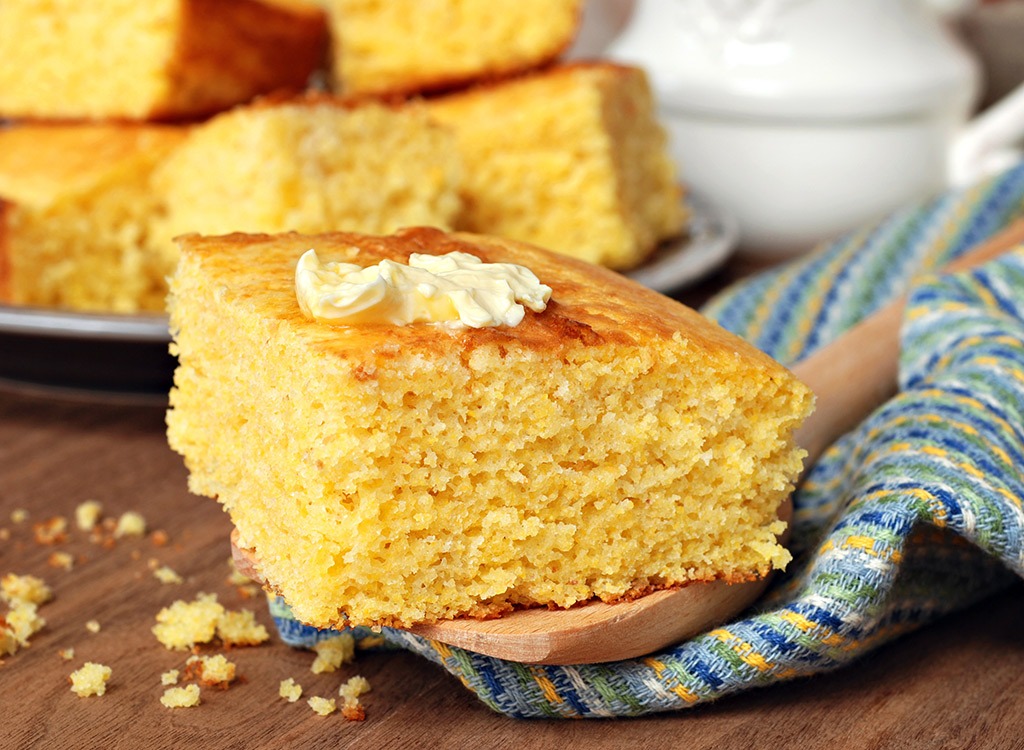 Most cornbread mixes feature more sugar than you'd like, in addition to vegetable oil and blood-sugar-raising white flour. Palinski-Wade likes Kodiak Cakes' Protein-Packed Cornbread Mix, which is made mostly of 100 percent whole grain flour. "It still contains added sugar as a third ingredient, but it makes a better alternative than traditional mixes thanks to the whole grain content," she adds.
Lemonade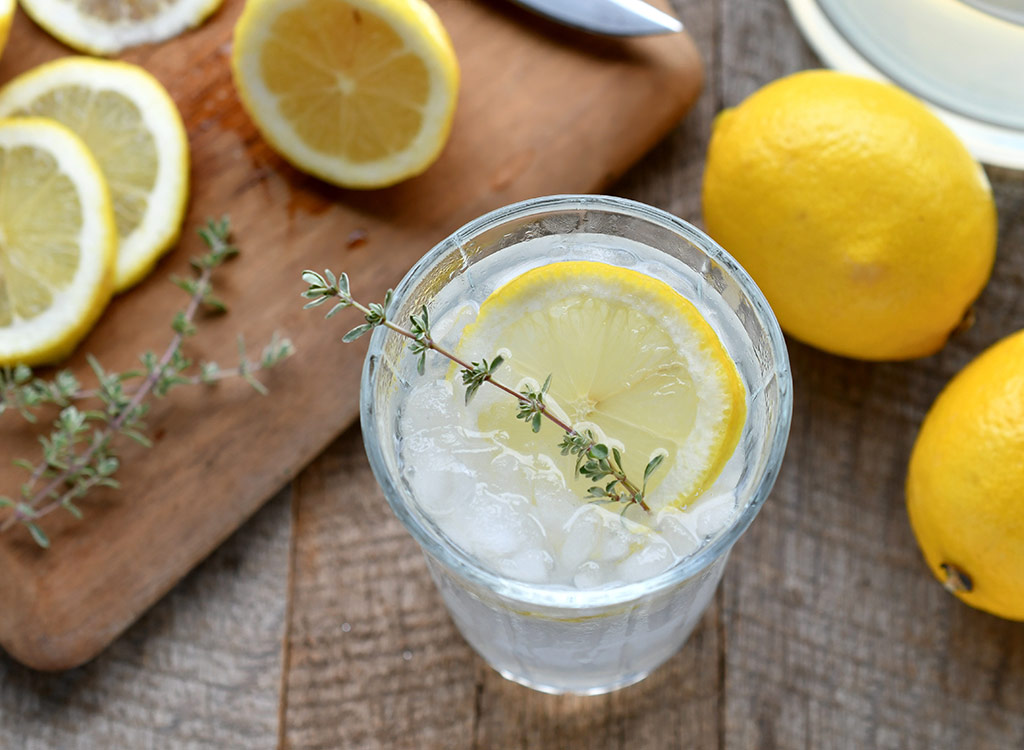 This classic summer drink is infamous for having loads of sugar to mask the sour, citrusy flavor, but the good news is that you can prepare a quick and easy lemonade at home with less added sugars. "True Lemon makes a great powdered lemonade mix that is low in added sugars," Palinski-Wade says. True Lemon doesn't contain any artificial sweeteners or flavors and has only one gram of sugar per serving.
Want more healthy product picks and waistline-trimming advice? Subscribe to the Eat This, Not That! magazine! Our magazine not only highlights smart food swaps and expert weight loss tips, but you'll also get pages of quick and delicious recipes. Sign up today!