Elizabeth Hurley Celebrates Her "Favorite Bikini" in New Photo
And we've collected her diet and fitness secrets.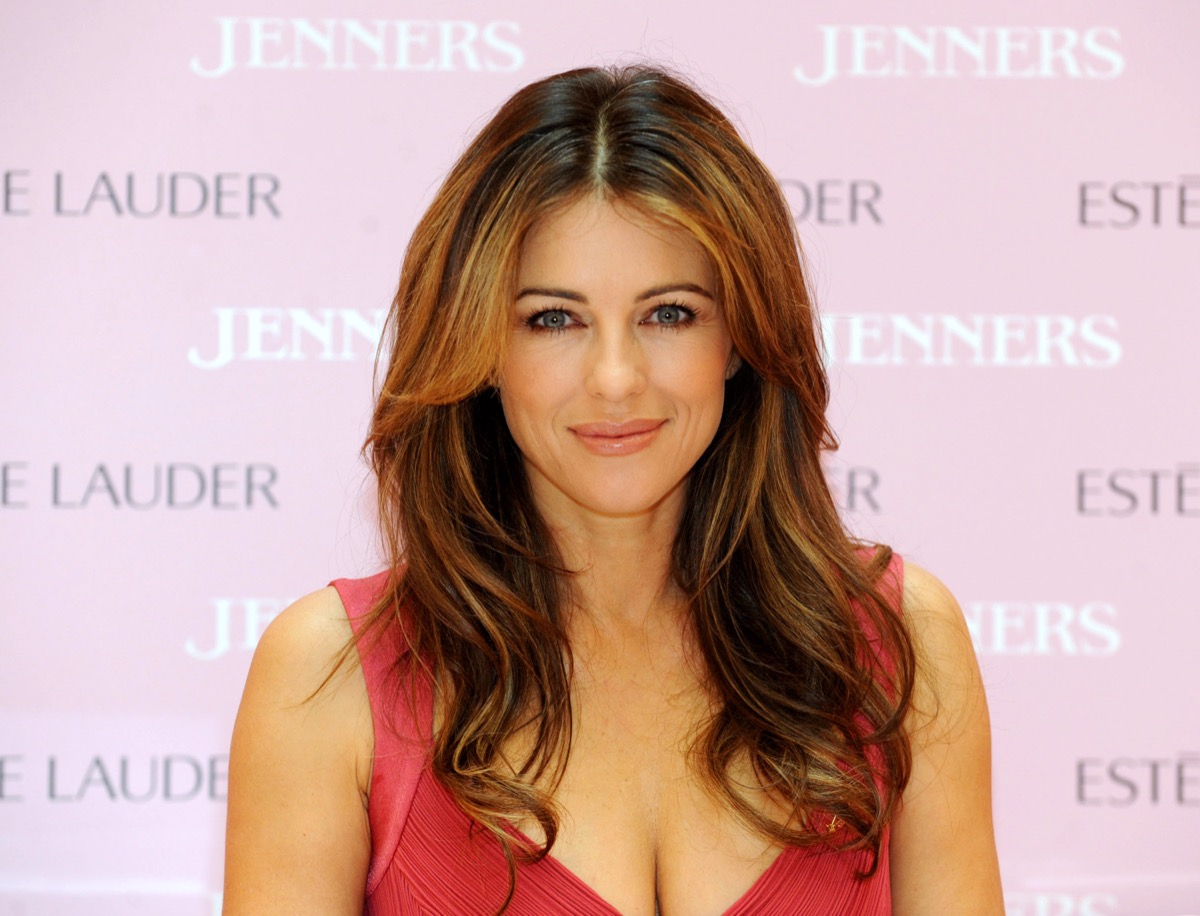 At 55, Elizabeth Hurley is still her own bikini model. The model and actress shared a photo of herself on Friday modeling a tiny, leopard print string bikini from her Elizabeth Hurley Beach collection—showing off her tight and toned figure. "My favourite bikini is FINALLY back in stock #VictoireBikini @elizabethhurleybeach," she wrote in the caption, adding three kissy-face emojis. So, how does the Brit beauty maintain her swerving curves? Here's everything she does to stay in shape.  
She Doesn't Do High-Intensity Exercise
No, this isn't a typo. In 2019, Hurley revealed to Harper's Bazaar that she doesn't work out. "I don't exercise, but I am very active," she admitted. "I believe in gentle exercise and lots of it," she told Us Weekly. "So I believe in being active, going for walks, stretching, maybe a little yoga or a little Pilates. But I don't like high impact, high energy sports. I don't actually think they do you much good. As long as you get your heart rate to the rate you need it to get, which is a fast walk. But you need to do a bit of it."
She Does Stretch and Count Steps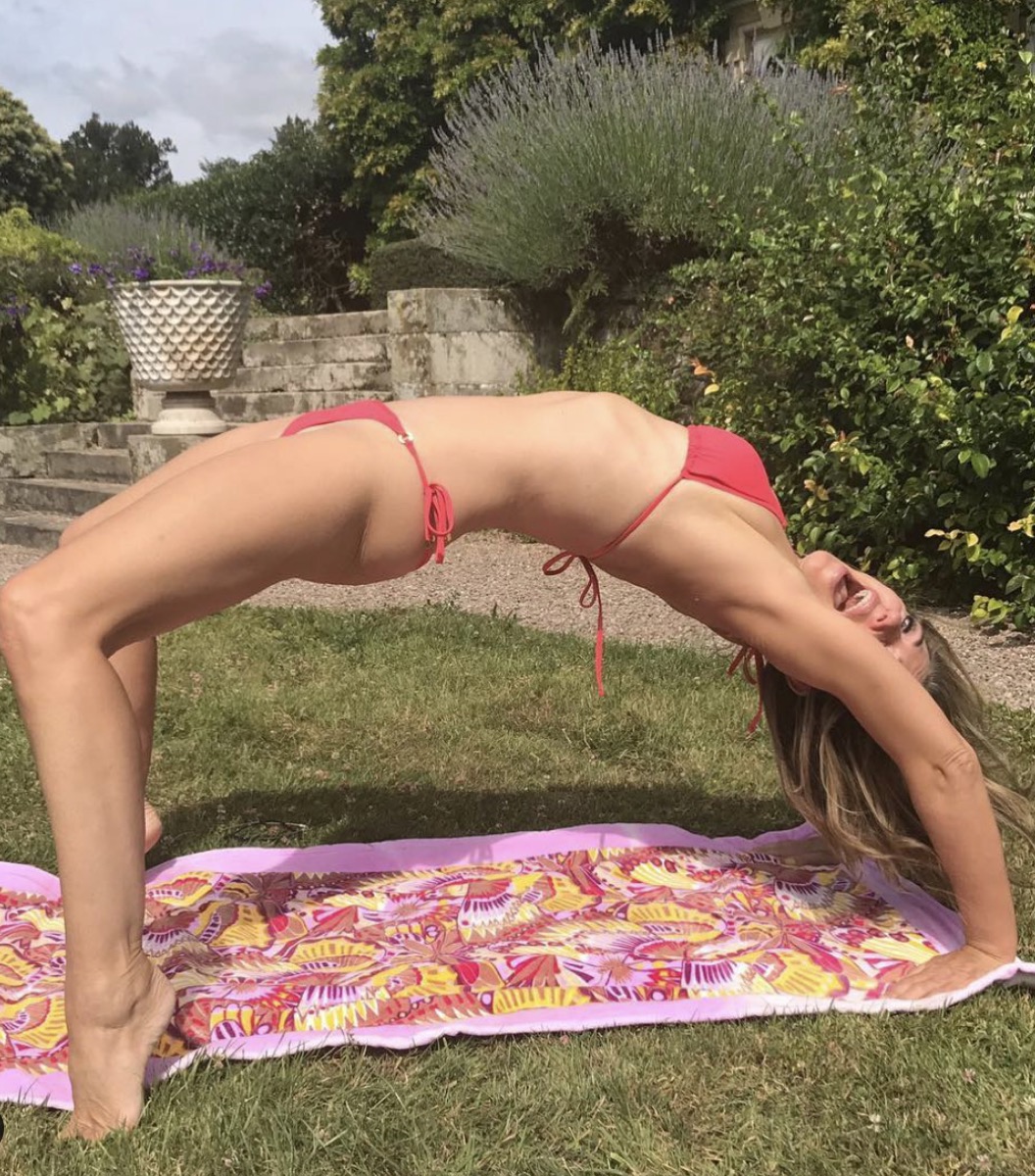 "I walk every day, so I try and hit my 10,000 steps a day and I do some stretching every day," she told Us. "And then sometimes I do a bit more, but that's enough for me really."
She Starts Her Day Off With This Drink
Hurley revealed to The Cut that she starts her day off with a special drink—hot water. "I often put apple cider vinegar in my hot water. It tastes disgusting. I can't face it every day, so I'll put it in my hot water maybe every other day. It's good for your metabolism," she said.  
She Keeps Her Dinners Light
Hurley tries to eat her bigger meals earlier in the day. "I rarely skip breakfast and always eat lunch but the lighter my evening meal the better," she told Healthy Living. 
She Avoids Junk Food
Hurley tries to make smarter choices when it comes to snacking. "I really try to go out of my way to eat an apple for a snack instead of a cookie," she told Healthy Living, adding that she avoids "processed and junk foods."
She Tries to Eat Locally
"I like simple, natural, easy food. I don't really like food with a lot of chemicals or additives. When I'm at home in the country, I always try and eat food that's grown locally. That goes for meats and vegetables," she told The Cut. "If I can grow it myself, I'm even happier. All through summer we eat fruit and vegetables from my own garden. I used to have a small organic farm, and all the meat my son ate was from the farm. Obviously that's not possible for most people, but supporting local farmers wherever you live is a good thing." She means it: "Lockdown has turned me into a demented housewife: 47 jars of marmalade nestling in my larder with more Seville oranges awaiting me," she wrote in an Instagram post.6254a4d1642c605c54bf1cab17d50f1e
She Limits Alcohol Intake
Hurley revealed to The Cut that she avoids vices. "You can't look good if you're not healthy, and diet plays a big part. You can't smoke and have too much alcohol," she said. For more inspiration on how to stay fit and focused, don't miss one of our latest and greatest hits: Jennifer Lopez Flaunts Bikini Body at Age 51.
Leah Groth
Leah Groth has decades of experience covering all things health, wellness and fitness related.
Read more about Leah