Costco, Walmart, Kroger, and Other Grocery Stores Lied About This Coffee, New Lawsuit Says
And now America's largest grocery chain is the latest to be paying up.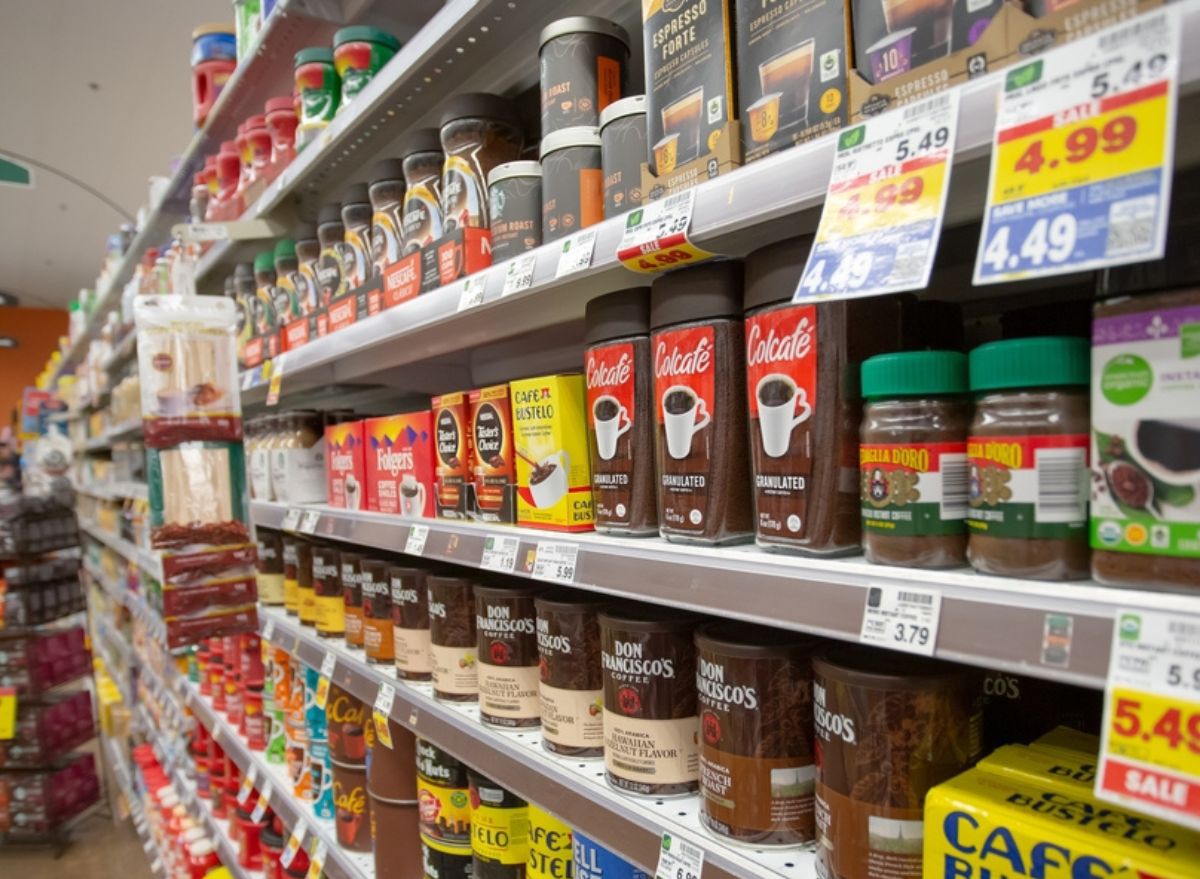 When it comes to picking out coffee at the grocery store, there are many different factors that can play into the decision. For those that enjoy a good brew—the roast, caffeine levels, whether it's organic, and the origin of the bean are all clues that play into the flavor and eventually a purchase. However, some consumers may have been duped when it came to where this coffee came from, according to a lawsuit.
Recently, Supermarket chain Kroger and the Hawaiian Isles Kona Coffee Co. have agreed to pay a combined settlement of $14.3 million after a class action lawsuit claimed they marketed coffee as originating from the Kona region, when it was in fact, "ordinary commodity coffee." And it wasn't just Kroger, selling the coffee. Costco, Amazon, World Market, Walmart, and Safeway were all indicted in the lawsuit. In the past, similar allegations have been resolved, amounting to over $13 million in a settlement paid by Costco and TJX.
Grocery shoppers pay more for Kona coffee, which is hailed from Hualalai and Mauna Loa in Hawaii. The coffee comprises only 1% of the beans grown in the world and costs 25 cents per cup when brewed at home–so when compared to the average price which is 16 and 18 cents per cup, it's considerably more expensive. When properly brewed and sourced from the region, the coffee is thought to be "delicate yet with a rich flavor and aroma."6254a4d1642c605c54bf1cab17d50f1e
The settlement will benefit coffee farmers who worked between February 2015 and 2022. The lawsuit alleges the farmers were harmed as the counterfeit beans damages the reputation of the region and they were forced to sell their product at a lower price.
Coffee beans aren't the only thing that consumers are being misled about when it comes to the Aloha state. Many products thought to traditionally come from Hawaii, don't, according to SF Gate. Maui Style Potato Chips, Kings Hawaiian Bread, and Hawaiian Sea Salt From the Hawaiian Islands are all either made in other states or simply unclear about their origins.
Amber Lake
Amber Lake is a staff writer at Eat This, Not That! and has a degree in journalism from UNF in Jacksonville, Florida.
Read more about Amber