Papa John's Disgraced Ex-CEO Stirs Up Controversy In a New Interview
Here are some of the most shocking takeaways.
The story of "Papa" John Schnatter keeps getting stranger. Despite resigning three years ago from the company he founded after using a racial slur, the former CEO of Papa John's is still trying to claw his way back to the popular pizza chain.
In a new interview with Bloomberg, Schnatter just revealed that he believes a return to Papa John's is still within the realm of possibility. However, this was only one of the eyebrow-raising takeaways from the latest profile of the millionaire entrepreneur.
Schnatter's public fall from grace began in 2017 when he commented on the NFL during a call with investors. Criticizing the league for its leniency toward players taking a knee during the national anthem, he characterized the protests as "a debacle" that "should have been nipped in the bud." The remarks almost immediately went public, and Schnatter resigned as CEO of Papa John's soon after.
Nonetheless, Schnatter stayed on as chairman as he plotted a return to the top of the company, which included PR coaching from the ad agency Laundry Service. But in his very first meeting with the agency, Schnatter used a racial slur. A transcript of the meeting was soon published by Forbes, and he subsequently quit his role as chairman in early July of 2018.
In the years since, Schnatter has gone to great lengths to try to clear his name, filing lawsuits against both Papa John's and Laundry Service. He's also made numerous media appearances and even commissioned an investigation into his case by a former FBI director.
The new interview with Bloomberg (which doubles as a kind of profile of his Louisville mansion) is Schnatter's latest attempt to shift the public record in his favor. Here's a look at the top five wildest moments to come out of it. For more, check out The McDonald's Soft Serve Machine War Now Involves a Restraining Order.
Schnatter believes he was "goaded" into using a racial slur.
Schnatter revealed in the interview who he believes is actually to blame for his fall from grace, alleging that Papa John's and the NFL conspired in 2017 to leak his remarks. He also claims that his company was in cahoots with Laundry Service in 2018 to "entrap [him] and cause him to slip up and say something off-the-cuff."
Schnatter told Bloomberg that the alleged "set-up" could even involve members of the Democratic National Committee. "This may go all the way up the food chain to the powers that be in the progressive elite left," he said.
His Louisville mansion has a secret tunnel and fire fountains.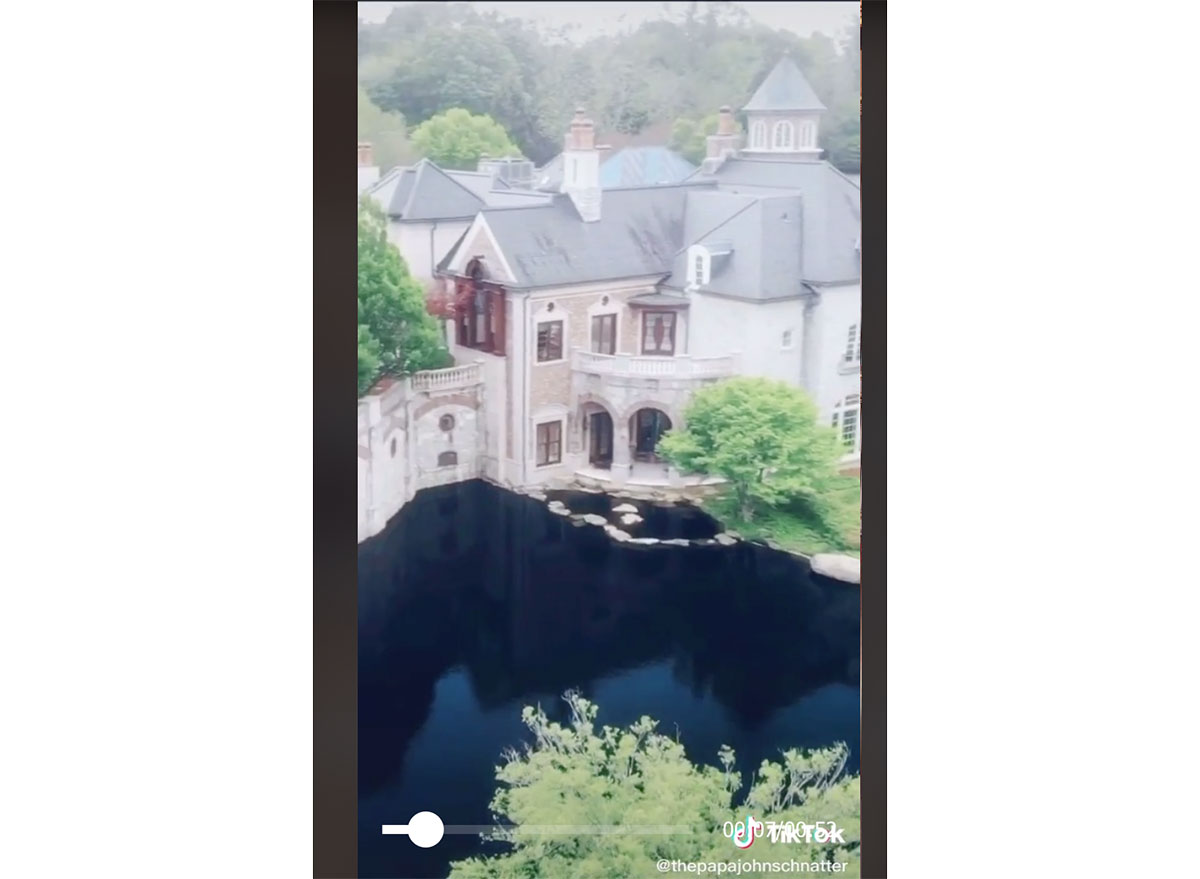 During the interview, Schnatter showed off his $12-million estate, which includes an 18,000 square-foot mansion, a golf course, a pond, and a pool. The house is decked out with a frescoed, banquet hall-style dining room; a secret tunnel "designed to look like a centuries-old Italian streetscape"; a "subterranean garage" housing three vintage Chevrolets; and a personal movie theater, which Schnatter uses to watch football. His driveway is decorated with a set of three fountains that light up at night with fire.
He owns a 16-foot sculpture of mating eagles.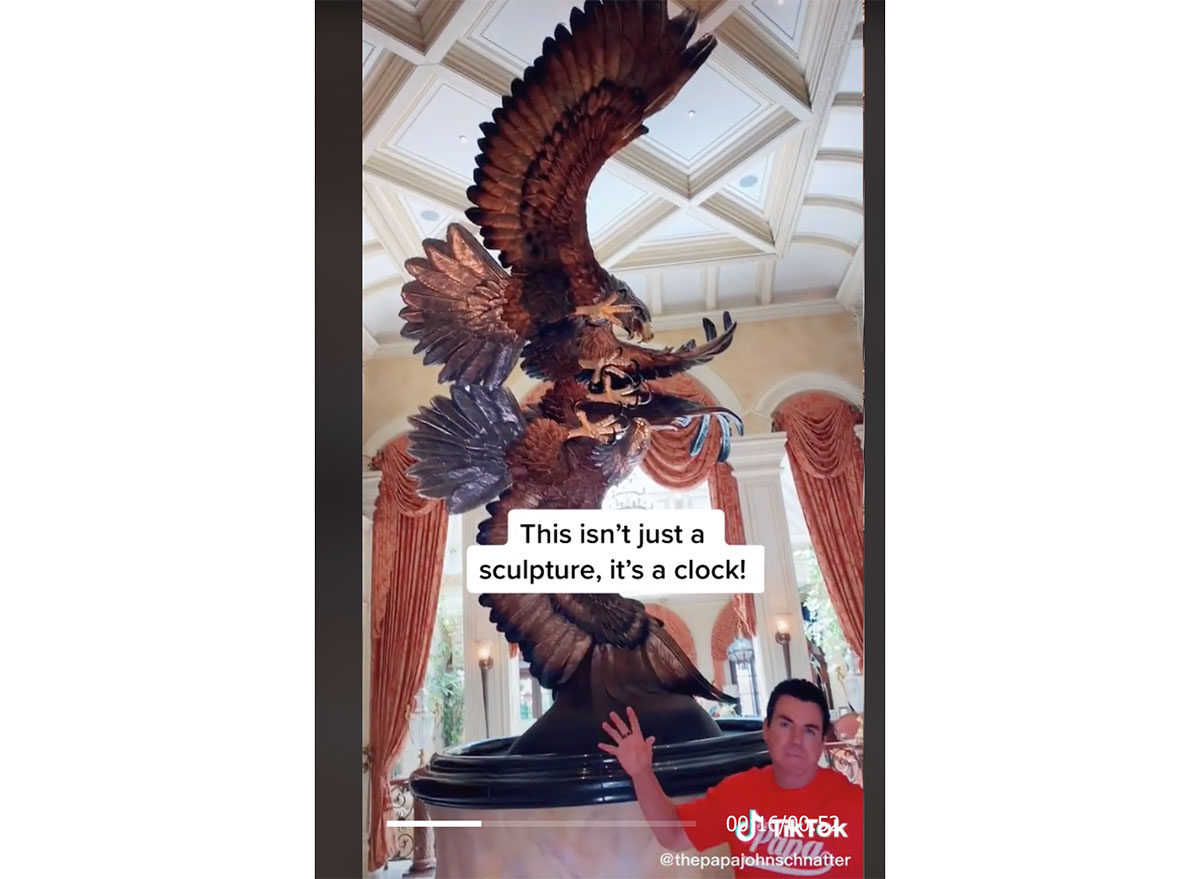 Perhaps the most jaw-dropping detail of Schnatter's mansion tour is a sculpture in his foyer. It's a 16-foot depiction of two eagles suspended in midair, mating. (If you want a closer look, you can head over to Schnatter's TikTok, where he's posted about it.)
"It just speaks to me," he told Bloomberg. "I think it's badass." Twitter, meanwhile, has been having a field day over the sculpture. "Fake humility, muscle cars, birds f***ing. Math checks out," one user tweeted.
He has sampled 800 Papa John's pizzas in the past 18 months.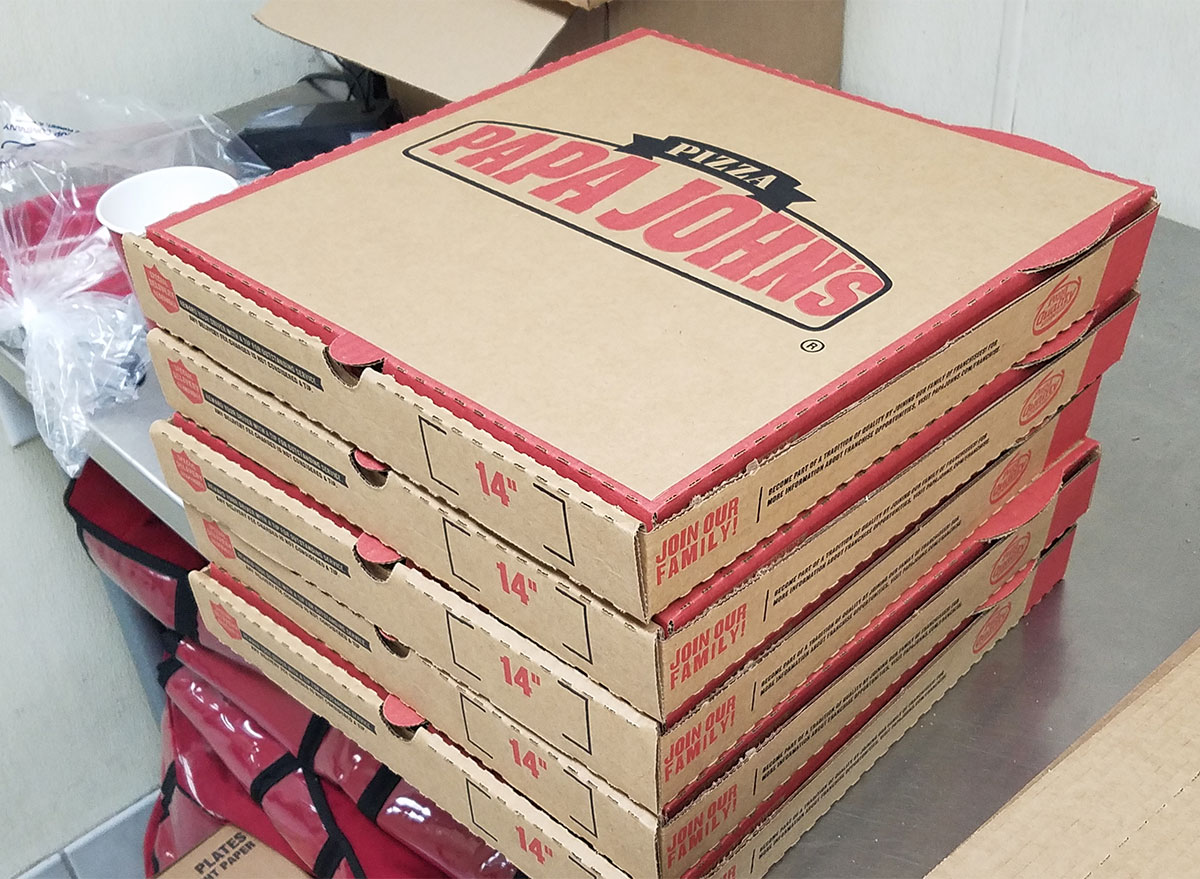 After joining TikTok in March of 2020, Schnatter began posting reactions to Papa John's customer complaints videos. He believes that the chain's pizza has declined in quality since he left, and he claims to have sampled 800 Papa John's pizzas in the past 18 months.6254a4d1642c605c54bf1cab17d50f1e
"Some were burnt," Schnatter told Bloomberg. "Some were undercooked." According to him, the only reason the company is still afloat is the delivery boom caused by the pandemic.
Schnatter's TikTok activity is part of a PR strategy.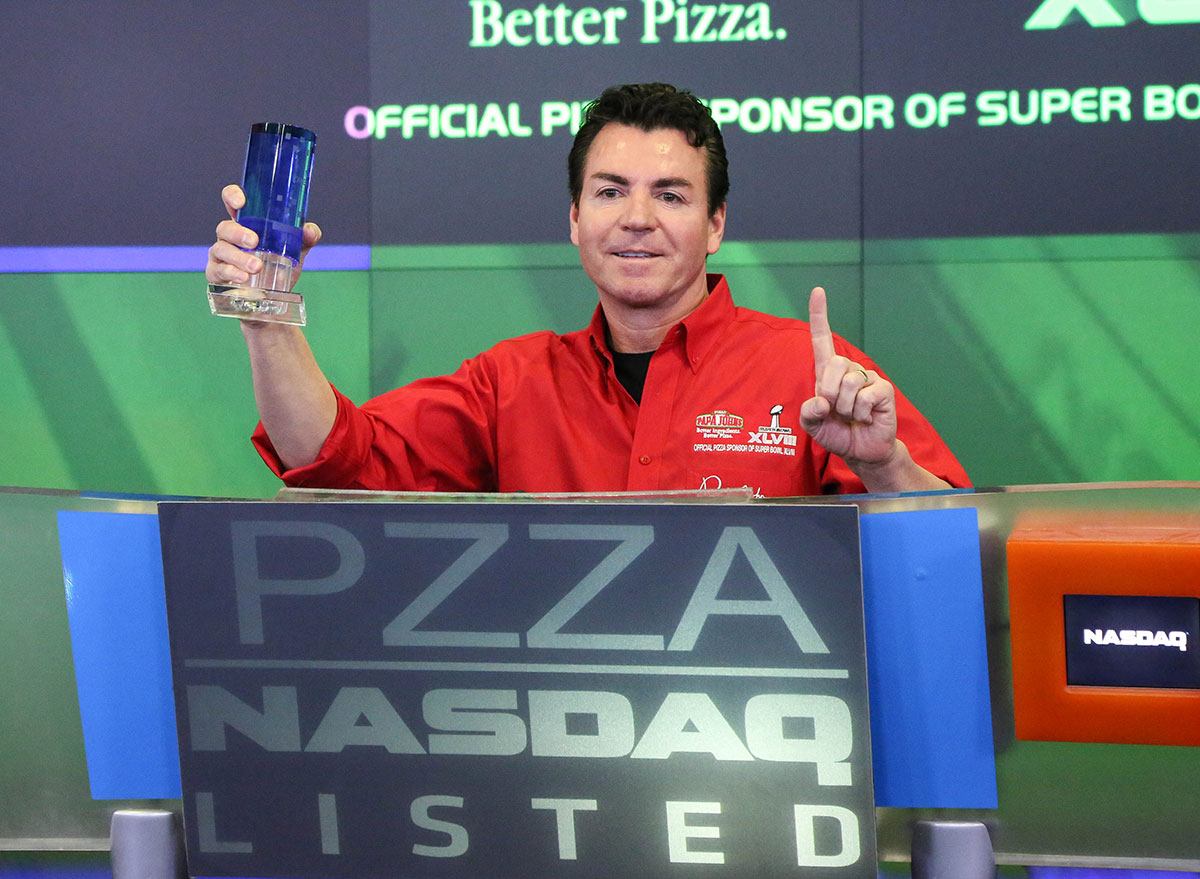 Schnatter is currently working with ProActive Communications on rehabilitating his public image. Led by Mike Serrano, a former senior advisor to President Donald Trump, the PR team encouraged Schnatter to increase his activity on social media. He has done so on TikTok, where he now has half a million followers.
However, some have found Schnatter's content to be cringe-worthy. A recent post, in which he attempts to flirt with a 21-year-old TikTok influencer, earned him widespread criticism online.
Papa John's is on an upward trajectory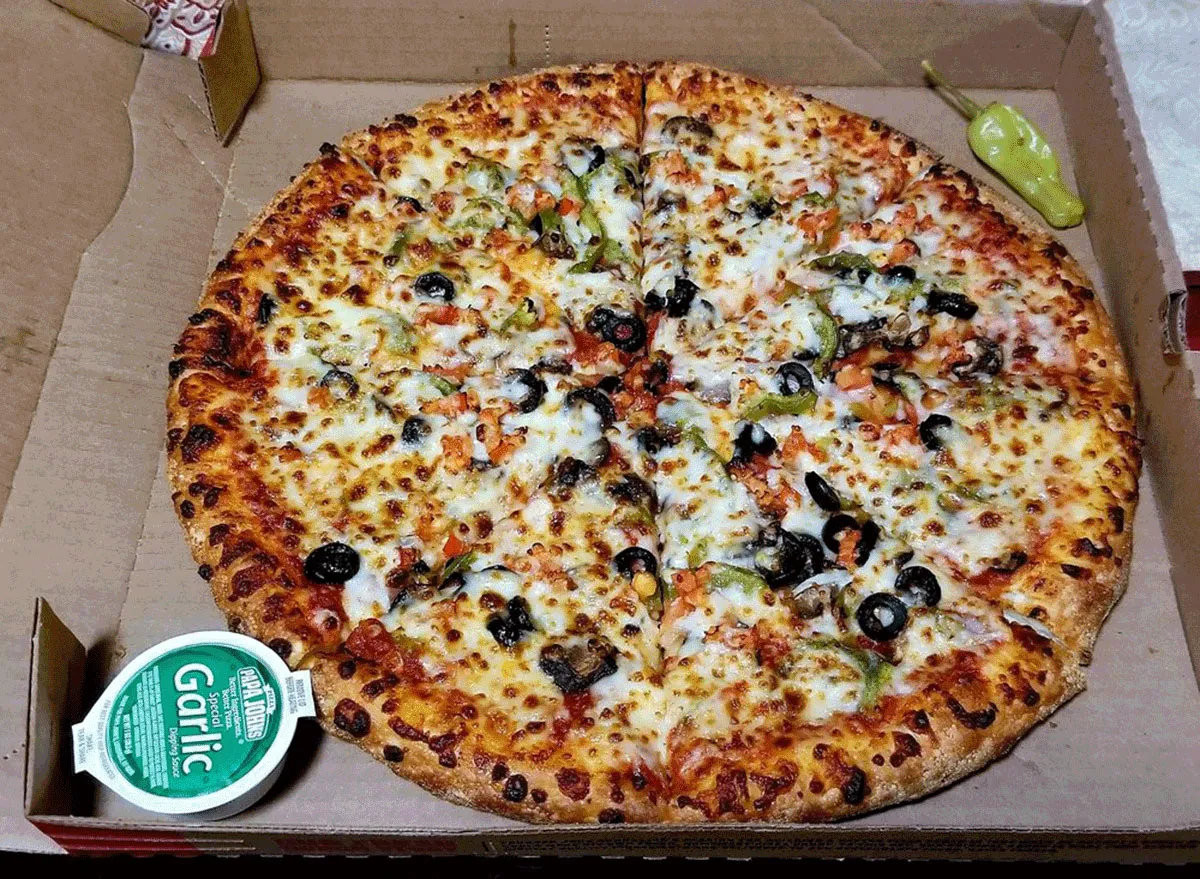 While Schnatter believes the chain's product is going downhill, Papa John's has proven him wrong with its latest reported earnings, which are up by a whopping 32% compared to the same time period in 2019. Additionally, the chain seems to be attracting a lot of new customers, according to CEO Rob Lynch, who said this was one of the major reasons for Papa John's success.
"The customers that we're bringing into the brand are enjoying their experience are liking our food, they like the new products that we've brought and they're sticking around," said Lynch. "And so a lot of our transaction growth has come from new customers over the last two years, very little of our transaction growth has come from frequency increases among current customers."
For more, check out the 108 Most Popular Sodas Ranked By How Toxic They Are.
Owen Duff
Owen Duff is a freelance journalist based in Vermont, home of Ben & Jerry's.
Read more about Owen