Will Smith Shows Off Gut and Vows to Get Fit
"I love this body, but I wanna FEEL better. No more midnight muffins."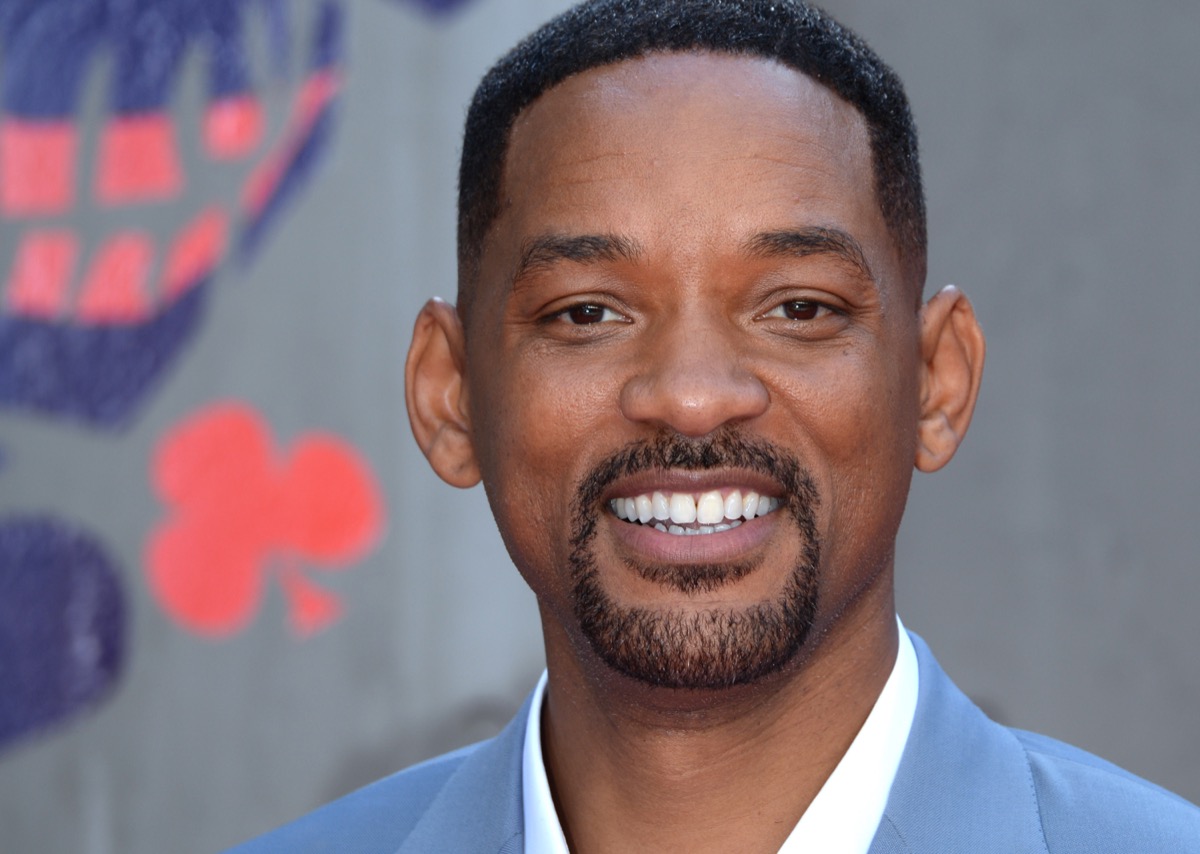 Will Smith is coming to the small screen—with a biggish belly. The notoriously fit star of I Am Legend, Ali and Bad Boys for Life showed off his shirtless figure on Instagram today, proclaiming: "This is the body that carried me through an entire pandemic and countless days grazing thru the pantry." He stuck out his gut proudly. "I love this body, but I wanna FEEL better. No more midnight muffins…this is it! Imma get in the BEST SHAPE OF MY LIFE!!!!!" And he'll do so on a new YouTube series. Read on to see Smith, hear about the new show—and find out how he has gotten fit in the past, according to what his trainer has told others.
1
Smith Just Announced His New YouTube Show Will Be About Getting Into the "Best Shape" of His Life
Smith may have gained a few pounds during the pandemic but when he gets determined, he can't be stopped. "Teaming up with @YouTube to get my health & wellness back on track. Hope it works!: @westbrook @aidan" He was tagging his content company Westbrook and director Aidan Tanner. The six-part docuseries, Best Shape of My Life, will follow "Smith challenging himself to improve every aspect of his fitness, from agility to power to recovery and more, teaming up with guests including pro athletes, scientists and experts, and top YouTube creators," according to a release. Keep reading to see what Smith has done in the past to stay fit—and for one more "out of shape" photo.
2
For Suicide Squad, Smith Lifted
"I like a more traditional body-building routine," Smith's personal trainer Aaron Ferguson told Men's Journal about their work on Suicide Squad. Smith had torn a leg muscle in production, so they had to be careful. "Using very controlled motions with not too much weight, but perfect form, because we couldn't chance anyone getting injured again. We were trying to build up the shoulders and slim down the waist to give that real action-figure look, which I think we accomplished." They did it through a mix of push-ups, bench presses, shoulder presses, chin-ups and hip abductions. 
3
Smith Isn't Afraid of Crunches
Smith hit the crunch machine for Suicide Squad. "You want to go super heavy so you fail in the Hypertrophy range (6-8)," Ferguson told Men's Journal. "Make sure to power into the crunch and then do a slow three count on the way back. Keep your head down so you are looking to your stomach to increase the intensity of the crunch. Go all the way back until the weights almost touch but not quite. Keep your back flat on the way back so your abs get fully stretched. So you're almost in a backbend, then explode forward again and repeat." Smith also did leg raises using a pull-up bar.
4
Smith Loads Up the Calories—the Right Ones
On Squad, Smith ate grilled chicken breast with sweet potato and broccoli. "He was usually taking in about 3,500 calories, and as long as he hit that goal, I didn't care how many meals he took to get it. Usually we were doing about five," said Ferguson to Men's Journal.6254a4d1642c605c54bf1cab17d50f1e
5
Smith Has Gotten Back Into Shape Before—and Celebrity Fans Have His Back
It wasn't the first time Smith professed a love of muffins. A few years ago, he said: "So for breakfast, I was having the four or five muffins. You know, Aladdin was successful, so I was like, 'Muffin, muffin, muffin!'" Reactions from Smith's 52 million followers ranged from humorous—"This is staged.. Your gonna have abs in like 3 days," said musician Diplo—to the inspired. "Not bad Not bad, a great base frame to work off of !," said bodybuilder Kai Greene. "The creator holds the vision and the idea in a matter of bringing it to life! Your thoughts become those very things."