10 Coziest Coffee Shops in Portland
There are plenty of memorable spots to stop in for a cup of Joe.
If you find yourself in Portland, Oregon and are looking for a great cup of coffee, then you're in luck. The city is known to have established the coffee culture and it's not hard to find a cozy coffee shop on every street corner. Whether you're looking for a Mexican-inspired coffee joint or a vegan-friendly hot spot, there are endless places for every coffee-lover to stop by and sip on a cup of Joe.
While too many charming coffee shop options can be daunting, we've rounded up the 10 best spots in Portland to help you navigate through the unique options in town.
The Living Room Coffeehouse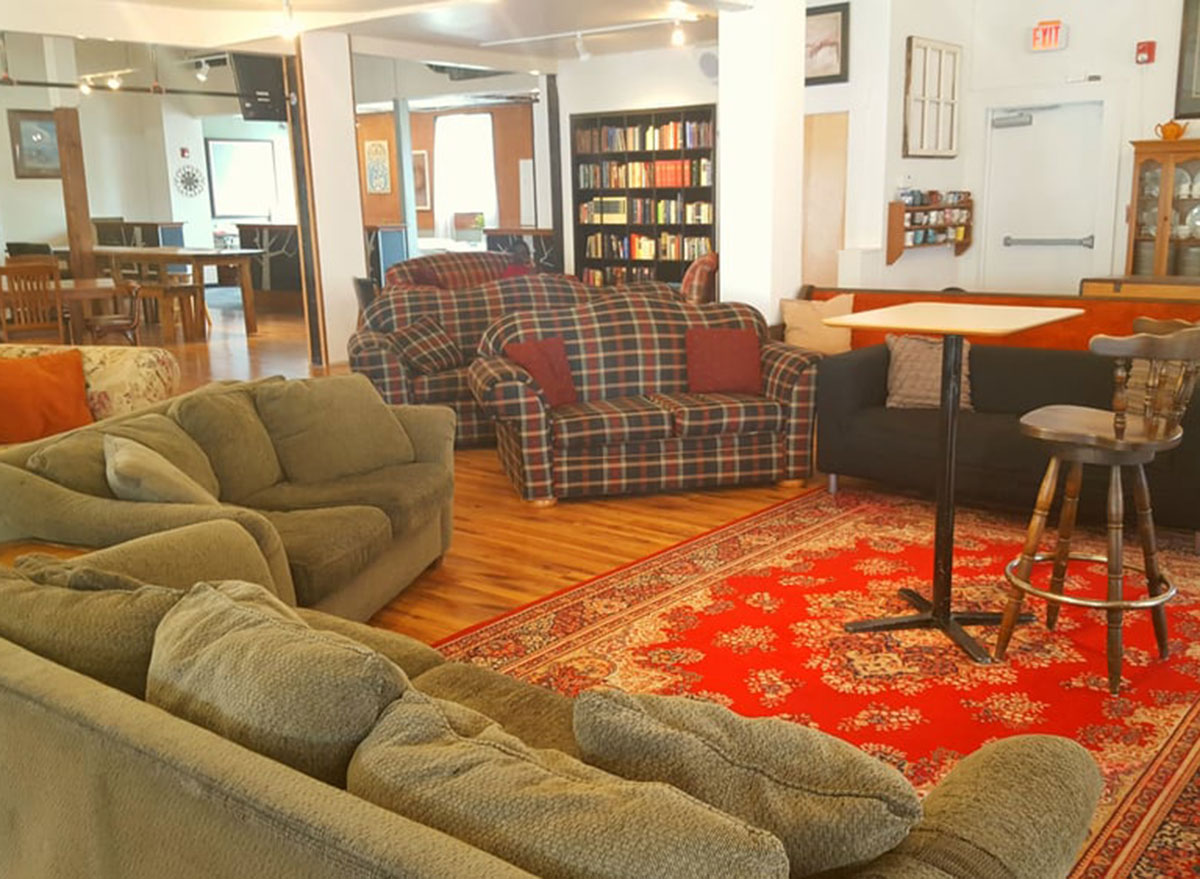 8524 SE 17th Ave, Portland, OR 97202
One of the coziest coffee shops in Portland is The Living Room Coffeehouse that serves fresh brewed coffee, espresso drinks, tea, pastries, and more. With all of the intimate corners, bar seating, and vintage sofas, it's the perfect place to catch up with friends or even get some work done.
3875 Sw Bond Ave, Portland, OR 97239
Oracle Coffee Company is a hidden gem vegan coffee joint that offers delicious made-to-order drinks and an overall peaceful environment. A few of the most popular menu items include the iced matcha latte with oat milk and the jalapeño bagels. It's located on Portland's South Waterfront neighborhood, making it an ideal serene spot to people watch.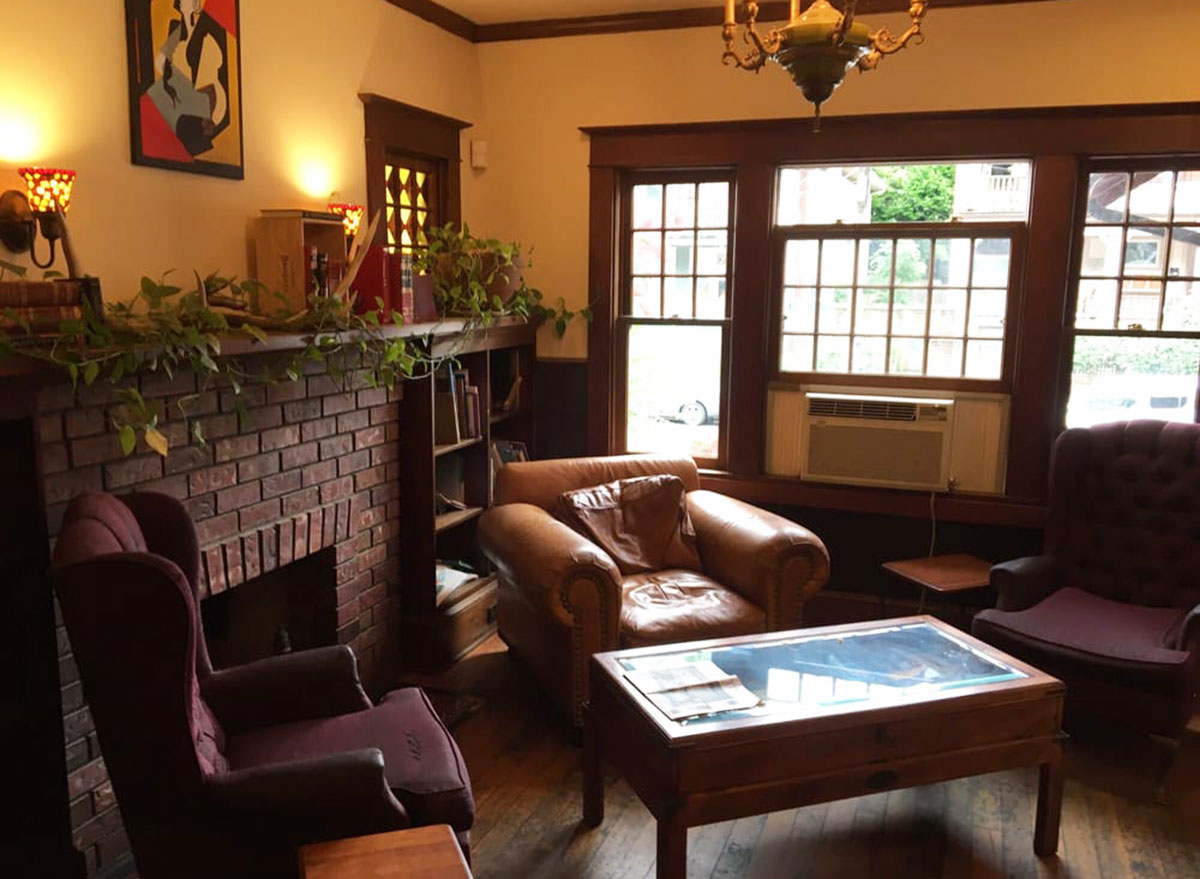 2511 SE Belmont St, Portland, OR 97214
The independently owned Rocking Frog Cafe is a local gem in the lower Belmont District. The shop features a selection of board and card games, an eclectic library for both children and adults, free Wi-Fi, cozy chairs by the fireplace and a quiet, bamboo-shrouded patio. The best part? Their classic fried-to-order hot donuts that come in flavors such as cinnamon, maple, and chocolate.
2387 NW Thurman St, Portland, OR 97210
Every customer feels like a "regular" at Dragonfly Coffee House, because of their community mentality that makes everyone feel at home. From house-made pastries to espresso shots, the menu is small but thoughtful and selective. The Kahlua Cake, a local favorite, is actually the owner's mother's recipe.
824 SW 2nd Ave, Portland, OR 97204
The 40 LBS Coffee Bar is a specialty coffee bar, located in the heart of the Historic Yamhill District in downtown Portland. It's known to be a popular meeting spot for co-workers and friends because of the many seating areas. The shop partners with all local companies like Stumptown coffee, Steven Smith teas, Roman Candle pastries, Spielman Bagels, Brew Dr. Kombucha, Sunshine Dairy products, and Holy Kakow chocolate and syrups.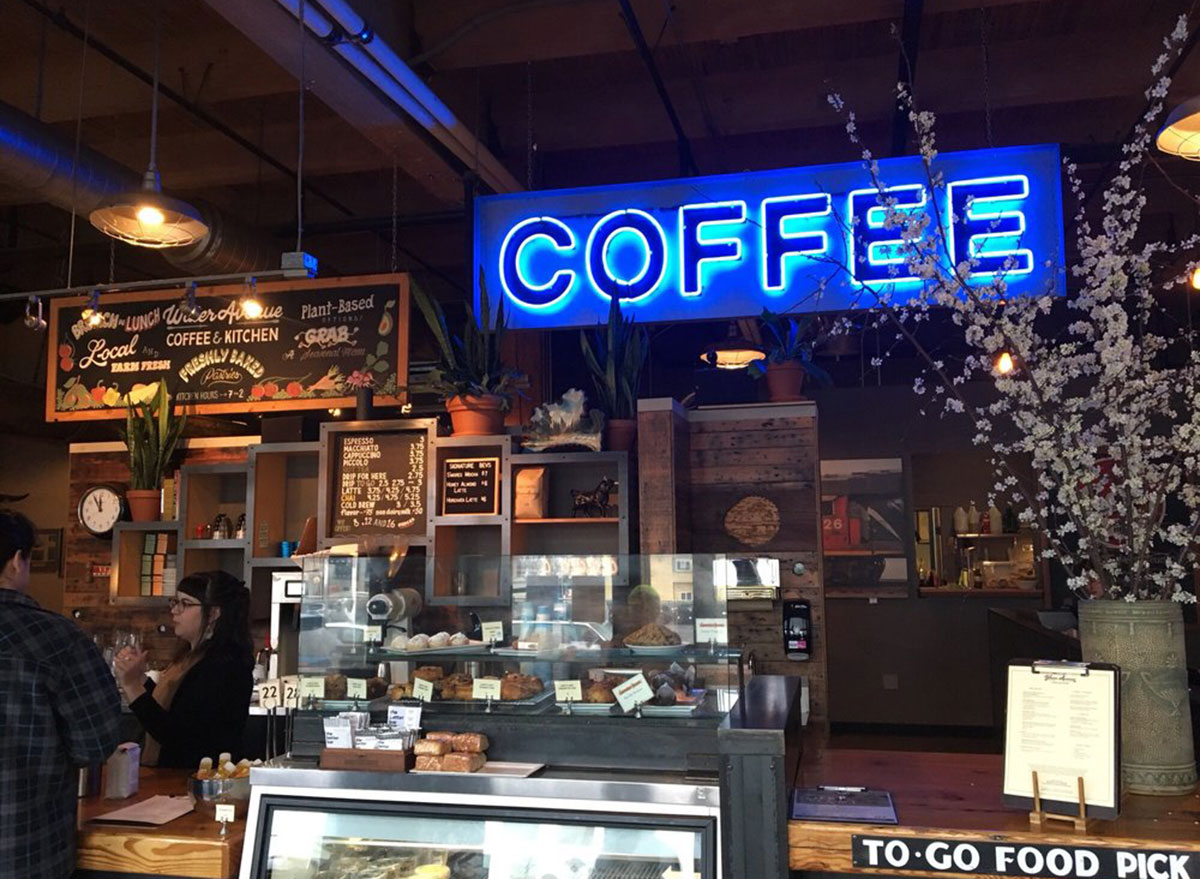 1028 SE Water Ave, Portland, OR 97214
One of the most photogenic and cozy shops in Portland is Water Avenue Coffee. But it's the house-made syrups and coffee specials that makes this spot truly unique. If you're looking for a sweet and rich dessert drink, opt for the S'mores Mocha. There's also homemade yogurt, spicy avocado toast, and vegan burgers on the menu too.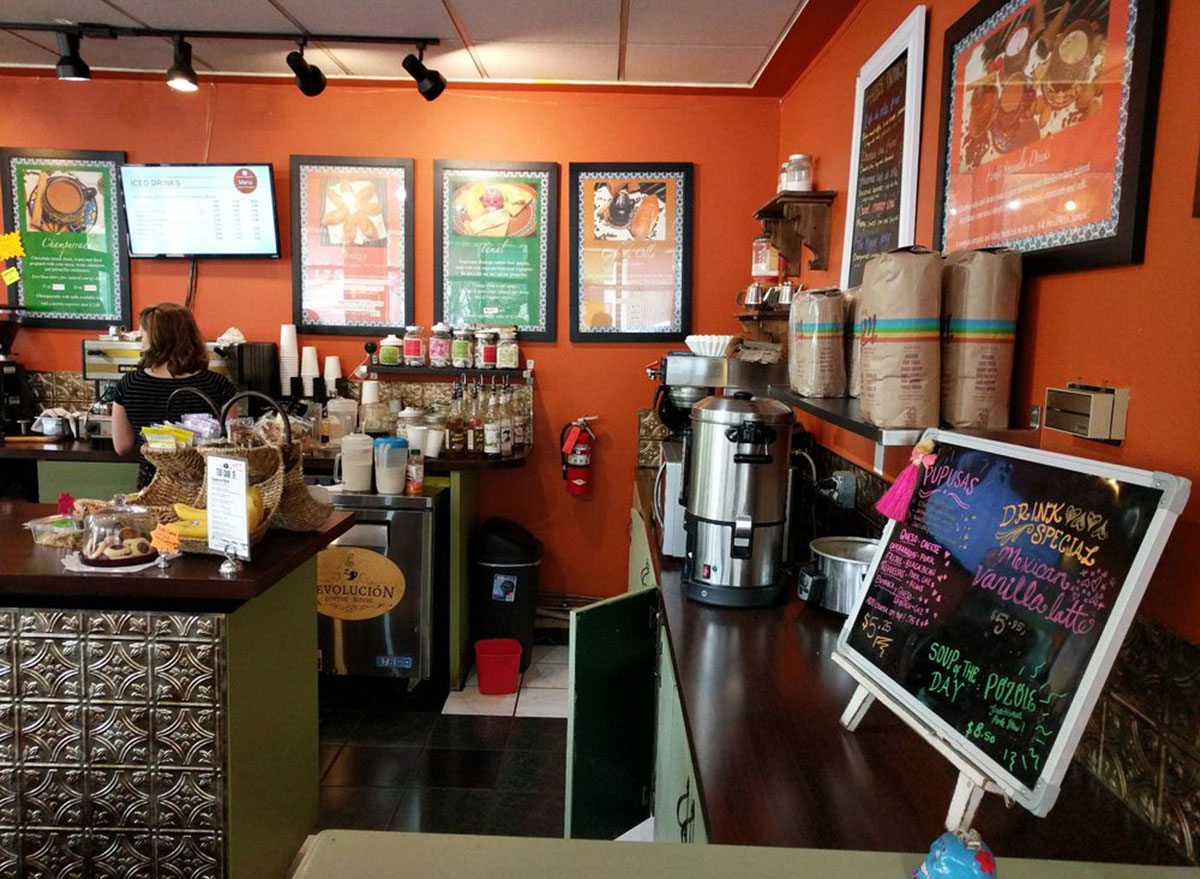 1432 SW 6th Ave, Portland, OR 972016254a4d1642c605c54bf1cab17d50f1e
From Mexican coffee to sweet and savory tamales, the Revolución Coffee House is a go-to for Mexican-inspired food and drinks. It's the first of its kind in Portland, and they serve only Café Mam coffee that's grown by native Mayan farmers living in the highlands of Chiapas. Plus, it has a cozy atmosphere with a colorfully decorated interior. What's better than that?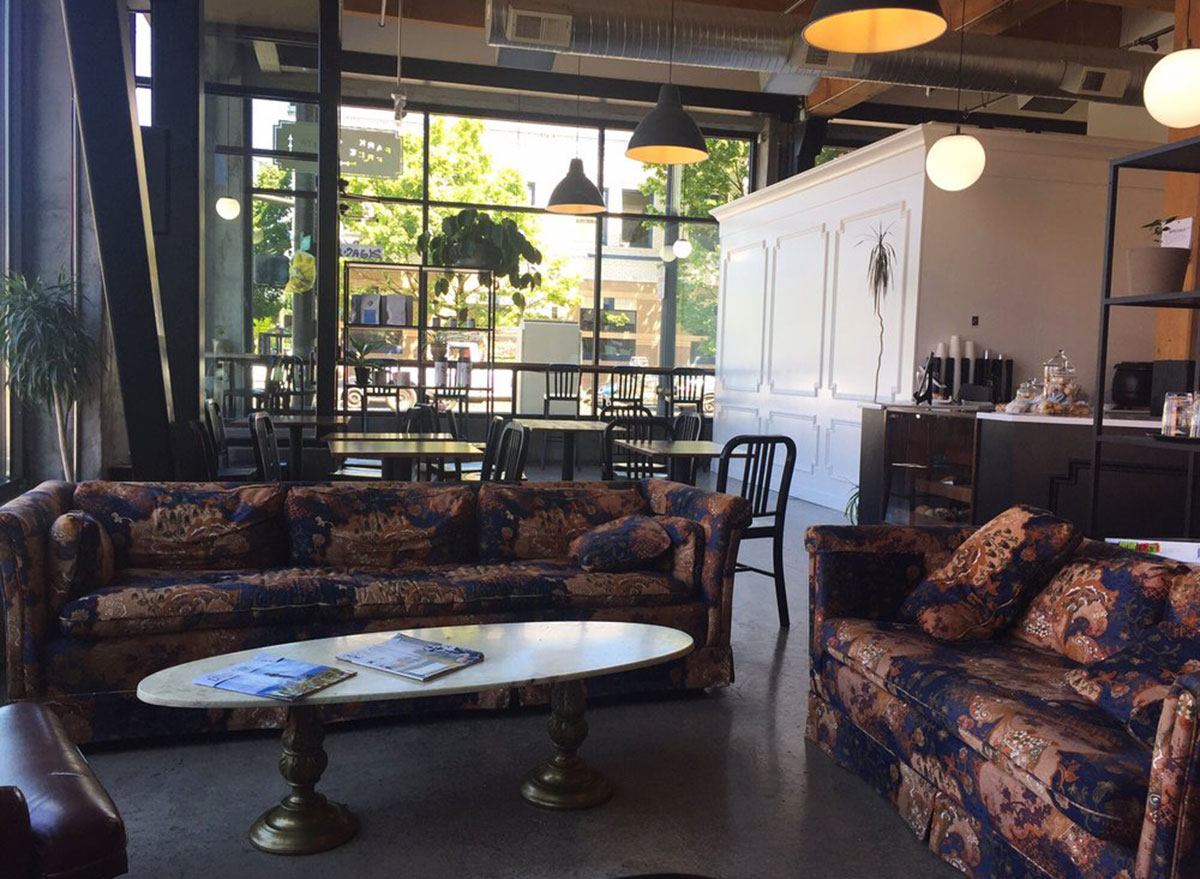 4943 NE Martin Luther King Jr Blvd, Ste 101, Portland, OR 97211
The Arrow Coffeehouse focuses on high-quality, locally-roasted coffee and is loved for its modern decor. You'll find delicious pastries like the Pumpkin Chocolate Chip Scone along with vegan options such as The Peace Sign sandwich, which has a seasoned tofu patty, pesto, tomato, and arugula on sourdough bread with balsamic drizzle to top it off.
The Pearl Cafe, Sisters Coffee Company
1235 NW Marshall St, Portland, OR 97209
Found in a prime location in the city, The Sisters Coffee Company has its shop The Pearl Cafe, which serves artisan coffee at an affordable price. Each latte is served like a piece of art and there's a rotating menu with innovative eats depending on the season. Special dishes include the Wild Coho Smoked Salmon, Vegan Breakfast Burrito, and Bridgeport Biscuit Sandwich.
537 SE Ash St, Ste 108, Portland, OR 97214
Half Pint Cafe is decked out with brick walls, great Wi-Fi, and top-notch coffee. Everyone that stops by ends up wanting to come back because of the warm and friendly staff, but most importantly the coffee is delicious. Coffee menu items include a lavender-vanilla latte and oat milk vanilla lattes.