30 Strangest Fast Food Offerings Ever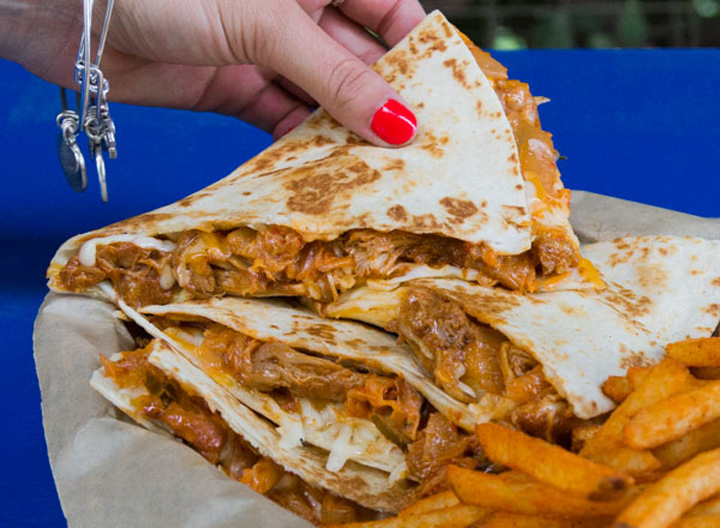 Hamburgers, french fries, and chicken nuggets are pretty standard fast food offerings in every part of the world, but there are dozens of other dishes sold by restaurant giants such as Wendy's, McDonald's, and Taco Bell around the globe that specifically cater to local crowds and tastes.
While some of these dishes, such as the Greek Mac sold at McDonald's Cyprus and Greece, sound intriguing, others, like Dunkin' Donuts China's Dry Pork And Seaweed Donut, seem downright strange. However, though the flavor profiles differ from country to country, one thing remains constant: A great deal of fast food is unhealthy, regardless of where you're eating it. If you're looking for more nutritiously-minded fast food choices, we've got you covered with Every Menu Item at McDonald's—Ranked!
Doritos Crunchy Crust Pizza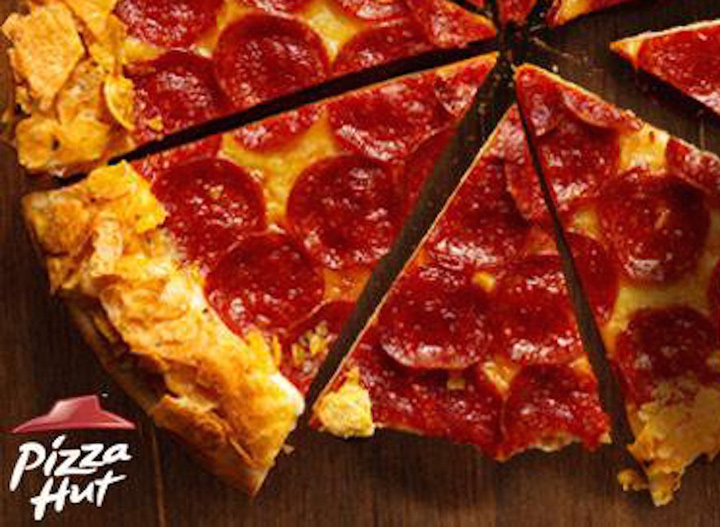 Where You Can Get It: Pizza Hut Australia
In Pizza Hut stores throughout America, we have pies that are packed with meat and have crusts filled with cheese, but our friends Down Under took things to the next level in late 2014 when Pizza Hut Australia debuted the Doritos Crunchy Crust Pizza. Though the name is pretty self-explanatory, we'd be remiss not to tell you that this baby was made with made with mozzarella cheese layered with Doritos and sprinkled with cheddar cheese. Per Pizza Marketplace, this "seriously loud, but delicious" creation, which was only available for a limited time, was "the kind of pizza that needs to not only be eaten but heard to be believed."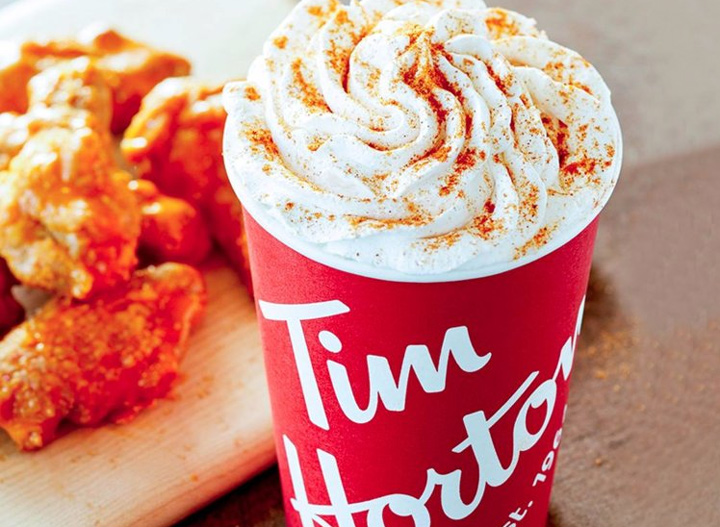 Where You Can Get It: Tim Horton's (Buffalo, NY)
Though Tim Horton's is a "Canadian" fast food chain (it's now owned by Burger King), this savory and highly unusual latte was only available in two of their locations in (where else?) Buffalo, New York in late 2017. According to a press release from the company, the unique beverage consisted of "freshly brewed espresso, steamed milk, mocha, and bold Buffalo sauce flavor, the latte is topped with whipped topping and a dusting of zesty Buffalo seasoning."
Dry Pork And Seaweed Donut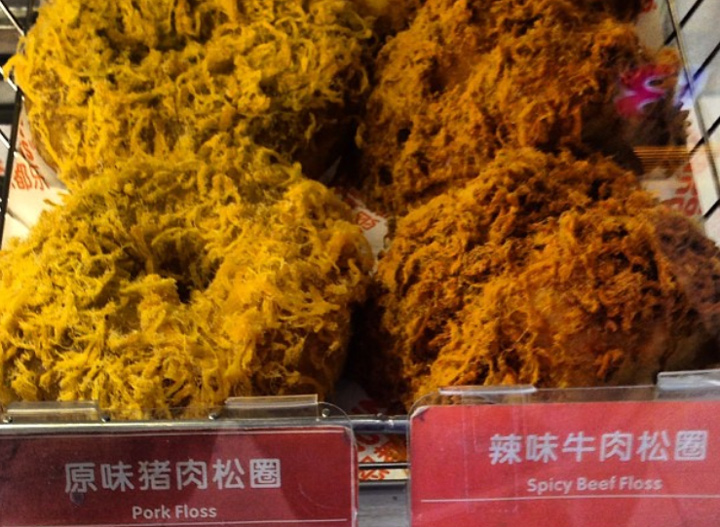 Where You Can Get It: Dunkin' Donuts China
Interestingly flavored donuts have been trendy for a few years now, but something tells us this dry pork and seaweed variety found at Dunkin' Donuts in China is an acquired taste. Though the flavoring is common in Chinese breads, Westerners are clearly more familiar with glazed or jelly donuts. On the plus side, this savory pastry likely has much less sugar than those sickeningly sweet options. Still, of you're looking to shed some pounds, step away from the donuts and take a look at this list of the 37 Best Breakfast Foods for Weight Loss!
Bacon, Macaroni And Cheese Toastie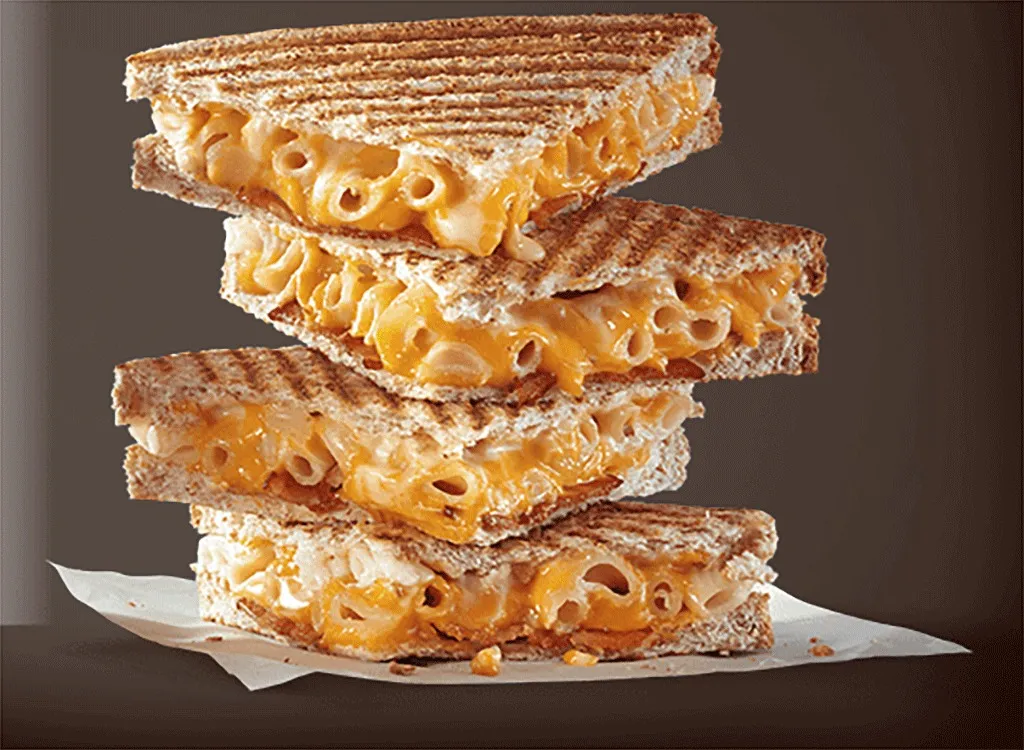 Where You Can Get It: McDonald's China
For those days when you can't decide whether you're in the mood for bacon, mac and cheese, or toast, McDonald's China has you covered with their Bacon, Macaroni and Cheese Toastie. As the name suggests, the dish consists of bacon mac and cheese thrown between two slices of bread. Clearly this item isn't for the faint of heart.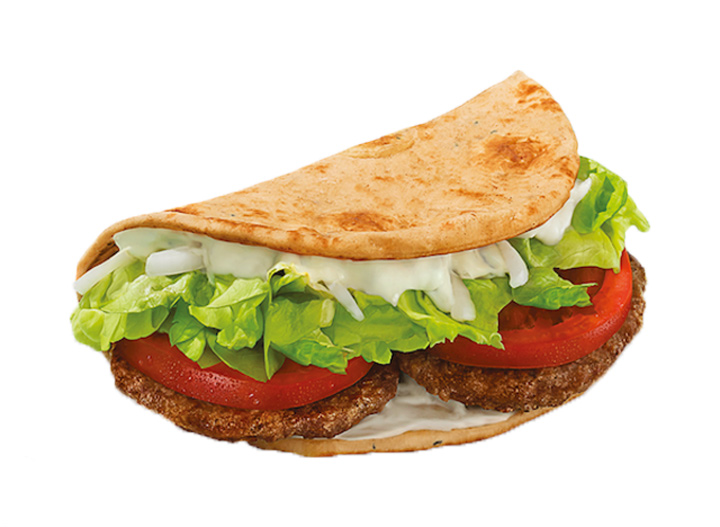 Where You Can Get It: McDonald's Cyprus and Greece
Here in the states we're all too familiar with the two all-beef patties, special sauce, lettuce, cheese, pickles, onions, and a sesame seed bun that comprise a Big Mac, but on the Mediterranean island of Cyprus (and in nearby Greece) the renown burgers look a bit different. Instead of a traditional Big Mac, McDonald's Cyprus sells what's called a Greek Mac — a Big Mac in a pita, drizzled with tzatziki sauce. We're not going to lie, that sounds pretty good!
Flying Fish Roe Salmon Cream Cheese Pizza
Where You Can Get It: Pizza Hut Hong Kong
Pizza Hut Hong Kong went a little ingredient crazy in 2014 when they debuted the Flying Fish Roe Salmon Cream Cheese Pizza. Entrepreneur reports the limited-edition pie featured a crust filled with salmon-flavored cream cheese and fish eggs, and was available with two topping combinations. The Crayfish Seafood Deluxe included crayfish, scallops, shrimp, clams, cherry tomatoes, peppers, red onions, and Thousand Island dressing (perfect for fish lovers) while the Sausage, Pepperoni and Pomelo was topped with sausage, pepperoni, cherry tomatoes, peaches, mushrooms, peppers, berry sauce, and pomelo. Either way, the chance of going hungry was very slim.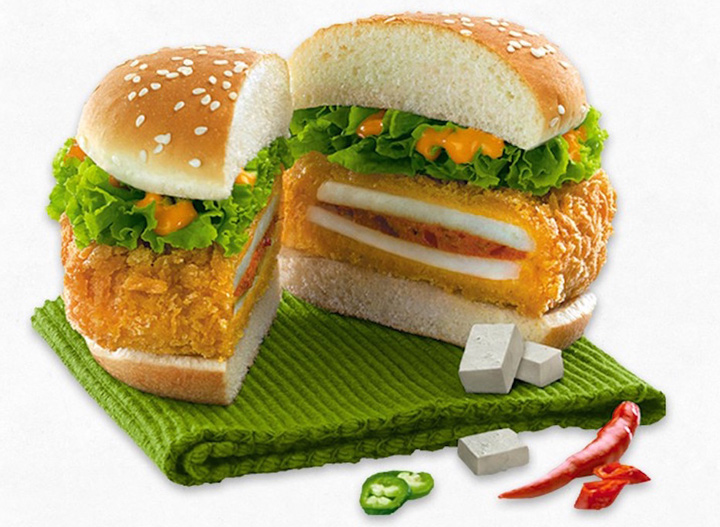 Where You Can Get It: KFC India
At KFC in India, customers can order what's known as a Paneer Zinger. Paneer is a fresh cheese common in South Asia, and the Paneer Zinger consisted of a crunchy, double-layered paneer patty loaded with a spicy, creamy sauce and topped with lettuce on a sesame bun. While the Paneer Zinger seems to have been discontinued, KFC India still sells a Veg Zinger and a Chicken Zinger, which are somewhat similar varieties that don't include cheese.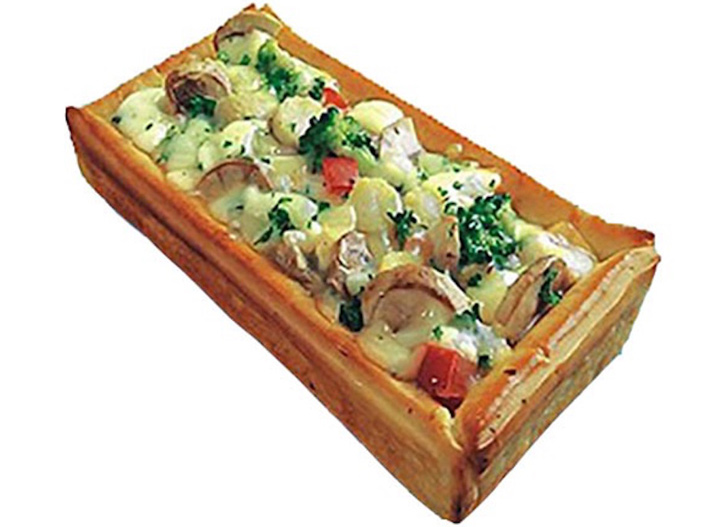 Where You Can Get It: McDonald's India
If you happen to find yourself in India and cheese isn't your thing, you could always head over to McDonald's India and order a McCurry Pan instead. Essentially it's a savory pie that's packed with mushrooms, peppers, corn, and broccoli in a creamy sauce, but don't let all the veggies fool you into thinking this is a healthy dish. Though it's no Paneer Zinger, this meal still boasts 11 grams of fat and almost 50 carbs in one serving.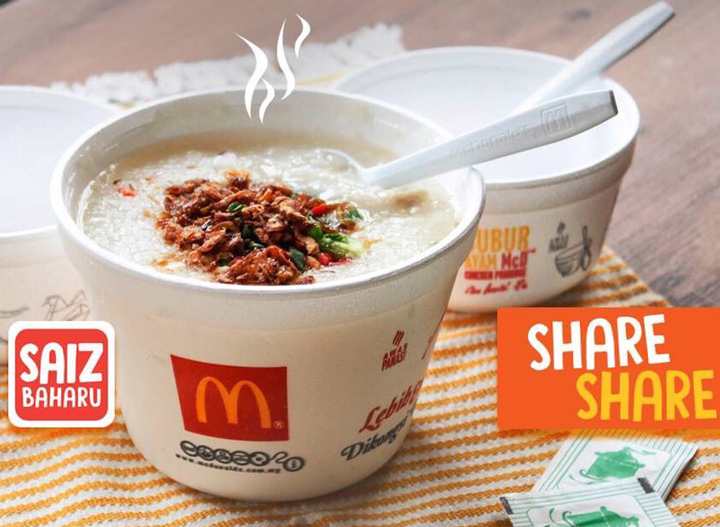 Where You Can Get It: McDonald's Indonesia and Malaysia
Bubur ayam is an Indonesian chicken porridge topped with crispy fried shallots and scallions. The dish is such a staple in that part of the world that you can order it at McDonald's restaurants in Indonesia and Malaysia when you're in the mood for something warm and comforting.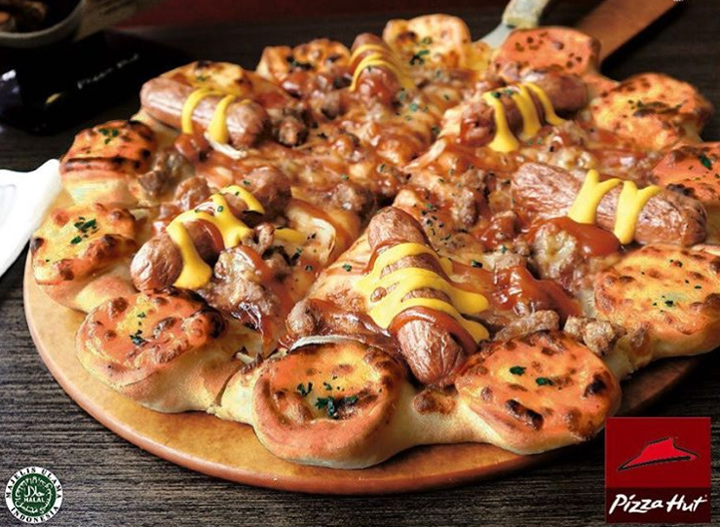 Where You Can Get It: Pizza Hut Indonesia
If you often find yourself deciding between pizza and a hot dog, Pizza Hut Indonesia may have answered your prayers with its BBQ Frankfurter Pizza. The aptly titled, calorie-rich dish features hot dogs nestled within a pizza pie, which is then topped with a variety of sauces. Order it at your own risk!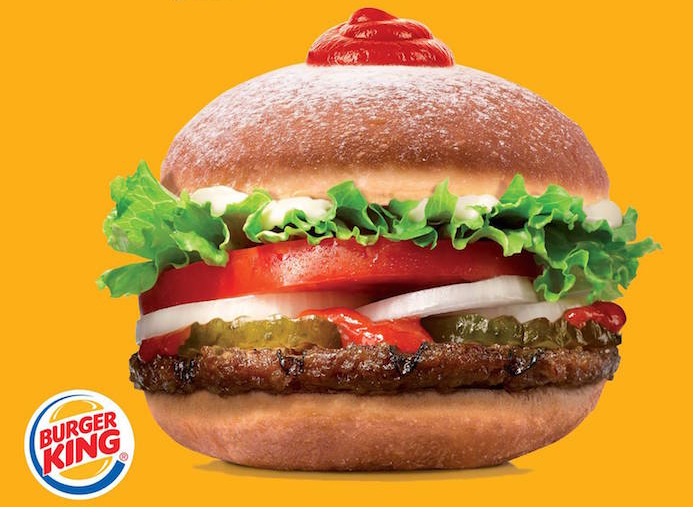 Where You Can Get It: Burger King Israel
In late 2016, Burger King Israel decided to celebrate Hanukkah by unleashing the "SufganiKing" — a Whopper sandwiched between two halves of a donut and topped with ketchup jam. Since jelly donuts are typically eaten on Hanukkah we can kind of see where they were going with this one, but a beef patty bookended by two donut halves is about as unhealthy as it gets.
Spinach and Parmesan Nuggets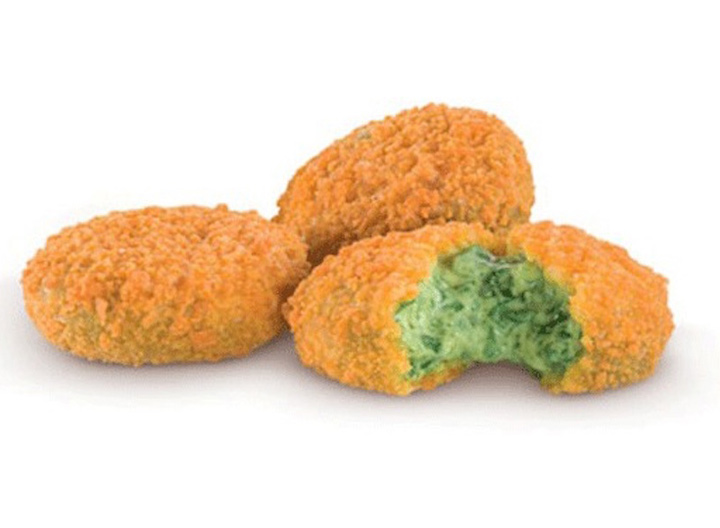 Where You Can Get It: McDonald's Italy
Of all the items on this list, the spinach and parmesan nuggets from McDonald's Italy is probably the one we're most eager to try. However, just because the chain's iconic chicken nuggets got a visit from a vegetable, doesn't mean they're suddenly healthier. Unfortunately, the parm part of these international nuggets negates any nutritional value the spinach may have provided.
Where You Can Get It: Burger King Japan
We've heard of putting ketchup, mustard, and barbecue sauce on burgers, but Burger King Japan decided to be especially creative with the condiments a few years back. In the month or so leading up to Christmas in 2014, the restaurant chain got festive (and a little punny) by debuting a Berry Burger. According to Brand Eating, the meal featured a bacon-topped black pepper-mixed beef patty covered in a sauce made with raspberries, cranberries, blueberries and red wine. That's quite a sweet and savory combo.
Where You Can Get It: Burger King Japan
Several months later, Burger King Japan was at it again when they released the Black (Kuro) burger complete with black cheese made from bamboo charcoal and black sauce courtesy of black squid ink on a charred black bun. The burger also included onion, tomato and mushrooms in red wine sauce, along with deep-fried eggplant and crushed garlic.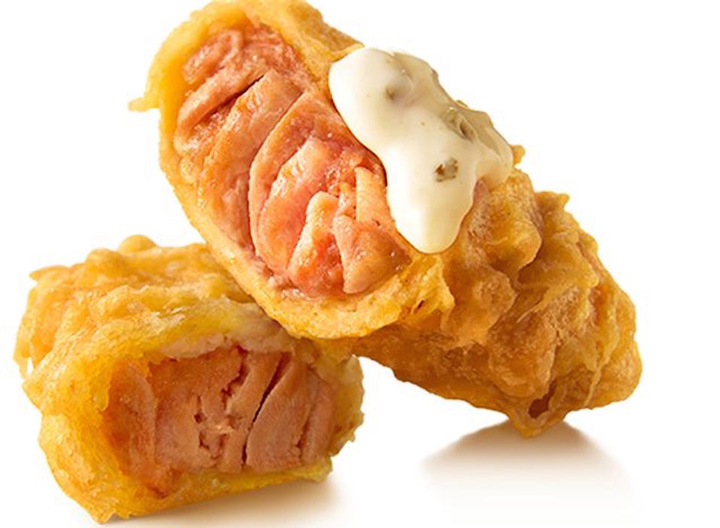 Where You Can Get It: KFC Japan
It's typical for fast food restaurants to deep fry several types of whitefish, but KFC Japan tried their hands at deep frying salmon back in 2015. The fried salmon was sold for a limited time by the piece or as part of a sandwich (on a roll with a basil sauce, tartar sauce, and lettuce) and Brand Eating reports the dish was even given its own animated salmon fillet mascot named Kirimi-chan who was designed by the makers of Hello Kitty.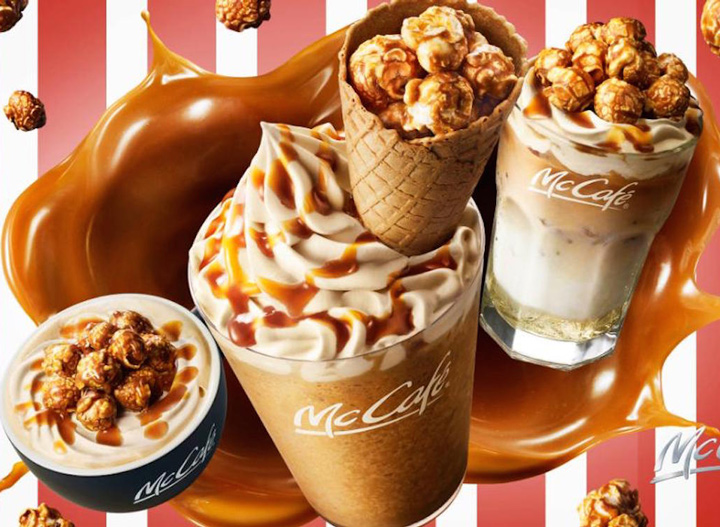 Where You Can Get It: McDonald's Japan
Late last year, McDonald's Japan introduced not one, not two, but three popcorn-themed drinks. The Iced Caramel Popcorn Latte and the Hot Caramel Popcorn Latte were pretty standard, but the Caramel Popcorn Frappe was its own sickeningly sweet beast. The NY Daily News reports the beverage was a cold blended drink of espresso and caramel and popcorn syrups, topped with caramel-flavored whipped cream and caramel sauce. The whole thing was then garnished with a large waffle cone full of caramel corn that stuck right out of the top of the mound of whipped cream that rounded off the drink. It's safe to say this beverage contained at least a day's worth of sugar.
6254a4d1642c605c54bf1cab17d50f1e
Where You Can Get It: McDonald's Japan
Another culinary gem from late last year were these Cheddar Potato Bites sold at McDonald's Japan, which were obviously American-inspired. The chicken-nugget-size cheesy potato balls were only available as a side for a limited time, which is probably a good thing since the cheese and potato combo isn't exactly great for one's overall health.
Chocolate And Hazelnut-Filled Pie
Where You Can Get It: McDonald's Japan
In addition to strange drinks and sides, McDonald's Japan also has a knack for interesting desserts. Though these chocolate and hazelnut-filled pies aren't bizarre per se, they certainly aren't meant for people who don't like chocolate. Released just last month, these yummy treats consist of hazelnut paste and small pieces of nuts encased in a triangle-shaped piece of pie-like chocolate dough. Sugar coma, party of one!
Pumpkin Spice French Fries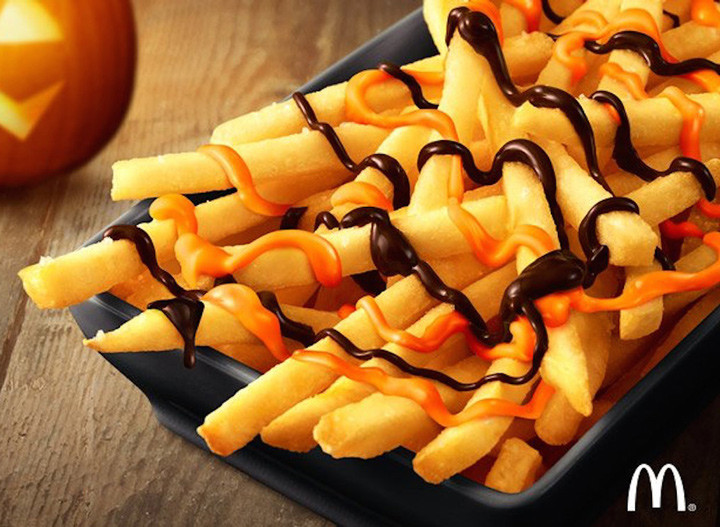 Where You Can Get It: McDonald's Japan
Though America is thought to have a lock on all things pumpkin spice, McDonald's Japan had us beat about a month prior to Halloween in 2016 when they released salty-sweet Pumpkin Spice French Fries. A twist on the chain's popular chocolate-covered fries, this slightly more colorful version featured French fries covered in chocolate and pumpkin sauce.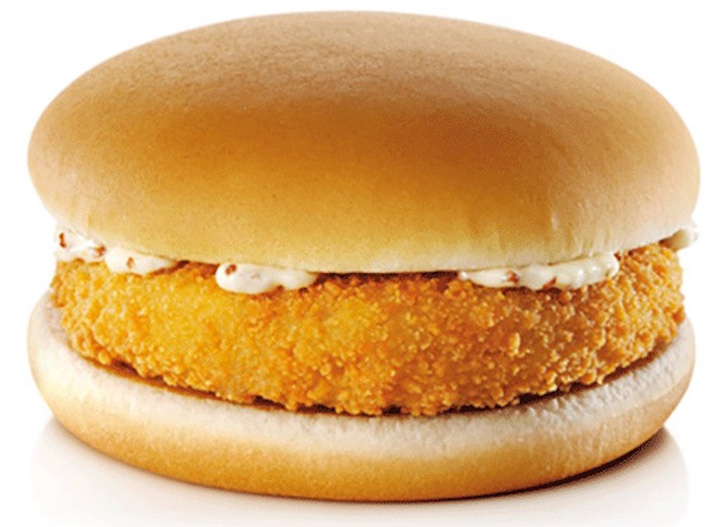 Where You Can Get It: McDonald's Netherlands
Believe it or not, McDonald's Japan doesn't have a monopoly on strange fast foods. At McDonald's in the Netherlands, customers can order what's called a McKroket — a fried patty with a gooey beef and cheese filling. This international offering is not only high in calories, but it also packs 2,300 milligrams of sodium. For some perspective, that satisfies a person's entire daily salt intake in just one sitting.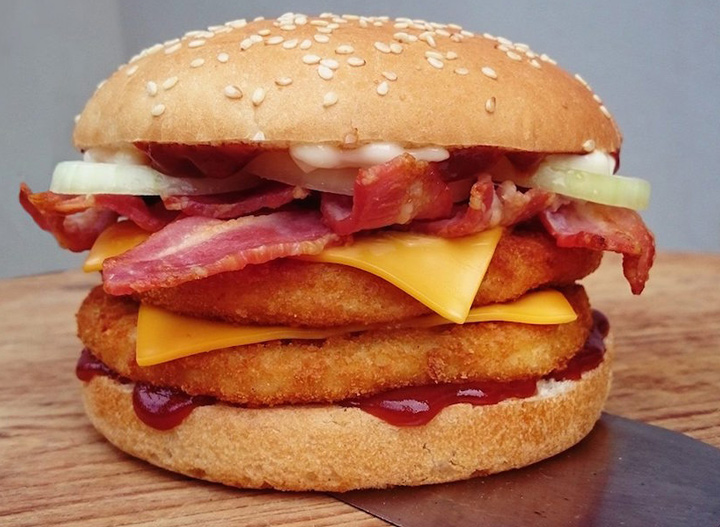 Where You Can Get It: Burger King New Zealand
People in New Zealand must really like their meat, because in August 2016 Burger King New Zealand debuted their Meatatarian menu for a limited time. Consisting of three burgers, the menu designed for meat lovers offered a Full Meaty, Half Meaty and Bacon Meaty. Two beef patties, a chicken patty, six bacon strips, two slices of cheese, barbecue sauce and onions comprised the Full Meaty, while the Half Meaty had one less beef patty and slice of cheese. The Bacon Meaty, on the other hand, loses the meat patty and includes two chicken patties, six strips of bacon, two cheese slices and barbecue sauce. While this meat-packed trio may sound appealing to some, we suggest you stay away.
Chicken-Flavored Chocolate Truffles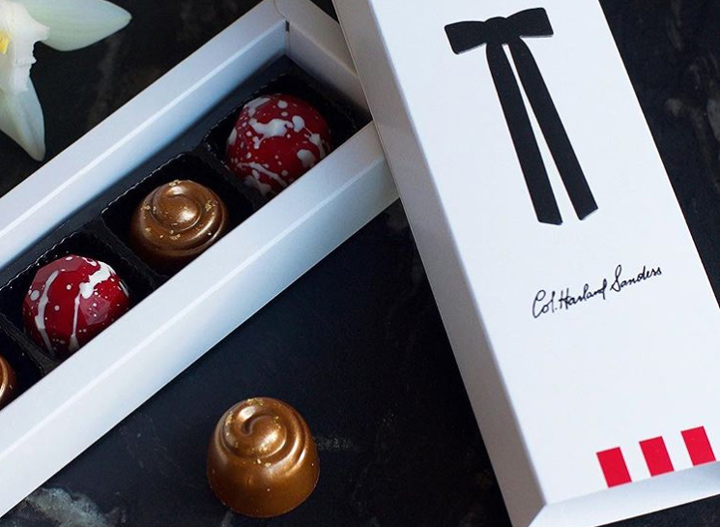 Where You Can Get It: KFC New Zealand
Certain things like peanut butter and jelly and salt and pepper undeniably go together, but chicken and chocolate most definitely don't belong in that category. Still, that didn't stop the folks at KFC New Zealand from releasing limited-edition chicken-flavored chocolate truffles just in time for Mother's Day in New Zealand last year. After all, does anything say 'I love you mom' more than chocolate that tastes like chicken?
Where You Can Get It: Taco Bell Philippines
People living in the Philippines apparently like their quesadillas with some extra crunch, because a Cheetos quesadilla debuted on the Taco Bell Philippines menu in November 2016 for a limited time and quickly gained popularity. The dish is simply a quesadilla stuffed with jalapeno-flavored Cheetos and Taco Bell's three-cheese blend, so even though this item has yet to make its American debut, we can't imagine recreating it at home would be all that hard.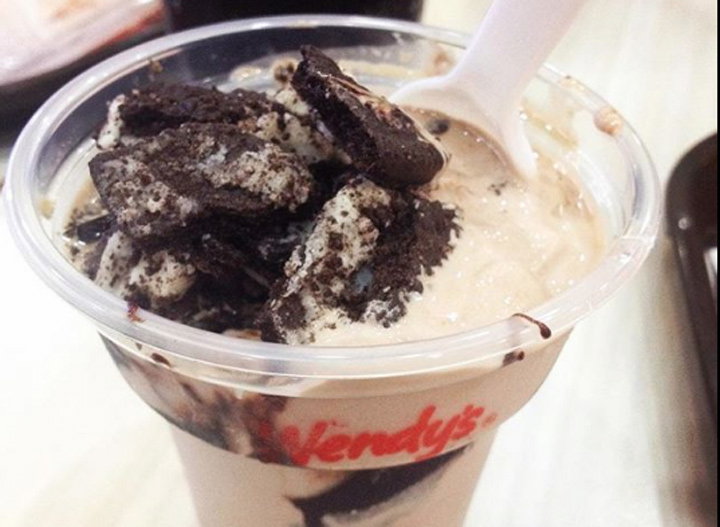 Where You Can Get It: Wendy's Philippines
Americans are familiar with the Wendy's Frosty — a delicious mix of flavored milk, sugar, and cream — but some Frosties at Wendy's Philippines look and taste a tad different. A beverage known as a Frosty Coffee Jelly, for example, is like a regular Frosty mixed with coffee, and chunks of a strange gelatinous substance. Currently, Wendy's Philippines is offering an Oreo-flavored Frosty Coffee Jelly, which is bound to pack a ton of flavor and probably make your blood sugar skyrocket.
Where You Can Get It: KFC Saudi Arabia
Though the Chizza — KFC chicken covered with cheese and tomato sauce and shaped like a pizza — is similar to what Americans know as chicken parmesan, the beloved international dish that's available in many KFCs around the world (including in Singapore and Saudi Arabia) has yet to make an appearance stateside. While it's hard to know we're missing out on this cheesy, gooey goodness, consider it a blessing in disguise. According to reports, a Chizza contains nearly 700 calories and 38 grams of fat.
Chocolate Butternut Squash Donut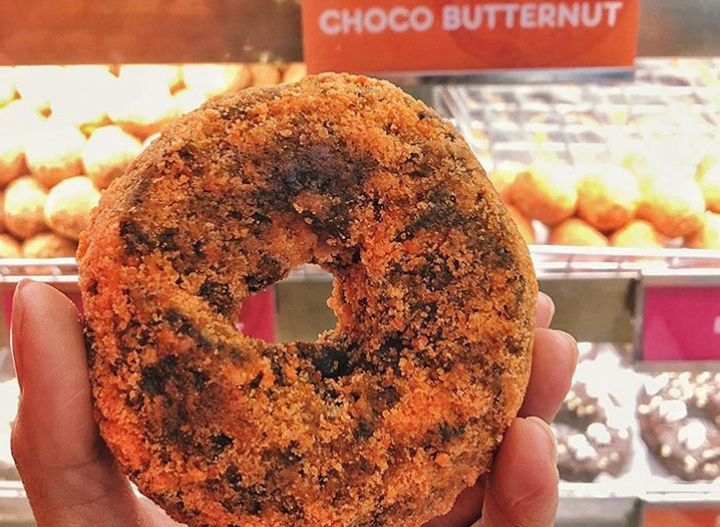 Where You Can Get It: Dunkin' Donuts Singapore
Granted, a Chocolate Butternut Squash Donut doesn't sound all that weird when you consider America's obsession with pumpkin, a fellow gourd, but that's just the tip of the iceberg of strange donut flavors available at Dunkin' Donuts Singapore. According to this Buzzfeed article, at one point the chain was selling Wasabi Cheese and Seaweed Cheese Donuts. Yum?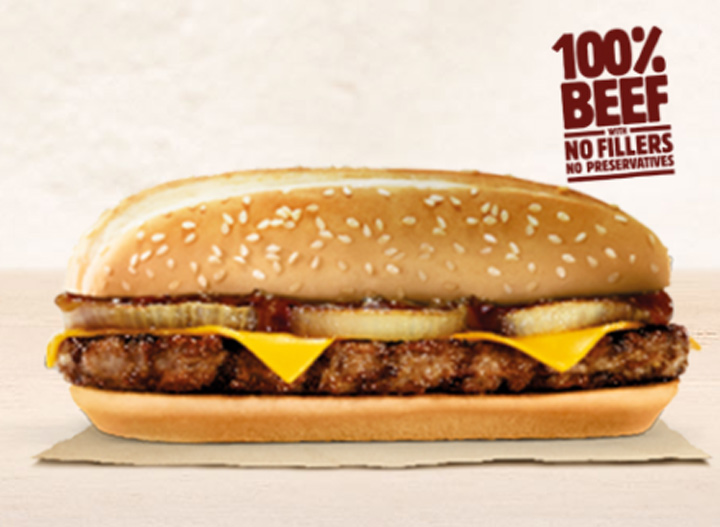 Where You Can Get It: Burger King South Africa
Boerewors is a type of sausage which originated in South Africa, so it makes sense that Burger King South Africa would sell a Boerewors Burger. In addition to the meat, this tasty entree that's shaped more like a sub than a burger comes garnished with mouthwatering melted cheddar cheese, fruity chutney, and caramelized onions, all on a sesame-seed bun. Though at 533 calories it's slightly less caloric than a Whopper, the Boerewors Burger beats the BK staple in carbs, sugar, and saturated fat, so it's not exactly a healthy choice.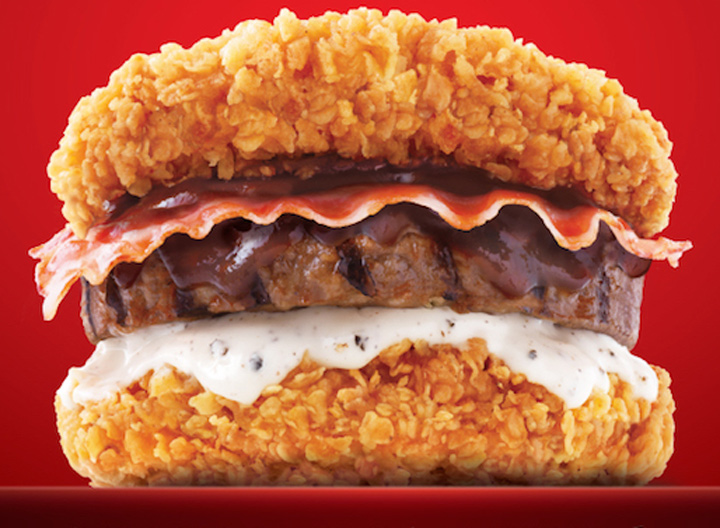 Where You Can Get It: KFC South Korea
In 2014 KFC South Korea ditched buns all together when crafting the fast food monster known as the Zinger Double Down King — an offshoot of the chain's beloved Double Down, which launched in the U.S. four years earlier. This artery-clogging meal featured a bacon-topped beef patty sandwiched between two fried spicy chicken fillet "buns," then slathered in rich barbecue and white pepper sauces. Though the lack of bread meant you'd cut back on carbs with this bad boy, at a reported 750 calories it wasn't exactly waistline friendly.
Where You Can Get It: McDonald's South Korea
If you're in South Korea and looking for something a bit less meat heavy, McDonald's South Korea offers a tasty Shrimp Beef Burger that's not quite as massive as the Zinger Double Down King. Comprised of both a fried fish patty and beef burger, this meal also includes all the normal burger fixings such as lettuce, tomato, and special sauce. If you feel so inclined to give this dish a taste, we'd recommend purchasing a drink as well seeing as this burger contains a whopping 984 milligrams of salt.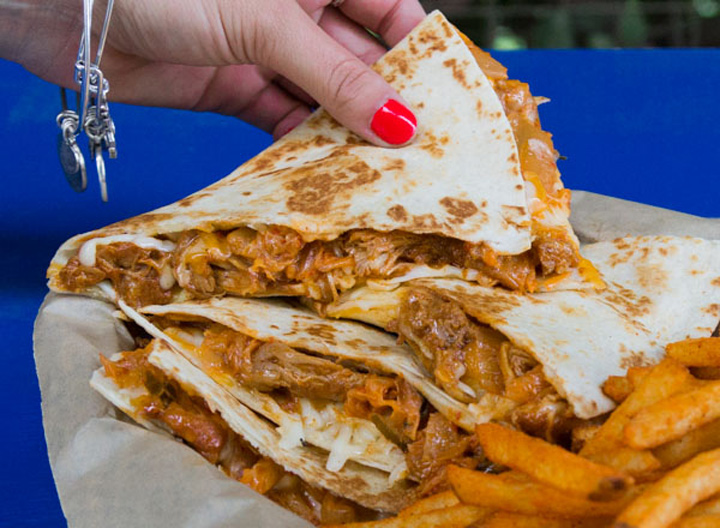 Where You Can Get It: Taco Bell South Korea
Kimchi, or fermented cabbage, is a staple in Korean cooking, so it makes sense that the folks over at Taco Bell South Korea crafted a quesadilla that includes the potent veggie, cheese, and chicken. Because Koreans love kimchi, it's not surprising that this unique offering has proven to be very popular in South Korea since first being introduced in 2016. In fact, former Taco Bell CEO Brian Niccol has said the kimchi quesadilla makes up 10% of sales in the country. And since bacteria-rich kimchi is good for your gut, this is a strange fast food offering we might just consider trying. For more tips on how to keep your gut healthy and your stomach flat, consult this list of 42 Ways to Lose 5 Inches of Belly Fat!