9 "Junk" Foods That Are Anything But
What's your guilty pleasure? Nothing, thanks to this guide.
It's time to rid your chips, cookies, and candy of anything but enjoyment. These clean versions of your favorite junk foods do just that. Gone are gross hydrogenated oils, unpronounceable emulsifiers, and questionable colorings.
These brands have no chemicals, no artificial ingredients, and no guilt. So grab a bag and dig in!
And for more nutrition guides, sign up for our newsletter to get daily recipes and food news in your inbox!
Kettle Organic Country-Style Barbeque Potato Chips
Per 13 chips (28 g)
: 140 calories, 8 g fat (0.5 g saturated fat), 125 mg sodium, 15 g carbs (2 g fiber, 1 g sugar), 2 g protein
You may know Kettle Chips for their thick, crunchy texture and bold flavors, but that's not the (only) reason we love them. Kettle Brand also makes a line of organic potato chips, made with organic potatoes and all-natural ingredients like garlic powder and paprika. And while we're partial to the BBQ flavor, we wouldn't turn down pepperoncini chips, either.
Beanitos Nacho Nation White Bean Chips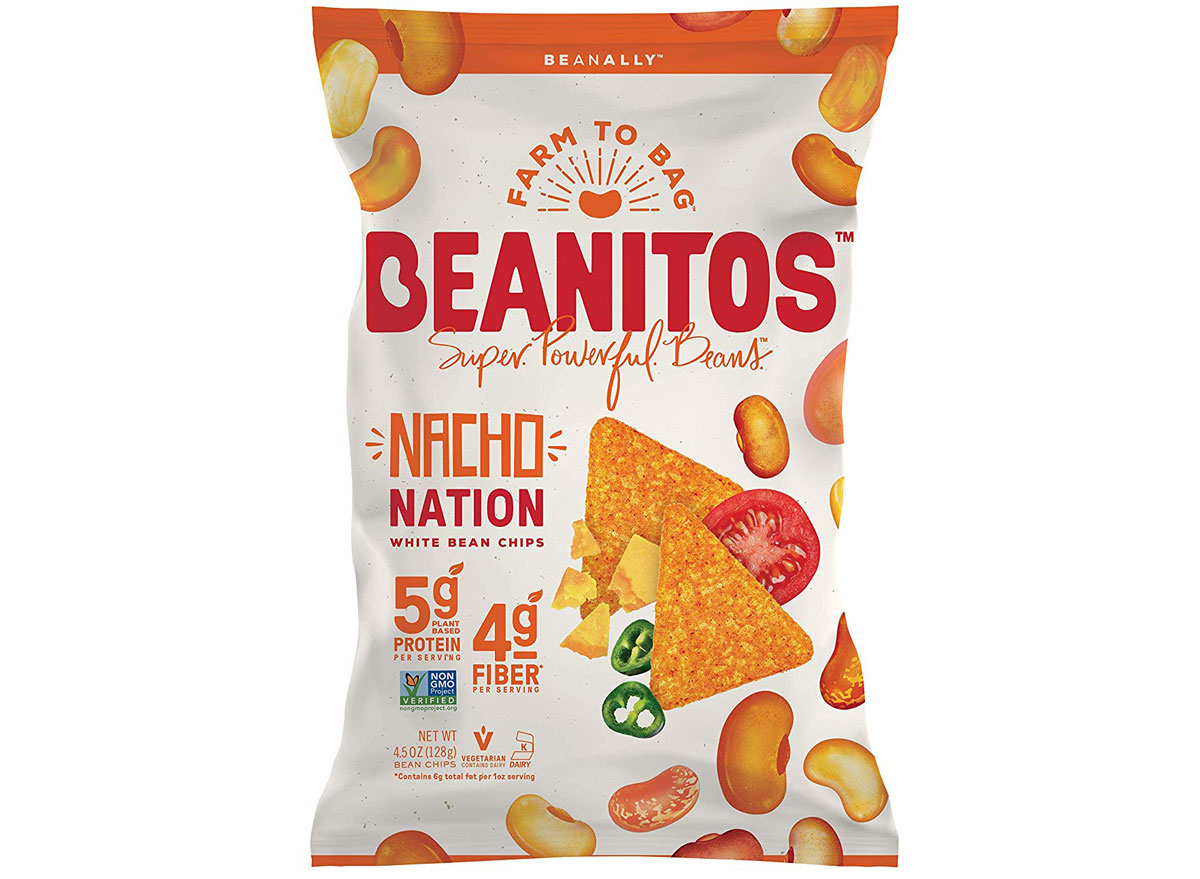 Per 11 chips (28 g)
: 130 calories, 6 g fat (0.5 g saturated fat), 170 mg sodium, 14 g carbs (4 g fiber, 2 g sugar), 5 g protein
Got a Doritos hankering that just won't quit? We get it. That salty/cheesy mix is one that's hard to resist. Instead of settling for a cheese-flavored product, try Beanitos' nacho cheese white bean chips. They're made with real cheddar cheese! A handful won't put your diet over the top, so it's a win-win for you and your taste buds.
And whatever you do, steer clear of The Unhealthiest Potato Chips on the Planet.
Pretzel Everything Crisps
Per 11 crackers (28 g)
: 110 calories, 1 g fat (0 g saturated fat), 190 mg sodium, 24 g carbs (1 g fiber, 2 g sugar), 2 g protein
Pretzels may seem harmless enough, but traditional varieties can be packed with carbs, calories, and even fat (Combos, we're looking at you). Swap out any old pretzel with flavorful Everything PretzelCrisps, made with a jazzed-up spice blend. They'll satisfy your need for that salty crunch without packing on the pounds.
SkinnyPop Sea Salt & Pepper Popcorn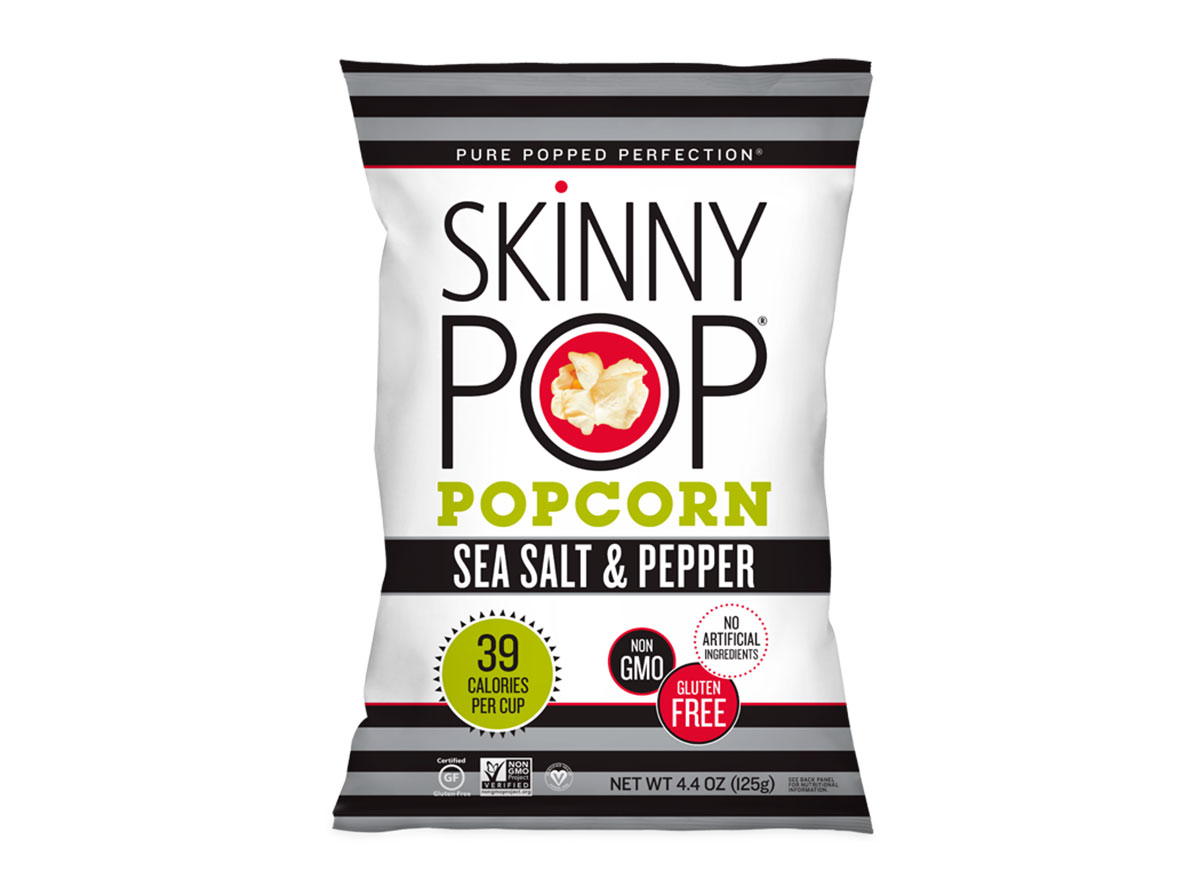 6254a4d1642c605c54bf1cab17d50f1e
Per 3 3/4 cups (28 g)
: 150 calories, 10 g fat (1 g saturated fat), 75 mg sodium, 15 g carbs (3 g fiber, 0 g sugar), 2 g protein
It's no secret that Jiffy Pop isn't the most natural of popcorns, but there's a huge range between that and homemade air-popped popcorn. Next time you're reaching for a bag in the grocery store, try SkinnyPop, a line of self-titled "guilt-free" popcorns made with simple ingredients. They also come in equally low-cal flavors like white cheddar and kettle corn if you're in the mood to mix it up.
UnReal Milk Chocolate Gems
Per 35 pieces (30 g)
: 140 calories, 7 g fat (4.5 g saturated fat), 35 mg sodium, 18 g carbs (<1 g fiber, 15 g sugar), 3 g protein
UnReal is earning a name for itself among fans of the clean candy aisle. The brand's candy-coated milk chocolates are non-GMO, have no corn or soy, and taste just as good as traditional M&M candies (yes, really). Unreal also makes chocolate-covered peanuts and a variety of creatively-flavored peanut butter cups (like dark chocolate coconut), ensuring you'll never have to eat artificial coloring in your candy again.
And if you love candy, look out for these 6 Subtle Signs You're Eating Too Many Sweets.
Turkey Hill All Natural Ice Cream, Salted Caramel
Per 2/3 cup (94 g)
: 210 calories, 10 g fat (6 g saturated fat), 180 mg sodium, 27 g carbs (0 g fiber, 26 g sugar), 4 g protein
Nothing pairs as perfectly with your Netflix catch-up session as a pint of something cold and sweet, right? That's exactly why we're not going to tell you to nix it from the grocery list. Just swap your go-to brand for Turkey Hill. Indulgent flavors like salted caramel taste sinful without any of the emulsifiers, weird "natural" flavors (read: beaver butt juice), or propylene glycol found in other cartons.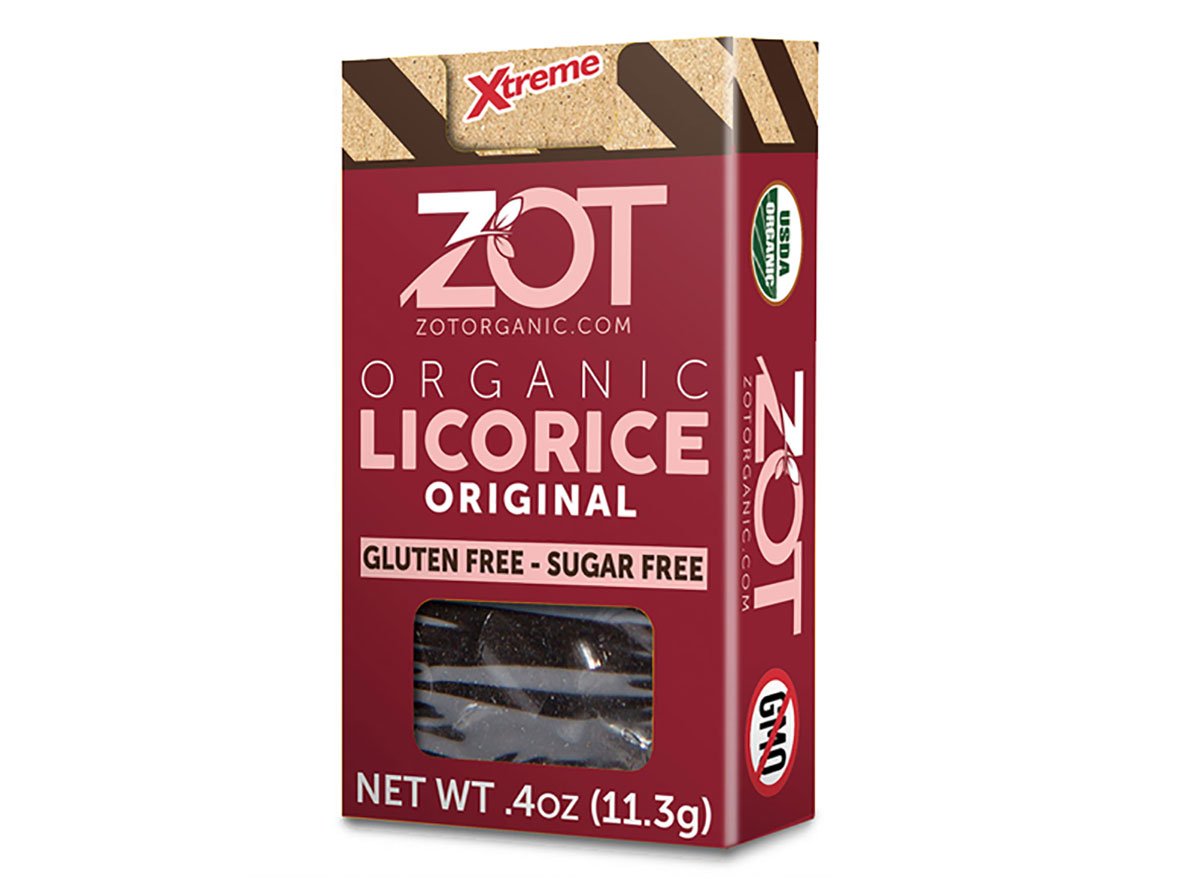 Per 3 pieces (0.75 g)
: 0 calories, 0 g fat, 0 mg sodium, 0 g carbs (0 g fiber, 0 g sugar), 0 g protein
Asking someone whether they like Twizzlers is not the same as asking if they like licorice. If you like Twizzlers, you're really a fan of corn syrup and wheat flour, the two main ingredients. That's one no-go junky habit; licorice extract doesn't even make the list. If you love actual licorice, we have good news: Your guilty pleasure gets the green light. You're not going to find anything cleaner than ZOT; it's made with only licorice. Look for citrus and mint flavors if the original flavor is too intense.
Per 16 pieces (40 g)
: 130 calories, 0 g fat, 15 mg sodium, 31 g carbs (0 g fiber, 20 g sugar), 3 g protein
Few foods are as nostalgic as gummies. They remind us of our childhood and, hey, they taste good. Go for an all-natural version like Surf Sweet Gummies next time you want to revisit your childhood favorite. They're packed with Vitamin C, have no artificial colors, and are made in a nut-free facility to minimize allergens.
Raaka Maple & Nibs 100% Cacao Chocolate Bar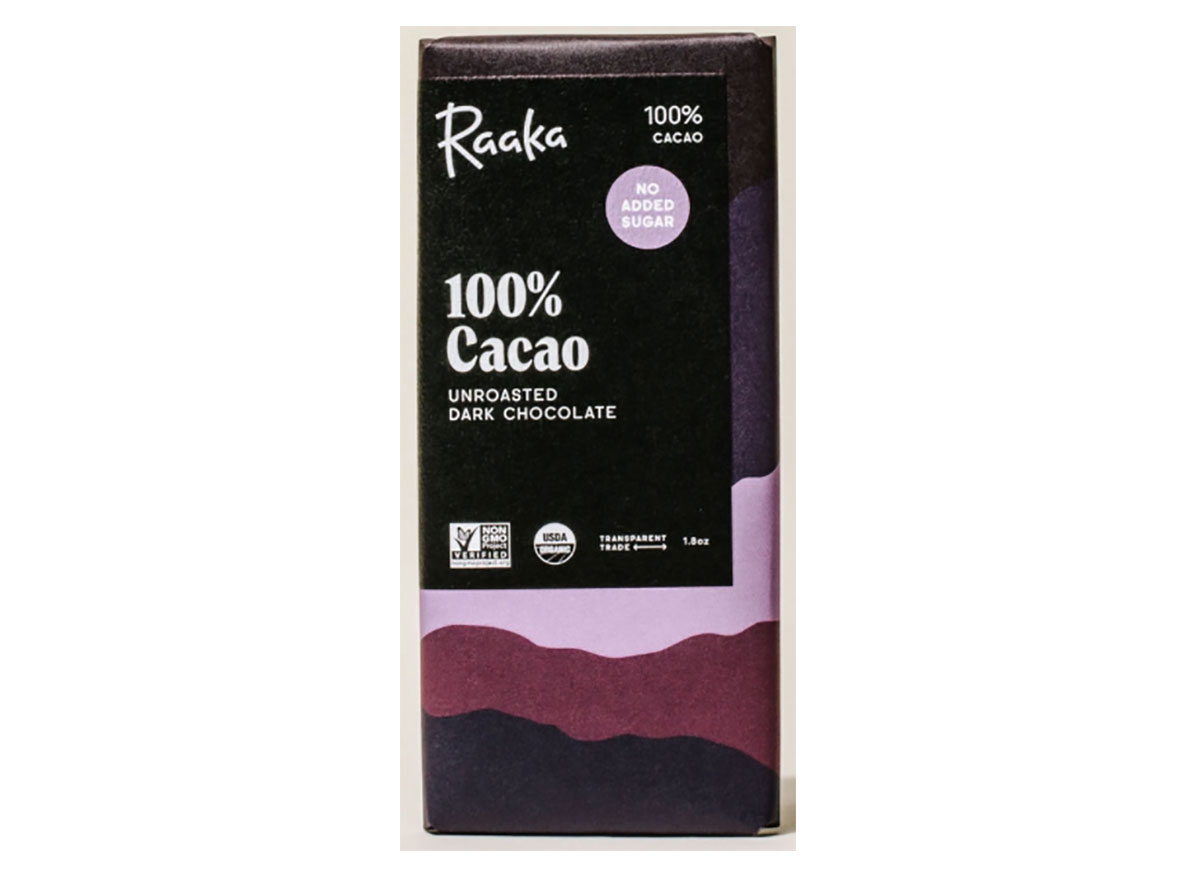 Per 1/2 bar (25 g)
: 124 calories, 12 g fat (7 g saturated fat), 0 mg sodium, 8 g carbs (7 g fiber, 0 g sugar), 2 g protein
This chocolate bar is a total overachiever. It aims to be vegan, nut-free, soy-free, gluten-free, and entirely organic, all while tasting decadent. That's a tall order, but it goes the distance. With just two ingredients, it gets its flavor from cacao beans and cacao butter—that's it.
Surprised by the nutrition facts? Dark chocolate packs a shocking amount of fiber (and antioxidants) when it isn't diluted with sugar and emulsifiers. Break off half a bar and enjoy it. It's good for you.
And when you're hungry for more than a snack, check out these 52 Life-Changing Kitchen Hacks That'll Make You Enjoy Cooking Again.
Eat This, Not That!
Inspired by The New York Times best-selling book series, Eat This, Not That! is a brand that's comprised of an award-winning team of journalists and board-certified experts, doctors, nutritionists, chefs, personal trainers, and dietitians who work together to bring you accurate, timely, informative, and actionable content on food, nutrition, dieting, weight loss, health, wellness, and more.
Read more about Eat This