5 Best Chocolates for Weight Loss
There is a dark side to living the sweet life, and it comes in the form of weight gain.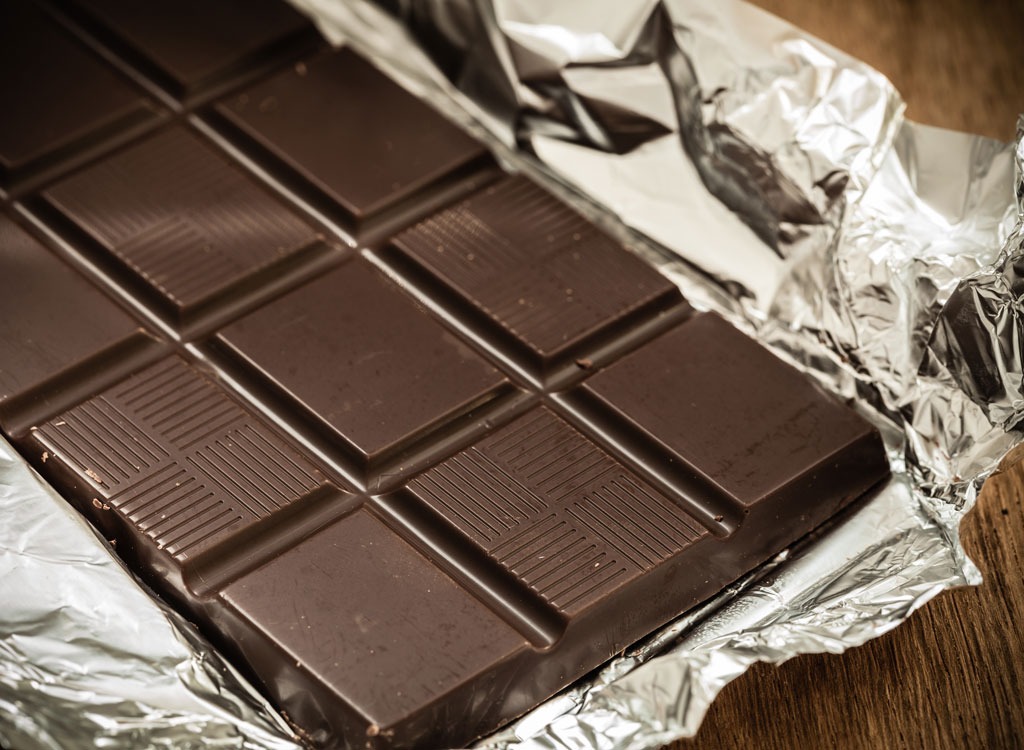 Whether your sweet tooth is calling the shots or not, we all enjoy a little indulgence now and then. Dessert has been the downfall of many diets, but that doesn't mean you have to shut them out of your life completely. While the candy aisle can be incredibly overwhelming, there are options that fit into any healthy meal plan. So we teamed up with Isabel Smith, MS, RD, CDN, registered dietitian and founder of Isabel Smith Nutrition to give us the scoop on the best dark chocolate bars you should indulge in.
When possible, try to avoid milk solids, corn syrup, soy solids (except lecithin, which will likely be included), artificial sweeteners and colorings, Smith advises. Doing so won't always be possible, but they're good guidelines. And if you're in a hurry, look for two things: non-alkalized cocoa and a low sugar count on the nutrition label. That ensures you're getting the most health benefits with the least amount of sugar.
Or simply grab one of these better-for-you bars if you want to live the sweet life and get a flat stomach doing it.
Eat This!
Nibmor Extreme Dark Chocolate with Cacao Nibs, 1 1/10 oz (½ bar)
| | |
| --- | --- |
| Calories | 160 |
| Fat | 12 g |
| Saturated Fat | 7 g |
| Carbs | 15 g |
| Sugar | 8 g |
| Protein | 2 g |
The secret to chocolate's superpowers lies in the cocoa bean. In its purest form, without any added sugar or other ingredients, cocoa contains flavanols that have anti-inflammatory properties. Getting more of these healthy nutrients can help cut your risk for heart disease, cancer and diabetes, and also help keep your metabolism going strong. Although chocolate contains some good stuff, more often than not it's stuffed with some bad to cut the bitterness. Nibmor Extreme has only five ingredients, the first of which is organic cacao. The nibs in this bar offer a fun crunch and are bursting with flavanols. If you have trouble sticking to a serving, this flavor also comes in prepackaged serving squares for only 50 calories a pop.
Eat This!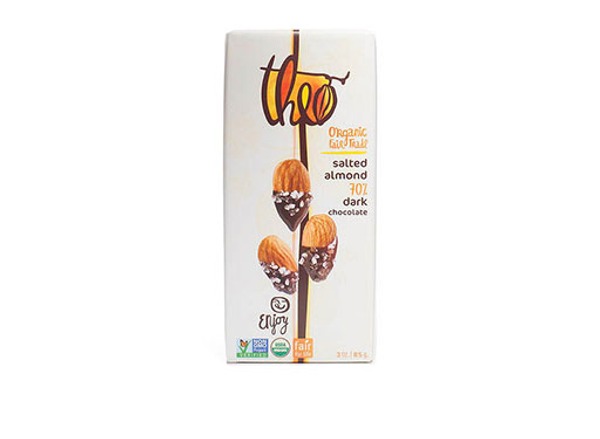 Theo Salted Almond 70% Dark Chocolate, ½ bar
| | |
| --- | --- |
| Calories | 210 |
| Fat | 17 g |
| Saturated Fat | 9 g |
| Carbs | 19 g |
| Sugar | 12 g |
| Protein | 4 g |
If you've never had healthy dark chocolate, your taste buds might be a little shocked the first time you bite into one of these bars. The darker the bar, the more bitter it will taste — but the better it will be for your health and waistline. If you need to work up to the black coffee-colored bars, that's ok. "The higher the percentage of cacao the better, but you'll get some health benefits at 55% cacao," says Smith. The Theo Salted Almond bar is a good entry-level dark chocolate bar because the bitterness doesn't hit you the way that it does with 80% or higher cacao bars. The almonds also offer an added health boost thanks to their combination of plant-based protein, fiber and healthy fats, which work together to keep hunger and cravings at bay.
Eat This!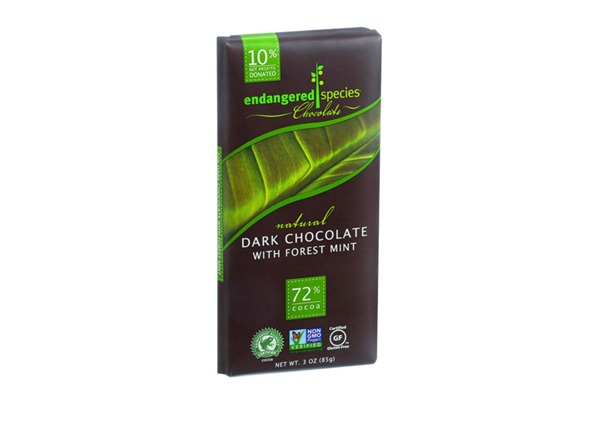 Endangered Species Dark Chocolate Squares with Forest Mint, 4 pieces
| | |
| --- | --- |
| Calories | 200 |
| Fat | 17 g |
| Saturated Fat | 10 g |
| Carbs | 19 g |
| Sugar | 11 g |
| Protein | 3 g |
Just because you're choosing dark, doesn't mean you can suddenly consume chocolate with reckless abandon. "Chocolate is not a low-calorie food," Smith warns. "Aim for a 1-ounce serving, which is about 200 calories," she suggests. The best way to include chocolate in your diet is to plan ahead. If you know you're going to want a chocolatey indulgence later in the day, be mindful of your earlier meals to make room for it. Testing your willpower against an entire bar of chocolate can be difficult, so reach for pre-portioned sizes if you're prone to overdoing it. The little squares also make it easy to grab on the go or stash in your desk at work for a mid-afternoon pick-me-up. With 72% cocoa and some added mint for flavor, these squares can help squash pesky sweet cravings with just a few nibbles.
Eat This!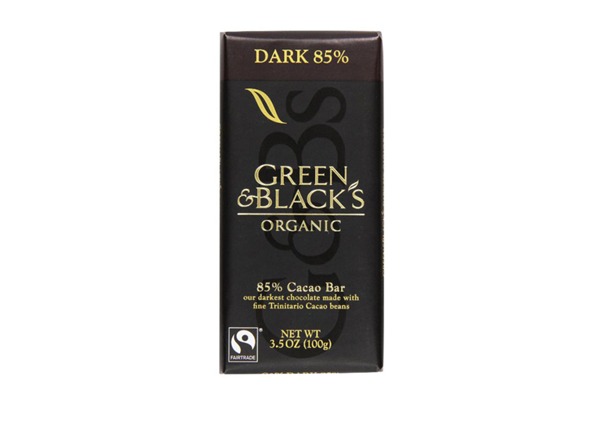 Green & Black's Organic 85% Cacao Bar, 12 pieces
| | |
| --- | --- |
| Calories | 250 |
| Fat | 20 g |
| Saturated Fat | 12 g |
| Carbs | 15 g |
| Sugar | 8 g |
| Protein | 4 g |
Green & Black puts a premium on their ingredients, and their chocolate reflects that. They buy their beans directly from cocoa farmers who use organic farming techniques, ensuring that you get the cleanest product possible. Though 85% may be intimidating, this bar is particularly smooth for the high cacao content. The organic vanilla and small amount of organic cane sugar they add to the bar soften the bitter bite. What's more, research has found that eating a small dose of chocolate each day can help you unwind — which can boost your weight loss. Dark chocolate can increase serotonin and endorphin levels in the brain, reducing stress and elevating mood. Banishing stress will also diminish your levels of cortisol, a hormone that promotes belly fat storage. Rather than gorging on high-fat, high-sugar comfort foods — that science suggest don't actually work — break off a few squares of this bar.6254a4d1642c605c54bf1cab17d50f1e
Eat This!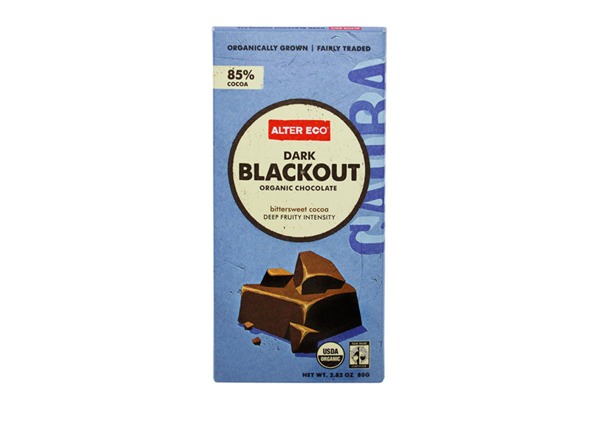 Alter Eco Dark Blackout Chocolate Bar, 5 sections
| | |
| --- | --- |
| Calories | 240 |
| Fat | 21 g |
| Saturated Fat | 13 g |
| Carbs | 14 g |
| Sugar | 6 g |
| Protein | 3 g |
A main diet concern with chocolate is the sugar content — even when you're shopping for dark. Sugar can wreak havoc on your body, causing weight gain, shifts in mood and plummeting energy levels. Consuming too much can also increase your risk of more serious health problems like diabetes and cancer. And, unfortunately, grabbing any dark chocolate bar won't help you avoid these issues, so always read the label. "Aim for 10 to 15 grams of sugar or less per serving," suggests Smith. Get it right, and you'll enjoy a seriously satisfying low-sugar treat: "Extremely dark chocolates (88% cacao for example) will generally have around 5 grams of sugar per serving." This Alter Eco bar has only 6 grams, making it a solid choice if your taste buds can handle it. In fact, it's one of the best options for weight loss out there — as long as you stick to one serving!
FOR HUNDREDS MORE WEIGHT-LOSS IDEAS, click here for our new book Eat This, Not That! 1,247 Awesome Slimming Swaps. Order now to get your FREE GIFT!