The Best Pizza Places in Every State
Indulge in a slice of meaty, cheesy, or veggie-packed perfection at one of these premium pizza joints.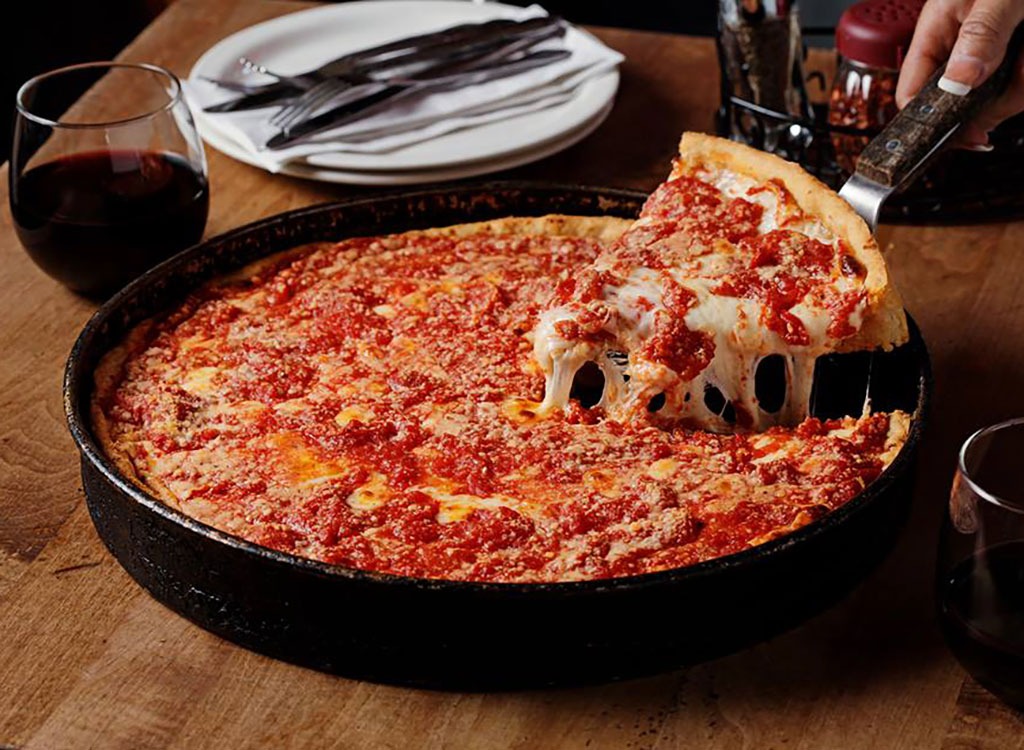 It's not just the pies that make a pizza place great. A fun atmosphere, a good craft beer or cocktail menu, and a cheeky chalkboard sign all add to the experience.
So we here at Eat This, Not That! tapped our friends at Foursquare to find out which spots were the highest rated in each state, and collected them here for you. Many of these eateries make their beloved pizzas with care, using local ingredients and farm-fresh toppings — much better than those chain places that mass produce pizzas with questionable additives. Totally worth it for a delicious slice (or two).
Alabama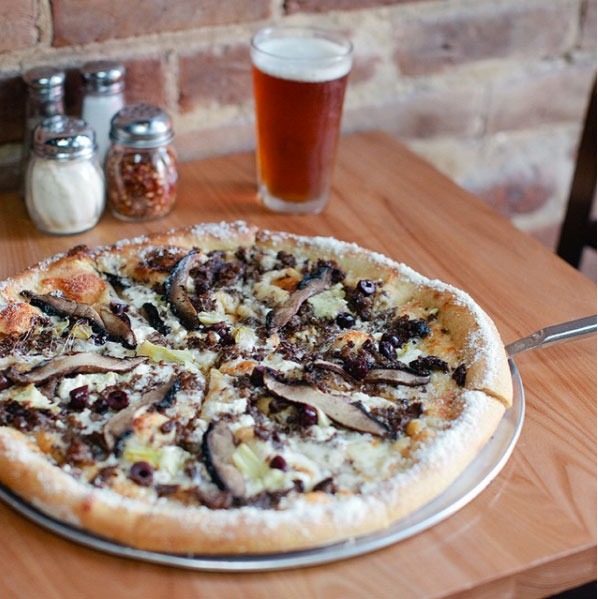 @MellowMushroom, Instagram
The funky decor sets the tone for a fun college town pizza joint, but you don't have to be a student at nearby Auburn University to enjoy the full menu. Although this spot boasts a decent cocktail list and wine selection, they are most known for their rotating tap (and bottles!) of local craft beer. With gluten-free and vegan options, plus a "Skinny Shroom" menu, you're bound to find something diet-friendly and delicious. Looking to splurge? Order off the main menu, which includes hot apps to share, hearty hoagies, calzones, and of course their famous specialty pizzas (think: Hawaiian, chicken Thai, and more).
"Try a variety of specialty pizzas in a family environment. Arriving early is a must to beat the crowd from taking your seat!" — Foursquare user Auburn Alumni Association
"Food is consistently delicious and high quality. Service is the best of any in the area. The bruschetta is amazing!" — Foursquare user Amy Noelle Wright
Alaska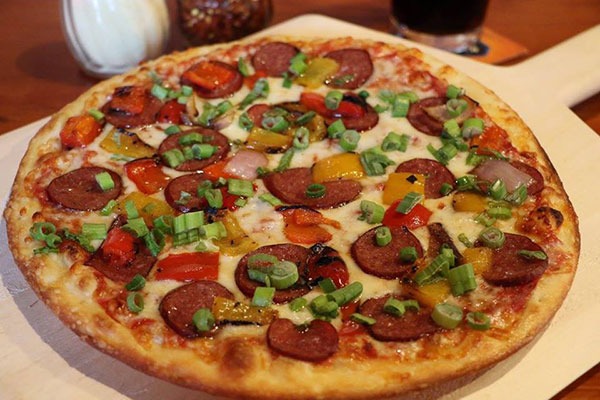 Moose's Tooth Facebook
Moose's Tooth may boast a menu filled with dozens of specialty pizzas, but it's more than just a (delicious) pizza spot in Anchorage. Hop in the (usually packed) beer line and snag one of their many house beers or local craft brew selections while you wait for your pie to cook. Not feeling what's offered on the menu? Customize your own pizza, or opt for an oven-baked sandwich instead. And if you're keeping things on the lighter side, order one of the eight fresh salads, like the Blackened Chicken Caesar or Mixed Green, in a half or full size.
"It is always packed here. That said get in the beer line and get a beer, wine, soda or water. If buying beer or wine have ID and money ready and know what you want. No matter your age be ID ready" — Foursquare user Mickey Perry
"Try 1/2 Avalanche & 1/2 Santa's Little Helper. Also, the Diablo Breadsticks are a great way to start your meal. Warning: A small pizza and a side are enough for 2 people." — Foursquare user Evan[Bu]
Arizona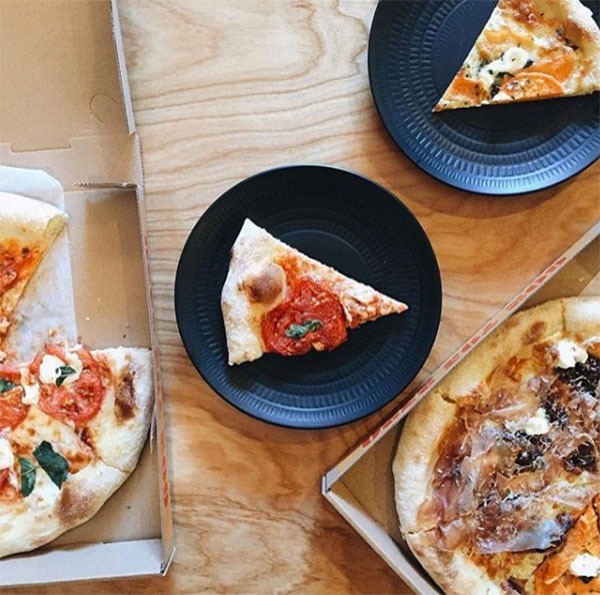 @federalpizza, Instagram
Brussels sprouts… on a pizza? Federal Pizza in Phoenix swears by it, and according to Foursquare, it's the most popular pie on the menu. The healthy veggies are joined by pancetta, manchego, and roasted garlic, so no wonder it's a crowd favorite. Fresh produce fills the ingredients on other pies as well, including broccolini, sweet potatoes, radicchio, and sage. If you're craving something a little more classic and meaty, go for the pepperoni or prosciutto. Be sure to wash your pie down with one of their famous handmade wine coolers.
Insider tips
"The pizza is excellent–& I'm very picky. The Brussels sprouts kind is my favorite. Never thought I'd say this about wine coolers, but theirs are delish. I do wish they had purse hooks under the bar." — Foursquare user Epistephiliac
"The Brussels sprouts pizza is the best! Also, eat at the bar to avoid the line for a table. The bar is plenty wide. Ask for a pitcher of the Green Flash West Coast IPA. It's the best value." — Foursquare user AJ Vicens
Arkansas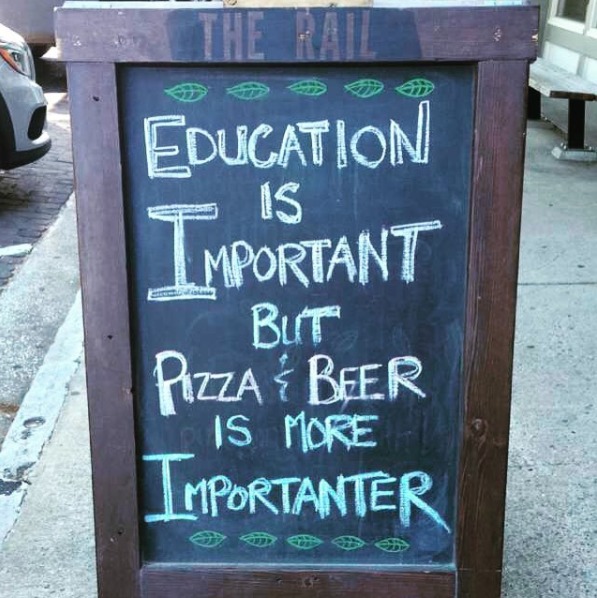 @heartbu_rn, Instagram
This popular Rogers restaurant is known almost as much for its clever chalkboard signage as it is its pizza, wings, and beer selection. The pizzas go beyond your typical margherita or pepperoni, with Thai peanut, chicken pesto, and a BBQ pizza made with homemade BBQ sauce. Be sure to place an order for wings as well. With options like spicy alfredo and garlic parmesan, these aren't your typical buffalo wings.
"Make sure to ask for honey for your pizza crust. Don't judge. While you are wrinkling your nose and making a sour face… I am enjoying a delicious dessert. Trust me…" — Foursquare user Murray Williams
"Good beer list here; which is rare around NWA. Try a Boulevard IPA with the Thai Peanut pizza. Spicy pizza and loads of hops pair well." — Foursquare user Lee Swagerty
"Easily the best establishment we've checked out since we moved. Try the wings! The crust is killer, specialty pies on point, and beer selection is solid." — Foursquare user Andrew Crittenden
California
@pizzeriadelfina, Instagram
Owners Annie and Craig Stoll opened Pizzeria Delfina in 2005 as an offshoot of their next-door Delfina restaurant. The San Francisco pizza place was so popular, it opened a second location in 2008. The farm-to-table menu offers up Neapolitan-inspired pizzas heavy on Italian staples such as prosciutto, basil, capers, and caciocavallo. There's also a small selection of antipasti and small plates to complement the pizza. Finish your meal with a homemade Italian ice.
"Get the Prosciutto pie, the pizzas are surprisingly light so you won't leave feeling stuffed. Remember to write your name and party size on the blackboard when you arrive so you can be seated." — Foursquare user Adam Brace
"The space is tight and the place is busy, but for good reason that renders it worth the squeeze, wait, and cost. A strong selection of good music, pizza, and specials – this place is great for dates." — Foursquare user Courtney Ridens
Colorado
@pizzerialocale, Instagram
This Southern Italian-style pizzeria in Boulder uses the finest ingredients, including Corto olive oil, Stanislaus tomatoes, and La Quercia artisan meats. The taste really shines through to the pizzas, which are cooked at 900 degrees in a brick oven, making the crust extra crispy. Choose from one of the bianche (tomato sauce-free) or rosse (traditional tomato sauce) pizzas, and pair with local wine on tap. If you still have room, indulge in a dessert with their Nutella pizza, or their famous butterscotch pudding.
"The gluten-free pizza has a great, thin crust. You can get the dessert pizza on gluten-free as well! Wine is on tap and the butterscotch pudding is the perfect way to end your evening here." — Foursquare user Monika McMahon
"Beautiful room in the front for a group, wine is great, pizza is a bonus. Our favorite was the hot pulpo (octopus) app. Yum!" — Foursquare user Nathalie De Clercq
Connecticut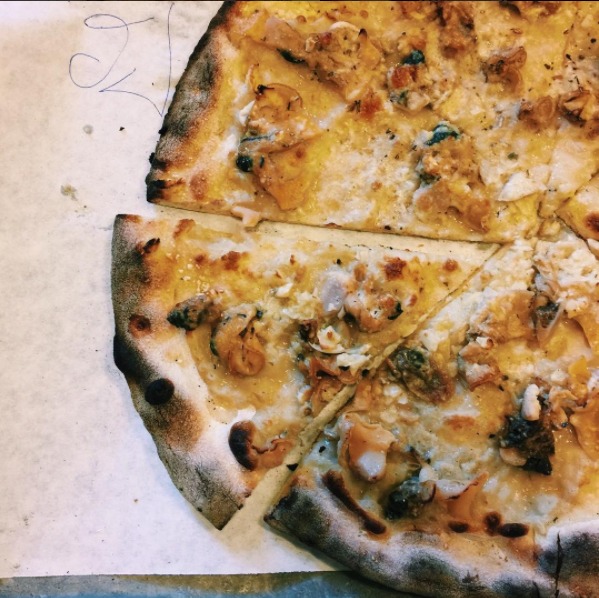 @frankpepepizza, Instagram
Frank Pepe's in New Haven brings an East Coast flair to classic cheese-and-tomato pizzas. With toppings like fresh clams and shrimp, you won't forget that you're just a few miles from the Atlantic Ocean. They're cooked in a coal fire, not wood, which leaves the crusts extra crispy and charred. Pair your pie with a local Foxon Park Soda. It comes in unique flavors such as white (and diet white!) birch beer, and a classic Italian lemon.
"Grab a clam pizza & a classic tomato pizza with a side of white birch beer. SUPERB. Worth the wait & worth the hype. Their shop next door does take out so you can bring the party to wherever you want!" — Foursquare user Djaniella D.
"Like any respectable pizzeria, Frank Pepe doesn't take reservations. The focus here was on the pizza. We ordered 4 pies: clams, pepperoni, 4 cheeses and spinach. The best!" — Foursquare user Eric Dallemagne
Delaware
@pbepizza, Instagram
Who says pizza is just for lunch or dinner? At this Greenville pizzeria, Sunday brunch after 11:30 is a prime time to order a quiche pizza and a bloody mary. For every other time, their cheeky pizza menu features concoctions named after famous Elizabeths: the Taylor comes with goat cheese, rosemary onion saute, and sun-dried tomatoes, while the Queen is made with a creamy mushroom duxelles sauce and white chicken chunks. If making a custom pie is more your speed, you have dozens of fresh toppings to choose from. Make sure to wash it down with one of their house-brewed beers.
"Beyond love the gluten free crust – it's so crispy! If you're a bourbon lover try the Black Cherry Martini! Only thing I'm not a fan of is the $14 hummus (with a $4.50 up charge for veggies!)." — Foursquare user Lindsey Timberman
"Crab & Artichoke Dip was fantastic! Take the chance to make your own pizza; ours was delicious. Andy, our waiter, was very good." — Foursquare user Catherine Fischer
District of Columbia
@timberpizzaco, Instagram
Located on the edge of the nation's capital, Timber Pizza offers an eclectic menu that changes with each season, delivering the freshest possible ingredients. And it's no wonder; the restaurant got its start as a farmer's market stand. The pizzas are Neapolitan-style and pair well with one of their farm-to-table salads. Polish off your pie with a gelato in a wood-fired cone.
"Delicious pizza. Got the 809 and Big G, which was spicy! Dough is crispy and chewy. Open communal seating, so prepare to wait a bit, but service was fast & friendly. Good cocktails & beer selection." — Foursquare user A Vickie
"Great neighborhood pizza joint with a decent beer selection. Menu changes but the Turu and Bentley are must-trys." — Foursquare user Mike Lock
Florida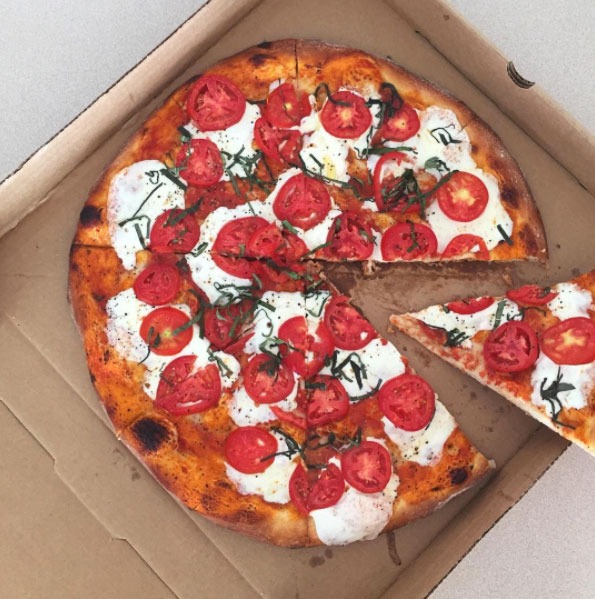 @AnnaKatesPlate, Instagram
This Indian Rocks Beach pizzeria offers up stone-baked artisan pizzas. Choose one of their 16 specialty pies, or create your own with ingredients like cajun sausage, pepper jack cheese, and serrano chilies on a whole wheat or gluten-free crust. If you're (for some reason) not feeling pizza, opt for a sandwich, wrap, or salad.
"Italian sushi roll was amazing. Lunch special house salad was great as well as the LARGE single slice pizza. Service was spot on. Will be back!" — Foursquare user Rick Clayton
"Brunch was great, loved the mimosas and breakfast pizza. Great service and atmosphere!" — Foursquare user Rhiannon Williams
Georgia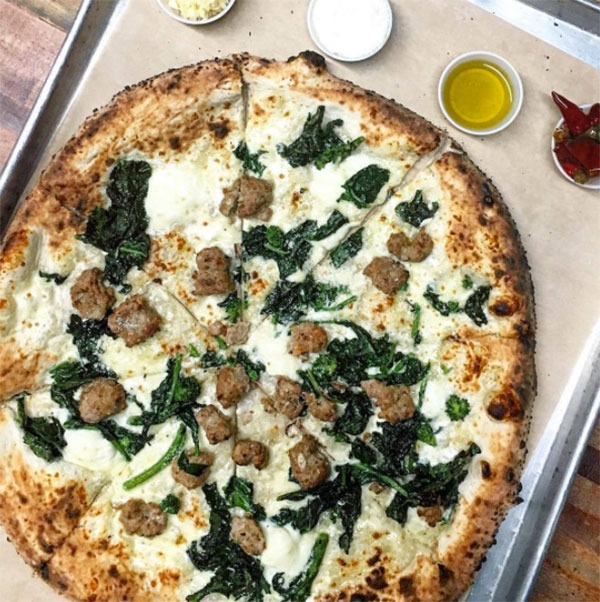 @foodistagirl, Instagram
Grab a taste of Italy in Atlanta with a coal-fired pizza from Antico. With pizzas in small and large sizes, order a few to share to really experience the authentic ingredients like spicy soppressata and meatball. Just be sure you like everything on the specialty pie; Antico doesn't offer half-toppings or substitutions. Order online, or visit the (usually busy) restaurant to watch the pizza masters at work. Oh, and bring your own booze.
"Best pizza in Atlanta! Expect to wait but it's worth it! Everything on the menu is king. Peppers are very hot!" — Foursquare user Camden Armsby
"One of the most fantastic pizza experiences ever. Open space, open kitchen, BYOB, Italian music blasting, and 3 gorgeous wood-fired ovens. And the pizza, oh the pizza. Eat everything." — Foursquare user Amanda Natividad
Hawaii
@foodsmackdown, Instagram
Hawaiian pizza is a common pizzeria offering, but Flatbread Pizza in Paia serves up much more than pineapple and ham. With local ingredients like homemade nitrate-free pepperoni and organic bread dough, each flatbread has a unique combination of flavors. Of course, Maui-fresh pineapple and free-range pork shoulder are also on the menu. But make sure you order a salad, too; the farm-fresh mesclun and sweet leaf lettuces make it one of the freshest salads on the island.
"Start with a healthy salad of locally grown greens, then split a Kalua pork and pineapple pizza – the original Hawaiian pizza!" — Foursquare user Priscilla
"So very delicious. The flatbreads and salads are perfection. You can get half-and-half if you want to try more than one flatbread. But order a salad. Pineapple vinaigrette; you won't be disappointed." — Foursquare user Sam S
Idaho
@FlyingPiePizzaria, Instagram
This Boise pizza place sure knows how to pair up pizza and beer. On draught is a rotating tap of local and specialty beers, with a selection of craft and more common national beers in bottles. If you're coming for lunch, enjoy the buffet specials from 11:30-2 to sample a selection of their house pizzas. Or stay for dinner and customize your own pie with a robust choice of sauces, herbs, cheese, and toppings.
"Get the Samoan with the Hot Blonde beer and draw a sweet picture for them while you're at it! You won't be sorry!" — Foursquare user Karyn Blanchard
"Fabulous Five Packs are an economical way to experience five different gourmet pizzas and are available in every size. You don't have to get them all at once either." — Foursquare user Dylan Baker
Illinois
@LouMalnatis, Instagram
Chicago is known for its famous deep dish-style pizza, and no one does it better than Lou Malnati's. As one of the most iconic restaurants in the Second City, Lou's is known for their handmade flaky, buttery crust, gooey mozzarella cheese and a sweet marinara sauce on top. One thick slice is enough to fill you up, but if you have room left over, try one of their baked cookies for dessert. Looking for a low-carb option? Order it crustless with sausage as the base.
"The deep dish pizza is great and I recommend adding the spinach mix to everything. So many things made fresh. With wonderful service to boot!" — Foursquare user Amber Cargill
"Love the deep dish pan. Best pizza in town. Prefer pepperoni over sausage. Thin crust is great too. Good service, great food." — Foursquare user Ron Bradley
Indiana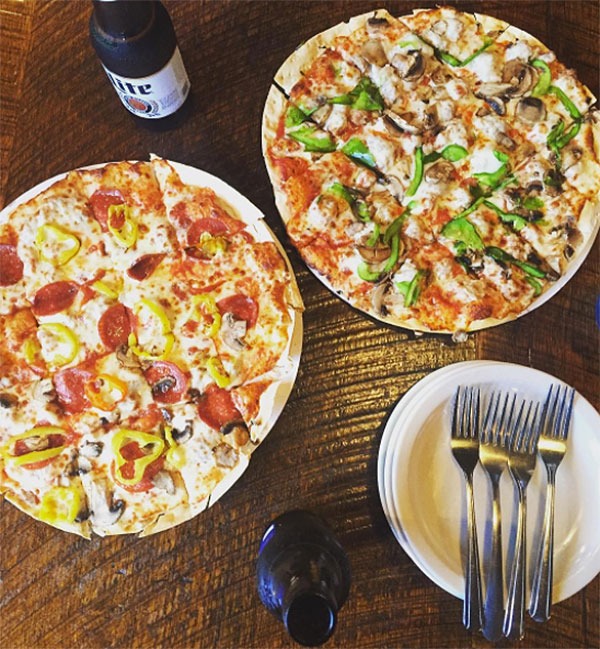 @JenniferMcCall, Instagram
This Evansville spot is known for its thin crust pizza paired with beers brewed right from the conjoining brewery. The menu offers a garden of veggie toppings and six different types of meat to choose from. If you're not feeling pizza (for some strange reason), order one of the hot sandwiches made with fresh house-baked French bread.
"I had the house special and Hefeweizen last weekend… Best meal of my life. Also, try the spinach salad with hot bacon dressing. Yummm." — Foursquare user Danielle Norris
"Order the House Special. If you're into beer, the Light Lager makes a good companion. If you're not, they brew a good glass of iced tea." Evansville Courier and Press
Iowa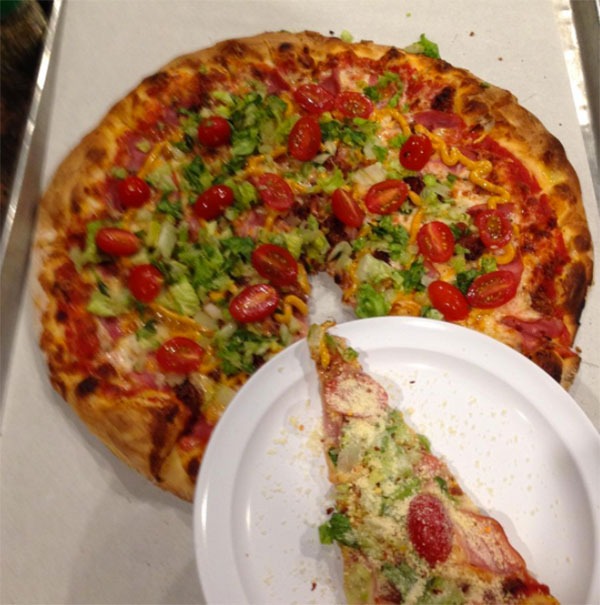 @NeedPizzaCR, Instagram
We all need pizza; luckily, this Cedar Rapids pizzeria understands this probably better than anywhere else in Iowa. Build your own pie with a traditional red sauce, homemade BBQ sauce, or make it white and got completely sauce-less. Pair your pizza with a craft beer, and order an app to share like the spreadable beer cheese or kale and artichoke dip. Perfect for the whole family.
"Love this place. Really solid craft beer selection featuring many local beers but also great pizza. Another huge plus for this place is the fact they designed the place to be kid friendly." — Foursquare user David Tominsky
"I haven't had a bad pizza. It's all so good. Mashed potatoes on pizza? It's delicious. Eat it. Great beer, too." — Foursquare user Jaime Jackson
Kansas
@wichitaeats, Instagram
Getting a pizza from Ziggy's is definitely a splurge; their famous taco pizza even comes with crushed Doritos with a side of sour cream and salsa. For an extra treat, try their Ziggy Bites, which are like mini calzones stuffed with pepperoni and melted mozzarella. Or order one of their specialty sandwiches like the Italian toasty or Costanzwich.
"If you take the family reserve the Z room. Nice place and good pizza! Try the Great white. Yummy!" — Foursquare user Sonya Elliott
"Lunch special is great. Get the Islander. Tuesday is double punch day for their frequent diner card." — Foursquare user Josh Wood
Kentucky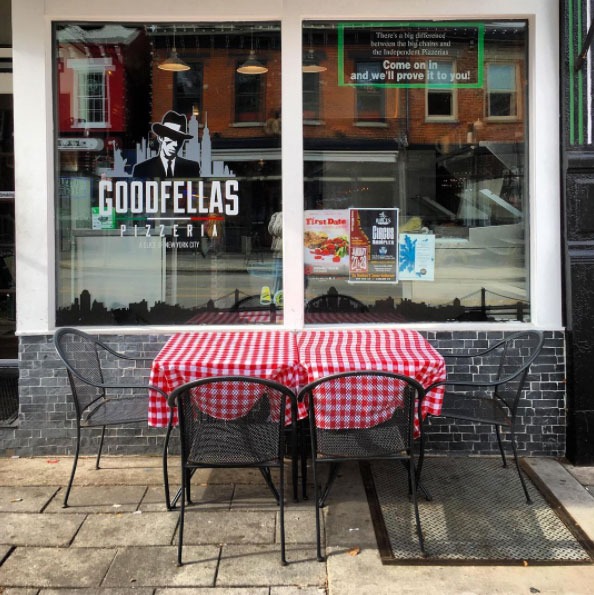 @ken_workman, Instagram
This Covington pizzeria may not be associated with the mob, but they totally kill it when it comes to New York-style pizza. The specialty pies are named after characters and phrases from the flick, such as The Vinny, The Don, and Fuhgetaboutit (complete with every available topping). If oven-baked subs are more your speed, pick one named after a famous New Yorker like Robert DeNiro and Frank Sinatra. Head upstairs to the Wiseguy Lounge for a craft cocktail and a speakeasy vibe that harkens back to mobsters in the Roaring Twenties.
"We enjoy Goodfella's! The pizza is really good and the subs and calzones, too. Never had anything there we didn't like. Plus, Wiseguy Lounge upstairs is a fun place to relax and hang out as well." — Foursquare user Matt White
"The Goodfella pizza is amazing! Can't praise the crust enough. The outside seating makes for a lovely date night." — Foursquare user Biscoe DeVallis
Louisiana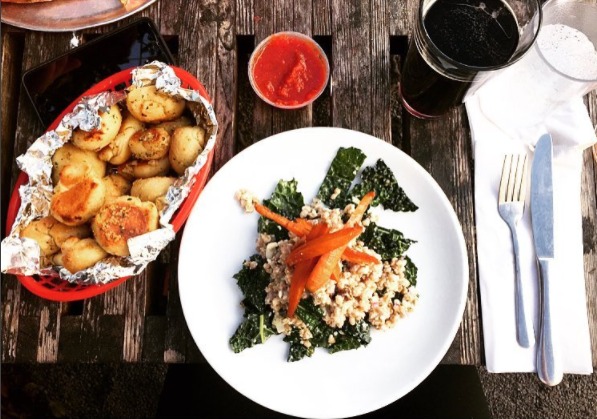 @rachelinwanderland, Instagram
Right in the heart of New Orleans, this pizza joint brings a cajun flare to a traditional pizza menu. And it's not just the pizza that's delicious; The Big Easy leaves its mark on the gulf shrimp scampi and pork rib homemade pasta. Their fresh salads are also a win, including the farro, glazed carrot, and marinated feta kale salad (pictured). Wash your meal down with a pint or pitcher of craft beer.
"Only got to order the Pepperoni Rolls, which are pretty bomb. It was delicious and different from what I'm used to. The 18" NY style Pepperoni Pizza was huge!! tasty too!" — Foursquare user Vince Phi
"Often you can just walk up and get pizza by the slice and even their wonderful Pepperoni Rolls and even dessert without an advance order. A great idea when they are really busy (and that is often)." — Foursquare user James Williams
Maine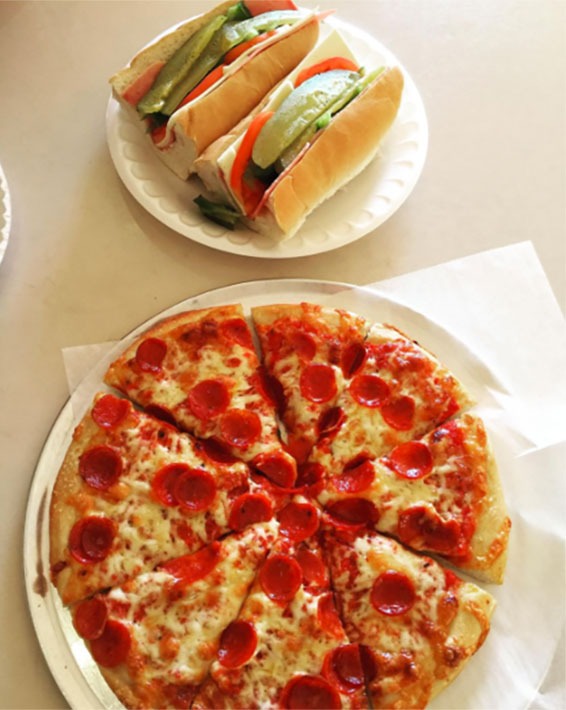 @pdelahanty, Instagram
George's is more than just delicious pizzas. Known for their Italian sandwiches and oven grinders, this Auburn spot also serves up delicious bar food like homemade fries and onion rings. Really hungry? Order the appetizer combo (to share!), which comes with mozzarella sticks, chicken fingers, garlic bread, onion rings, and fries.
"Try the all-meats thin crust pizza. It is the best around." — Foursquare user Tim Grimmel
"Great food but especially love the fries and onion rings!" — Foursquare user Kate Curtis
Maryland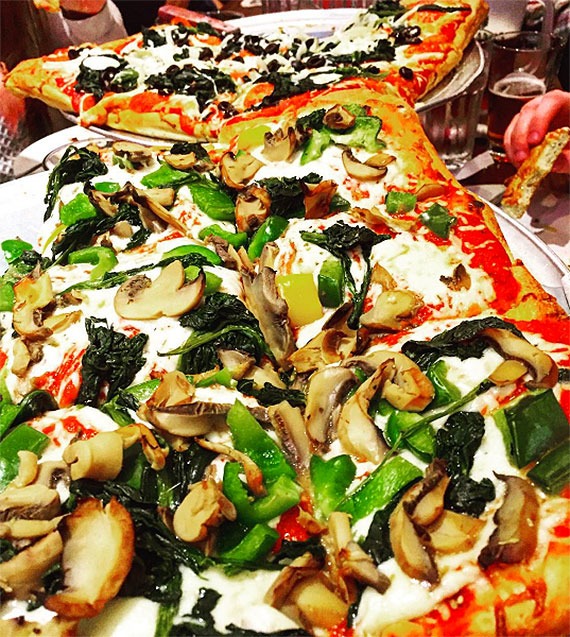 @napalmnancy, Instagram
Pizzerias aren't always known for their menu variety, but Napoli in Waldorf offers up a mix of Italian and Greek fare, including gyros and shish kebob along with baked pasta and calzones. The stars of the show though are their Neapolitan and Sicilian-style pizzas. Not in the mood for a whole pie? Order it by the slice,
"Another customer turned me on to the "Greg Special" which is gyro meat, spinach, cheeses, banana peppers, onions, etc. on special pizza dough bread. YUMMY!" — Foursquare user Cateyes Gause
"Everything is great but my favorite item is the Gyro sandwich! Nice soft pita and the nice cool tzatziki sauce! It's super delicious!" — Foursquare user Sasha Nevermind
Massachusetts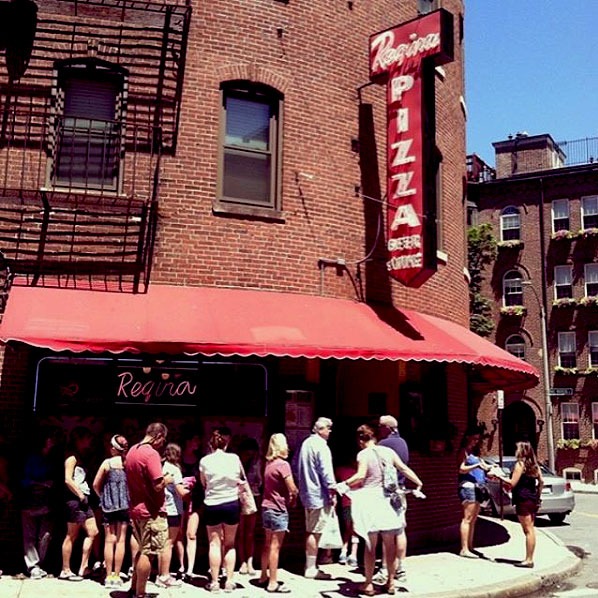 @reginapizzeria, Instagram
Boston is known more for its New England clam chowder and baked beans, but Regina's Pizzeria has made its mark having been open since 1926. Located in the North End neighborhood, Regina's is always busy, sometimes with a line out the door. If you do make it inside, order any of their specialty brick oven pizzas. As "Boston's Original Pizzeria," you can't go wrong!
"6 stars for the pizza (out of 5 stars) and 3 stars for the waitress. I guess who cares about the customer service when they can keep making such remarkably amazing awesome pizzas?!" — Foursquare user Soxinly
"The wait in line is worth it, but beware the pizzas are so hot they burn your mouth. Don't let them rush you along, take your time and enjoy some of the best pizza in Boston." — Foursquare user Kyle Fogg
Michigan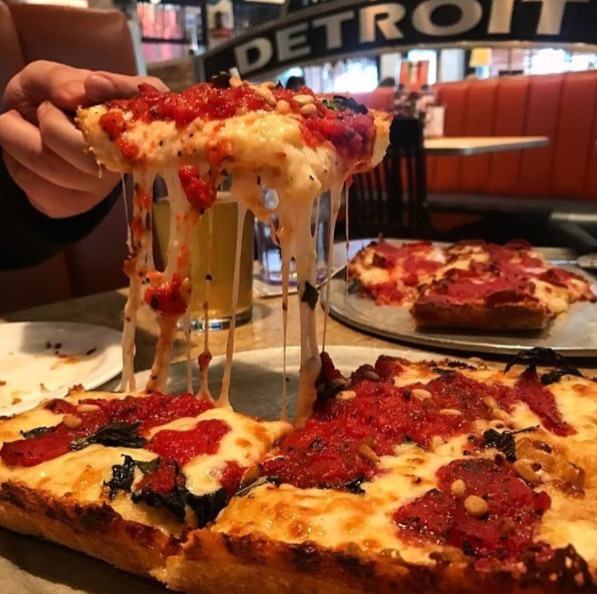 @Holly.Mahaffey, Instagram
New York and Chicago are known for their styles of pizza, but Detroit has their own twist on a Sicilian-style pie, and Buddy's is the grandfather of it. A square pizza with a deep dish-style crust, Detroit-style pizza was introduced at Buddy's in 1946, and fans have been obsessing over it ever since. If you're not feeling their signature pies, opt for a thin crust pizza or any one of their gluten-free options.
"Some of the best pizza I've ever had. Loved the "Detroiter" pepperoni and basil for the win. Very friendly staff. Old school comfort at its best." — Foursquare user Brian Strauss
"One of the best Greek salads in metro Detroit. Love their square pizza. Go crazy and get the loaded up fries as an app – so good!" — Foursquare user Kate H.
Minnesota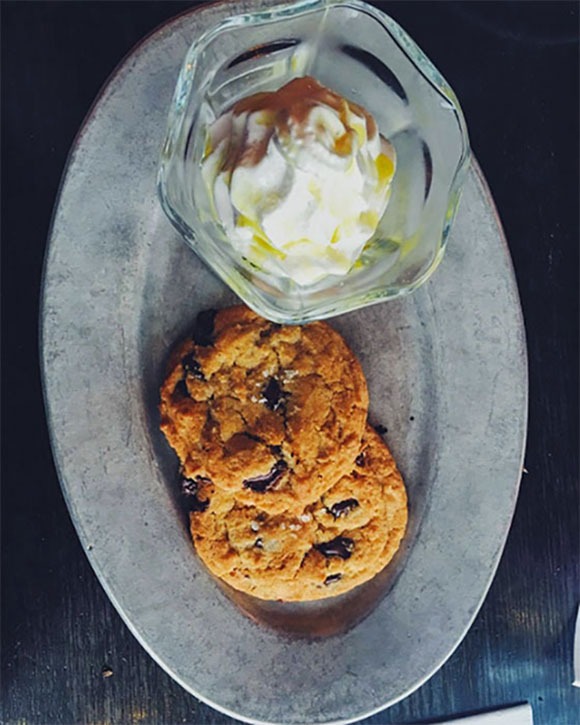 @bestfoodtwincities, Instagram
Opening Pizzeria Lola in Minneapolis was a dream come true for restaurateur Ann Kim. Inspired by her love of food and family, Kim, who hails from Korea, named the pizzeria after her dog. The menu boasts creative pizzas like Korean BBQ and a potato-topped Boise, but customers are almost more excited about the dessert: fresh-baked cookies and ice cream.
"A little out of the way from the central area of the city, but so worth it. Order the My Sha-Roni and marvel at the beautiful bronze pizza oven that takes up the middle part of the restaurant." — Foursquare user Emily Wilson
"Charcuterie plate and a kimchi pizza is an awesome dinner! Don't forget to finish out with the olive oil and sea salt ice cream! (just trust me, it's good!)" — Foursquare user Shelly Zordich
Mississippi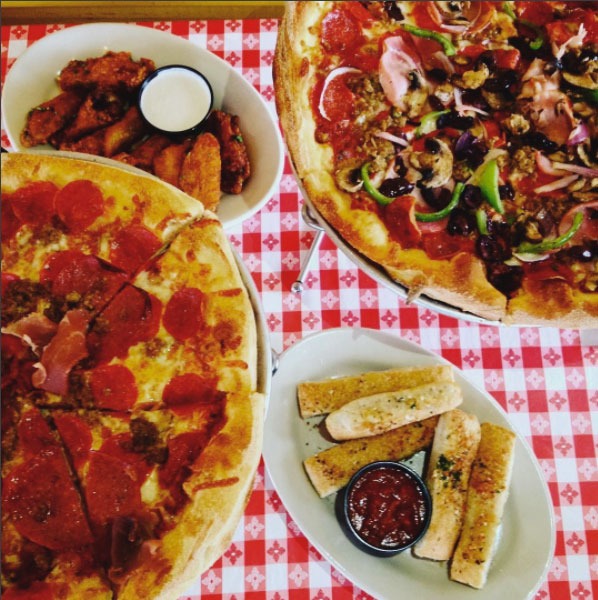 @salandmookies, Instagram
With more than 20 original pizzas to choose from, this Jackson pizzeria makes it hard to decide. Luckily, you don't have to; they offer a half-and-half split with any two pies. Or customize your own with a selection of dozens of fresh toppings on dough made fresh every day. Sal & Mookie's is also an ice cream joint, serving up shakes, malts and floats. The epitome of a cheat meal.
"All the pizza I tried was great, but the Hamilton Avenue Tomato Pie was next level. Like a bolognese put on top of a pizza. I recommend you try it!" — Foursquare user Jake Smith
"I love this place! Awesome pizza but I really love the Satriale's burger. Great staff and fantastic atmosphere! For sure one of the best places to done in Mississippi." — Foursquare user Jay Long
Missouri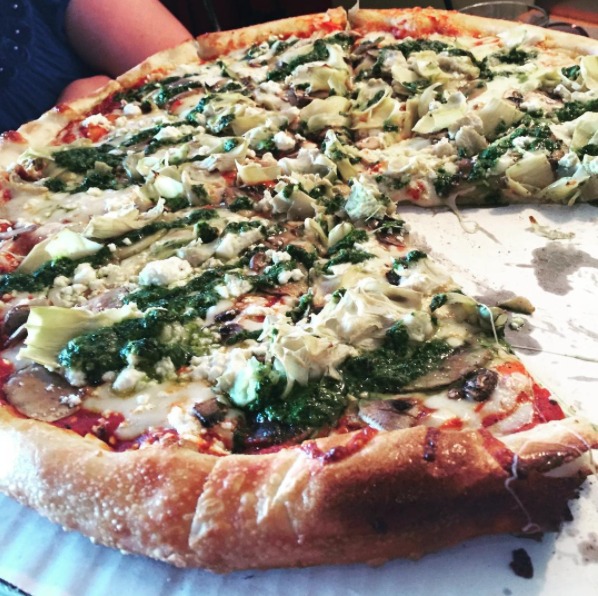 @NathanAyres, Instagram
Located on the outskirts of St. Louis, Dewey's doesn't serve up traditional St. Louis-style pizza. Instead, they opt for a thick crust and seasonal offerings. The pies also have funny and recognizable names, like the Green Lantern and Socrates' Revenge. If you make your own, you can choose either a red or Dewey's white sauce (olive oil, minced garlic, mozzarella, and fontina). Start out with a fresh salad, like the peppercorn ranch, and finish the meal with one of the local confections offered.
"Their calzones are an excellent deal and are huge for what you pay!" — Foursquare user Ashley Elizabeth
"I love the Bronx Bomber without mushrooms. The peppercorn ranch salad is fresh and crispy every time." — Foursquare user Laura Ann
Montana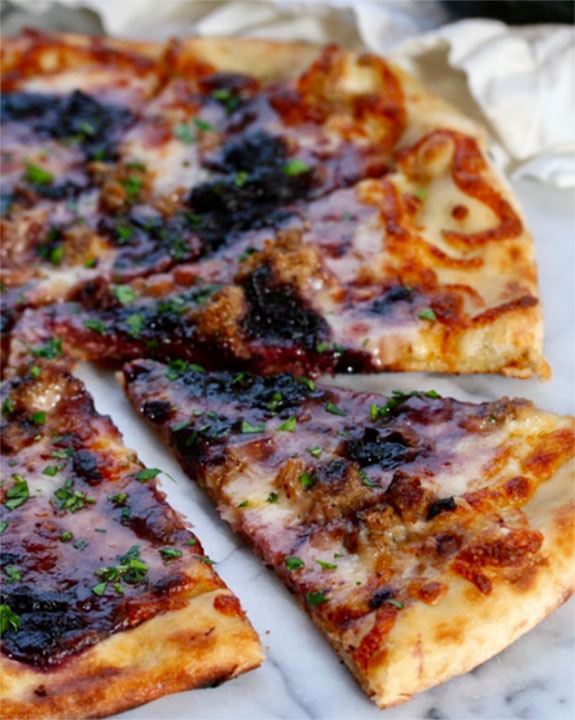 @dashofsavory, Instagram
Biga Pizza in Missoula has an eclectic mix of traditional Italian pies (pepperoni, Sicilian), but also more unique seasonal offerings (prosciutto and fig, or sweet potato, bacon and maple). Get creative with their make-your-own, or opt for a sandwich on fresh-baked bread instead. The antipasto plates are also crowd favorites.
"The kid's plate is great for your little ones. It's like antipasto for picky eaters." — Foursquare user Clay Janes
"Excellent pizza. Meatball Verde especially. This place has won a ton of "best" awards. There's a good reason for that." — Foursquare user Andrew C
Nebraska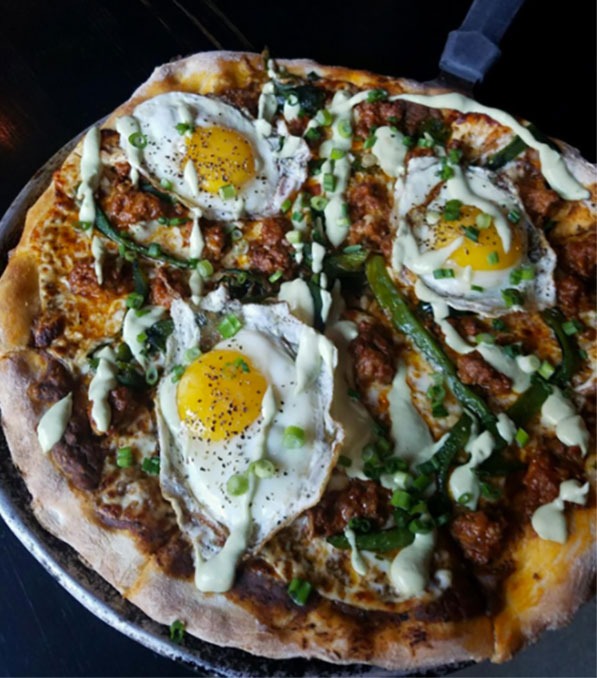 @pitchpizzeria, Instagram
This trendy Omaha spot is known for much more than their pizzas; they do a pretty good brunch too, with a weekend menu complete with eggs benedict, French toast, and bloody marys. The regular menu offers up coal-fired burgers and pasta too. But you can't go wrong with pizza. Try the Thai or meatball pie and pair with one of their house cocktails including five mule variations.
"Try everything, you honestly can't go wrong. Pizzas of the week and half-priced wine on Sundays. Wonderful brunch and amazing staff." — Foursquare user Jess Nicol
"Amazing pizza, bring a date and get the kitchen seats, the owner will stop by from time to time and chat with you up there." — Foursquare user Chet Coenen
Nevada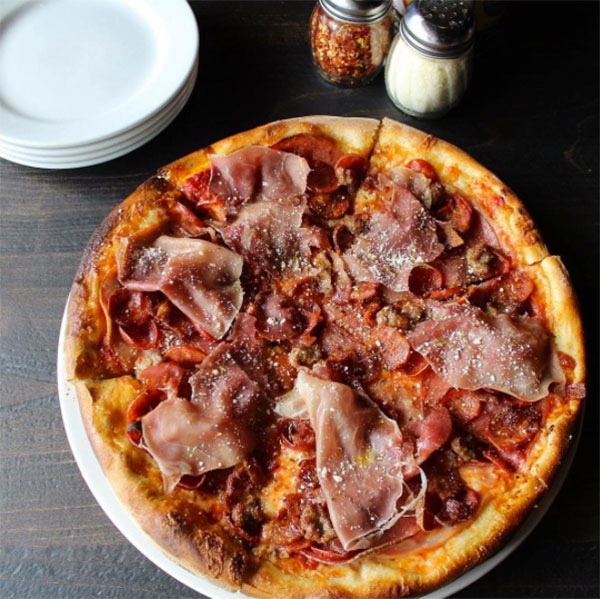 @pizzarocklv, Instagram
At the helm of this restaurant is Tony Gemignani, a 12-time World Pizza Champion. So he knows what he's doing. Just off the flashy Las Vegas strip, Pizza Rock offers up 10 different pizza styles to choose from, like the Chicago cracker thin or the Detroit red top. Start off with an order of truffle fries or beer-battered artichokes, wash it all down with one of their many specialty cocktails.
"The quail egg guanciale is awesome. Pork cheek, chorizo… The peppers offer a little unexpected oomph." — Foursquare user William Johnson
"Great pizza and helpful service. If you get the butcher, share the butcher with a buddy: so very filling!" — Foursquare user Ricky DeMello
New Hampshire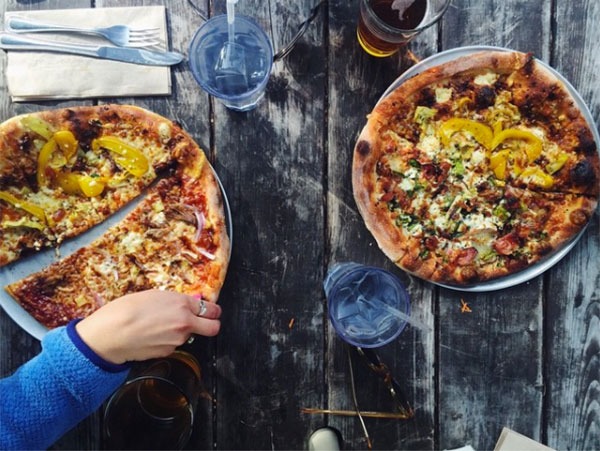 @simonebodmerturner, Instagram
Although there are Flatbreads all over the country, each one offers up something unique. But the fresh ingredients are still the same, including the famous fresh-made organic dough. This North Conway location, for example, offers up a Happy Valley Community Flatbread with caramelized onions, organic mushrooms, and a blend of mozzarella and Parmesan cheeses. Top it off with a homemade brownie sundae.
"One of the few options for takeout in the area. Good fired clay oven pizza. Try the Mopsy's Kalua Pie." — Foursquare user Adam Stallman
"Very good pizza. Bring a coat, they have air conditioning that could freeze a mammoth…" — Foursquare user Nicolas Viau
New Jersey
@arturososteria, Instagram
New Jersey pizza is usually compared to New York-style, but Arturo's holds its own. Located in downtown Maplewood, they offer up pies in individual or large sizes; order a big one to share or a few small ones for a group to enjoy. In addition to the regular pizza toppings that you'd expect (sausage, mushrooms, onions), they also have fancy toppings like soppressata, pine nuts, and truffle oil.
"Go for the pizza, but stay for the mushroom ravioli! Have a friend that doesn't like mushrooms? One bite of the ravioli & their life will be forever changed. Great service – when you can snag a table." — Foursquare user Nicholas Scott
"Get here early or be prepared to wait a long time. Start with the crostini and try as many of their amazing pizza pies as you can. Honestly, this might be NJ's best pizza joint." — Foursquare user Nicholas Scott
New Mexico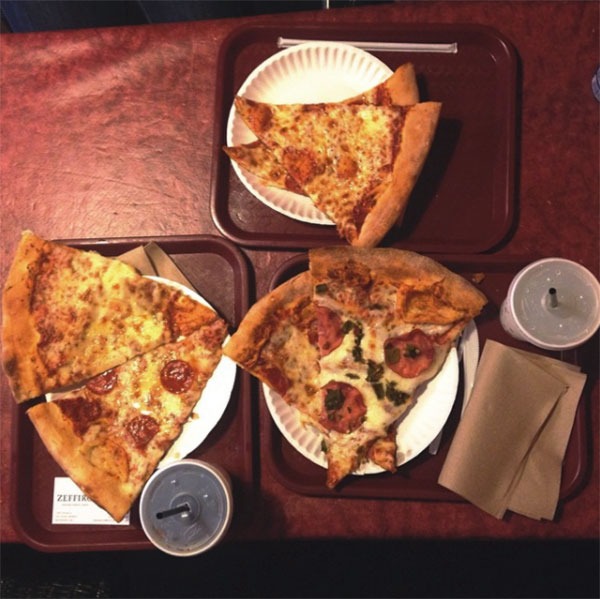 @marcelapmh, Instagram
Zeffiro brings a taste of New York to Las Cruces. In addition to the giant pies with the thinner crust and sweeter sauce, they also serve it by the slice. And they offer deals that would make any New Yorker jealous: two slices and a small drink for $5.95. Polish it off in true Big Apple fashion with a piece of New York cheesecake.
"White pie is by far the best." — Foursquare user Scott Jack
"Asparagus and Lemon Pizza is to die for!" — Foursquare user Rebecca Blanke
"Good Pizza, thin crust. Went with the pizza by the slice(2), the whole pizza was too big." — Foursquare user Paul G
New York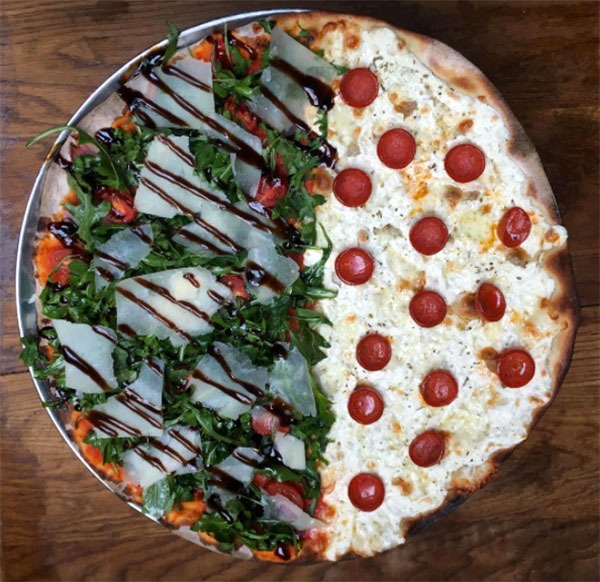 @rubirosa_nyc, Instagram
Picking the best pizza in New York is like choosing your favorite child; they're all wonderful and amazing in their own ways, and it's impossible to decide. But one pizzeria rose to the top of the list, according to Foursquare, and it's right in the heart of NoLita. Rubirosa serves up authentic New York-style pizza by the slice or as a full pie (as it should be). The rest of the menu is delicious as well, especially the meatballs and other handmade pasta."
"I mean, vodka sauce pizza. Enough said." — Foursquare user Andrea Ferreyros
"Tie dye pie is INCREDIBLE! They swirl Pesto and vodka sauce and top with fresh burrata… need I say more?" — Foursquare user No Leftovers Jackie Gebel
North Carolina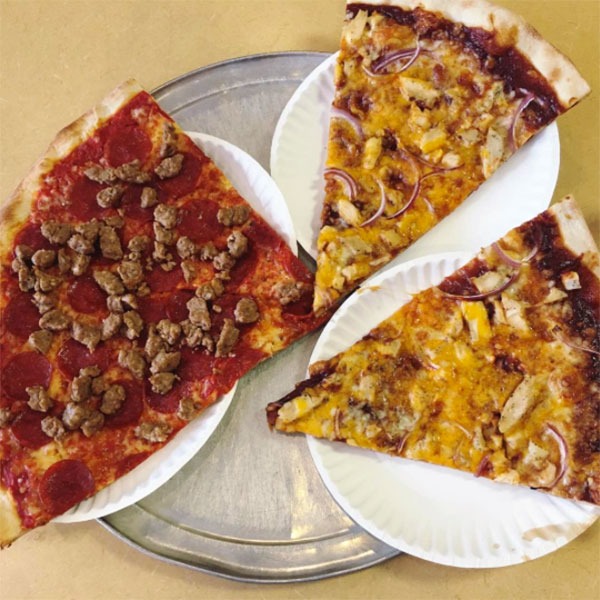 @benningtonbaby, Instagram
This Winston-Salem staple knows how much people need their pizza. On weekends, they are open until 3 am to feed your late-night cravings. But if you go during a more reasonable hour (say, lunch or dinner), expect mouthwatering New York-style pizza, including large fold-over slices and even bigger pies. Pair your pizza with garlic knots or an order of chicken wings."
"Best late night Pizza in town. Good people watching spot!" — Foursquare user Deborah Lee
"The absolute best pizza in Winston and dare I say, the triad. The garlic knots are one of their specialties and are just as amazing as you'd hope they'd be. Pizza by the slice is HUGE." — Foursquare user Jiliana Dulaney
North Dakota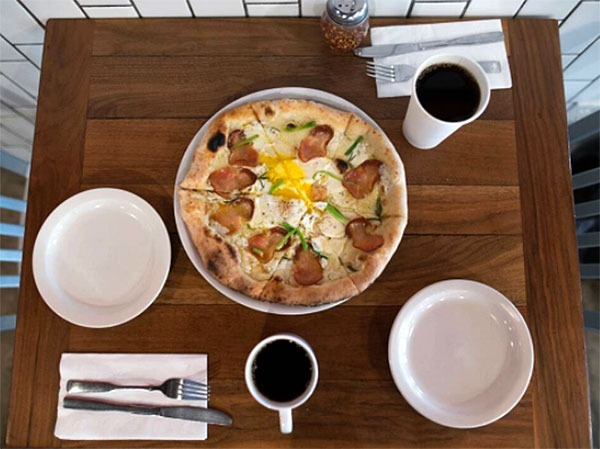 @fireflour, Instagram
Pizza and… coffee? It seems like an odd combination, but Fireflour makes it work. Choose from one of their 12-inch red or white Neapolitan-style pizzas. The name stems from the most essential parts of this kind of pizza: "fire" for the wood-fired way it's made, and "flour" for the dough. Although their espresso is excellent, you don't need to pair it with your pizza. Choose from a selection of red or white wine, bottled beer, or one of the limited brews on draught. But be sure to finish with a Dogwood coffee and a gelato.
"Fireflour has some of the best coffee in town. I regularly stop in to get a Miel. It's not the quickest place to grab a cup of joe but it's worth the wait. Their pizza is just as fantastic." — Foursquare user Britta Durkee
"Incredible place! Amazing pizzas, desserts, coffee, wine. Right next to Laughing Sun Brewing. Have a great meal at Fireflour and take in some live music and local brews next door afterwards. Perfect!" — Foursquare user Jens Randolff
Ohio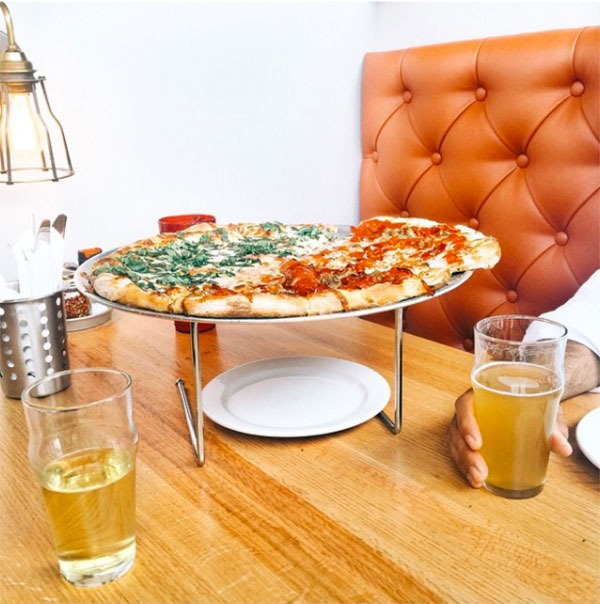 @abbeybonadies, Instagram
What goes better with pizza than a pint of beer? This Columbus location brings the two together with a unique collection of house and specialty pies, and an impressive beer list chock-full of local brews. Although Pies & Pints is such a popular spot in Columbia — there are two locations in the same city — it was actually started in Fayetteville, West Virginia. Don't want to commit to a whole pie? Come in for pizza by the slice at lunchtime, and sneak in a craft beer before you head back to the office.
"The salads are big enough for two and the Black Bean pizza was very good and had full flavor and spicy! Want to go back again!" — Foursquare user Tom Widney
"The charred wings are a must try. Also the Chicken Gouda pizza is great." — Foursquare user Jordan G
Oklahoma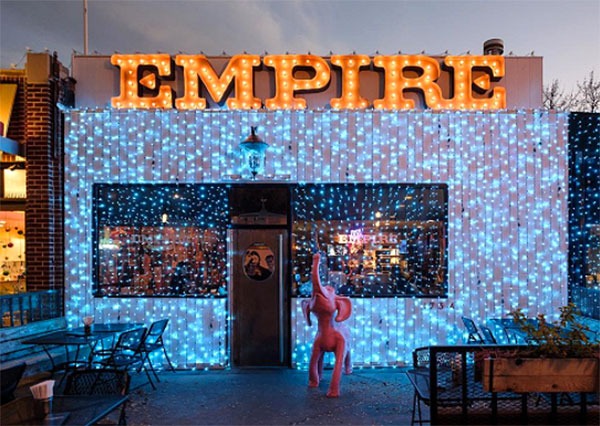 @empireslicehouse, Instagram
This Oklahoma pizzeria claims their restaurant is "like Frank Sinatra and David Bowie had a pizza baby." If can't picture what that's like, the funky decor does a great job setting the scene. Some of the pies are as unique as Bowie: the Brussel Westbrook, Ghostface Killah or Figgy Stardust. And others are as classic and traditional as Sinatra: pepperoni, Fat Tony, and the MCA white pie. They also keep the party going until 2 a.m. Monday to Saturday, so grab a late night slice.
"Everything about this place is good. There's a great chance of a wait but that is because this place is amazing. Instead of using a buzzer they use texting so you can go grab a beer down the street." — Foursquare user Kevin McCord
"Do NOT sit on the side patio – the noise level is deafening. Go for either the dining room or the front patio. Also, don't underestimate the white pizzas – Doug E. Fresh is great." — Foursquare user Mary Ann Porch
Oregon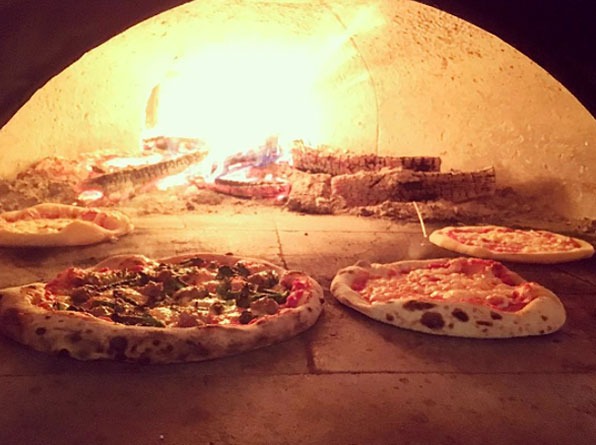 @squatchdrew, Instagram
This Portland hot spot keeps their pizzas as fresh as possible by using seasonal ingredients. The resulting pizza combos are mouthwatering: black trumpet mushrooms with caramelized onions and watercress, or roasted yellow potatoes with leeks and pancetta. Not full from the fresh wood-fired pizzas? Top it off with a scoop of homemade ice cream.
"Heirloom salad seems like a silly thing to get excited over but it was so damn good. The sausage, provolone, and rosemary pizza was out of this world. Zero complaints." — Foursquare user H. Colbert
"We got both the fennel & mushroom to split between three and it was perfect. We each got four slices. Each pizza was AMAZING. The salted caramel ice cream is a must and the sorbet was very good also." — Foursquare user Kelly C
Pennsylvania
@jenniferkshields, Instagram
This Pittsburgh favorite is a no-frills pizza joint. But when the pizza is that good, you don't need to try and overcompensate with anything else. Although there is a small eat-in space, most people take their pies to go. Choose from a traditional or white pizza, and add an Italian salad or order of wings on the side. They also make party trays perfect for Steelers Sundays or Pirates season.
"GOOD PIZZA! They put a good amount of cheese on their pizza so if you order extra cheese it will be too much. Take out Joint. No Beer. Very busy!" — Foursquare user Pretzel Farm
"Awesome, super cheesy pizza. Go here with some beers (they don't serve alcohol and don't charge for or ban bringing outside beverages including alcohol) – delicious!" — Foursquare user Kara Anne
Rhode Island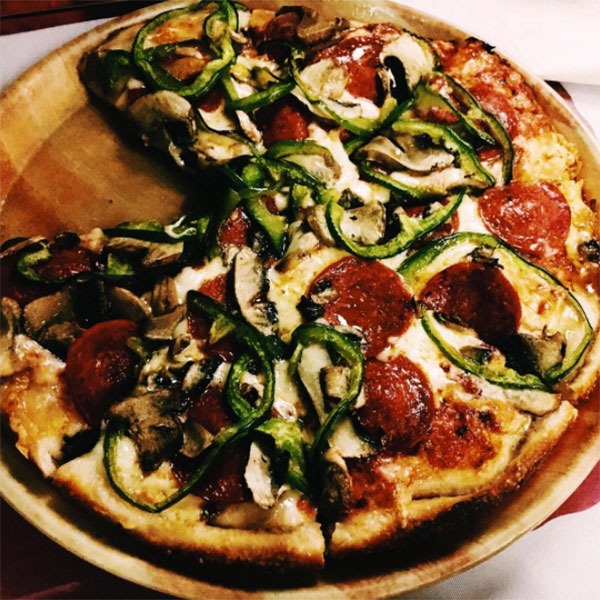 @foodiesis, Instagram
Pizza and salad often go hand-in-hand, but at Big Cheese in Cranston, their dressing is almost as famous as their pies. Order one of their seven specialty salads, and if you fall in love with the dressing, buy a bottle to take home with you. As for the pizza, you really can't go wrong with anything. Just make sure you get an order of mozzarella bread too.
"The baked 2 cheese pasta is all I ever want! Comes with tossed salad – their dressing is phenomenal! Calzones are also delicious!" — Foursquare user Jhokania D.
"Best salad and salad dressing ever. You have to try it! And their new soups are great too!" — Foursquare user Kerri Sol
South Carolina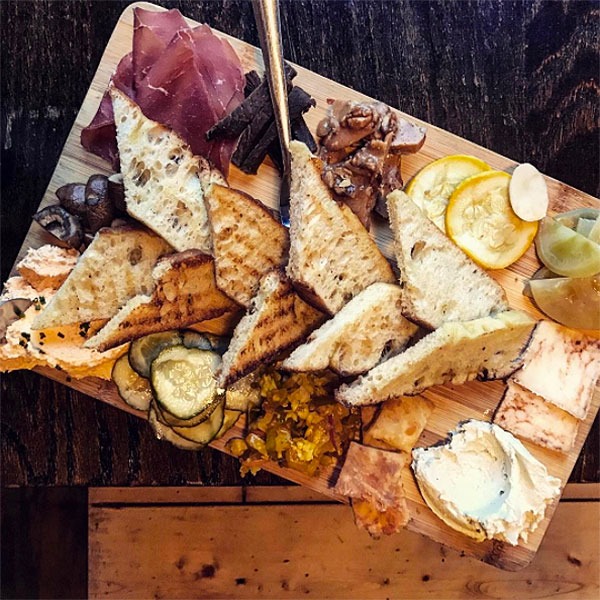 @jpcleary, Instagram
Even in a foodie town like Charleston, this pizza place stands out. Many of the fresh ingredients are sourced locally, including the lettuce for the kale caesar salad. Enjoy one alongside an 8-inch wood-fired pizza with seasonal toppings, like the calabrese and squash pie (garlic pesto, spicy calabrese, spicy butternut squash, and wilted arugula). Or keep it simple with a margherita made with house mozzarella. With a lengthy beer list of local craft brews, it's a dining experience you won't forget.
"We've been going nearly every week for 3-4 years. Incredible rotating local and craft beer selection, creative and fresh local salads, and pizzas that are 50,000 times better than what you're used to." — Foursquare user Michael Durant
"Get a salad, you can really taste the local sourcing for the veggies including the lettuce! I've never had a bad special pizza, so yum. And of course, pork trifecta! So many craft beers to choose from." — Foursquare user Lindsey Rix
South Dakota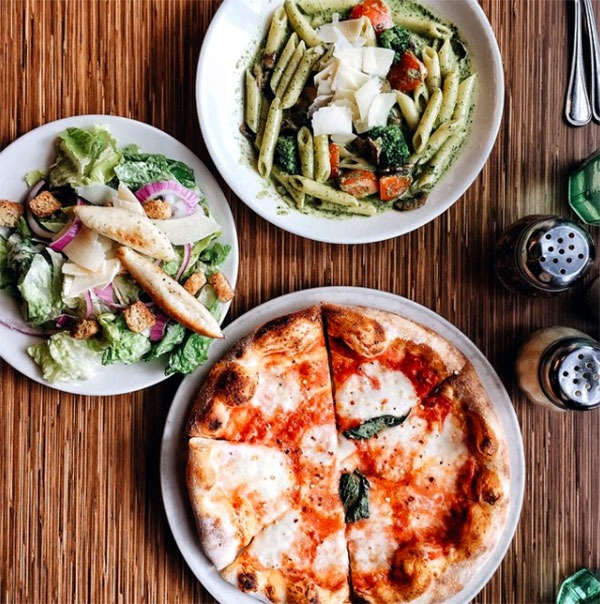 @timmelideo, Instagram
Like its sister restaurant RedRossa Italian Grille, the Napoli Pizza joint keeps the ingredients authentic and delicious (but at much better prices). The casual eatery in Sioux Falls offers up signature pizzas in classic Italian and American combos, like the Tuscany (prosciutto, gorgonzola, fresh mozzarella, arugula greens) and BBQ chicken. The pasta is about the same (pesto penne, mac & cheese), but can be customized.
"The lunch special — half one-topping pizza, half salad — is the perfect size and a great value! Kalamata olive pizza, yum." — Foursquare user Staci Schiller
"If you're new there, tell them. The cashier was very helpful in explaining the Red Rossa process, menus, and items." — Foursquare user Miles Rausch
Tennessee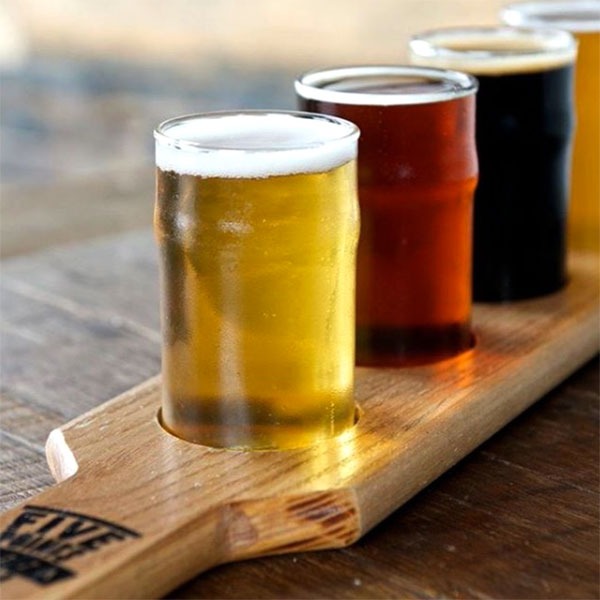 @fivepointspizza, Instagram
It's hard to name the best pizza joint in a city full of amazing food, but Five Points take the cake… er, pie. The thinner crust pizzas at this Nashville eatery take inspiration from New York-style pies and come in almost 20 different specialties. Or keep it simple and order cheese or pepperoni by the slice. But almost better than their pizzas are their beers, available by the pint or in a flight. Sip on one of the many local craft brewskies while you enjoy your pizza!
Insider tips
"Delicious pizza and two house wines on tap. Kitchen closes at midnight so don't be misled by the open until 3 am info if you're craving pizza between 12 and 3." — Foursquare user Amanda McNeil
"If you love thin crust pizza, you'll love 5 Points! Daily specials & good salads. Spinach stromboli is delish! local craft beers on menu. now have a walk-up window next door for to-go orders!" — Foursquare user Christine McKenna
Texas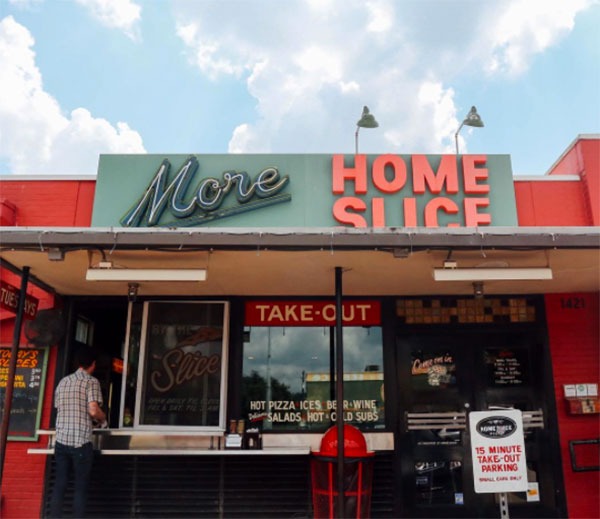 @homeslicepizza, Instagram
Keep Austin weird, and keep its Texas pizza delicious. This independent neighborhood spot offers up that Austin hipster vibe with vintage-inspired signage and a beer garden in the back. But the pizza really shines as authentic New York-style pies. A surprising find in a city more known for its BBQ and Tex-Mex.
"A cold beer and the best pizza in Austin. A Sunday cannot get better! The crust is the best I've ever had. Not too thin but just the right kind of thin and crispy. Greasy cheesy, so good." — Foursquare user Divya Mulanjur
"If you like pizza & you're in Austin, this iconic hipster pie joint on south Congress is a must! Authentic marinara sauce, perfectly bigger than your face-sized slices & super stringy cheesy goodness." — Foursquare user May
Utah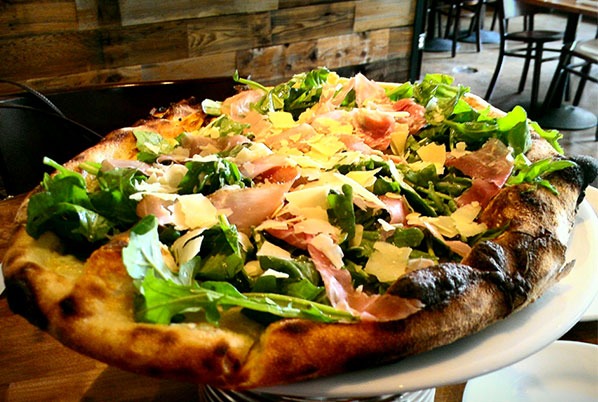 Courtesy of CentroPizzeria.com
As the name suggests, this Cedar City pizzeria serves up Italian-style pies seared in a wood stove, giving the crust a slightly charred flavor. They also have mouthwatering apps, such as authentic bruschetta served on house-made garlic crostini, and a charcuterie board assembled with a selection of local artisan meats.6254a4d1642c605c54bf1cab17d50f1e
"WOW, found this place just this year and loved it. Try the house salad, pizza arugula. This place did not disappoint. All fresh and tasty. The staff was awesome, place was clean. Will come back." — Foursquare user Pedro Fuentes
"The best restaurant in Cedar City. Location, decor, atmosphere, service, creative menu, consistent, value – all above par and a golden nugget in our town. Visits to Centro always please!" — Foursquare user Peggy Green
Vermont
@gk1016, Instagram
Flatbread makes for tasty base for sauce and cheese, and this Burlington pizza place does it right. That's probably why there's always a wait. But it's worth it, especially when you finally get to taste their wood-fired creations. Sip on one of the local craft beers while waiting for your table, and watch as they sear the flatbreads in the giant primitive oven on display.
"American Flatbread is one of the buzziest spots in Burlington. Always a wait for the pizza. Enjoy the craft beers while you wait." — Foursquare user ZZubin
"Perhaps my favorite Burlington restaurant. Their standard menu is great, but definitely take a close look at the specials (flatbread and salad). Their beer is great too – my favorite is the Narconaut." — Foursquare user Sam Borchard
Virginia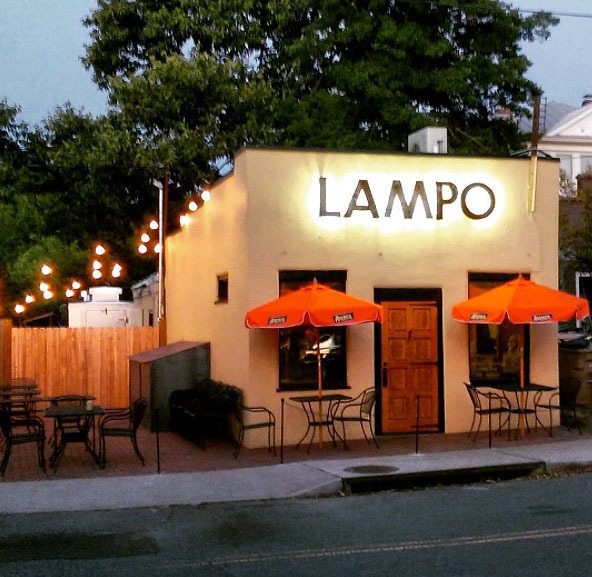 @lampo_pizza, Instagram
For a more elevated take on a traditional pizzeria, check out this Charlottesville location. The Neapolitan-style pizzas here face stiff competition from their salads, sandwiches, and antipasti, especially the charcuterie plate. Order your meal with an Italian-inspired craft cocktail, like the Aperol Spritz.
"Love everything I've tried! The margherita is everything you want in a true Neapolitan pizza and the zeppole are delicious! Go as soon as they open or you will face a wait." — Foursquare user Christy J
"Pizza is the star here, but the small plates and salads are also outstanding. Try the Brussels sprouts salad and meatball antipasti. As close to Italy as you'll ever get in Cville." — Foursquare user Jane Friedman
Washington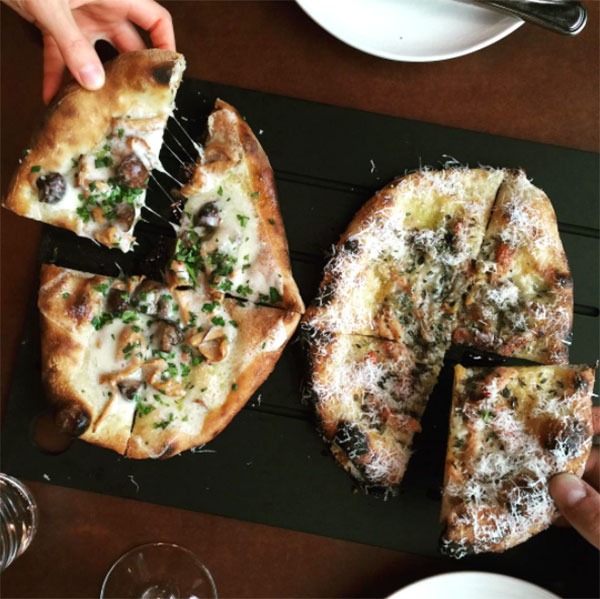 @seriouspieseattle, Instagram
This popular Seattle restaurant adds touches of the Pacific Northwest to its menu, like the chilled octopus app and penn clove clam pizza. And Serious Pie isn't just serious about their pizzas; they have a mean beer and wine menu, too. Come for happy hour, where pizzas are just $6, and local beers are as cheap as $4.
"I rarely feel compelled to review anything but this place is a must visit. Taking pizza somewhere very different. Serious Pie, seriously good. I had the clam, chili, pancetta and lemon tune. Amazing!" — Foursquare user Alessandro Spadoni
"It was a nice and trendy place. We loved the "Soft Cooked Free Range Eggs, Smoked Prosciutto, Pecorino Sardo, Arugula" pizza. Their chocolate buddino, sea salt and olive oil was exquisite!" — Foursquare user Rebecca Maldonado
West Virginia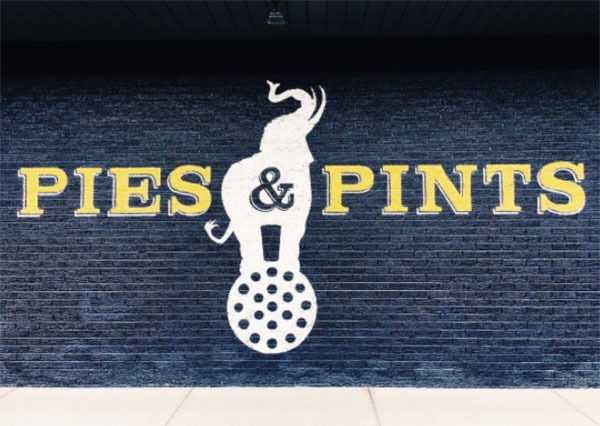 @wanderingweili, Instagram
Pies & pints isn't exclusive to this Fayetteville, WV location; it's the most popular pizza joint in Columbus, OH as well. That's probably because it leaves an impression with its selection of local beers and specialty pies. Or customize it with any of their classic and premium toppings all on their hand-tossed dough sprinkled with roasted garlic and a pinch of kosher salt. There's also a small gluten-free option for an extra $2.
"Just when I thought I could no longer be impressed by a slice of pizza, P & P delivers their finest dish yet with the Sriracha Shrimp Pie. Spicy with a stunningly clean finish. Refreshing and tasty." — Foursquare user Brian Zickafoose
"I especially like the antipasto salad, the Cuban Pork Pie, the Hot Ham and Pepper pie, the Grape pie and of course the desserts are all delicious. Try the Bridge Brew Worksbeers!" — Foursquare user Brian Sammons
Wisconsin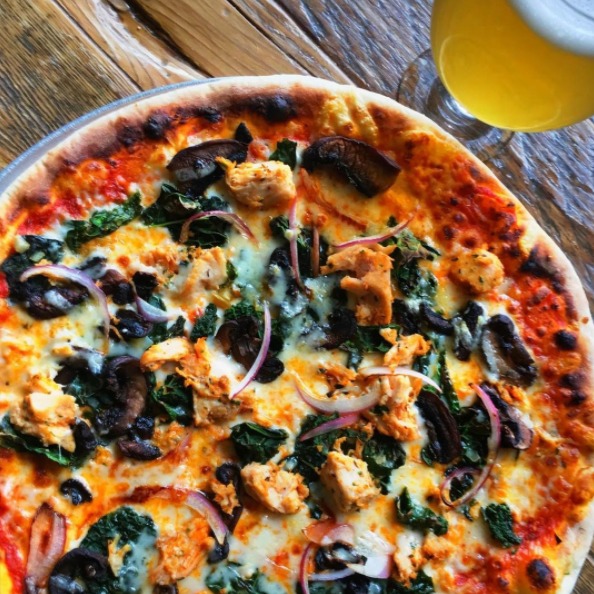 @wildtomatopizza, Instagram
What's better than a pizzeria that serves up mouthwatering pies? A pizzeria that serves up mouthwatering pies that benefit charity. Each month, Wild Tomato picks a donation creation, a specialty pizza that benefits a local non-profit organization by donating $1 of each pie's sales to the charity. While the donation creation changes monthly, the other creative pies are constant — and tasty! Don't count out the apps either; start with an order of the artichoke dip served with their homemade focaccia. Or keep it healthy with one of their many healthy fresh salads.
"Get the family garden salad with the balsamic and the wood fired bread basket. Incredible on its own. The pizza is simply perfection. I've had the best pies in New York and this is a sure contender." — Foursquare user Jessica C
"Delicious! The smell of the wood-burning stove fills the quaint restaurant. The food is delicious and the menu varied. Service is warm and friendly. Wonderful environment and food." — Foursquare user Ashley Petry
Wyoming
@thejanetphan, Instagram
With more than 15 specialty pizzas to choose from, it might be hard to make up your mind at this Sheridan spot. Luckily, Powder River offers up the option of trying more than one at a time by creating a premium sampler, where you can order any four premium pizzas and have them combined on one pizza. Who knew ingredients like pesto ranch and BBQ bacon cheeseburger would work together? If that sounds too overwhelming, stick to building your own 8-inch personal, or a bigger 14-inch to share. If you're really splurging, polish off your meal with an order of funnel cake (pictured).
"The interior is well decorated, plus the food is great too." — Foursquare user Alie Schnabel
"Such great pizza!! Love those personal pizzas." — Foursquare user Jacki McCord
"Broasted Chicken was outstanding! Thanks!" — Foursquare user Jeff Z